Nestled in the heart of North Carolina, Dewey Bakery has been a staple for locals and visitors alike. With a legacy spanning decades, it stands as a testament to time-honored recipes, clean ingredients, and the warmth of a hometown bakery.
Their range, from the ever-popular Moravian Cookie to the seasonal Pumpkin Spice delights, ensures that there's something for every palate. It's not just a bakery; it's an experience, a trip down memory lane, and a journey of flavors. So, what makes Dewey's baked treats so irresistible?
How Can I Experience the Mouthwatering Taste of Dewey's Bakery's Baklava in Winston-Salem?
Venturing into Winston-Salem, North Carolina, the sweet aroma of freshly baked goods from Dewey Bakery is hard to miss. For those looking to savor their famous baklava, a visit to their flagship store is a must.
Each piece is a testament to expert craftsmanship, layers of flaky pastry filled with chopped nuts, sweetened and held together with syrup.
But if a trip to Winston-Salem isn't on the cards, their website offers a plethora of options. It makes it easy for fans nationwide to order their favorites.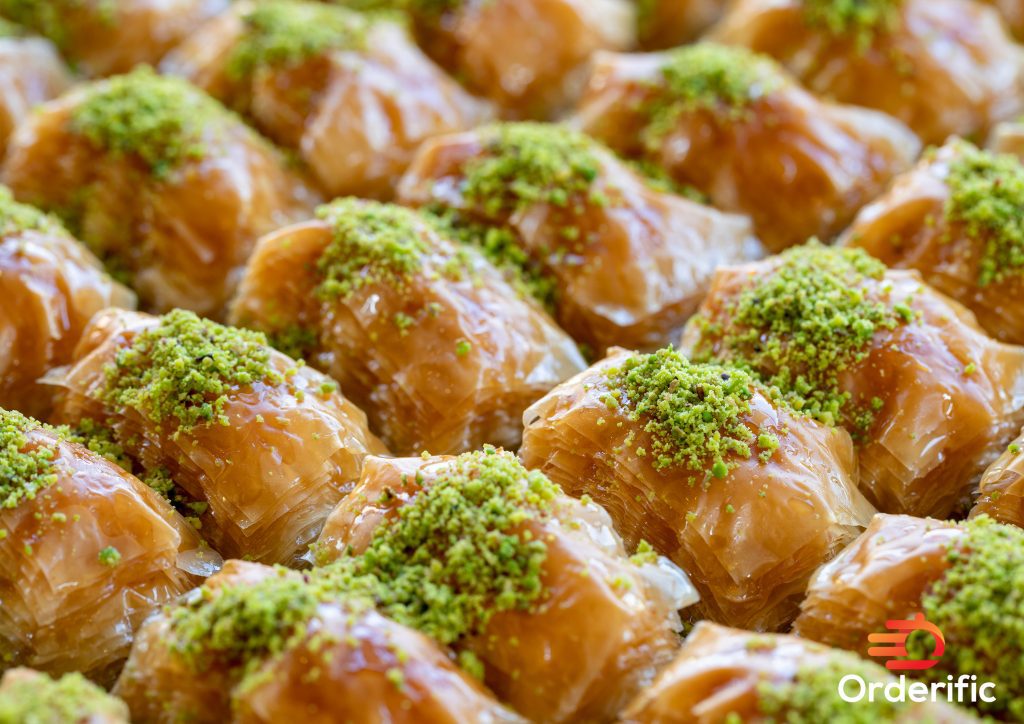 Where Are Dewey's Cookies Made?
Dewey's Bakery, a name synonymous with delightful baked treats, has its roots firmly planted in Winston-Salem, North Carolina. Since its inception, the bakery has been crafting its signature cookies and other baked goods in this city. Each product carries a touch of Southern tradition and hospitality.
With a commitment to quality, Dewey's Bakery takes pride in using locally sourced ingredients whenever possible. Every cookie undergoes a meticulous process, from mixing to baking, ensuring it aligns with the brand's high standards. While the bakery has grown over the years, expanding its presence and offerings, its commitment to producing cookies in its hometown has never wavered.
Every bite of Dewey's cookie carries with it a slice of North Carolina's rich baking tradition. It comes with a genuine taste and an authentic experience. Whether you're indulging in the iconic Moravian cookie, a seasonal treat, or any other offering, you're savoring flavors that originate from Winston-Salem.
Who Was the Founder of Dewey's Bakery?
Dewey's Bakery, a gem in the world of baked delights, was founded by Dewey Wilkerson in 1930. Situated in the heart of Winston-Salem, North Carolina, Dewey established the bakery with an unwavering dedication to quality, authenticity, and the pursuit of creating timeless baked treats.
The founding of the bakery during the Great Depression showcased Dewey's passion and tenacity. He was determined not only to build a business but to create a space where the community could come together. They could bond over delicious confections, and forget their worries, even if just for a while.
Who Is the Current Owner of Dewey's Bakery?
As of recent times, Dewey's Bakery is under the leadership and ownership of Scott Livengood. Scott took the reins of this iconic bakery, aiming to continue and elevate the legacy that Dewey Wilkerson began in 1930. With a background in business and a passion for the food industry—having had associations with renowned brands like Krispy Kreme—Scott brought a fresh perspective to Dewey's Bakery.
Under Scott's guidance, the bakery has expanded its offerings, introducing innovative flavors while staying true to its roots and time-honored recipes. His commitment to using clean ingredients, and avoiding artificial flavors and synthetic colors, resonates with today's health-conscious consumers.
With a vision of preserving the bakery's heritage while adapting to modern tastes, Scott Livengood ensures that Dewey's Bakery remains a cherished destination. For both locals and visitors, marrying tradition with contemporary flair.
What Delicious Treats Can I Find on Dewey's Bakery's Menu in Winston-Salem?
Dewey's Bakery, a cornerstone of Winston-Salem, offers an assortment of mouthwatering baked goods that have delighted taste buds for decades. Here are some of the must-try treats from their menu:
Moravian Sugar Cake: A Winston-Salem Classic! This moist, yeast-risen cake is infused with brown sugar and cinnamon, offering a sweet and spicy treat that melts in your mouth.
Moravian Cookies: Wafer-thin, these crisp cookies are packed with intense flavors like ginger spice, Meyer lemon, and pumpkin spice. They're a testament to the bakery's Moravian roots.
Cheese Straws: These savory treats, made with real cheddar, are a perfect blend of crispy and cheesy. A Southern favorite, they're perfect for parties or snacking.
Brownie Crisp: For those who crave the rich taste of chocolate, this treat offers the perfect crunchy texture combined with the deep flavors of a classic brownie.
Blue Ridge Ice Creams: A delightful range of ice creams inspired by local flavors of North Carolina. These artisanal scoops are perfect for beating the summer heat.
Soft Baked Cookies: A range that includes flavors like birthday cake, chocolate chip, and peanut butter paradise, these cookies have a delightfully chewy texture.
Baklava: This sweet dessert, made of layers of filo filled with chopped nuts and sweetened with syrup or honey, is a rich treat not to be missed.
Cakes and Pastries: Dewey's offers a selection of traditional and contemporary cakes, including special holiday offerings, all made using the finest ingredients.
In addition to these delicacies, the bakery continuously experiments with new flavors and products. There's always something fresh and exciting for patrons to discover. Whether you're a local or just passing through Winston-Salem, a visit to Dewey's Bakery promises a delightful culinary journey.
Winding Up!
Stepping into Dewey Bakery is like embracing a sweet slice of North Carolina's history. Whether it's the nostalgia evoked by their traditional treats or the excitement of trying one of their innovative new flavors, every visit promises a memorable experience.
As the aroma of fresh bakes fills the air, and you take that first bite, you're not just tasting a cookie or cake. You're savoring a legacy.
In case you want more content like this, visit Orderific right now!
FAQs
How Can I Order Dewey's Bakery Baklava Online?
Dewey's Bakery's official website offers a convenient online ordering system. Simply browse through their range, select your favorites, and have them delivered right to your doorstep.
Are There Any Special Dietary Options Available at Dewey's Bakery?
Yes, Dewey's Bakery offers a selection of gluten-free and vegan options to cater to various dietary needs.
When Was Dewey's Bakery Founded?
Dewey's Bakery was founded in 1930, and since then, it has been serving delightful baked goods to its customers.
Can I Customize My Order from Dewey's Bakery?
Yes, for special occasions or bulk orders, you can get in touch with the bakery to discuss customization options.