Juice bars have emerged as a beacon of nourishment in health and wellness. The fresh crunch of apples, the sweet tang of oranges, and the earthy goodness of spinach – all blended into one satisfying sip. Yet, navigating these flavorful landscapes can be daunting, especially for folks with dietary restrictions. Enter our comprehensive guide. It's more than just a roadmap to allergy-friendly beverages. It's a celebration of inclusivity, a testament to our commitment to transparent menus. We delve into how allergen information can elevate your juice bar experience, making every visit not just a meal but a discovery. Whether you have celiac disease or lactose intolerance, let us cater to your unique dietary needs. So, sit back and savor the journey to a healthier, more inclusive juice bar experience.
Importance of Dietary Transparency in the Food Industry
A revolution is sweeping across the food industry, a change as subtle as it is significant. Once a mere footnote, dietary transparency has now become a guiding principle. Consider the juice bar, an oasis of health and wellness in a world often awash with processed foods. The importance of dietary transparency in such establishments is threefold.
Customer Trust: Offering transparency in menu items builds customers' trust. Clear and comprehensive information becomes key as they navigate their dietary needs, whether due to allergies or lifestyle choices. Food allergies, lactose intolerance, and celiac disease are just some of the dietary restrictions that a transparent menu can cater to.
Inclusivity: Dietary transparency fosters inclusivity. It respects the diversity of special diets, from the dietary laws of religions to vegan diets and gluten-free choices. Halal, dairy-free, or wheat-free – a transparent menu embraces all.
Promoting Healthy Choices: The clearer the menu, the more accessible customers make healthy eating decisions. Special dietary needs are not just about allergies or restrictions. They're also about choosing plant foods over animal products, fresh juice over processed drinks, and a vegetarian diet over a meat-based one.
In the end, dietary transparency is more than just good business sense. It's a celebration of variety, a nod to the diverse nutritional landscapes the modern consumer navigates. Acknowledging that every meal and sip should be a conscious choice. And for the juice bars of today, it's an integral part of providing a nourishing, inclusive, and delightful experience.
Understanding Customer Dietary Needs and Preferences
Understanding your customers' dietary needs and preferences is the cornerstone of crafting an inclusive juice bar experience. Imagine stepping into a bright, bustling venue filled with the tantalizing aroma of fresh fruit. Here, every sip is tailored to your unique dietary needs.
Let's say you're a vegan. You're offered an array of delightful, dairy-free smoothies, rich with the sweetness of berries and the zing of citrus. Wheat allergies? Not a problem at all. Our menus are peppered with gluten-free options, each one a delicious melody of flavors, and we have special dietary needs, perhaps due to religious dietary restrictions. You'll find an assortment of Halal and Kosher offerings. From soy sauce to milk products, every ingredient is meticulously vetted by our registered dietitian to ensure it meets your dietary restrictions.
Every visit is a journey of discovery, a celebration of the diverse dietary landscape that our customers navigate. We understand the nuances of food allergy research and the vitality of accommodating special diets. Therefore, our menus should be enriched with starchy vegetables and tree nuts instead of processed foods.
In essence, we are not just serving juice. We're curating an experience, a conscious choice for every meal, every sip, and every visit. This understanding forms the foundation of our commitment to dietary transparency, propelling us to deliver a juice bar experience that's as delightful as it is inclusive.
Labeling Best Practices for Allergens and Dietary Information
In the bustling culinary sphere, accurate labeling is the linchpin of an inclusive, allergen-aware food landscape. Imagine this. You enter your favorite juice bar, tangy air with a fresh citrus smell. Right away, you spot the menu, each item meticulously detailed. The ingredients? Listed. The presence of potential allergens? Boldly highlighted.
You feel a wave of relief. As someone with a food allergy, this transparency is refreshing. It's a silent yet powerful acknowledgment of your dietary restriction. You smile; your decision has already been made. Today, it's the dairy-free, gluten-free berry blast.
Now, consider this from the juice bar owner's perspective. They've taken great pains to ensure each menu item comes with comprehensive dietary information. From highlighting gluten for customers with celiac disease to marking dairy products for the lactose intolerant, they've covered all bases.
What's more, they've considered religious dietary restrictions too, marking Halal and vegan options. They've even consulted a registered dietitian, ensuring their meals are as nourishing as delicious.
It's a win-win scenario. Customers trust the juice bar more; their dietary needs are respected and catered for. The juice bar, in turn, sees a steady stream of loyal customers, and its reputation for inclusivity is growing. All because they understand the power of labeling of dietary transparency.
Accurately labeling allergens and dietary information is not just a legal obligation. It's a celebration of dietary diversity, a nod to the ever-changing food landscape our customers navigate. And for the modern juice bar, it's integral to crafting that warm, inclusive experience.
Customization Options for Dietary Restrictions
In the vibrant world of juice bars, customization is a game-changer. It's an oasis of choice amidst a desert of dietary restrictions. The magic begins at the very moment you step into the bar. The senses are filled with the bright colors, the cheerful hum of blenders, and the enticing aroma of fresh fruit and vegetables.
Take a closer look at the menu. You see a symphony of options designed for a unique dietary requirement.
Dairy-Free Delights: For those grappling with lactose intolerance, indulge in dairy-free alternatives. Your taste buds are treated to the velvety smoothness of almond milk or the subtle sweetness of oat milk.
Vegan Varieties: Navigating a vegan diet? Savor the robust selection of entirely plant-based smoothies. Hints of raw, earthy kale pair perfectly with the fruity burst of ripe strawberries.
Halal and Kosher Choices: Catering to religious dietary restrictions, Halal and Kosher options are marked. The result? A respectful nod to diverse nutritional laws, all in a sip.
Gluten-free Goodness: Celiac disease or gluten intolerance needn't restrict your options. Gluten-free juices brim with all the goodness of vibrant fruits, minus the worry.
Every sip is a discovery. A celebration of the respect for individual dietary needs. The colorful blend of flavors dances on your tongue, a testament to the diversity of nutritional requirements. Even the food allergy research is evident. Ingredients are meticulously verified, with potential allergens marked.
Respecting dietary restrictions does not spell the end of delicious options. On the contrary, it opens a gateway to a world of flavors tailored to your needs. When dietary transparency meets customization, the result is nothing short of a celebration of dietary diversity, individual choices, and the joy of savoring a juice that's truly yours.
Empowering Customers through Juice Bar Management Software
Technology has taken center stage in the ever-evolving food and beverage industry landscape. In particular, juice bar management software is rapidly becoming a savior for business owners and customers. Picture this. You step into your favorite juice bar, greeted by an inviting atmosphere, the tantalizing aroma of fresh fruit, and the comforting hum of blenders at work.
A digital menu display catches your eye. Instantly, you notice the transparency – every ingredient, any potential allergens, all clearly listed. You appreciate this commitment to dietary transparency, a godsend in navigating nutritional restrictions. This is made possible by the efficient juice bar management software.
Now, imagine you're the juice bar owner. The management software presents a streamlined workflow, from inventory management to online ordering. The system handles it all. The pressures of maintaining an updated menu, catering to many dietary restrictions, and ensuring customer satisfaction were significantly eased. You see a rise in customer trust and a boost in customer satisfaction.
The juice bar management software is a beacon of innovation, bridging gaps and fostering inclusivity. It's more than just a business tool. It's a commitment to a healthier, more inclusive, and more efficient juice bar experience. Whether you're a customer, a juice bar owner, or an employee, this software is the key to a seamless, personalized, and delightful juice bar experience.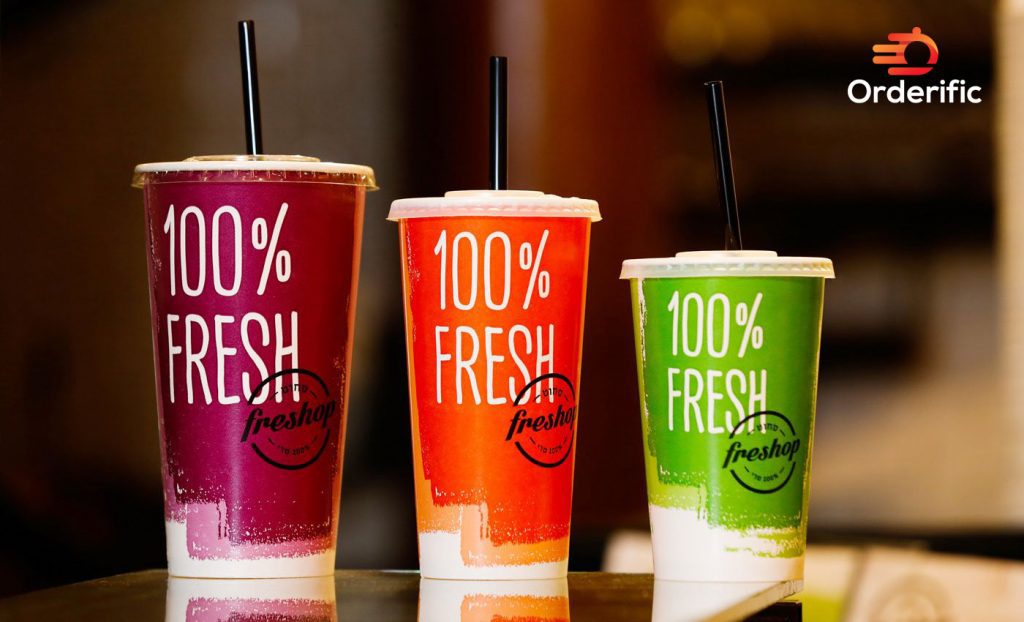 Efficacy of Online Ordering for Dietary Restricted Customers
In the digital era, online ordering has become a lifeline for customers with dietary restrictions. Picture this: You're nestled comfortably at home, scrolling through your favorite juice bar's online menu. Suddenly, a vibrant kaleidoscope of fresh, cold-pressed juices and smoothies dance before your eyes. The descriptions are clear and comprehensive, and each ingredient is meticulously listed.
Then, you spot it. The 'customize' button beckons, promising a cavalcade of choices tailored to your dietary needs. You find yourself exploring, effortlessly navigating through dairy-free, gluten-free, and vegan options. A symphony of flavors unravels, each selection a testament to the juice bar's commitment to inclusivity and dietary transparency.
With a few simple clicks, your order is placed. No longer are you worrying about the rush-hour crowd or the lengthy queues. Instead, you are savoring the anticipation of a drink perfectly tailored to your needs, waiting to be delivered to your doorstep.
From a juice bar owner's perspective, online ordering is equally beneficial. It provides an opportunity to showcase its diverse menu, respect for dietary restrictions, and commitment to customer satisfaction. In return, they gain loyal customers, and their reputation for inclusivity is bolstered.
Online ordering brings the juice bar experience right to your comfort zone, offering an inclusive, personalized, and seamless process. It's a nod to the technological revolution sweeping across the food industry, making the juice bar experience more enjoyable for everyone.
So, why wait? Leap into online ordering and embrace the freedom of choice at your fingertips.
The Role of Staff Training in Catering to Dietary Restrictions
Staff training emerges as a critical element in the bustling world of juice bars. This training equips employees with the knowledge and skills necessary to cater to various dietary restrictions. Picture this scenario. A customer with specific nutritional needs steps into a juice bar. The air hums with anticipation. Warm smiles greet her, ensuring the staff understands and respects her needs. That's the power of well-trained staff.
A well-trained staff can turn the tide in the following ways:
Understanding Restrictions: Through comprehensive training, staff members understand diverse dietary restrictions. They learn about gluten intolerance, lactose intolerance, and various food allergies, offering them a window into the myriad dietary landscapes their customers navigate.
Allergen Awareness: Training enhances staff awareness of potential allergens in menu items. This awareness is crucial in preventing cross-contamination, a significant concern for those with severe food allergies.
Menu Knowledge: Thorough knowledge of the menu and its ingredients is another asset of well-trained staff. They can inform customers about the contents of their drinks, helping them make informed choices.
Catering to Special Diets: Staff training also equips employees with the necessary knowledge to cater to special diets. A well-trained staff member prepares to cater to the needs of customers who follow a vegan, gluten-free, or Halal diet.
Creating an Inclusive Environment: Lastly, well-trained staff contribute to an inclusive environment. They ensure every customer feels welcomed and understood, regardless of their dietary needs.
Staff training is the linchpin that holds the whole experience together. It ensures that every customer, regardless of their dietary restrictions, can enter a juice bar and feel understood, respected, and catered to. It's a testament to the juice bar's commitment to inclusivity, diversity, and customer satisfaction.
Collaboration with Dietitians: Ensuring Nutritional Integrity Amidst Dietary Restrictions
Juice bars radiate a vibrant energy, enhanced by collaboration with certified dietitians. Imagine this: You're stepping into your favorite juice bar. As you make your way in, the aroma of fresh fruits entices your senses, setting the stage for a memorable experience.
On one wall, you notice the credentials of a registered dietitian, a testament to the bar's commitment to nutritional integrity. You learn that this professional handpicks every ingredient, meticulously balancing flavor with nutrition. This careful selection caters to a spectrum of dietary needs yet never compromises on taste. Every sip is a treasure trove of wholesome goodness, a testament to the expert's knowledge and care.
The variety is astonishing. You find juices rich in antioxidants, smoothies brimming with fiber, and concoctions tailored for weight-watching enthusiasts. The menu is no longer just a list; it's a gateway to health, a nod to the diversity of dietary landscapes.
You leave the bar with a satisfied palate and a nourished body. This collaboration with a dietitian has transformed your juice bar trip into a delightful, health-boosting journey. The result? You're not just a customer but part of a community that values wellness and inclusivity.
This collaboration underscores the juice bar's commitment to nutrition and diversity. Pairing culinary expertise with dietetic proficiency ensures that every beverage is a delightful mélange of taste and health. Doing so solidifies the juice bar's place as a champion of dietary diversity and nutritional awareness.
Conclusion
Incorporating dietary and allergen information in juice bars is a dance of flavors tailored to every palate, a testament to the diversity of dietary restrictions. Every juice made, each sip savored, is a celebration of individual choice and nutritional transparency. Orderific, bridging the gap between business owners and customers, makes this journey easier, ensuring an experience as inclusive as it is delightful. With meticulous labeling, variety-rich menus, and efficient management software, we carve a path to increased revenue and decreased operational costs. So, dive into Orderific, where dietary diversity meets technological brilliance. For a taste of this tailored, seamless experience, schedule a FREE DEMO today.
FAQs
How do I navigate dietary restrictions when dining out?
Consult menus beforehand, ask staff about ingredients, and always inform them about your dietary restrictions.
Are there common allergens or dietary concerns that I should be aware of?
Common dietary concerns often involve allergens such as peanuts, dairy, gluten, and shellfish and nutritional preferences like veganism.
How can I communicate my dietary restrictions effectively to restaurant staff?
Be clear and specific about your restrictions, and always double-check with staff about ingredients and preparation methods.
Are resources available to help me find restaurants catering to specific dietary requirements?
Various apps and websites list restaurants catering to specific dietary requirements.