Welcome to the dynamic food world, where dietary trends like vegan and gluten-free options redefine culinary landscapes. Imagine the satisfaction of biting into a juicy, vegan burger that's entirely plant-based. Or the comfort and delight of a gluten-free pizza that doesn't compromise taste or texture. These aren't just food trends but powerful responses to dietary needs, health awareness, and ethical choices. So, what does this mean for your menu? It's simple: it's time to adapt and embrace these changes. As consumers increasingly seek out these options, offering vegan and gluten-free dishes is no longer an optional novelty—it's a business imperative. Let's dive into how you can make this transition smoothly while tantalizing taste buds and satisfying dietary restrictions. Prepare to be inspired!
The Latest Alternative Diets Trends
In the vibrant world of nutrition, dietary trends continually evolve. Two key movements are taking center stage today: vegan and gluten-free diets. Driven by health awareness, ethical considerations, and dietary needs, these trends are transforming menus around the globe.
Vegan diets are flourishing as more and more people choose to eliminate animal products from their plates. Picture mouth-watering plant foods, from a colorful array of vegetables to hearty grains, taking the spotlight in meals. Think about biting into a vegan burger, the taste of plant-based protein redefining what it means to enjoy a classic comfort food. It's not just about the food but the accompanying lifestyle, characterized by a commitment to animal welfare and sustainability.
Gluten-free diets, on the other hand, cater primarily to those with celiac disease and gluten intolerance. But they're also finding favor among others seeking health benefits. The joy of savoring a slice of gluten-free bread, baked to perfection, without worrying about irritating gluten is a relief to many. Gluten-free isn't just a dietary restriction—it's a pathway to a healthier lifestyle.
The rise of these dietary trends signals a shift in the status quo. Vegan or gluten-free options are no longer relegated to the menu's corners. Now, they command attention, enticing consumers with their promise of health, taste, and diversity. As these trends continue to shape the food scene, embracing them is not just about keeping up—it's about leading the way. With an array of gluten-free products and vegan foods at your disposal, the journey toward a more inclusive menu is exciting and filled with culinary creativity and innovation. Embrace this journey, and your patrons will thank you.
Adapting by Clearly Identify Menu Items
Navigating a menu teeming with delectable options can be daunting, particularly for those adhering to specific dietary restrictions. Successfully adapting to dietary trends involves more than just incorporating vegan and gluten-free options into your menu. It's about making these choices clear and accessible, encouraging patrons to indulge in your culinary creations confidently and joyfully. Here's how you can do this:
Vivid Description: First, draw attention to your vegan and gluten-free options with vibrant, mouth-watering descriptions. Let your patrons picture your pizza's crispy, golden, gluten-free crust or your vegan burger's juicy, plant-based patty.
Clear Labeling: Secondly, clarity is key. Clearly label each dish with vegan or gluten-free icons, ensuring customers know exactly what they order. No more scanning small print or questioning waitstaff, just straightforward, hassle-free ordering.
Inclusive Language: Lastly, use inclusive language in your descriptions. This caters to those following strict diets and appeals to the health-conscious and adventurous eaters among your customers. The words 'plant-based,' 'dairy-free,' or 'wheat-free' can make a world of difference in attracting a wider audience.
By focusing on these aspects, your menu becomes a delightful journey of discovery instead of a frustrating maze. It's about creating an inclusive and delicious dining experience, catering to every dietary need and preference. With these strategies in place, your restaurant stands ready to welcome all food lovers, making your mark in the evolving world of dietary trends.
Always Ask if Anyone Has Special Dietary Requests or Restrictions
Understanding your patrons' dietary requests and restrictions is key in the bustling world of culinary delights. As the host, imagine yourself asking with genuine concern about special dietary needs. It's a moment of connection, a signal that you value their health and comfort. Now, imagine the relief and gratitude in your guest's eyes. No longer must they worry about hidden gluten or unintentional animal products.
Instead, they're free to explore your menu, their choices guided by your commitment to their dietary needs. The reassuring presence of clearly marked gluten-free or vegan options and your readiness to accommodate brings peace of mind.
At your establishment, dining out becomes less about anxiety and indulgence. This interaction isn't just about food—it's about delivering a warm, personalized experience. As the host, you bridge the gap between delicious, diverse offerings and each individual's unique nutritional path.
In this dance of gastronomy, the question you pose is more than mere courtesy. It's a commitment to inclusive dining, a testament to your adaptability. You're doing more than just keeping pace with dietary trends but setting the rhythm. You're becoming the trusted choice for individuals navigating the food world with dietary restrictions or preferences in mind.
Remember, every question about dietary requests can be a stepping stone to your restaurant becoming a haven for food lovers of all stripes.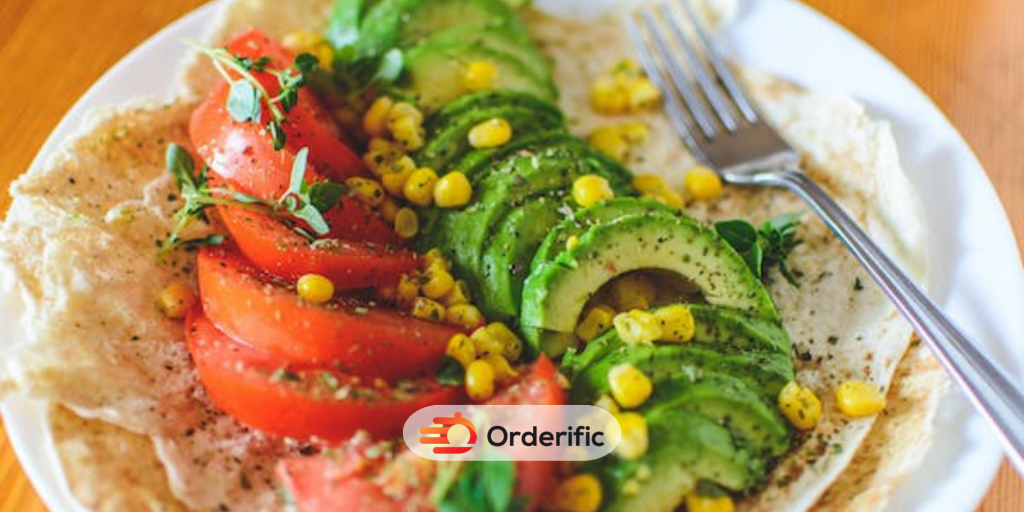 Do's and Don'ts for Adapting Menus to Diet Trends
In today's restaurants' bustling, aromatic kitchens, the art of menu adaptation unravels to the rhythm of dietary trends. Each dish each ingredient, becomes an opportunity to cater to diverse dietary preferences, from the earthy notes of vegan options to the comforting familiarity of gluten-free choices. As this culinary symphony unfolds, there are some key considerations to bear in mind:
Do's for Adapting Menus to Diet Trends
Experiment with Ingredients: Allow your culinary creativity to unfold by experimenting with novel, nutrient-rich ingredients. Think hearty, plant-based proteins in your vegan dishes or gluten-free grains in your baked goods.
Educate your Staff: Invest time educating your staff about these dietary trends. Knowledge about celiac disease or the benefits of plant-based food can enhance customer service, fostering an empathetic, informed environment.
Include Variety: Aim for diversity in your menu. Offering a wide range of vegan and gluten-free dishes would cater to different tastes, satisfying the health-conscious foodie and the adventurous diner.
Don'ts for Adapting Menus to Diet Trends
Ignore Cross-Contamination: Be aware of cross-contamination. Gluten-containing grains can easily be mixed with gluten-free options. Similarly, ensure your vegan food is not cooked using any animal product.
Overlook Labeling: Remember to label your dishes clearly. It helps those with dietary restrictions, like gluten intolerance or those following a vegan diet, to make informed decisions.
Neglect Nutritional Balance: Avoid the trap of focusing solely on taste. Balance is crucial. Ensure your vegan and gluten-free options provide essential nutrients, like vitamin D or omega-3 fatty acids.
You invite a symphony of flavors, textures, and nutritional benefits into your menu by heeding these guidelines. Remember, the goal is to create a dining experience that celebrates the diversity of dietary trends and welcomes every guest to the table.
The Future of Dining: Embracing Dietary Trends
The future of dining is an exquisite tapestry woven from the threads of dietary trends. In this vibrant panorama, vegan and gluten-free options blossom into mainstream stars. No longer confined to the margins, they radiate taste and health, dancing to the rhythm of a diverse, health-conscious society.
As you journey through this evolving landscape, your senses ignite. The fresh aroma of a gluten-free, oven-baked pizza wafting through the air, the sizzle of a plant-based burger grilling to perfection; each culinary scene captivates you, leaving you yearning for more. Yet the experience is not solely about the tantalizing flavors.
Gently, the human touch infuses itself. The warm smile of a server explaining a new vegan entrée and the careful attention to detail in preparing a gluten-free dish embodies the essence of future dining. Suddenly, the narrative shifts from mere food consumption to a journey towards inclusive, mindful eating.
Reimagining the dining experience, this new era caters to the diner's every need and preference. It engages not just the palate but the heart and mind. As you unwind, savoring the diverse offerings and the warmth of inclusive dining, you realize this is more than a trend. It's a celebration of food diversity, a testament to culinary innovation, and, most importantly, an ode to human connection. Welcome to the future of dining.
Conclusion
Embracing dietary trends like vegan options and gluten-free menus isn't just about staying current; it's about welcoming change and delighting in diversity. As the curtain falls on this culinary exploration, the journey of flavors continues. Orderific makes it easier for restaurant owners to adapt, ensuring each dish sings the melody of health, taste, and inclusivity. It's not just about food; it's about an experience—savoring the vegan burger's earthy appeal, relishing the comforting bite of a gluten-free pizza, and feeling the warmth of tailored, inclusive service. As you navigate this landscape, remember you're not alone. Schedule a FREE DEMO today for more on how Orderific can transform your restaurant's journey. Dive into the experience, and let your menu resonate with the harmony of today's dietary trends.
FAQs
What are some ways to successfully adapt the menu to include and sell plant-based foods, mainly plant-based proteins?
Incorporate plant-based proteins like lentils, tofu, and seitan in recipes, use vivid descriptions, and emphasize their health benefits.
What can you eat if you're vegan and gluten-free?
You can enjoy fruits, vegetables, legumes, nuts, seeds, and gluten-free grains for a vegan and gluten-free diet.
How do you accommodate dietary restrictions and preferences in your menu?
Offer numerous options, clearly label dishes, employ inclusive language, and always try to understand customer's dietary needs.
What are the benefits of a vegan, gluten-free diet?
A vegan, gluten-free diet can promote weight loss, improve heart health, and eliminate common allergens, enhancing overall well-being.