Introduction
The transformation of the restaurant industry in the digital age is nothing short of remarkable. Restaurants are rapidly transitioning from traditional paper menus to dynamic digital menu boards, enhancing their signage and customer experience. The digital menu boards, powered by advanced digital signage software, offer an interactive platform for customers to browse menu items on a smart TV screen. Moreover, digital displays allow quick menu updates, catering to fast food and immediate service restaurant needs. Couple this with the rise of contactless payments, and you have a revolutionized dining experience that's as efficient as engaging. Join us as we delve deeper into this trend, exploring the benefits of digital menus and contactless payments. Let's look at this digital signage solution that's taking the restaurant industry by storm.
Types Of Digital Menus For Restaurants
The restaurant industry's move from traditional paper menus to digital menus is a significant step towards revolutionizing the dining experience. Digital signage provides a firm foundation for these dynamic menus, enhancing restaurant signage and content delivery. High-quality digital menu boards offer customers an interactive platform to peruse menu items on a sleek smart TV screen, completely transforming the conventional menu browsing experience. This digital signage solution is powered by advanced digital signage software, allowing for swift menu updates, a feature particularly valuable in fast food and quick service restaurants.
Digital menus have an edge over traditional menus due to their adaptability and enhanced customer experience. They not only facilitate quick modifications in menu content, such as adding a new dish or altering prices but also improve the restaurant's signage and overall aesthetic appeal. Customers appreciate the ease of reading a digital menu, with crystal-clear text and vibrant images presented on a digital display, making the selection process more enjoyable and efficient. Moreover, digital menus make it easier for restaurants to update their offerings in real time, keeping their content fresh and relevant.
Features And Benefits Of Digital Menus
Digital menus have several standout features and attendant benefits that make them an appealing choice for restaurants. Here we list a few:
Dynamic updates: With digital menus, changes can be made instantly, allowing restaurants to adapt seamlessly to changing circumstances. Is an item out of stock? Price alteration? It can all be done in real-time.
Eye-catching display: The high-resolution digital displays bring the food to life with vibrant, inviting images. This enhances the customer's browsing experience, making menu selection fun and engaging.
Reduced printing costs: By shifting away from paper menus, restaurants can save on recurring printing costs. This makes digital menus a cost-effective option in the long run.
Interactive experience: The interactive nature of digital menus makes it easy for customers to navigate through options. They can browse different categories, see detailed descriptions, and make informed choices.
Increased sales: By showcasing promotional offers and highlighting special menu items, digital menus can help drive sales. They provide an excellent platform for upselling and cross-selling.
Sustainability: Digital menus are an eco-friendly choice, helping restaurants reduce their paper usage and environmental footprint.
Compliance with health regulations: In the wake of COVID-19, digital menus offer a safer, contactless alternative to traditional paper menus, thus complying with health and safety guidelines.
The features and benefits mentioned above make digital menus an obvious choice for restaurants aiming to enhance their signage, improve their customers' experience, and optimize their operations.
How To Design A Digital Menu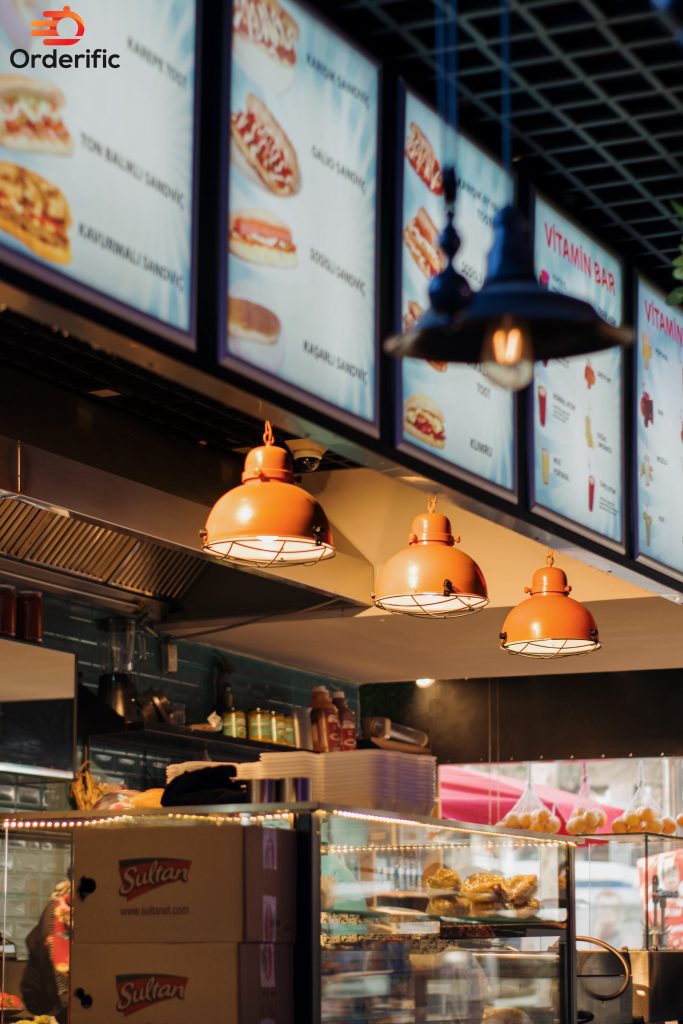 Choose The Right Font, Color, And Layout
The aesthetics of a digital menu play a crucial role in enhancing the customer experience. When designing your digital menu, it's important to select a font that is legible and simple, ensuring that customers can easily read and understand the menu content. The color scheme should be harmonious and evoke the atmosphere of your restaurant, contributing to a cohesive brand image. Moreover, the layout should be organized and intuitive, with items grouped logically by category. Ideally, your most popular or profitable dishes should be positioned in the 'Golden Triangle' – the area that customers' eyes naturally gravitate towards first – the center, top-left corner, and top-right corner of the menu. Remember, the goal is to create a design that is visually appealing, easy to navigate, and reflective of your restaurant's identity.
Leverage Menu Engineering
Menu engineering is a strategic approach to designing and organizing your digital menu. It involves analyzing each dish based on its popularity and profitability and then positioning high-performing items strategically on your digital menu. The main goal is to highlight dishes that are both popular and profitable, ultimately driving your restaurant's bottom line. With digital signage software, this process can be streamlined as it provides an easy way to make menu adjustments and test different layouts, item placements, and descriptions. By leveraging menu engineering principles in conjunction with the flexibility of digital signage, restaurants can create digital menus that are not only visually appealing but also effective in boosting sales and enhancing the dining experience.
Write Detailed Item Descriptions
To augment the digital menu experience, each item on your menu should have a detailed description. This helps customers understand what they're ordering, especially if the dish's name is not self-explanatory. Include essential elements like key ingredients, preparation method, and taste profile. Descriptions should be engaging and enticing, painting a delicious picture in the customer's mind and stimulating their appetite. It's also beneficial to denote items that cater to specific dietary requirements, such as gluten-free, vegetarian, or vegan, ensuring that all customers can easily find options suitable for them. Remember, a well-crafted description can make all the difference between a customer bypassing a dish or deciding to try it.
Incorporate Photos And Videos
Visual elements like photos and videos can significantly enhance your digital menu's appeal. High-quality images give customers a clear idea of what they can expect and stimulate their appetites by showcasing your dishes in the best light. Videos can offer behind-the-scenes glimpses into your kitchen, demonstrating the freshness of your ingredients or the skill of your chefs. While incorporating photos and videos, ensure they align with your restaurant's brand image and maintain a consistent visual theme throughout. Remember, a picture is worth a thousand words, and a well-placed photo or video can truly elevate your digital menu, engaging customers and enticing them to try your offerings.
Optimize For Different Devices And Screen Sizes
When designing a digital menu, it's crucial to optimize it for various devices and screen sizes. With people accessing menus on everything from large digital signage screens in the restaurant to their smartphones or tablets, a responsive design ensures consistent, high-quality display across all device types and sizes. It's also crucial to remember that what looks good on a large screen may not be as legible on a smaller device. Hence, pay attention to elements like font size, image resolution, and layout to ensure your digital menu is easy to read and navigate on any screen. By optimizing your digital menu for different devices, you ensure a seamless, enjoyable browsing experience for all your customers, regardless of how they access your menu.
Make It Accessible
Accessibility should be a pivotal consideration when designing your digital menu. Strive to make your menu easily navigable for everyone, including those with disabilities. For instance, include features like font size adjustment, high-contrast modes, and screen reader compatibility for visually impaired users. For customers with hearing impairments, any videos should have closed captions. Also, consider incorporating multiple language options to cater to a diverse customer base. By prioritizing accessibility, you not only comply with legal requirements but also ensure an inclusive, welcoming dining experience for all.
How To Implement A Digital Menu At Your Restaurant
1. Choose A Digital Menu Provider
Selecting a dependable digital menu provider is a crucial step in implementing a digital menu in your restaurant. It's important to choose a provider whose solutions align with your needs, preferences, and budget. When evaluating providers, consider factors such as the functionality of their digital signage software, the quality of their digital displays, their customer service, and their reputation in the industry. A reliable provider will offer robust, user-friendly software, high-quality displays, responsive customer support, and positive reviews from clients. Remember, the right provider will not just supply you with the necessary hardware and software but also offer guidance and assistance throughout the implementation process.
2. Design Your Menu
Once you have chosen a digital menu provider, the next step is to design your digital menu. This is a critical process that involves various elements such as selecting a readable font, choosing suitable colors, and creating a logical layout. To enhance your menu's effectiveness, utilize menu engineering principles which involve strategically placing popular and profitable dishes. Detailed descriptions of each item can further enhance the customer's experience, helping them understand what they're ordering. Incorporate high-quality photos and videos for a more appealing display, but ensure these are optimized for various device screen sizes. Prioritize accessibility to ensure your menu is user-friendly for all customers. With careful design, your digital menu can significantly enhance your customer's experience and boost your sales.
3. Integrate With Your Existing Systems
For smooth operation and consistency, it's essential to integrate your digital menu with your existing systems, such as your Point of Sale (POS) system, inventory management, and website. This integration allows for real-time updates across all platforms, ensuring accurate, up-to-date information is always available to customers and staff. It also reduces manual work, as changes made in one system automatically reflect in others. For instance, if a dish gets sold out, the digital menu and the website get updated instantly to reflect this, preventing customers from ordering unavailable items. Therefore, system integration is a crucial step in implementing a digital menu, enhancing efficiency and accuracy in restaurant operations.
4. Train Your Staff
Adopting a digital menu at your restaurant is essential for enhancing the customer experience. It provides dynamic updates, and eye-catching displays, reduces printing costs, and facilitates an interactive experience. Implementing a digital menu involves selecting a reliable provider, and designing your menu with appealing aesthetics, optimized descriptions, and high-quality images. Menu engineering principles can be leveraged to boost sales. Further, the digital menu must be optimized for various devices and screen sizes, ensuring legibility and navigability. Integrating the menu with existing systems like POS and inventory management ensures real-time updates and consistency. Training staff is crucial for the smooth operation of the digital menu.
5. Market Your Digital Menu To Customers
Once your digital menu is implemented and your staff is well-trained, it is crucial to market it to your customers effectively. Use your social media platforms, website, and email newsletters to introduce your new digital menu, highlighting its features, benefits, and how it enhances the dining experience. You can also run promotional offers exclusively on the digital menu to incentivize customers to use it. For those dining in, use standees, table tents, or your staff to guide them through how to access and navigate the digital menu. Remember, customer adoption is vital for the success of your digital menu, so ensure you communicate its value effectively.
Conclusion
The proliferation of digital menus and contactless payments is revolutionizing the restaurant industry, enhancing the dining experience, and boosting business performance. As we've explored, the benefits of digital menus are multi-faceted – they enhance customer engagement, reduce printing costs, facilitate an interactive experience, bolster sales, contribute to sustainability, and align with health regulations. The process of designing an effective digital menu entails careful consideration of aesthetics, menu engineering, detailed item descriptions, visual elements, device compatibility, and accessibility. Implementing this technology involves selecting a reliable provider, integrating with existing systems, and training your staff. It is then crucial to effectively market your new digital menu to your customers. With the right strategies and tools, your restaurant can leverage digital menus and contactless payments to improve operations, boost customer satisfaction, and drive revenue growth.
If you're ready to venture into the world of digital menus and transform your restaurant's dining experience, Orderific is here to assist. We offer comprehensive digital menu solutions tailored to your restaurant's needs. Book a demo with us today to explore how our solutions can benefit your business.
FAQs
What are digital menus, and how do they enhance the dining experience for customers?
Digital menus are electronic versions of physical menus, offering an interactive, visually appealing, and efficient way for customers to browse and order food.
How do contactless payments work, and what benefits do they offer to both customers and businesses?
Contactless payments allow customers to pay for their meals using digital methods, improving security and making transactions quicker and more convenient.
Can digital menus be customized to suit the specific needs and branding of different establishments?
Yes, digital menus can be fully customized to reflect a restaurant's branding and unique offerings.
Are there security measures in place to protect customer information during contactless payments?
Yes, contactless payments utilize advanced encryption technologies to protect customer information.
How can businesses seamlessly transition to digital menus and contactless payments without disrupting operations?
Implementing digital menus and contactless payments can be seamless with proper planning, staff training, and customer education.