As we forge into the digital age, our dining experiences get a tech-forward makeover. Picture your favorite local bar, a cozy spot you'd frequent for after-work drinks in digital menus. Imagine an enhanced experience where the traditional paper menu gives way to an interactive digital menu screen, transforming your ordering process.
Digital menus offer a neat, modern touch to the restaurant ambiance while catering to the evolving consumer preferences for contactless operations. They provide the restaurant owner with the flexibility of instant menu updates, showcasing daily specials or sold-out items. These modern amenities significantly elevate the customer experience, making dining out not just about the delicious food but also about engaging interactions with the digital world.
In this era of online ordering and heightened health consciousness, embracing digital menus is the way forward for restaurants and bars aiming to offer an optimal dining experience. Step into the future of dining with us as we delve into digital menus for modern dining.
Types of Digital Menus for Restaurants
Every dining establishment, from the buzzing coffee shop on the corner to the elegant restaurant downtown, has seen the digital revolution sweep across the industry. In this digital era, traditional paper menus are being replaced with innovative digital menus, each type catering to specific needs and scenarios. Here's a look at the different types of digital menus that enhance the modern dining experience:
Digital Menu Boards: Perched high above the counter, digital menu boards present a striking upgrade from traditional signage. They capture the essence of the menu items with vibrant images, making a dinner menu selection a visual treat. Updates to these digital signs are instant, saving restaurant owners the hassle of reprinting menus.
Digital Signage Software: An essential tool in maintaining brand consistency, digital signage software allows for seamless content management across multiple screens. These solutions ensure the menu design is visually appealing and consistent, enhancing the overall customer experience.
Online Menus: A well-designed online menu is crucial in this age of online ordering. It provides guests the convenience of browsing the entire menu, placing orders, and availing special offers from their mobile devices at home or on the go.
Menu Screens: Think of a digital menu screen as an interactive paper menu. Displayed on a screen or an Android TV, it offers a dynamic visual experience that traditional menus can't match.
Digital Displays: These are not confined to the dinner menu alone. Digital displays can showcase everything from special offers to social media posts, offering an interactive guest experience.
Embracing digital menus means entering a future where restaurants cater to modern consumer preferences. The personal touch of a restaurant owner, combined with the convenience of digital menus, creates an unparalleled dining experience.
Features and Benefits of Digital Menus
Digital menus are making waves, revolutionizing the dining landscape with many impressive features and benefits. Their impact extends beyond merely replacing traditional paper menus, forging an elevated dining experience for patrons.
Instant Menu Updates: Gone are the days of reprinting menus for every minor change. With digital menus, modifications are just a click away. This flexibility empowers a restaurant owner to showcase limited-time specials or strike off sold-out items promptly.
Engaging Visuals: Digital menu screens transform the routine task of ordering into a visually stimulating experience. High-quality images of menu items and enticing descriptions tantalize guests' senses before the first bite.
Brand Consistency: Digital signage software ensures a seamless visual narrative across all digital displays. This consistency enhances the aesthetic appeal and strengthens the restaurant's brand identity.
Customer Convenience: Online menus allow customers to explore the entire menu, place orders, and avail of special offers using mobile devices. This convenience taps into the trend for on-demand dining and fosters a better customer experience.
Dynamic Content: Digital menus can do more than just list dishes. They can display special offers, highlight customer reviews, or even feature real-time social media feeds. These dynamic elements add an interactive dimension to the dining experience.
Operational Efficiency: Digital menus streamline the ordering process, saving time and cost. This efficiency boost can transform the restaurant's bottom line while improving the dining experience.
In the world of modern dining, digital menus are a game-changer. They blend technology and tradition, digital convenience, and human touch, creating a unique dining experience that caters to the evolving expectations of today's consumers. So, next time you head out for a meal, keep an eye out for these digital marvels. They might transform your dining experience.
How to Design a Digital Menu
Designing a digital menu can be an exciting venture, embodying the essence of a restaurant. First, consider the overall aesthetic and ambiance of your establishment. The digital menu design should be a natural extension of this atmosphere, invoking the same emotions in your guests.
As a restaurant owner, every decision you make influences your customer experience. Your menu is no exception. The menu design should be clear and compelling, instantly drawing attention to your most tempting dishes. Vibrant, high-quality images of your offerings can whet appetites, while brief, enticing descriptions can guide choices and encourage exploration.
Equally important is the ease of navigation. A well-structured digital menu assists guests in their ordering process. Your digital menu screen should be intuitive, with menu items logically grouped and easily accessible.
Keep in mind the versatility of digital menus. With instant menu updates, you can seamlessly adapt your menu to special offers, seasonal changes, or sold-out items. This dynamic feature elevates the customer experience and showcases your restaurant's responsiveness and attention to detail.
Lastly, remember the technical aspects. Ensure your digital signage software supports consistent presentation across multiple screens and devices. Optimize your online menu for mobile devices, providing guests with a flawless browsing and ordering experience.
Remember, your digital menu is a visual storyteller and a silent salesperson. It should engage, entice, and encourage – a symphony of visuals, words, and technology. With thoughtful design, your digital menu can become integral to your restaurant's identity, enhancing your brand consistency and enriching the dining experience.
How to Implement a Digital Menu at Your Restaurant
Picture a bustling restaurant, the air filled with the tantalizing aroma of sizzling dishes and a harmonious cacophony of clinking cutlery and light-hearted banter. At the heart of this inviting tableau is an eye-catching digital menu screen, a modern maestro orchestrating the symphony of the dining experience. Implementing a digital menu at your restaurant may seem daunting, but fear not—with the right approach, it can be a walk in the park. Here are some easy-to-follow steps:
Choose a Digital Menu Provider: Select the right digital menu provider. Seek a company offering robust digital signage solutions, key features, and reliable technical support.
Design Your Menu: Devote time to designing your digital menu. Keep in mind your restaurant's ambiance and brand consistency. Utilize enticing images of your menu items and ensure easy navigation for an optimal customer experience.
Integrate with Existing Systems: Seamlessly integrate the digital menu software with your existing systems. This includes your online ordering platform and social media channels, ensuring a smooth flow of information.
Train Your Staff: Implementing a digital menu requires your staff to be well-versed with the new system. Conduct training sessions, making them comfortable with the digital signage software and menu updates.
Market Your Digital Menu to Customers: Remember to promote your new digital menu. Use social media and online platforms to attract attention and invite your guests to experience the benefits of your digital menu firsthand.
Transitioning from a traditional paper menu to digital displays modernizes your restaurant and enriches your guests' dining experience. So, why wait? Embrace the digital revolution and bring your restaurant operations into the modern age.
Optimizing Your Digital Menu for Better Customer Engagement
Optimizing your digital menu in the modern dining landscape can significantly increase customer engagement. Picture this: a customer casually browsing your online menu from the comfort of their home. The high-quality images immediately engage their attention. Instantly, they can almost taste the creamy spaghetti carbonara, smell the tantalizing aroma of the freshly brewed coffee, or hear the gentle sizzle of the steak on the grill.
The journey doesn't stop there. Engaging descriptions invite exploration. The words dance off the screen, vividly depicting the dining experience waiting for them. Each dish is a story narrated with passion, invoking curiosity and anticipation. This moment of connection, forged through digital screens, is the magic of an optimized digital menu.
Consider the impact of special offers highlighted on your digital displays. Customers are drawn in, enticed by the chance to try something new, perhaps a dish they prefer to avoid picking. This simple nudge can transform a routine dinner into an exciting culinary adventure.
Ease of navigation is another crucial element. Guests can browse the menu categories seamlessly, finding their favorite dishes or discovering new ones. This smooth journey and the convenience of online ordering guarantee a memorable dining experience.
Moreover, digital menus can showcase real-time social media feeds or customer reviews – fostering a vibrant community around your restaurant. Witnessing fellow diners rave about a particular dish can spark curiosity, encouraging new customers to try it.
Optimizing your digital menu is about creating a captivating narrative, a sensory experience that connects with your customers emotionally. It's about blending the efficiency of technology with the warmth of human connection, creating a dining experience that resonates and engages. So, invest time optimizing your digital menu, and watch as it transforms your customer engagement.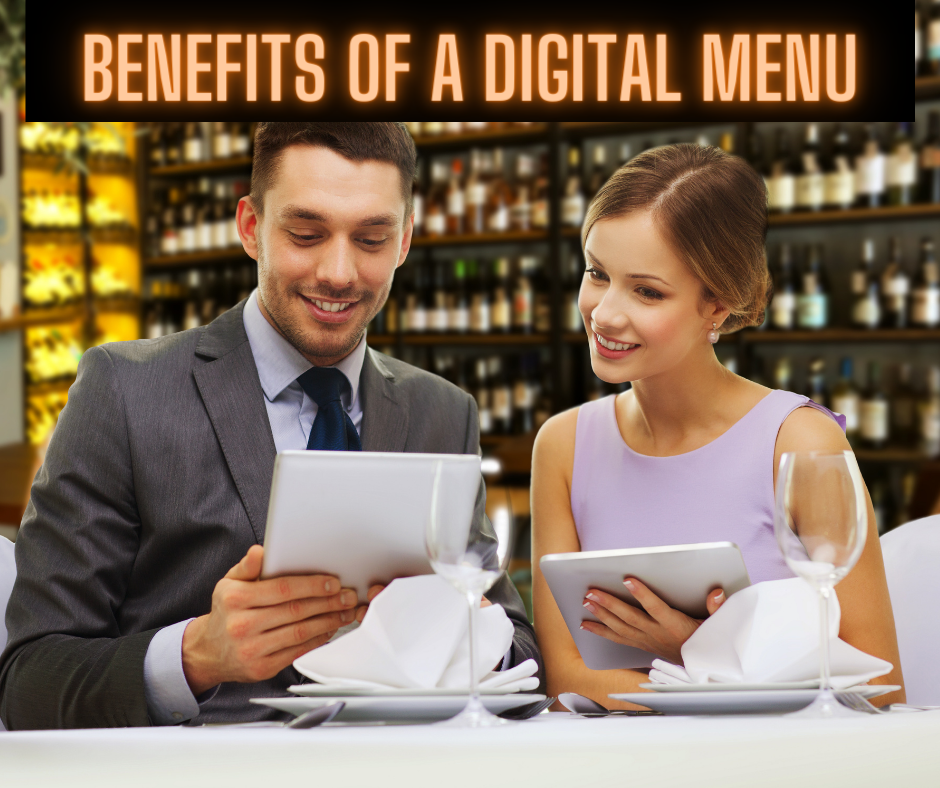 Overcoming Challenges in Implementing Digital Menus
Indeed, the transition to digital menus can pose challenges. However, overcoming these can be a breeze with careful planning and informed decisions. Initially, the cost of implementation may seem daunting. But remember, digital menus are an investment. They bring long-term savings, eliminating the need for constant menu reprinting and reducing staff tasks.
Moreover, grappling with new technology can be intimidating. Yet, with intuitive digital signage software, this becomes a manageable task. Most providers offer seamless integration and user-friendly interfaces, easing the learning curve. Staff training is pivotal here. Equip your team with the necessary knowledge and skills to navigate this new system.
Worried about maintaining your unique restaurant ambiance? Don't be. Digital menus enhance your restaurant's character, not overshadow it. Design your digital menu to reflect your brand's personality, seamlessly integrating it into your existing atmosphere.
Next, consider connectivity issues. A reliable internet connection is crucial to ensure the smooth operation of your digital menus. Opt for a provider that offers offline mode, giving you peace of mind even during unexpected downtime.
Managing constant menu updates may seem overwhelming. But here's where the beauty of flexibility shines. With digital menus, updates are a click away, enabling you to adapt swiftly to changes.
In the digital age, challenges are but stepping stones to innovation. Embrace the challenges of implementing digital menus, knowing they lead to a more engaging and efficient dining experience. As you embark on this digital journey, remember that you're not just upgrading your menu but revolutionizing the dining experience.
The Future of Dining: A Look Ahead at Digital Menu Trends
As we gaze into the future, one thing becomes clear: the dining landscape is set for a digital makeover. Imagine walking into your favorite restaurant. An elegant digital screen greets you, replacing the traditional paper menu. This isn't just about convenience; it's a sensory journey—high-resolution images of mouth-watering dishes beckon, enticing your taste buds even before you order. Every dish unfolds a story, narrated through engaging descriptions that resonate with your culinary curiosity.
Dynamic content dances across the screen. From special offers to real-time customer reviews, the digital menu comes alive, stirring excitement and anticipation. Seamless navigation ensures an effortless dining experience, allowing you to explore at your leisure, savor the digital ambiance, and immerse yourself in the culinary narrative. It's more than ordering a meal; it's about forging a connection.
Moreover, remember the last time the dish you craved was sold out? With digital menus, that's a thing of the past. Instant updates keep you informed, ensuring your dining experience remains uninterrupted. Meanwhile, your feedback loops into the system, contributing to the restaurant's vibrant online community.
This is just the beginning. As technology evolves, the digital dining experience will continue to enrich, surprise, and delight. The future is here, and it's deliciously digital. Welcome to the next dining chapter, where tradition meets technology, and the menu becomes an immersive culinary adventure.
Conclusion
The digital era heralds exciting changes for the mining industry. Through the lens of Orderific, we've explored how embracing contactless operations in bars can redefine the dining experience. Digital menus, a key player in this transformation, blend modern convenience and a warm, inviting ambiance. Picture this: high-quality images of mouth-watering dishes dance on the screens, engaging descriptions kindle your culinary curiosity, while seamless navigation ensures an effortless dining journey. Plus, with real-time updates and special offers, every dining experience promises a fresh surprise. As we navigate this digital revolution, let's remember the essence of dining – a sensory journey, shared stories, and a heartfelt connection. Excited to revolutionize your dining operations? Learn more about Orderific and schedule a FREE DEMO today.
FAQs
How do digital menus enhance the dining experience in the restaurant industry?
Digital menus enrich the dining experience by improving service speed, offering real-time updates, enhancing visual appeal, and facilitating personalized experiences.
What technologies and features are typically included in digital menu solutions?
Digital menu solutions typically include high-resolution displays, intuitive navigation, real-time updates, social media integration, and online ordering features.
How can digital menus accommodate changing dietary preferences and allergies?
Digital menus can easily be updated to highlight allergen information and cater to dietary preferences like vegan or gluten-free options.
What challenges do businesses face when transitioning from traditional to digital menus?
Transitioning may involve high costs, staff training, maintaining brand image, dealing with connectivity issues, and managing constant updates.