In an effort to remain open in a post-COVID world restaurants have had to change the way they operate. Restaurants have discontinued the use of paper menus and turned to digital restaurant menus to create a safer and more streamlined dining experience for customers.
I'm sure you've been to a restaurant and looked for the menu. Then you saw nothing but a little QR code on the table.
I remember the first time I saw one of these codes. I had no idea what to do with it! So I asked the waiter how to get the menu! When they told me that I could open up the menu by pointing my phone's camera at the barcode, I was curious! I went ahead and popped open my camera and the smartphone instantly recognized the QR code and opened the menu in the web browser. I was so impressed!
Have you jumped on the digital restaurant menu trend yet? If not, by the time you read this article you're going to be chomping at the bit to get one for your restaurant.
What is a Digital Restaurant Menu
A digital menu is basically an electronic form of a restaurant menu.
The most common form of digital menus are Qr Code Menus. These Qr Codes are scannable from any smart phone or Qr scanner. They are extremely easy to use, so you simply scan the qr code which automatically sends you to the restaurant menu.
Most Qr Code menus are static which means you can only view the menu but not itneract with it.
However, now there are advanced versions of digital restaurant menus , in which you can place orders and pay all from your mobile phone.
What are the Benefits of a Digital Restaurant Menu?
List Building Capacity
List Building Capacity – When customers come to your restaurant and order using the a digital restaurant menu, they will be required to input their email address if they wish to get discounts and be part of the-loyalty programs. This way you'll be able to harvest their emails. Which will allow you to enroll them in loyalty programs and send them custom email marketing materials!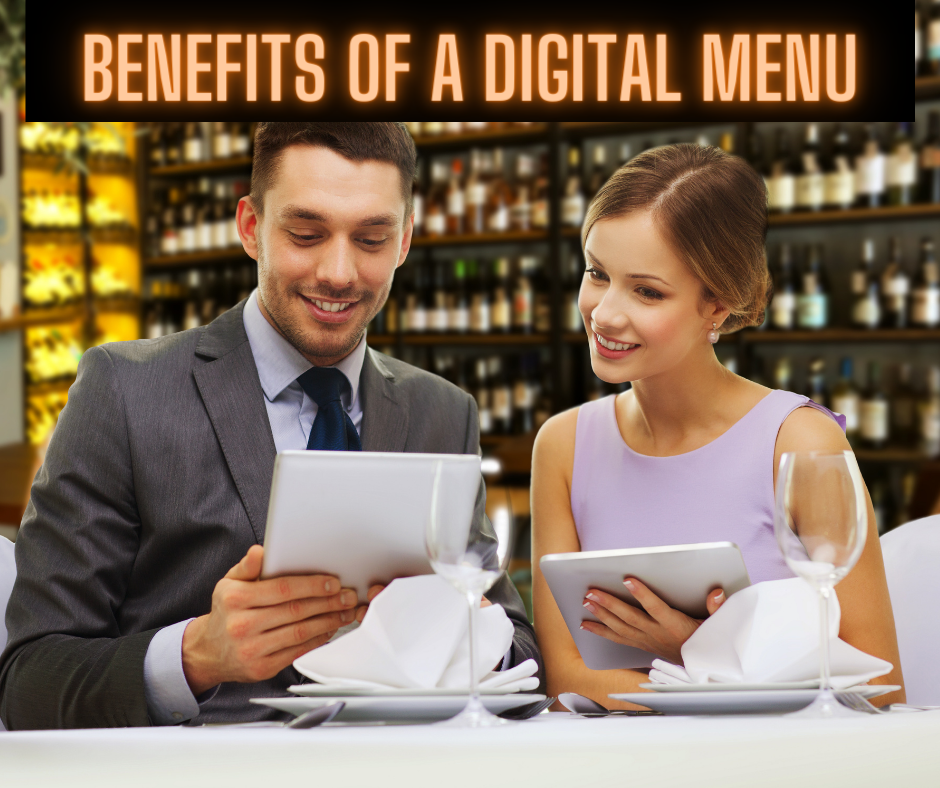 SEO Improvement
SEO Improvement – Using digital menus provides ample opportunity for your restaurant to rank for relevant keywords on search engines. This will help potential clients find you more easily. If you specialize in gluten free baking and someone is looking for "gluten free baking" in your zip code you're restaurant will pop up on google!
Automated Inventory Tracking
Better Inventory Tracking – The back end of orderific allows you to program exactly how much of each ingredient you need to create each dish. It also keeps track of third party items you sell. That way you can easily keep track of inventory. And order more of an item before you run out! Orderific even stores vendor information for seamless ordering!
No More Printed Menus
No Printed Menus – Getting rid of printed menus removes the hassle of having to print out menus every time you make changes. If you have weekly specials or daily specials you don't need to spend unnecessary money, time, or kill trees. If you run out of an item, no big deal! You can remove it from the menu in seconds. That way no clients ask for it and get disappointed when you tell them you ran out. In addition, you can add the item back in as soon as it's back in stock.
Change Menus with Ease at Lighting Speed
Ability to Easily and Quickly Change Menus – Do you have different menus that you offer for lunch, dinner, brunch, the weekends and specials? If so a digital restaurant menu would allow you to switch between each menu easily based on the date and time!
Common Questions about Digital Restaurant Menus
How do I make a digital restaurant menu?
You can make a digital restaurant menu with Orderific.
Sign up for our free digital restaurant menu that help you automate repetitive manual tasks
What is a digital menu ?
A digital restaurant menu features a QR code that customers can scan with their smartphone's camera, which then takes them to an online digital menu in their preferred web browser like chrome or safari. Upon opening the digital restaurant menu the customer can browse food items available for purchase. On restaurant tables these contactless menus can be found on postcards or stickers. Totally replacing the need for paper menus! This means a safer and greener experience for all involved in the transaction.
How do I make a digital menu for free?
So many companies out there offer you a digital menu but they come with tons of fees! You can get the same exact service for free from Orderific!

Click here to get your own right now.
Get A Free Demo Of Orderific QR Menu Code for Restaurants
Its amazing that a free software can make your business easier in so many ways. Are you struggling with aspects of your billing? We would be more than happy to talk to you and troubleshoot issues you're having with your business. A Free QR code for restaurants free of charge can solve almost all of your business issues. Making it easy for you to focus on your customers and less on the other stuff.
Click here to book your free demo and get a free custom digital QR code menu for your restaurant today!