Introduction
Step into the vibrant downtown club scene, where nightclubs pulsate with live music, an everlasting dance floor, and a plethora of cocktails flowing till late night. Downtown presents an exciting fusion of events from comedy to hip hop, making it the heart of nightlife in cities like San Diego, New York, and South and North Carolina. The clubs offer craft beers and cocktails and serve as a performing arts venue. Each club, whether it's a sports bar or an upscale nightclub, reflects its city's unique character. From the bustling bars on Main Street to the cozy outdoor bars and expansive rooftop bars, there's always a great place to grab a cold beer or enjoy happy hour. Dive into this guide to discover the best these downtown clubs offer.
The Downtown Club Scene: What Makes It Unique?
The downtown club scene sets itself apart with its diverse offerings and unique charm. During the day, Main Street in cities like San Diego and New York bustles with restaurant-goers and shoppers, but as night falls, it transforms into a lively nightlife hub. Sports bars and nightclubs open their doors, inviting everyone for a night of fun and entertainment. These venues double up as performing arts spaces, where you can enjoy comedy or hip-hop performances while sipping craft beers and cocktails.
Downtown clubs are about more than just drinks; they're about experiences. You could be sitting at a rooftop bar, marveling at the city skyline, or on the dance floor of a pulsating nightclub, grooving to live music. Furthermore, South Carolina's lively dance clubs and North Carolina's eclectic live music venues are just two examples of the diverse club scene. As the night progresses, happy hour deals become the icing on the cake, making these night spots an irresistible destination for anyone seeking a great place to unwind.
From outdoor bars serving cold beers to venues offering an array of craft cocktails, downtown has you covered. Whether you're a fan of the classic beer or prefer a more sophisticated cocktail, downtown bars cater to all tastes. So next time you're looking for a late-night adventure, remember the downtown club scene – where every night celebrates life, music, and the joy of being with friends.
The Top Clubs in Downtown Areas
1-OAK, New York: One of the premier nightclubs in the city, 1-OAK offers a unique blend of art and fashion. Its cocktail menu is as glamorous as its clientele, and the space doubles as a canvas for renowned artists.
Oxford Social Club, San Diego: In the heart of downtown San Diego, Oxford Social Club is an upscale lounge known for its mesmerizing interiors, live music, and a wide selection of cocktails. It's a venue where the city's who's who come to unwind.
Rooftop 210, North Carolina: This venue offers a stunning view of the city skyline. It's a favorite spot for locals and visitors alike and the perfect place to sample a variety of beers under the Carolina sky.
The Grand, South Carolina: Known for its pulsating dance floor and live music, The Grand is a centerpiece of South Carolina's nightlife. Here, every night is a celebration with friends, music, and an array of craft beers and cocktails.
Live Music Venues in Downtown Areas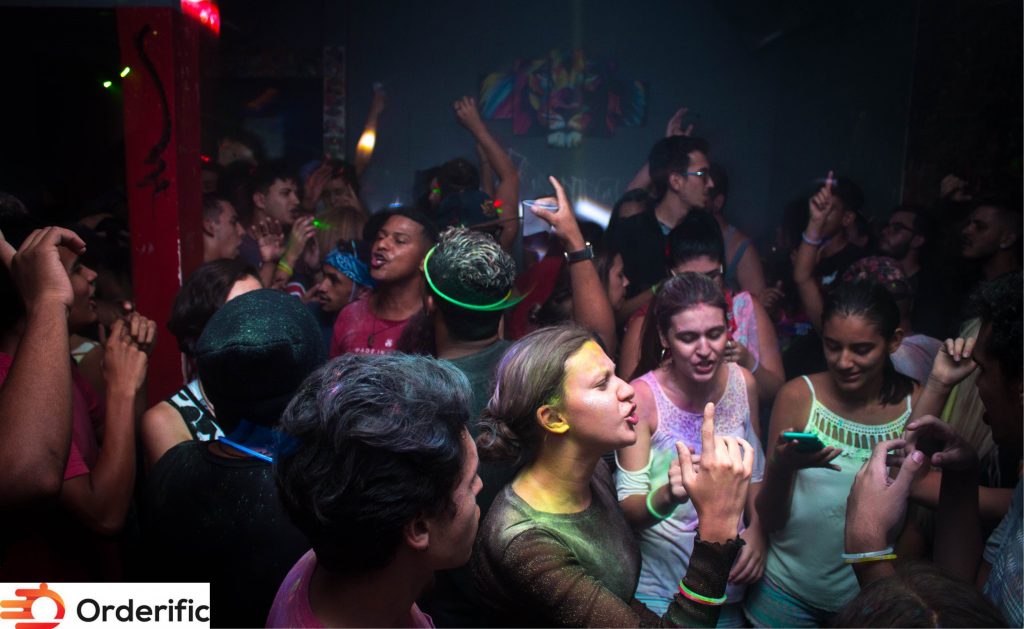 Downtown areas are not just the economic hub of a city. They are also the heart of the nightlife, offering various nightclubs catering to diverse interests. They transform as the sun sets, with venues opening their doors to a night filled with fun, music, and engaging performances. These clubs, each reflecting the unique culture of its city, offer more than just drinks – they offer experiences. Hence, From viewing the city skyline from a rooftop bar to dancing the night away, there's something for everyone. Top choices like 1-OAK in New York and Oxford Social Club in San Diego offer glamorous cocktails and mesmerizing environs, while clubs like The Grand in South Carolina promise a night of live music and dancing. Thus, With something for everyone, downtown clubs are the go-to destination for a memorable night out.
The Role of Downtown Clubs in the Local Nightlife Scene
Downtown clubs play a pivotal role in shaping the local nightlife scene. They serve as melting pots, bringing together diverse crowds for a shared love of music, cocktails, and entertainment. From sports bars teeming with camaraderie to upscale nightclubs offering a taste of the high life, these establishments create a sense of community and excitement that defines city living. Moreover, local clubs often foster artistic talent, providing a platform for performers to showcase their skills in comedy, live music, or DJing. Ultimately, downtown clubs are more than just venues; they are catalysts for cultural exchange, social interaction, and unforgettable experiences.
Tips for Enjoying the Downtown Club Scene
Explore Variety: Each downtown club offers a unique experience. From rooftop bars with stunning city views to high-energy dance clubs, there's something for every taste.
Try the Cocktails: Downtown clubs are known for their array of cocktails. Whether you prefer a classic drink or something more adventurous, don't miss out on trying the bar's specialties.
Experience Live Performances: Many clubs double as performing arts venues, offering comedy shows, live music, DJ sets, and more. Be sure to check out these performances for an enhanced clubbing experience.
Take Advantage of Happy Hour: Many clubs offer happy hour deals that can make your night out more affordable. Look out for these specials, usually offered in the early evening.
Enjoy the Local Flavor: Each club reflects the character of its city. Enjoy the local beer, listen to the local music, and immerse yourself in the unique culture each club has to offer.
Safety First: Always remember to enjoy responsibly. Ensure you have a designated driver or use a taxi or ride-sharing service if you plan on drinking.
Dress Code: Some clubs have strict dress codes, especially upscale venues. Do a quick check online or call ahead to ensure you're dressed appropriately.
Arrive Early: Downtown clubs can get quite crowded, especially on weekends. Arrive early to secure a good spot and avoid long queues.
Be Social: Downtown clubs are social hubs. Don't be afraid to strike up a conversation with fellow club-goers. You never know who you might meet!
Enjoy: Most importantly, remember to relax and enjoy the downtown club scene. It's all about having a good time!
Winding Up
In conclusion, downtown clubs are more than just venues for drinks and dance. They are the heart of the city's nightlife, offering a blend of diverse experiences that cater to different interests, from sipping cocktails at a rooftop bar overlooking the city skyline. Furthermore, To grooving to live music on a pulsating dance floor or enjoying a comedy show, downtown clubs offer it all. Hence, They are the melting pots of culture, fostering a sense of community and serving as platforms for performers as you navigate the downtown club scene. Remember to soak in its unique flavor, enjoy local offerings, and make the most of the experiences it offers. Thus, Go ahead, step into the vibrant downtown club scene, and make each night a celebration of life, music, and camaraderie.
When you're ready to explore the downtown club scene, our platform, Orderific, can help you plan your itinerary seamlessly. Schedule a demo with us and experience how we can enhance your nightclub journey. So, Visit Orderific to schedule your demo today.
FAQs
What makes the downtown club scene unique?
The downtown club scene is unique due to its diverse offerings, varied experiences, and its role as a cultural melting pot.
What are some of the top clubs in downtown areas?
Some top clubs in downtown areas include 1-OAK in New York, Oxford Social Club in San Diego, Rooftop 210 in North Carolina, and The Grand in South Carolina.
Are there any live music venues in downtown areas?
Yes, many downtown clubs feature live music performances.
What is the role of downtown clubs in the local nightlife scene?
Downtown clubs play a significant role in fostering local culture and providing entertainment and social experiences.