For countless beauty enthusiasts, the allure of creating their own dream salon space is a dream that frequently captures their imagination. This vision is not just of a place with chairs, mirrors, and hair products. Instead, it's a sanctuary where every client feels pampered, heard, and transformed. Imagine a space where the hum of hair dryers mixes with satisfied sighs, where clients don't just walk out with a new haircut or polished nails but with a spring in their step and renewed confidence.
A dream salon is an embodiment of a beauty artist's philosophy; it's a place where every detail, from the ambient lighting to the texture of the salon robe, reflects a commitment to excellence and client well-being.
In today's digital age, such experiences don't just lead to loyal customers but also create brand ambassadors. Happy clients often turn to platforms like Instagram, Twitter, or beauty-focused forums, sharing their transformative experiences, lauding the salon's services, and posting those ever-so-satisfying before-and-after shots.
How to Turn Your Dream Salon into Reality
The transformation of an idea, especially one as intimate as a dream salon, into a physical space is no small feat. It demands creativity, business acumen, and an innate understanding of what your potential clientele seeks. Here's a step-by-step guide to help you set the foundation for your dream salon:
Create an Appealing Environment For Your Dream Salon
Ambiance is Key: The moment a customer steps into your salon, they should feel a sense of comfort and luxury. Whether it's the calming aroma of lavender, the soft lilt of relaxing music, or the artful decor, every detail contributes to the ambiance. 
Colors and Decor: Soft neutral tones often lend a soothing atmosphere. Remember, it's not just about the walls but also about the furnishings, the art pieces, and even the magazines you lay out.
Lighting: Natural light can do wonders, but if that's not feasible, aim for warm lighting that flatters but is also functional.
Talk about Your Dream Salon to Your Potential Customers
Build Hype Before Opening: Harness the power of social media. Teasers, behind-the-scenes glimpses, and countdowns can generate excitement.
Engage with Followers: Run polls asking potential customers about their favorite services or products. This not only gives you insight but makes them feel involved.
Right Location Matters a Lot For a Dream Salon
High Foot Traffic: Positioning your salon in an area with high footfall, like shopping districts or busy streets, can naturally attract customers.
Accessibility: Ensure the location is easily accessible, whether by car, public transport, or foot. Ample parking space is always a plus.
Research Your Neighbors: Being close to businesses like boutiques or cafes can be advantageous as their clientele might be similar to yours.
Always Pick Quality Products
Invest in the Best: Quality products not only ensure excellent results but also elevate the customer's overall experience. They'll appreciate that you're not skimping on their care.
Diverse Range: Ensure you have products catering to various hair and skin types. It's also great to have a mix of renowned international brands and local organic options.
Set Up the Efficient Systems For a Dream Salon
Seamless Appointments: Invest in a sound booking system where clients can schedule, reschedule, or cancel appointments with ease.
Inventory Management: Regularly check and replenish your stock. An efficient inventory system ensures you never run out of essential products.
Training Protocols: Regular workshops and training for your staff can keep them updated with the latest trends and techniques in the beauty industry.
Turning a dream into a successful business requires a blend of passion, strategy, and tenacity. But with the right approach and resources, your dream salon can indeed become a beloved reality in your community.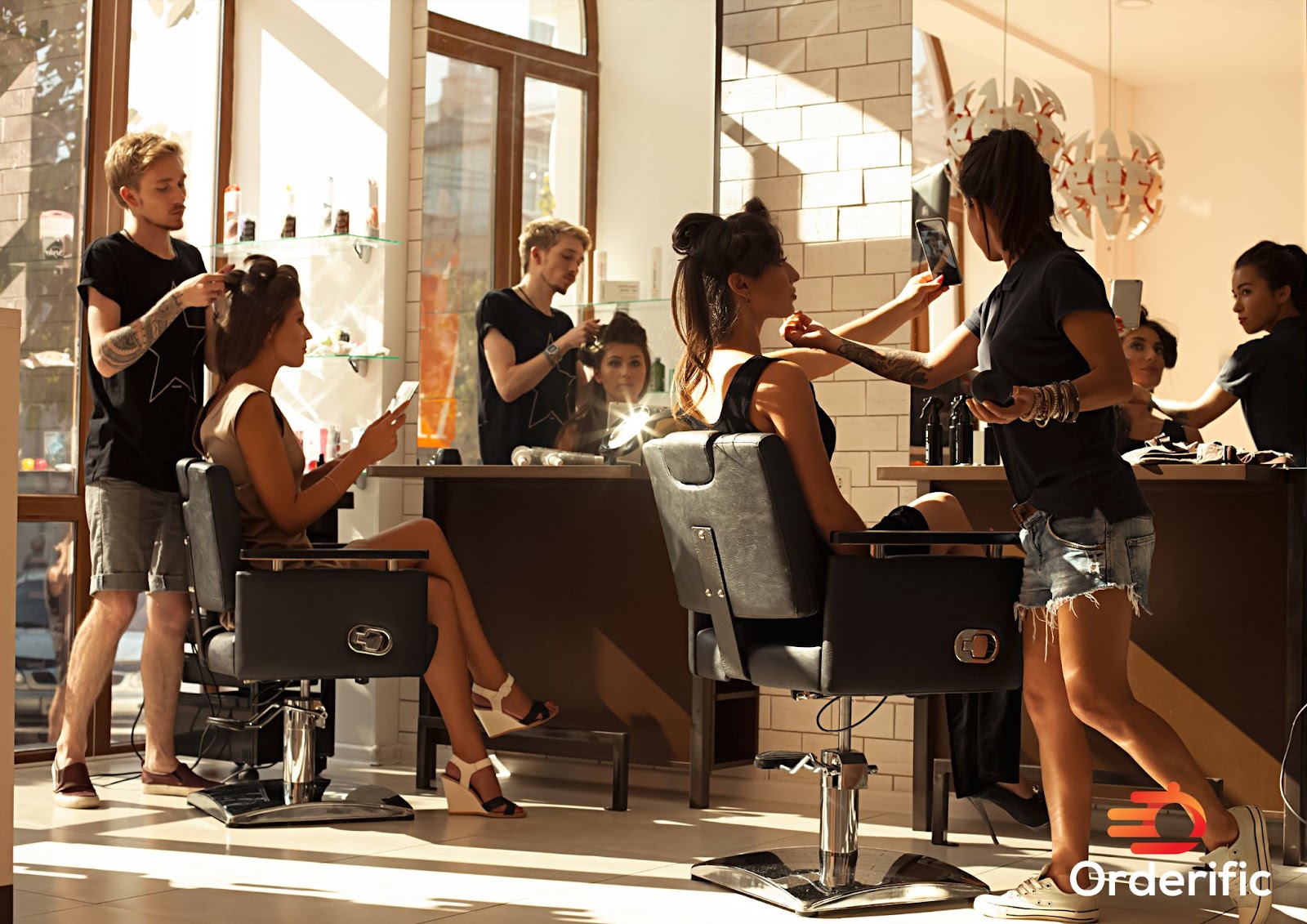 10 Tips To Keep Your Salon Running Smoothly
1. Prioritize Client Experience:
Attentive Listening: Make every client feel like they're your only client by paying attention to every word they say. This helps in providing personalized services that cater specifically to their desires and concerns.
Comfortable Environment: Ensure that the salon's ambiance is soothing. This includes comfortable seating, calm music, and a welcoming decor that offers clients a break from their daily grind.
2. Invest in Regular Training:
Skill Enhancement: Encourage your staff to regularly attend workshops to hone their skills. This investment results in improved service quality, which customers appreciate.
Product Knowledge: Knowing the products inside out can make a difference. It enables the staff to suggest the right products to clients and answer any questions they might have.
3. Efficient Booking System:
Online Bookings: Introduce an online booking system where clients can book, reschedule, or cancel their appointments. This reduces the pressure on front-desk staff and minimizes manual errors.
Reminders and Confirmations: Send out automated reminders to reduce no-shows and ensure clients remember their appointment schedules.
4. Maintain Financial Discipline:
Regular Audits: Conducting regular financial audits ensures that all transactions are accounted for and can highlight areas where expenses can be reduced.
Invest Wisely: Allocate resources wisely, prioritizing areas that need more investment, like marketing or equipment upgrades.
5. Keep Your Dream Salon Clean:
Regular Inspections: Regular inspections and audits of cleanliness standards can motivate staff to keep their stations tidy.
Client's Perspective: Walk around the salon as if you're a client. This allows you to see areas that may be overlooked during regular cleaning.
6. Foster Team Harmony:
Open Communication: Encourage a culture where team members can openly discuss any concerns, ensuring minor issues don't escalate.
Recognize and Reward: Regularly recognize and reward employees for their hard work and dedication. This boosts morale and encourages a higher standard of service.
7. Effective Marketing Strategies:
Leverage Testimonials: Encourage satisfied clients to leave positive reviews. Word of mouth, especially in the digital age, is golden.
Engage on Social Platforms: Maintain an active presence on social platforms. Share behind-the-scenes glimpses special offers, and showcase your work.
8. Streamlined Inventory Management:
Monitor Trends: By keeping an eye on popular treatments, you can anticipate product demand.
Regular Stock Takes: Regular stock takes prevent over-ordering and highlight products that aren't moving, allowing for promotional strategies to be put in place.
9. Diversify Service Offerings:
Survey your Clients: Periodically, ask your clientele what services they'd like to see added. Their feedback can offer valuable insights.
Seasonal Specials: Introduce packages or treatments based on seasons. For instance, a summer special could include a cooling facial, or a winter package could focus on moisturizing treatments.
10. Embrace Technology:
POS Systems: Point-of-sale systems can streamline the billing process and provide valuable insights into popular services and products.
Client Profiles: Maintain digital profiles of clients to easily track their preferences, allergies, or past treatments. This can enhance the client experience immensely.
Conclusion
Running a salon is an intricate dance of managing both the technical and the managerial. While the beauty treatments provided are central, the way the business is managed can make or break its success. Implementing the above strategies can certainly steer your salon towards the path of success.
Realizing your dream salon is more than just having a vision. It's about meticulous planning, unwavering passion, and continuous adaptation to the ever-evolving beauty world. With the right strategies in place, your dream salon can stand out, offering an unparalleled experience that turns first-time visitors into lifelong clients.
In case you want more content like this, visit Orderific right now!
FAQs
How much does a hair salon make?
A hair salon's earnings can vary widely based on location, services offered, and clientele. On average, salon owners can expect a profitable margin.
How can I hire better stylists for my hair salons?
Look for stylists with a good balance of experience, a portfolio of their work, and excellent customer service skills.
Can I create a brand name for my salon on my own?
Absolutely! Think about what your salon represents, and brainstorm names that reflect your brand's ethos and services.
What kind of hair salons do hair extensions?
Many salons offer hair extension services. When seeking a salon for extensions, it's crucial to choose one with trained professionals.