Introduction
Whether you're a seasoned drinker or a novice to the cocktail scene, there's a wide variety of easy drinks to order at a bar. From the sweet and sour citrusy charm of the Whiskey Sour, which beautifully balances whiskey, fresh lemon juice, and a dash of sugar, to the iconic Old Fashioned, where bitters and a cube of sugar meet rye whiskey in a dance of taste – there's a drink for everyone. Vodka enthusiasts might lean towards the classic mixed drink, a Vodka Cranberry Juice cocktail, or maybe even a Black Russian. Tequila fans, on the other hand, can enjoy the simple pleasure of a Tequila and lime combination.
For those seeking a little variety, the Long Island Iced Tea offers a potent mix of vodka, tequila, and a splash of lemon juice. If you crave something more refreshing, perhaps the vibrant mix of fresh lime juice and club soda in a Mojito will quench your thirst. There are also sweet cocktails like the Amaretto Sour, which combines the sweet almond flavor of amaretto with the tartness of lemon juice. Whichever drink you choose, remember that a great cocktail is not just about the ingredients – it's about the balance of flavors, the method of preparation, and of course, the enjoyment of the drink.
10 Easy Drinks To Order At A Bar
1. Gin And Tonic
A classic choice for those who enjoy a crisp, refreshing drink, the Gin and Tonic is an easy-to-order cocktail that never goes out of style. A simple combination of gin, tonic water, and a squeeze of fresh lime, it's a delightful blend of bitter and sweet. This no-frills cocktail lets the botanicals in the gin shine through, making it an excellent choice for those who appreciate the complex flavors of good quality gin. It's also a versatile drink that can be enjoyed year-round, whether you're cooling off in the summer or looking for a light drink to savor in the colder months. Plus, with its low sugar content, it's a great choice for those trying to keep their sugar intake in check. Just remember to ask for your preferred brand of gin to make sure you get the most out of this simple yet sophisticated cocktail.
2. Rum And Coke
For those who enjoy a hint of sweetness in their alcoholic beverages, Rum and Coke is a timeless and effortless choice. This deceptively simple highball cocktail is made with just two ingredients – a generous pour of rum and a splash of Coca-Cola. Its magic lies in the perfect balance of the caramel and vanilla notes of the Coke with the deep, rich flavors of the rum. Despite its simplicity, the variety of rum used can significantly alter the taste experience. Spiced rum adds a warm, complex layer, while white rum keeps the cocktail light and crisp.
Even a touch of dark rum can introduce a robust, molasses-like flavor. For a zesty twist, squeeze in a wedge of lime. The bright citrus notes cut through the sweetness, making the cocktail even more refreshing. Whether you're at a summer barbecue or a casual night out, a Rum and Coke is a reliable, enjoyable choice.
3. Tequila Sunrise
If you're looking for a cocktail that's as pleasing to the eye as it is to the palate, look no further than the Tequila Sunrise. This vibrant, layered cocktail is an artful blend of tequila, fresh orange juice, and a splash of grenadine, which gives the drink its iconic gradient of color, reminiscent of a sunrise. The result is a drink that's not only visually stunning but also offers a harmonious mix of flavors. The robustness of the tequila is mellowed by the sweet and tart citrusy burst of the orange juice, while the grenadine adds a sugary finish that balances the overall taste.
To enjoy a Tequila Sunrise at its best, use a high-quality tequila. The quality of the tequila can significantly impact the flavor profile, turning a good drink into a great one. Remember, the key to a great Tequila Sunrise lies not only in the layers but also in the balance of its components. So next time you're at the bar, impress your friends with this aesthetically pleasing and deliciously refreshing cocktail.
3. Margarita
A much-loved classic, the Margarita is a must-try for tequila lovers. This cocktail is the epitome of balance, featuring the sweetness of agave nectar, the acidity of fresh lime juice, and the earthy undertones of high-quality tequila. Served in a glass with a salt-rimmed edge, the Margarita offers a flavor profile that is both sweet and salty, making it a refreshingly zesty cocktail that's perfect for a summer day or a night out with friends. It's a cocktail that showcases the unique flavor of tequila, and with so many variations available, you're sure to find a Margarita that suits your palate.
4. Moscow Mule
A Moscow Mule is a classic cocktail that perfectly blends the spiciness of ginger beer with the clean taste of vodka and the fresh tang of lime. Served in a distinctive copper mug, this icy cold beverage is as much a feast for the eyes as it is for the taste buds. The refreshing fizziness of the ginger beer, enhanced by the slight bite of the vodka, is beautifully balanced by a generous squeeze of lime, adding a citrusy complexity to the drink.
The copper mug serves more than just an aesthetic purpose; it keeps the drink colder for longer, enhancing the refreshing qualities of the cocktail. The Moscow Mule is a versatile drink, perfect for a hot summer day or a cozy winter evening, making it an easy choice anytime you're at a bar. Just remember, the quality of the vodka can significantly impact the taste, so don't hesitate to specify your preferred brand when ordering.
5. Old Fashioned
The Old Fashioned is a timeless cocktail that has stood the test of time. This classic drink, steeped in history, is a blend of sugar, bitters, and whiskey, typically garnished with an orange twist. The sugar cube is muddled with the bitters and a splash of water to create a base, onto which the whiskey is poured. The result is a smooth, rich, and slightly sweet cocktail that lets the depth and complexity of the whiskey shine through. It's an excellent choice for old souls and those who appreciate the delicate balance between sweet and strong flavors. Its simplicity is deceptive, as the taste is anything but ordinary. So, if you're a whiskey lover, the Old Fashioned is a must-try cocktail at any bar.
6. Whiskey Sour
The Whiskey Sour is a classic cocktail that beautifully balances the potency of whiskey with the tang of fresh lemon juice and the sweetness of sugar. This winning combination creates a smooth, refreshing cocktail with a citrus kick. It often comes garnished with a maraschino cherry and an orange slice, adding an extra burst of flavor and visual appeal. The quality of the whiskey used is the key to a well-balanced Whiskey Sour, so don't forget to specify your preferred brand when ordering. The Whiskey Sour's combination of sweet, sour, and strong elements make it a perfect choice for those seeking a cocktail that offers a full spectrum of flavors. Its simplicity belies its complexity, making it a cocktail that never fails to delight. So, whether you're new to the world of whiskey or a seasoned connoisseur, the Whiskey Sour is a drink that will always impress.
7. Cosmopolitan
Not just a trendy cocktail popularized by the hit TV series "Sex and the City", the Cosmopolitan is a well-balanced, citrusy delight that's perfect for those with a love for vodka and a touch of sweetness. Made with a smooth blend of vodka, Cointreau (or any quality orange liqueur), cranberry juice, and freshly squeezed lime, it's a pleasantly tart drink that's served in a martini glass with a lime wheel garnish.
The slight sweetness of the cranberry juice perfectly offsets the citrusy bite of the lime, while the Cointreau brings a delightful hint of orange to the mix. The vodka, the backbone of this cocktail, remains subtly in the background, making it an easy and delicious drink to enjoy. The Cosmopolitan is not only pretty in pink but also packs a punch in flavor, making it a stylish and sophisticated cocktail choice. Remember, the quality of the vodka can significantly influence the taste, so don't be shy to specify your preferred brand when ordering.
8. Long Island Iced Tea
Despite its misleading name, a Long Island Iced Tea contains no actual tea. Instead, this powerful concoction involves a potent blend of vodka, tequila, rum, gin, triple sec, lemon juice, and a splash of cola for color. The result is a surprisingly smooth and palatable cocktail that belies its strength. While it tastes somewhat sweet, thanks to the cola and the touch of sugar, the combination of spirits gives it a kick that's not for the faint-hearted. It's an easy drink to order, but remember to sip it slowly to appreciate the complex interplay of flavors and to gauge its potency. Perfect for parties or a big night out, the Long Island Iced Tea is a cocktail that's sure to get the party started.
9. Beer
If your preference leans towards the simplicity and variety of beers, you will never be at loss for choices at a bar. From light, easy-drinking lagers to rich, complex craft beers and everything in between, you can always find a brew that suits your palate. Beer is a safe bet that never goes out of style, whether it's a hot summer afternoon or a chilly winter evening. It pairs well with a wide range of foods, making it a versatile choice for any occasion. If you're unsure which beer to choose, don't hesitate to ask the bartender for recommendations based on your preference for light, dark, hoppy, or malty brews. Remember, drinking beer is not just about quenching your thirst – it's also about appreciating the skill and creativity that goes into crafting each unique brew.
10. Wine
Wine, a timeless classic, is a wonderful choice for those who appreciate its depth and complexity of flavors. Ranging from light and crisp whites to full-bodied reds, the world of wine is vast and diverse. A chilled glass of Sauvignon Blanc or Pinot Grigio can be incredibly refreshing, while a Cabernet Sauvignon or Merlot offers a rich, warming experience. For those with a sweet tooth, a glass of Moscato or a deliciously creamy Port can be a delightful treat. Wine can complement a wide variety of foods, enhancing the dining experience. Whether you're a connoisseur or a casual drinker, don't hesitate to ask the bartender or sommelier for recommendations based on your taste preferences. Remember, enjoying wine is all about savoring the moment and the intricate play of flavors on your palate.
Tips For Ordering Drinks At A Bar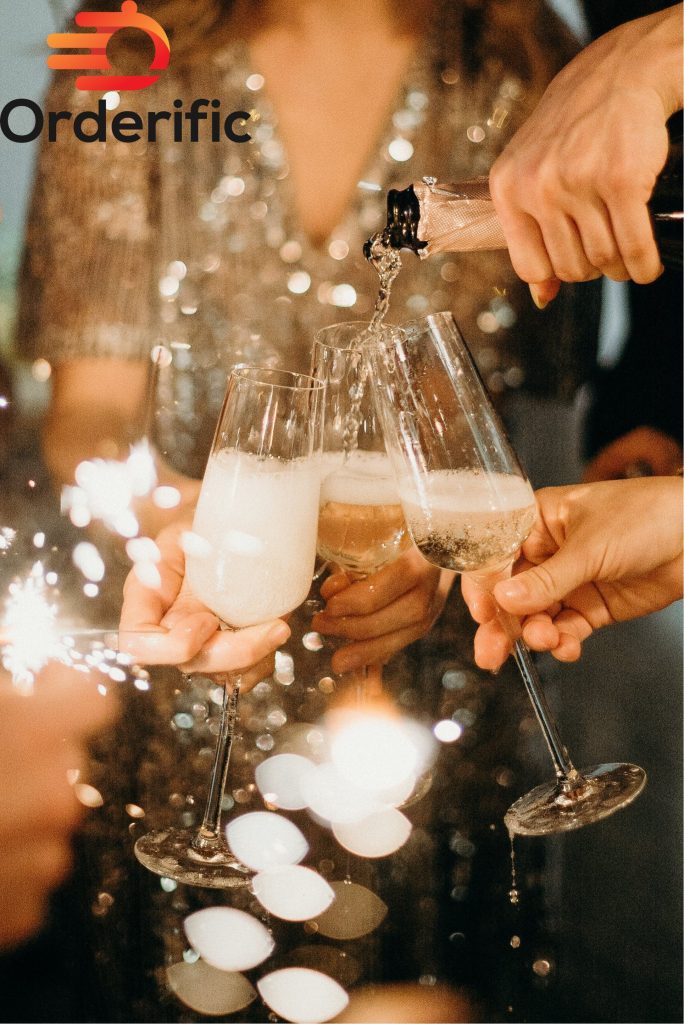 Ordering drinks at a bar can sometimes feel a little daunting, especially if you're unfamiliar with the cocktail scene. Here are some tips to help you order your drinks confidently and enjoy your time at the bar:
Know Your Preferences: Understanding what you like is the first step to ordering a drink you'll enjoy. Do you prefer sweet or bitter? Are you a fan of gin, tequila, or whiskey? Noting your preferences will guide you towards a drink that you'll love.
Don't Be Afraid to Ask for Recommendations: Bartenders are knowledgeable about their offerings and are usually more than happy to offer suggestions. If you're unsure, describe your taste preferences, and they can guide you to a perfect match.
Try Something New: While it's good to have a go-to drink, don't be afraid to try something new. Experimenting with different cocktails can open you up to a whole new world of flavors.
Quality Matters: The quality of the ingredients can greatly affect the taste of a cocktail. When ordering, don't hesitate to ask for your preferred brand of liquor.
Consider Your Sugar Intake: If you're conscious about your sugar intake, keep in mind that some cocktails like the Gin and Tonic are lower in sugar.
Enjoy the Experience: Remember, having a drink at a bar isn't just about the alcohol. It's about the entire experience – the atmosphere, the company, and the joy of trying something new.
Remember, the key to enjoying your time at the bar is to relax, enjoy, and drink responsibly. Cheers!
Conclusion
In conclusion, whether you're a seasoned drinker or a newbie on the cocktail scene, there's a world of flavors waiting for you at the bar. From the humble beer to the complex Whiskey Sour, each drink offers a unique taste experience that is sure to delight your palate. Remember, ordering a drink isn't just about what's in the glass, but the experience that comes with it. So, the next time you're at a bar, don't hesitate to try something new, ask for recommendations, and above all, enjoy the moment. After all, a great drink is the perfect companion to a great time. Now that you have this comprehensive list of easy-to-order, delicious drinks, your next bar visit is sure to be a memorable one.
If reading about these drinks has made you thirsty, why not book a demo with Orderific today and elevate your bar experience to the next level? With Orderific, you can explore a wide range of drinks and book your favorites with ease. Click here to book your demo today. Cheers to the good times ahead!
FAQs
What are some basic drinks that are easy to order at a bar?
Some basic drinks that are easy to order at a bar include Beer, Wine, Margarita, Old Fashioned, and Moscow Mule.
How can I order a drink without sounding like a novice?
Speak confidently, know your preferences, and don't be afraid to ask for recommendations.
What should I do if I don't know what I want to drink?
Ask the bartender for a recommendation based on your taste preferences.
Is it okay to ask the bartender for recommendations?
Absolutely, bartenders are knowledgeable about their offerings and are usually happy to help guide you to a drink you'll enjoy.
Can I customize my drink order?
Yes, bartenders usually accommodate custom requests to suit your palate.
How much should I tip the bartender for a simple drink order?
A typical tip is between 15% to 20% of your total bar tab.