Stepping into a sustainable bar, you are welcomed by an ambiance that's more than just visually appealing. Every detail, from the reclaimed wood furniture to the organic cocktails, echoes an eco-friendly ethos. Imagine sipping your favorite cocktail, knowing it's crafted with locally sourced ingredients and served in a glass washed with biodegradable detergents. In the heart of bustling cities like Santa Monica and San Francisco, these vibrant oases of sustainability practices redefine the hospitality industry. The green key to their success is energy efficiency and reduced carbon footprint. A visit to these bars is not just a treat for your senses but a gesture of environmental protection. So, come and be a guest at the intersection of indulgence and sustainability, where every toast contributes to a greener planet.
Sustainability Is the Future for the Hospitality and Restaurant Industry
Venture into the heart of a sustainable bar. Picture this: the warm glow of low-energy LED lights casting shimmering patterns on the reclaimed wood paneling. The clink of glassware punctuated the hum of friendly chatter. Your hand reaches out to lift a cocktail the color of a vibrant sunset. A fresh and botanical fragrance, courtesy of organically sourced ingredients, teases your senses. You sip; the taste is a revelation, a medley of local flavors.
But it's more than just a sensory delight. These bars represent a movement in the hospitality industry towards sustainable practices. At the bar's core, energy efficiency plays a starring role. Underneath the surface charm, green lodging programs, Audubon international standards, and the Green Building Council's guidelines orchestrate a symphony of eco-conscious operations. From reducing energy consumption to minimizing the carbon footprint, these invisible yet impactful nuances define the essence of a green bar.
In cities like Santa Monica and San Francisco, the green key to this sustainable hospitality is not hidden but celebrated. Guests are part of the journey towards sustainability, their patronage a vital cog in the green machine.
Visiting eco-friendly bars such as the Orchard Bar is more than an indulgence. It is, at its heart, a pledge to environmental protection. Each sip and each bite reaffirms your commitment to a greener globe. So, next time you raise a toast, remember that you're not just celebrating the moment but cheering for a sustainable future.
What Is an Eco-Friendly Restaurant?
An eco-friendly restaurant, often called a green bar, is a gastronomic delight wrapped in sustainability. Upon entering, your senses are greeted by an intoxicating blend of sights, sounds, and scents. You see the gleam of light reflecting off furniture made from reclaimed materials. All around, the chatter of happy guests creates a background hum, adding to the warmth of the space. Your nostrils pick up tantalizing aromas wafting from the kitchen, where local, organic ingredients are transformed into culinary masterpieces.
At every step, the restaurant's commitment to eco-friendly practices shines through. Low-energy LED lights illuminate the surroundings, providing a cozy ambiance while reducing energy consumption. The bar's commitment to environmentally sustainable practices continues beyond there. Green lodging programs and Audubon international standards guide its operations, ensuring that every aspect of the business minimizes its carbon footprint.
These bars have become landmarks in cities like Santa Monica and San Francisco, leading the way in sustainable hospitality. Their green key isn't hidden away but proudly displayed. As a guest, your role extends beyond savoring their offerings. Your visit and patronage become integral parts of the journey towards sustainability.
Orchard Bar, a stalwart in the eco-friendly culinary scene, exemplifies this ethos. Every visit to such establishments is more than a simple indulgence. It symbolizes a pledge to environmental protection. Each morsel savored, each drink savored, reaffirms this commitment.
In summary, an eco-friendly restaurant is where gourmet dining and sustainability interweave. Here, every bite and every sip is not just an adventure for your taste buds but a toast to a greener future. Next time you raise a glass in such a place, know that you're not just celebrating the moment but championing a cause – a more innocent, sustainable tomorrow.
Why Run a Sustainable Restaurant?
Running a sustainable restaurant is not just a trend; it's a heartfelt commitment to the environment. Imagine every decision you make, from lighting to sourcing ingredients, contributes to a greener world. As an owner, your dedication to sustainability practices like energy efficiency and reduced energy consumption is etched into every corner of your establishment. It's more than business; it's nurturing the future.
The menu is a testament to your commitment to the earth. Every dish, crafted from locally sourced, organic ingredients, tantalizes the taste buds while respecting Mother Nature. Your bar, a vibrant symbol of sustainable hospitality, offers cocktails that echo the same ethos.
In this journey, you're not alone. Your guests, savoring every bite, every sip, are with you in this mission. Each visit to your green bar is a step towards a sustainable future. So, why run a sustainable restaurant? Because every day, with every dish, you're serving up a slice of a better, greener tomorrow.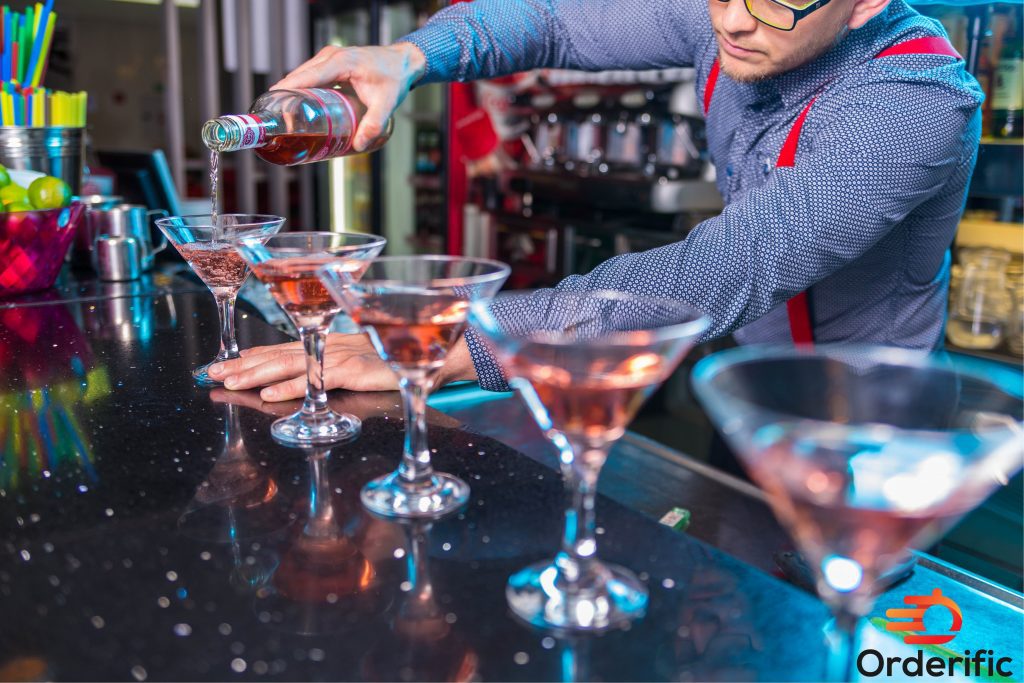 Are You Ready to Become a Sustainable Restaurant Business?
Stepping into the future, one that is invariably green is a journey that can be as exciting as rewarding. The question is, are you ready to become a part of the sustainable restaurant business? Picture your establishment bathed in the soft, energy-efficient LED light glow. The clink of glasses and the hum of conversation add a layer of vitality to the ambiance. The aroma of your seasonal menu, wafting through the air, teases the senses. Your guests, comfortably seated on furniture crafted from reclaimed materials, find themselves at the heart of your eco-friendly narrative. Each element of your establishment, every sensory experience, is a testament to your commitment to the environment.
Use Recycled Materials: Transform waste into wonder by incorporating recycled materials into your décor.
Cook a Seasonal Menu: Delight your guests with a menu that celebrates the freshness and bounty of each season.
Sustainable Sourcing: Strengthen your green roots by sourcing ingredients locally and responsibly.
Composting: Turn organic waste into valuable compost, feeding your green initiative at its very core.
Sustainable Transportation: Advocate for a greener globe with eco-friendly delivery and transportation methods.
QR Codes: Embrace technology and reduce paper usage using QR codes for menus and other information.
"Grow Your Own" or "Go Fresh": Sow the seeds of sustainability by growing your produce or procuring from local farms.
This journey is not just about running a business. It's about shaping a future where sustainability practices become as essential as the air we breathe. As you traverse the path toward this green, sustainable bar, remember that every step counts. Every choice matters. And in every cocktail served, every dish savored, lies a pledge to a greener, better tomorrow.
The Future Is Friendly, It's 'Eco-Friendly'
Approach the threshold of the future, and the refreshing scent of eco-friendliness will greet you. It's a future that's not just friendly but welcomingly green. Picture this: sitting comfortably on furniture lovingly crafted from reclaimed wood in a bar illuminated with LED lights' soft, energy-saving glow. Can you hear the low hum of vibrant conversations? The clink of glasses raised in eco-conscious celebration? That's the sound of the future. Still, it's more than what you see or hear. It's also about what you taste.
Every sip of your locally sourced cocktail, every bite from the seasonal menu, is a burst of freshness. Each flavor is a testament to sustainability, a symphony of eco-friendly practices. The future isn't simply about embracing the green. It's about celebrating it, savoring it.
This future is already in cities like Santa Monica and San Francisco. The green key isn't tucked away but proudly displayed. Bars like the Orchard Bar exemplify this green revolution, inviting guests like you to partake in their journey toward sustainability.
In the future, you're not just a visitor. You're a part of it. Every visit, every meal, every sip is your contribution to a sustainable tomorrow. So, step in. The future is friendly, and it's unmistakably, irresistibly eco-friendly.
Conclusion
The essence of an eco-friendly bar transcends the sensory delights it offers. It's a symphony of sustainable practices celebrating our commitment to environmental preservation. Imagine this: every sip of your cocktail at these green establishments is a step towards a sustainable future. Every bite from their seasonal menu is a testament to the green ethos. In cities like Santa Monica and San Francisco, the eco-friendly trend is not just a fad but a necessary shift in the hospitality industry. With companies like Orderific, restaurant and bar owners can streamline operations while focusing on providing an unforgettable, sustainable dining experience. By championing eco-friendly practices, we aren't just redefining the bar experience. We're paving the path for a greener, sustainable future. Schedule a FREE DEMO today to learn how Orderific facilitates this green revolution.
FAQs
Why is eco-friendliness becoming a critical factor for businesses and consumers?
Eco-friendliness is crucial due to increasing environmental concerns and consumer demands for sustainable, responsible business practices.
What eco-friendly initiatives and practices are gaining traction in various industries?
Eco-friendly initiatives gaining traction include sustainable sourcing, energy efficiency, waste management, and the use of renewable resources.
How can businesses communicate their commitment to eco-friendly practices to consumers?
Businesses can communicate their commitment through transparent marketing strategies, sustainability reports, and direct customer engagement.
What environmental benefits and cost savings come with eco-friendly choices?
Eco-friendly choices lead to reduced carbon footprint, less waste, and energy efficiency and can lower operational costs over time.