Introduction
Effective employee management ensures smooth operations and top-notch service in the bustling world of cafes. With the right employee management software, managing employees becomes a streamlined process, significantly improving employee performance and engagement. From human resources to payroll, all aspects of staff management are effectively covered, fostering an environment of high employee satisfaction. Performance management systems record employee data, aiding in designing targeted employee training programs. Harnessing the power of such comprehensive platforms, cafes can enhance their workforce management strategies, setting the stage for improved employee productivity and an elevated customer experience. Remember, a well-managed team member is a happy team member.
6 Benefits Of Using A Employee Management System
1. Quick & Easy Scheduling
An effective employee management software significantly simplifies the scheduling process, making it quicker and more efficient. The software provides a unified platform where team members can access their schedules, eliminating communication mishaps and fostering better employee engagement. The management system allows managers to allocate shifts and tasks efficiently, with real-time updates ensuring everyone is on the same page. This significantly enhances employee performance by enabling team members to manage their time and responsibilities better.
The employee management system not only aids in scheduling but also in managing employee data. It effectively eliminates the need for cumbersome paperwork and time-consuming manual data entry. The system's human resources functions, such as payroll administration, can seamlessly integrate, ensuring smooth HR processes. This further contributes to effective employee management.
With user-friendly interfaces, these management systems also facilitate easy employee performance tracking. This enables cafe managers to assess performance, address gaps, and design customized employee training programs. The resulting employee satisfaction and enhanced performance significantly boost productivity.
An employee management system is a powerful tool for any cafe. It streamlines scheduling and staff management and promotes employee engagement, ultimately leading to improved customer service and a positive employee experience.
2. Control Costs & Stay On Budget
Managing finances is an integral part of running a successful cafe. Employee management software has features that help control costs and stay on budget, facilitating effective employee management. The system provides real-time data on labor costs, assisting managers in making informed decisions about workforce allocation and schedule adjustments. These details enable cafes to optimize staff schedules to limit overtime and manage labor costs effectively without compromising service quality.
In addition, the software provides comprehensive reports on employee performance and productivity. This allows managers to identify high-performing employees and potentially costly areas of underperformance. Such insights enable managers to implement necessary changes, whether providing additional training, adjusting schedules, or reallocating tasks, to ensure the cafe operates within budget while maintaining high service standards.
Moreover, the software can automate HR tasks such as payroll, reducing human error and saving time. These savings can further help in controlling costs. To sum up, an employee management system aids cafes in staying on budget while delivering an exceptional customer experience. It's an investment that brings impressive returns through effective employee management, increased efficiency, and enhanced profitability.
3. Keep On Top Of Any Issues With Your Staff
With a digital employee management system, staying aware and in control of any issues within your staff becomes increasingly manageable. The software provides a platform for continuous feedback, promoting open communication between managers and team members. This accessibility to feedback ensures that problems are identified early and resolved promptly, preventing minor hiccups from escalating into significant issues. Additionally, the software can monitor and track employee performance, highlighting any discrepancies or areas of concern. Underperformance or consistency in errors, which could be symptomatic of an underlying issue, can be quickly addressed, ensuring the overall team morale and cafe performance aren't affected.
Moreover, these software systems enable managers to track employee engagement. Customizable surveys, polls, and feedback tools can give insight into the team's job satisfaction, engagement level, and potential problems. By addressing these concerns proactively, cafes can maintain a positive work culture, reduce staff turnover, and ensure a high level of service that customers will appreciate.
In essence, an employee management system acts as a preventive mechanism for staff issues. It ensures a seamless flow of communication, prompt resolution of cases, and in-depth insights into employee performance and engagement. Thus, it is a valuable tool for effective employee management in cafes.
4. Keep Staff Up-To-Date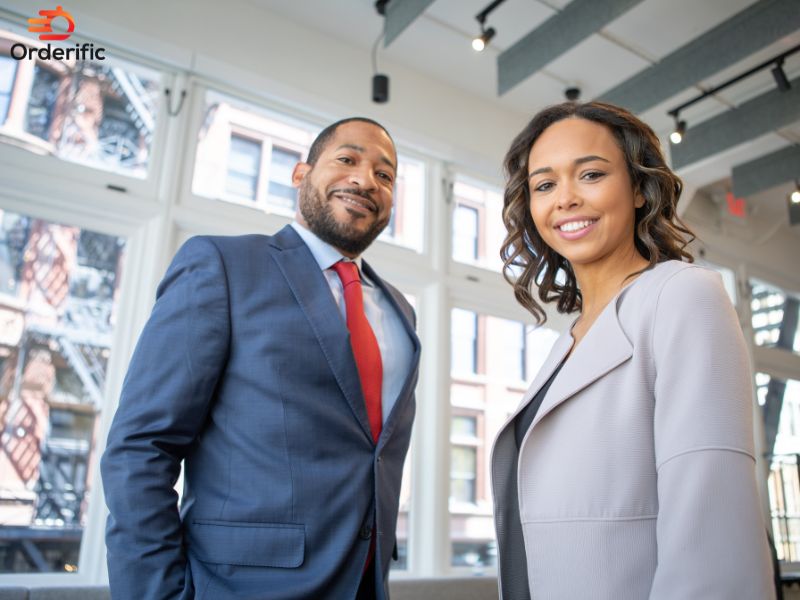 4.1. Streamlined Information Dissemination
Employee management software plays a crucial role in keeping cafe staff up-to-date. The constant flux of information in the cafe industry requires a system that can handle efficient and timely communication. The software offers real-time updates on various operational facets such as shift changes, task assignments, and policy updates. As a result, all team members are simultaneously updated, eliminating any confusion that may arise from miscommunication or outdated information.
4.2. Facilitating Continuous Training
Effective employee management goes beyond task allocation; it entails fostering a learning environment. Employee management software often includes training modules that managers can customize to suit the needs of their teams. These offerings allow for the continuous professional development of staff, keeping them up-to-date with the latest industry trends and best practices. This constant training enhances their skills, boosts their confidence, and ultimately, improves the quality of service they deliver.
4.3. Enhancing Employee Engagement
Staying up-to-date also pertains to employee engagement. Employee management software helps cultivate an engaged workforce by providing a platform for regular feedback, surveys, and interactive dialogues. This continuous engagement creates an open and inclusive environment where employees feel valued and heard. It also facilitates a two-way feedback mechanism where employees can voice their ideas, suggestions, and concerns. This engagement not only keeps them informed but also contributes significantly to their satisfaction and performance.
4.4. Compliance And Policy Adherence
Employee management software also ensures staff stay compliant with the latest rules and regulations. Whether it's about food safety, hygiene standards, or workplace conduct, the digital platform can distribute critical information swiftly and efficiently. Moreover, it can track employees' acknowledgment of these policies, ensuring complete compliance.
4.5. Accessibility And Convenience
In today's digital age, accessibility is of utmost importance. Employee management software ensures that staff can stay informed anytime, anywhere. Whether they are at home or on the go, employees can access schedules, tasks, updates, and training materials, courtesy of mobile-friendly designs or dedicated applications. This ease of access and convenience ensures that all staff members stay connected and informed, contributing to effective employee management.
In conclusion, employee management software is a game-changer in keeping cafe staff up-to-date. It streamlines information dissemination, facilitates continuous training, enhances employee engagement, ensures compliance, and offers accessibility and convenience. By leveraging these features, cafes can maintain a well-informed, highly skilled, engaged, and compliant workforce, ultimately contributing to customer satisfaction and business growth.
5. Share Staff Between Multiple Locations
For cafes operating across multiple locations, one of the major challenges is the efficient management and allocation of staff. An employee management system can be an invaluable tool for such businesses, streamlining the process of sharing staff between different locations.
Efficient Scheduling Across Locations
With the availability of advanced employee management software, creating schedules for employees spread across different locations has never been easier. These systems offer a centralized platform where managers can assign shifts and tasks to employees based on their location. Real-time updates ensure that staff are promptly informed about their schedules, reducing the possibility of confusion or scheduling conflicts.
Simplified Communication
Additionally, these employee management software platforms facilitate seamless communication across locations. They provide a unified platform where managers can post updates, announcements, and instructions, ensuring all employees, irrespective of their location, are well-informed.
Optimized Staff Utilization
Employee management systems also optimize staff utilization. By providing insights into each employee's skills, qualifications, and availability, they allow managers to make informed decisions about employee allocation across locations. This results in reduced labor costs, improved staff utilization, and enhanced operational efficiency.
Promoting Employee Engagement
Moreover, the use of employee management software can significantly boost employee engagement. By providing transparency in scheduling and task allocation, and facilitating easy access to resources and communication, these systems promote a sense of inclusivity among employees, irrespective of their location. This sense of being part of a larger team, despite physical distances, can significantly improve employee satisfaction and productivity.
Utilizing an employee management system effectively addresses the unique challenges associated with managing staff across multiple locations. By streamifying scheduling, improving communication, optimizing staff utilization, and promoting employee engagement, these systems ensure efficient and effective employee management, ultimately leading to improved service quality and enhanced customer satisfaction.
Conclusion
In conclusion, the role of digital solutions in employee management in cafes cannot be overstated. From simplifying scheduling to promoting employee engagement, controlling costs, keeping on top of staff issues, keeping staff up-to-date, and sharing staff between multiple locations, these systems offer a comprehensive solution for effective employee management. By harnessing the power of these digital tools, cafes can not only streamline their operations but also create a positive work environment that fosters employee satisfaction and productivity, ultimately leading to improved customer service and enhanced profitability.
6. Easily Manage Time Off Requests And Shift Changes
In the fast-paced world of cafes, managing time off requests and shift changes can become a complex task. However, with an effective employee management system in place, this process becomes significantly simplified, contributing to improved employee engagement and overall productivity.
6.1 Streamlining Time off Requests
Employee management software comes equipped with features that allow for easy submission and tracking of time off requests. Employees can conveniently request for leaves or vacations through the system, eliminating the need for manual paperwork or time-consuming email threads. Managers are instantly notified of these requests, enabling them to make quick decisions about approval or modifications. The system keeps a record of all time off requests, thus ensuring transparency and fairness in leave allocation. This feature significantly reduces administration time and also helps in preempting staffing needs during popular time off periods.
6.2 Facilitating Shift Changes
Another critical aspect of workforce management in cafes is handling shift changes. With the aid of employee management software, managers can effortlessly make adjustments to employee shifts. Employees too can swap shifts with their colleagues through the system, provided it aligns with the cafe's policies. This flexibility in managing shift changes not only helps in maintaining optimal staffing levels but also contributes to higher employee satisfaction.
6.3 Enhanced Communication
Effective communication plays a key role in managing time off requests and shift changes. Employee management systems provide a centralized communication platform where all changes to schedules are updated in real time and can be accessed by all team members. This ensures that everyone is kept in the loop about any changes, reducing the chances of misunderstandings or conflicts.
6.4 Labour Law Compliance
An often overlooked benefit of using an employee management system in managing time off requests and shift changes is its role in ensuring compliance with labor laws. The system can be configured to incorporate relevant labor regulations, such as minimum rest periods between shifts, maximum work hours per week, and mandatory leave entitlements. This helps in preventing violations of labor laws, protecting the cafe from potential legal issues.
In conclusion, an employee management system makes handling time off requests and shift changes a breeze. It not only streamlines these processes but also enhances communication, promotes fairness, and ensures legal compliance. This leads to a more efficient and satisfied workforce, which is pivotal for the success of any cafe.
Conclusion
In conclusion, the adoption of digital solutions such as employee management software can revolutionize the way cafes manage their workforce. From streamlining schedules, promoting employee engagement, optimizing staff utilization across locations, to managing time off requests and shift changes, these systems offer comprehensive solutions for efficient and effective employee management. They not only simplify the operational complexities but also contribute to a positive work environment, thus fostering employee satisfaction, productivity, and ultimately, enhanced customer service. By leveraging these tools, cafes can experience significant improvements in their operations, profitability, and growth.
To see how these digital solutions can transform your cafe, we invite you to book a demo with Orderific. Discover the power of efficient employee management and propel your cafe to new heights.
FAQs
What is employee management in cafes, and why is it crucial for cafe owners?
Employee management in cafes involves organizing and coordinating cafe staff to ensure efficient operations, and for maintaining high service quality and customer satisfaction.
How can cafe owners effectively manage employee schedules and tasks using software?
Cafe owners can use employee management software to automate scheduling, assign tasks, and track progress effectively.
Are there specific challenges that cafes commonly face when it comes to employee management?
Yes, common challenges include staff scheduling, communication, training, and maintaining compliance with labor laws.
How does efficient employee management contribute to a cafe's overall success and customer service?
Efficient employee management ensures a smooth workflow, promotes a positive work environment, and ultimately leads to improved customer service.
What tools and strategies can cafes use to streamline employee management and improve staff performance?
Cafes can use digital solutions like employee management software to streamline scheduling, task assignment, training, and communication, thereby improving staff performance.