English Sparkling Wine, a hidden gem in the wine world. It is making quite a splash and leaving wine connoisseurs pleasantly surprised with its exceptional quality. Born from the rolling green vineyards of England, this bubbly delight boasts a unique, refreshing character that is now gaining global recognition. Much like the famed Champagnes of France, it offers an elegant and sophisticated taste experience, but with a distinctive British twist.
The surge in the popularity of English Sparkling Wine can be attributed to the passion and precision of English winemakers. They've meticulously cultivated vineyards under England's unique climatic conditions, producing grapes that give the wine its signature effervescence and finesse. Whether you're celebrating a special occasion or simply indulging in wine night, it is perfect choice to elevate your celebrations.
English Sparkling Wine History
The story of this taste is deeply rooted in the history of England's fascinating viticulture. Although often overlooked in favor of its European counterparts, English wine production dates back to the Roman times. However, it was not until the late 20th century that English Sparkling Wine truly began to carve out its niche. This exciting period witnessed a significant increase in the planting of traditional Champagne grape varieties – Chardonnay, Pinot Noir, and Pinot Meunier – paving the way for a new era in English winemaking.
The turn of the millennium signaled a breakthrough for English Sparkling Wine, as the produce from these vineyards started gaining international acclaim. The unique terroir, influenced by the chalky soils similar to those found in France's Champagne region, coupled with the cooler climate, contributed to the wine's unique character and depth. Sparkling wine quickly became the flagship style for the English wine industry. Many labels outperforming established Champagne houses in blind tastings, thereby establishing it as a true contender on the global stage.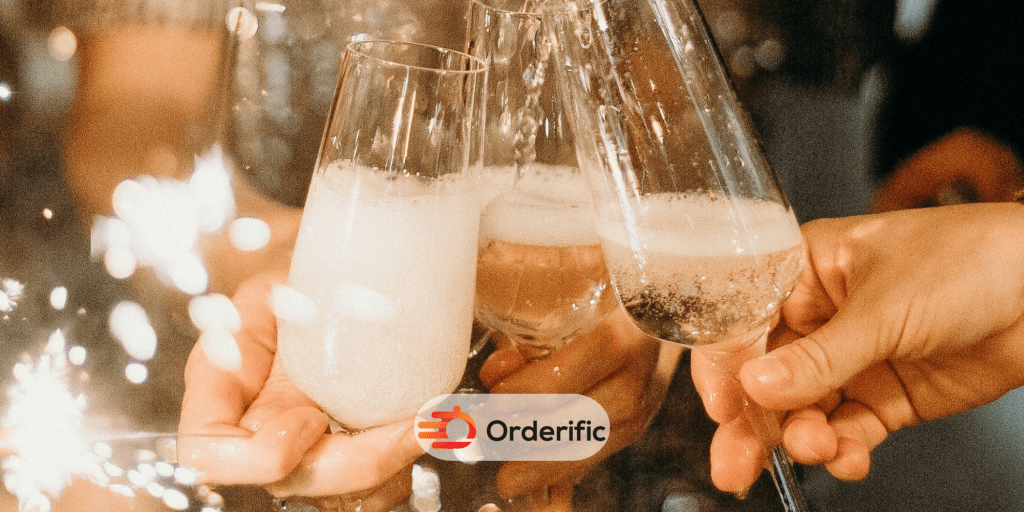 English Sparkling Wine Regions
England is home to several wine regions specializing in the production of sparkling wine. With each region boasting distinct characteristics contributing to the uniqueness of it.
The South East of England, primarily Kent, Sussex, and Surrey, are renowned for their sparkling wine production. The region's chalky soil and cool climate conditions are akin to those found in the Champagne region of France, making it ideal for growing the traditional Champagne grape varieties. Vineyards in this region are dedicated to producing high-quality English Sparkling Wine. This is regularly competes with and outperforms Champagne in blind tastings. Hampshire, another sparkling wine stronghold, offers a blend of chalk and green sand soils. This resulting in sparkling wines with a distinctive mineral quality.
Further west, the coastal region of Cornwall also deserves mention. While relatively new to the sparkling wine scene, Cornwall's vineyards have quickly gained a reputation for producing impressive sparkling wines. Its unique terroir, influenced by mild winters and warm summers moderated by the Atlantic Ocean, adds a characterful complexity to its wines. Reflecting the region's pioneering spirit, Cornish Sparkling Wine is fast becoming another brilliant star in the constellation of English viticulture.
Grapes and Soil
The success lies in the careful selection of grape varieties and the distinct terroir they are cultivated in. Primarily, the grapes used in the production are Chardonnay, Pinot Noir, and Pinot Meunier – the traditional trio used in Champagne. But you can also find a few productions using Pinot Blanc, Pinot Gris, and even Auxerrois. The wide variety of grapes used not only contributes to the versatility of the wines but also reflects the creativity and innovation of English winemakers. The grapes, carefully harvested by hand, retain high levels of acidity due to the cool climate. This adds to the wine's freshness and longevity.
The unique soil types in the various wine regions of England also play a significant role in the character of English Sparkling Wine. Much of the South East of England, particularly areas like Sussex and Kent, is characterized by chalky soils. This is similar to the terroir found in the Champagne region of France. This chalky soil provides excellent drainage and reflects sunlight, helping the grapes to ripen while also imparting distinct mineral flavors to the wine. In contrast, regions like Hampshire and Cornwall have a mix of chalk and green sand soils. These regions add a different, yet equally delightful, mineral quality to the wine. The interplay between grape variety and soil type in each of these regions results in English Sparkling Wines with an elegant complexity and a distinct sense of place.
Producers of Note
In the realm of English Sparkling Wine, several producers have risen to prominence for their remarkable offerings. Nyetimber, situated in the heart of West Sussex, is one such label that has truly set the benchmark for high-quality English Sparkling Wine. With meticulous attention to detail and a commitment to excellence, Nyetimber uses only estate-grown grapes from its vineyards, resulting in wines that are a true expression of the unique terroir. The winery's Classic Cuvee is particularly noteworthy, characterized by its refined elegance and vibrant acidity.
Another standout producer is Chapel Down, located in the beautiful county of Kent. Known for its innovative approach to winemaking, Chapel Down produces a range of exceptional sparkling wines that embody the distinct character of its vineyards. Their Three Graces vintage, a blend of the Champagne trio – Chardonnay, Pinot Noir, and Pinot Meunier, is celebrated for its depth of flavor, elegant bubbles, and long finish. Both Nyetimber and Chapel Down epitomize the passion, dedication, and innovation that define the English Sparkling Wine industry.
Contemporary Approaches
As the English Sparkling Wine industry continues to evolve, winemakers are embracing innovative approaches to enhance quality. And they capture the unique character of their terroir. One such trend is the adoption of organic and biodynamic farming practices. This holistic approach to viticulture respects the natural balance of the vineyard, resulting in healthier vines and, ultimately, superior-quality grapes. Producers such as Davenport Vineyards and Oxney Organic Estate are leading the charge in this arena. They are crafting sparkling wines that beautifully express their natural origins.
Besides, English winemakers are experimenting with different aging methods to accentuate the distinctive qualities of their sparkling wines. Extended lees aging, where wines are left to mature on their yeasts, is a practice gaining traction. This technique imparts complex bready, toasty flavors to the wine, enhancing its depth and character. Wineries like Hambledon and Exton Park are pioneers in this practice, producing sparkling wines of remarkable complexity and finesse. Such innovative approaches signify the adventurous spirit of English Sparkling Wine producers, further solidifying the industry's standing on the global stage.
Where to Drink English Sparkling Wine
It is gaining prominence and can be relished in various locales around the world. In England, upscale dining establishments, boutique wine shops, and even local pubs are increasingly featuring it on their menus. Wine bars in London such as "Gordon's Wine Bar" and "The 10 Cases" are renowned for their extensive selection of English Sparkling Wine. Further afield in Brighton, "Plateau" is celebrated for its wine list featuring it. Winery tours and tasting sessions in vineyards across Kent, Sussex, Hampshire, and Cornwall also provide perfect settings to savor the authentic taste of English Sparkling Wine, right where it's made.
Internationally, it has found its way onto wine lists in New York, Paris, Tokyo, and beyond. High-end retailers, fine dining restaurants, and specialist wine shops in these cities have embraced English Sparkling Wine for its exceptional quality and distinctive character. In New York, venues like "The Modern" and "Gramercy Tavern" serve a range of English Sparkling Wines. In Tokyo, wine aficionados can head to "Roppongi Hills Club" for a glass of British bubbly. These global placements not only reflect the growing international reputation of English Sparkling Wine. They also make it accessible to wine lovers around the world.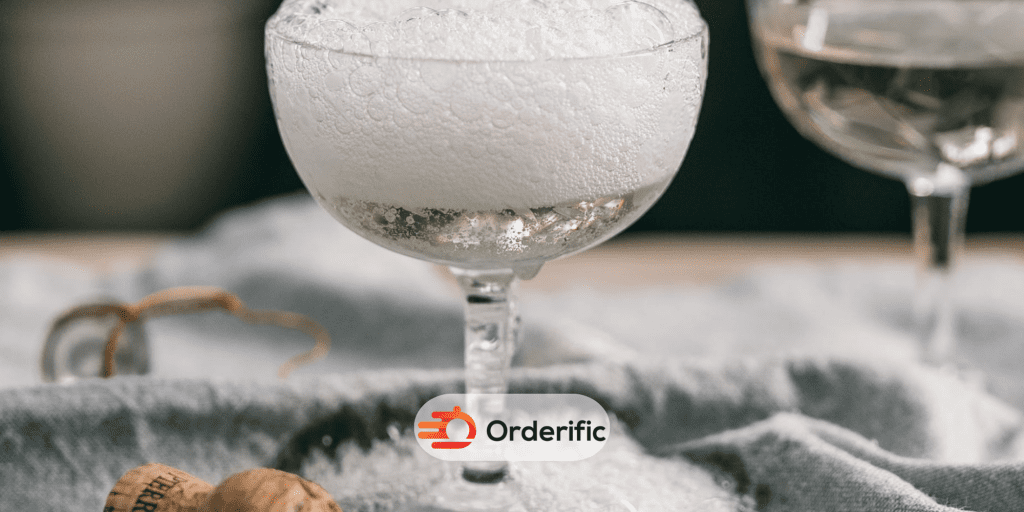 Conclusion
The rising on the global stage is a testament to the dedication, innovation, and passion of the country's winemakers. Their commitment to cultivating high-quality grapes and pushing the boundaries of traditional practices has resulted in a sparkling wine that is both uniquely English and universally appealing. Whether enjoyed in a London wine bar, a New York restaurant, or a vineyard in Sussex, English Sparkling Wine offers a bubbly experience that is truly memorable.
It is more than just a beverage—it's a celebration of England's rich viticulture. It is a nod to the creativity of its winemakers, and a symbol of its burgeoning wine industry. Whether you're a seasoned wine connoisseur or a curious amateur, English Sparkling Wine is sure to delight your palate and elevate your celebrations. So, raise a glass and toast to the bright future of English Sparkling Wine!
Click here for more flavorful and informative advice with Orderific. To start experiencing the great benefits Orderific can bring to your business, click here now. Try Orderific!
FAQs
What sets English sparkling wine apart from other sparkling wines, and what makes it unique in terms of flavor profile?
It is a unique blend of traditional Champagne grape varieties – Chardonnay, Pinot Noir, and Pinot Meunier – grown in England's distinct terroir.
Which grape varieties are commonly used in the production of English sparkling wine?
The primary grape varieties used in the production of English Sparkling Wine are Chardonnay, Pinot Noir, and Pinot Meunier.
Can you provide insights into the growing popularity and reputation of English sparkling wine on the international wine scene?
The success of it is due to its increasing quality and recognition on the international stage.
Are there any specific regions or vineyards in England that are renowned for producing exceptional English sparkling wine?
The South East of England, particularly Kent, Sussex, and Hampshire, are the regions for their sparkling wine production.
Are there any particular producers or wineries that specialize in the production of English sparkling wine?
Yes! Nyetimber, situated in West Sussex, is renowned for producing some of the highest-quality sparkling wines. They regularly compete with and outperform Champagne in blind tastings.