Introduction
In Middle Eastern cuisine, few dishes command as much adoration as the crispy, flavorful falafel. These little balls, traditionally made from dried chickpeas or fava beans, delight the taste buds with their distinct blend of aromatic spices. Making authentic falafel may seem daunting at first, but with a good food processor and a trusted falafel recipe, you can recreate this Middle Eastern staple in your kitchen. The secret lies in using dried chickpeas rather than the canned variety and adding a touch of baking powder for that extra fluffiness. To elevate your homemade falafel, serve it with a tangy tahini sauce, or stuff it in warm pita bread with fresh herbs for a satisfying meal. Oh, and remember a spoonful of hummus for good measure!
What Is Falafel?
Falafel is a traditional Middle Eastern delicacy crafted into small patties or balls. The primary ingredient in an authentic falafel recipe is chickpeas or fava beans. Preferred by many, dried chickpeas offer a distinct taste and texture to the falafel, contrary to their canned counterparts. This flavorful dish is seasoned with myriad aromatic spices, including garlic, coriander, cumin, and onion, bringing flavor to every bite.
Making falafel predominantly involves using a food processor to blend the chickpeas or beans with the spices, transforming them into a falafel mixture. Chickpea flour and baking powder are added to the mix for the perfect consistency and fluffiness. Once shaped into balls or patties, they are fried until golden brown, though baking or using an air fryer makes for a healthier alternative.
The end product is a delectable crispy falafel ball or can be tucked in pita bread garnished with fresh herbs. For an enhanced culinary experience, accompany it with tahini sauce, hummus, or tzatziki sauce. Whether you're enjoying homemade falafel or sampling an authentic falafel from a local vendor, this versatile main dish remains a favorite among vegetarians and meat-lovers.
Falafel Ingredients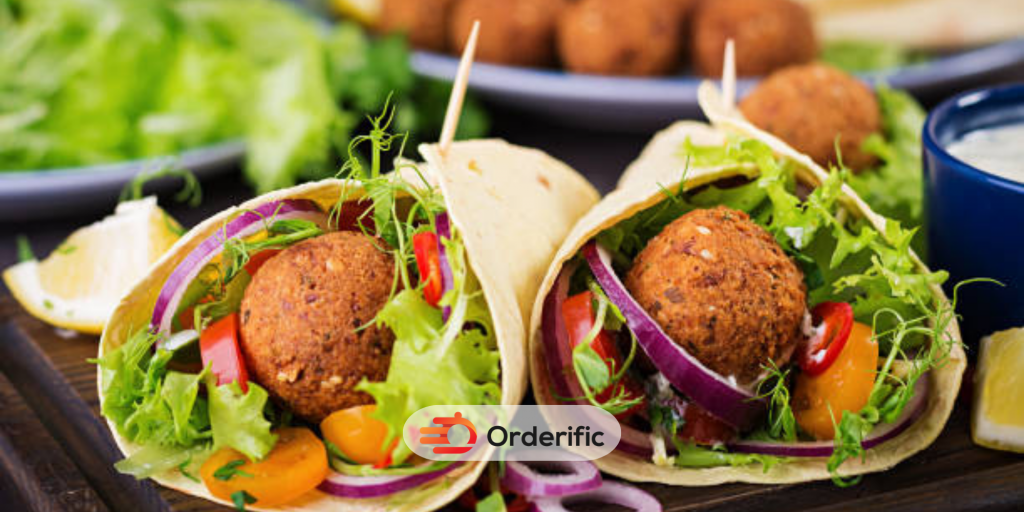 The key to a perfect falafel lies in its ingredients – predominantly dried chickpeas or fava beans, blended with a medley of aromatic spices like garlic, coriander, cumin, and onion. This mixture, often supplemented with chickpea flour and baking powder for added fluffiness, is shaped into balls or patties and then fried until golden brown. The result? A crispy, flavorful falafel that's delicious on its own, or even better when tucked into pita bread with herbs, and served with tahini sauce or hummus.
How To Make The Best Falafel At Home!
Making falafel at home is a culinary adventure that's both rewarding and flavorful. Start by soaking dried chickpeas overnight. The next day, blend them in a food processor with a mix of fragrant spices, including garlic, cumin, coriander, and onion. Add chickpea flour and a bit of baking powder to ensure a fluffy interior. Shape this mixture into balls or patties and fry until they achieve a delectable golden-brown crust. Enjoy these crispy, homemade falafels in a pita with fresh herbs and a dollop of tahini sauce for a meal that transcends borders.
How To Cook Falafel – 3 Different Ways
Frying: The traditional method of cooking falafel involves frying the balls or patties in hot oil. This cooking method gives the falafel its iconic crispy exterior while maintaining a soft and fluffy interior. Place your falafel balls in a frying pan with plenty of hot oil and cook until they take on a deep golden-brown color. Remember to flip them halfway through to ensure even browning. Be sure to drain the fried falafel on paper towels to remove excess oil.
Baking: For a healthier alternative to frying, you can bake the falafel balls. Preheat your oven to 375°F (190°C), place it on a baking sheet lined with parchment paper, and then bake for about 25-30 minutes. Flip them halfway through so that they brown evenly. Baking results in a lighter, but still flavorful falafel.
Air Frying: Air frying is another healthy option for cooking and it also gives you that crunchy texture. Set your air fryer to 350°F (175°C), put in the balls or patties, and cook for about 15-20 minutes. Remember to turn them halfway through the cooking process.
Each of these methods lends a unique texture and flavor. Whichever method you choose, remember to serve with a drizzle of tangy tahini sauce, a spoonful of creamy hummus, and a garnish of fresh herbs for a truly authentic Middle Eastern experience.
How To Serve Falafel
Serving falafel can be an art in itself. The traditional way to enjoy this scrumptious Middle Eastern delicacy is in a warm pita pocket, stuffed with fresh veggies like lettuce, tomatoes, and cucumbers. Don't forget to drizzle some tangy tahini sauce over the falafel for a creamy contrast to the crunchy balls. Alternatively, arrange the falafel on a platter alongside hummus, tzatziki, or baba ganoush for a mouthwatering appetizer spread. Falafel, whether in a pita or on a platter, impresses with its versatility.
Conclusion
In conclusion, The crispy exterior and flavorful heart, is more than just a Middle-Eastern delicacy—it's a celebration of taste and texture in every bite. The ingredients, including dried chickpeas or fava beans and aromatic spices such as garlic, coriander, cumin, and onion, come together to create a culinary masterpiece that you can enjoy on its own, in a pita, or as part of a larger meal.
Whether you fry, bake, or air fry it, the result is inevitably tantalizing, especially when served with a drizzle of creamy tahini sauce and a spoonful of hummus. So why not embark on a culinary journey to master the art of making falafel at home? With the right recipe and ingredients, you're only a cook away from experiencing this Middle Eastern gem. If you're eager to delve into more such culinary adventures, schedule a demo at Orderific to discover an array of delicious recipes and cooking tips. Explore the world of cooking like never before.
FAQs
1. What are the main ingredients used in falafel, and how is it traditionally prepared?
Falafel consists of chickpeas or fava beans as the main ingredients. Traditionally, people blend spices, shape them into balls or patties, and fry them until crispy.
2. Can you recommend some delicious sauces or dips that pair well with falafel?
Tahini sauce, tzatziki, and hummus pair perfectly with it.
3. Are there any regional variations of falafel, and how do they differ from the traditional version?
Yes, regional variations of it exists, with differences in ingredients, shapes, and cooking methods.
4. What are some common side dishes or accompaniments to serve with falafel?
Common accompaniments for it includes pita bread, hummus, and fresh vegetables like lettuce, tomatoes, and cucumbers.