Falafel, an iconic Middle Eastern delicacy, is celebrated not only for its rich, herby flavor but for its appealing, golden-brown crispiness. Made predominantly from chickpeas—sometimes supplemented or substituted with fava beans—this classic dish is more than just a meal, it's a cultural symbol.
These crunchy balls or patties are carefully seasoned with aromatic spices like cumin, coriander, and garlic, contributing to the unique and addictive flavor profile of falafel. But the charm doesn't end there. The exterior's enticing crunch gives way to a soft, fluffy interior, creating a delightful contrast that keeps falafel lovers coming back for more.
To complement these flavors and textures, falafel is often served with a creamy tahini sauce. Made from toasted ground sesame seeds, tahini adds a smooth, slightly nutty balance to the hearty chickpea base of the falafel. Coupled together, these elements make falafel an irresistible culinary experience steeped in history and tradition.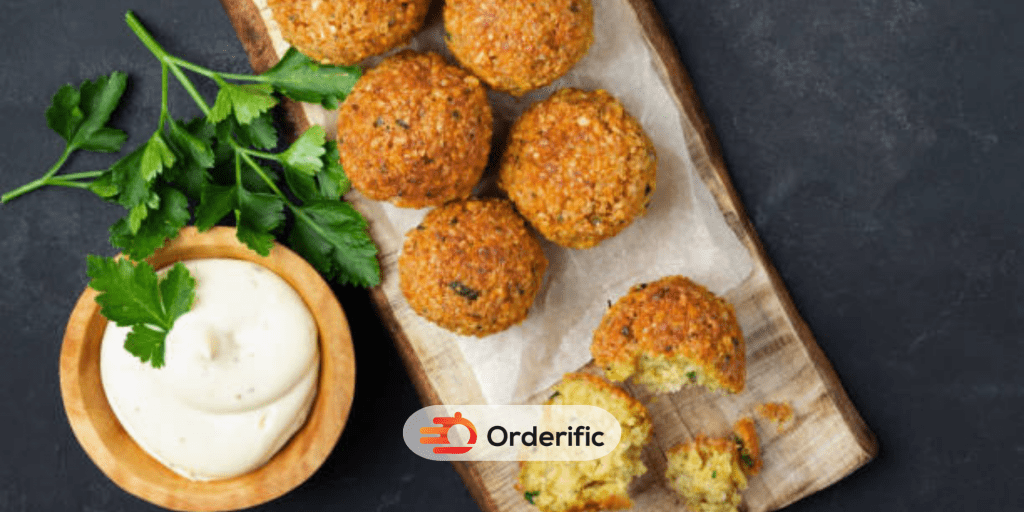 What is Falafel?
It is a deep-fried ball or patty made from mashed chickpeas (or fava beans) and herbs. It's typically served with salad, pickled vegetables, hummus, tahini sauce, and laffa bread. Falafel is a popular street food in the Middle East but can also be enjoyed as part of a traditional meal.
Originally, it was made from fava beans only. Over time, people began adding chickpeas to the mix, creating a more widely accepted version of the dish today. The combinations of spices and herbs used in falafel vary in each region and can differ based on personal preference.
Falafel Ingredients
The most common ingredients in falafel are chickpeas, herbs, spices, and onion. Chickpeas provide the base of the dish, which is then combined with aromatic herbs such as parsley or cilantro and spices like cumin and coriander for flavor. Onion adds a subtle sweetness to the mix.
To bind all of these ingredients together, falafel often contains baking soda and an egg. This helps the mixture form into balls or patties that can be fried. Finally, a few tablespoons of flour are added to the mix to give it a light, crispy texture when cooked.
How to Make the Best Falafel at Home!
Making it is easier than you think! All you need are a few simple ingredients and some patience.
Here's what you need:
1 ½ cups of soaked chickpeas or fava beans
2 tablespoons of all-purpose flour
1 small onion, diced
2 cloves garlic, minced
2 tablespoons of fresh parsley or cilantro, chopped
1 teaspoon of ground cumin
1 teaspoon of ground coriander
¼ teaspoon of baking soda
Salt and pepper to taste
Vegetable oil for frying
Begin by soaking the chickpeas or fava beans in water overnight. The next day, drain and rinse the beans, then add them to a food processor or blender. Pulse a few times until the mixture is coarsely ground. Add in the diced onion, garlic, herbs, spices, baking soda, salt and pepper. Process everything until it forms a paste-like consistency.
Form the falafel into balls or patties, then coat them with flour. Heat oil in a large skillet over medium-high heat. Once the oil is hot enough, add the falafel and fry each side for 3-5 minutes or until golden brown.
Remove from heat and drain on paper towels. Serve warm with your favorite sides like hummus, tahini sauce, and pickled vegetables.
How to Cook Falafel – 3 Different Ways
Falafel is traditionally fried in oil, but there are other ways to cook it as well. For those who prefer a healthier version of this classic dish, here are 3 different cooking methods:
Baked Falafel: Preheat oven to 375°F. Place prepared falafel patties on a greased baking sheet and lightly brush the tops with olive oil. Bake in preheated oven for 15-20 minutes or until golden brown and crispy.
Air Fryer Falafel: Preheat the air fryer to 360°F. Place prepared falafel patties in the basket of the air fryer and lightly spray with cooking oil. Cook for 8-10 minutes, flipping once halfway through.
Pan Fried Falafel: Heat oil in a large skillet over medium-high heat. Once the oil is hot enough, add prepared falafel and fry each side for 3-5 minutes or until golden brown.
How to Serve Falafel
Enjoy this versatile dish in Middle Eastern meals or as a party appetizer. It's a beloved street food, often served with various accompaniments.
Enjoy this classic dish in its authentic form or get creative with different toppings and accompaniments. Falafel is the perfect blank slate for adding your personal touch, so get creative and have fun!
Conclusion
It is one of those dishes that can loved by everyone—both young and old. Its unique flavor, texture, and cultural significance make it a timeless classic. Whether you're looking for a light snack or a full meal, falafel is sure to satisfy. So why not give it a try? You won't regret it!
From its crispy exterior to its flavorful, herby interior, there's no denying that falafel is an absolute delight. So bring this delicacy into your kitchen today and experience the charm of Middle Eastern cuisine!
Click here for more savory and informative recommendations with Orderific. Click here to start experiencing the huge benefits Orderific can bring to your business. Try Orderific!
FAQs
Are there any regional variations of falafel, and how do they differ from the traditional version? 
Yes! Each region has its version of it. For example, in Egypt, they add dill weed or mint to the mix for flavor, while in Palestine they use fava beans instead of chickpeas.
What are some common side dishes or accompaniments to serve with falafel?
Some common side dishes or accompaniments to serve with falafel are hummus, tzatziki sauce, laffa bread, pickled vegetables, roasted eggplant salad, and Israeli parsley salad.
Are there any health benefits to eating falafel?
Yes! It is rich in protein and fiber, making it a great choice for those looking to maintain a healthy diet.