The allure of New York City isn't just in its dazzling skyscrapers or the frantic rhythm of its streets – it's in its fancy restaurants. Indeed, its heart beats within the dining rooms of its upscale, elegant restaurants that have become the epicenter of world-class gastronomy. As you wander through the city, you look into its various culinary sanctuaries – each offering an unparalleled dining experience.
The city's restaurant scene depicts luxury, romance, and culinary artistry, from towering rooftops to intimate, candle-lit nooks. These establishments, nestled within the city's vast urban sprawl, serve food and craft memories, weaving a tapestry of flavors, aromas, and moments that resonate with locals and travelers alike. So, let's traverse these culinary landmarks, each telling its own story, each a testament to New York's unmatched gourmet legacy.
The Most Romantic Restaurants NYC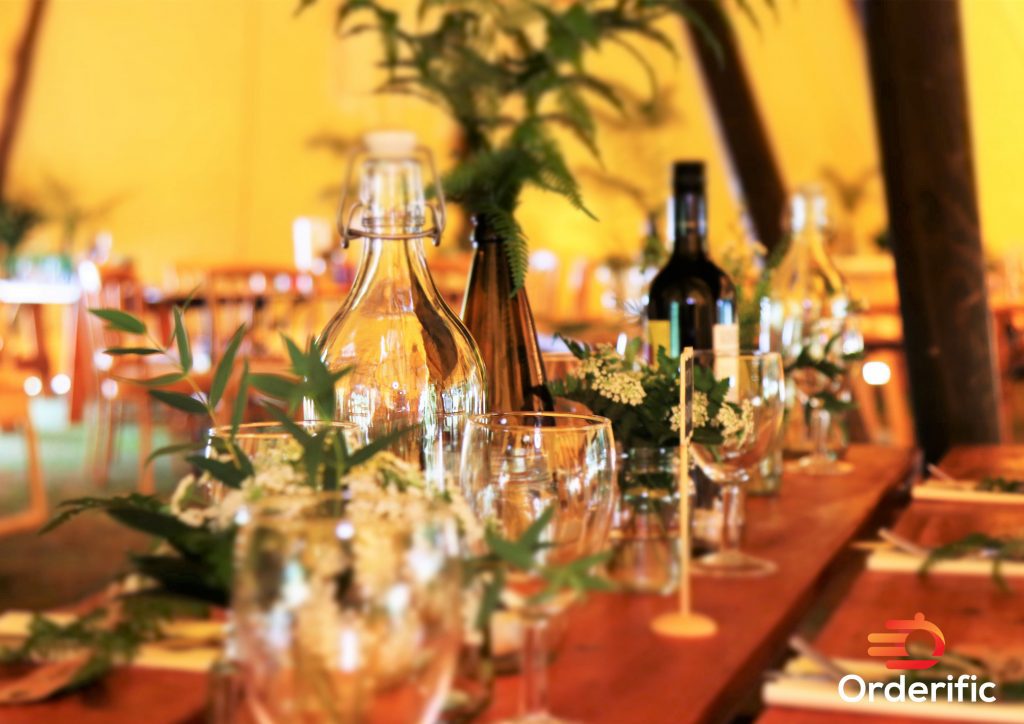 In the bustling heart of New York City, where skyscrapers touch the sky and dreams come alive, there lie hidden gems where romance flourishes amidst gourmet dishes and exquisite settings. Each restaurant offers a unique experience, creating moments that will remain for years to come.
Whether it's the allure of nostalgic decors, breathtaking city views, or the tantalizing tastes from around the world, NYC's romantic restaurants promise unforgettable dates. Here's a closer look at these culinary paradises:
One if by Land Two if by Sea:
Tucked away in a historic carriage house, "One if by Land, Two if by Sea" stands as a timeless symbol of romance in NYC. The atmosphere is a blend of classic elegance and old-world charm, where crystal chandeliers, plush furnishings, and flickering fireplaces create a cozy yet sophisticated ambiance. Live piano music sets the tone for a memorable evening. The menu offers elegant American cuisine, featuring dishes like Beef Wellington and Lobster Newburg, making it an ideal choice for special occasions and romantic dinners.
Le Coucou:
If Paris were transplanted to New York City, it would be called "Le Coucou." This French restaurant captures the essence of romantic Paris with a modern twist. Chef Daniel Rose combines classic French techniques with contemporary flair to create dishes that are a symphony of flavors. The elegant yet welcoming atmosphere makes it a perfect spot for couples looking to indulge in a taste of France without leaving NYC.
Silver Apricot:
Silver Apricot offers a unique fusion of traditional Chinese and contemporary Western cuisines in an intimate setting. The restaurant's interior, adorned with beautiful artwork and soft lighting, creates a magical atmosphere perfect for a romantic evening. The menu features creative dishes that showcase the culinary skills of the chefs, offering a delightful blend of flavors and textures. Whether you're sharing dim sum or savoring a decadent dessert, Silver Apricot promises an unforgettable dining experience for couples.
Little Prince:
Transport yourself to the heart of France with a visit to Little Prince. This quaint French spot is a hidden gem where romantic rendezvous are made unforgettable. The cozy ambiance, reminiscent of a charming Parisian bistro, sets the stage for an intimate dinner. The menu boasts sumptuous dishes like Coq au Vin and Duck Confit, promising a memorable culinary journey for couples seeking a taste of France in the heart of New York.
Freeman's:
Tucked at the end of a secluded alley, Freeman's is a restaurant that oozes vintage allure. With its rustic decor, dimly lit interior, and mouthwatering American cuisine, it's a place where history meets gastronomy. The restaurant's intimate setting, complete with candlelit tables and exposed brick walls, creates a warm and inviting atmosphere. Whether you're looking for a cozy date night spot or celebrating a special occasion, Freeman's promises a unique dining experience that captures the essence of old New York.
Grand Banks & Pilot:
Grand Banks and its sister restaurant, Pilot, take dining to new heights—literally. These floating oyster bars are perched on historic wooden schooners, offering unparalleled views of the city skyline and the Hudson River. Fresh seafood, including oysters and lobster rolls, takes center stage on the menu. Whether you're seated on the deck or enjoying a sunset from the upper deck of Pilot, these restaurants offer a one-of-a-kind dining experience that combines the best of seafood, scenery, and romance in the heart of New York City.
Vinegar Hill House:
Brooklyn boasts many culinary gems, and Vinegar Hill House stands out among them. Situated in a charming 19th-century building, the restaurant exudes a cozy, romantic ambiance, making it a sought-after spot for couples. The menu features American classics with a contemporary twist, and the flavors are further heightened by their wood-burning oven, adding a rustic touch to the dishes. Dine under twinkling fairy lights and be transported to a vintage era where food and romance seamlessly blend.
Sfoglia:
Nestled in the heart of uptown New York, Sfoglia is a haven for Italian cuisine lovers. With its handmade pasta that melts in your mouth and a setting that evokes the romance of an Italian countryside, the eatery guarantees an enchanting experience. The warm lighting, rustic decor, and the intimate atmosphere set the stage for a dining experience reminiscent of a serene Italian village.
Merakia:
Dive deep into the flavors of Greece combined with the hearty allure of a steakhouse at Merakia. With an ambiance that radiates warmth and evokes Greek passion, diners are treated to an array of dishes that span both Greek specialties and steakhouse classics. From tender meats to flavorful Greek appetizers, the dining experience is a passionate affair, much like the country it represents.
The Skylark:
Imagine dining against the backdrop of New York City's glittering skyline. The Skylark offers just that, and so much more. Situated on a rooftop, this urban haven not only serves gourmet dishes but also treats diners to panoramic views of the city. Whether it's a sunset dinner or a moonlit rendezvous, the ambiance here adds a touch of magic to every dish.
Olio e Più:
Romance thrives in the heart of Greenwich Village at Olio e Più. With its garden-like setting, complete with trailing plants and ambient lighting, it's a piece of Italian paradise in New York. Diners can indulge in authentic pizzas, pastas, and other Italian classics, all of which are prepared with passion and flair, making every meal a tryst with Italian romance.
Balzem:
Evoking the rich flavors and ambiance of the Mediterranean, Balzem offers a dining experience that's both cozy and exotic. Tucked away in a romantic corner of the city, the restaurant serves dishes that are a harmonious blend of Mediterranean spices, fresh ingredients, and culinary expertise. Ideal for a cozy dinner, the warm lighting and intimate seating arrangements add to the allure, making it a perfect spot for lovers and food enthusiasts alike.
Rooftop Reds Vineyard & Wine Bar:
A sip of fine wine becomes even more exquisite when paired with a panoramic view. At Brooklyn's Rooftop Reds Vineyard & Wine Bar, guests can bask in the romance of a vineyard setting without ever leaving the city. This urban vineyard elevates the wine-tasting experience, allowing romance to flourish amidst Brooklyn's iconic skyline and a gentle breeze.
Cuba Restaurant and Rum Bar:
Step into a world where the vibrant rhythms of Cuba come alive. This establishment not only brings authentic Cuban dishes to the table but also captures the spirit of Havana nights. With a rum bar boasting an array of choices and a backdrop of lively Cuban music, evenings here are nothing short of magical.
Antique Garage Restaurant:
Time travel exists, and it's hidden in the heart of SoHo. The Antique Garage Restaurant transports diners to a bygone era with its vintage decor, reminiscent of a Mediterranean antique market. The dishes, inspired by Mediterranean flavors, complement the nostalgia, making every meal a trip down memory lane.
Le Botaniste:
Love and health go hand in hand at Le Botaniste. Designed with a botanical theme, this eatery promotes not just romance but also well-being. With a menu centered around organic, plant-based dishes, it caters to health-conscious couples. The apothecary-inspired decor adds a touch of old-world charm, crafting a unique, romantic atmosphere.
The Musket Room:
A piece of New Zealand in the heart of NYC, The Musket Room is a testament to modern Kiwi cuisine. Diners can escape the urban hustle and relax in the restaurant's serene garden setting. Every dish tells a story, fusing fresh ingredients with innovative techniques, making the dining experience as enchanting as a New Zealand landscape.
Aquavit:
Nordic elegance finds its way to New York at Aquavit. The restaurant, a tribute to Nordic gastronomy, is a blend of minimalist design and culinary extravagance. Guests can embark on a culinary journey through the Nordics, surrounded by an ambiance that exudes understated elegance, making it a perfect spot for a romantic escapade.
Heidi's House By the Side of the Road:
Tucked away from the bustling streets, Heidi's House promises a homely embrace in every bite. With its warm interiors and a menu that feels like a comforting hug, it's a haven for those seeking an intimate dining experience. Every dish is crafted with love, making it a destination where food truly feeds the soul and kindles romance.
Pil Pil:
The vivacity of Spain envelops you the moment you step into Pil Pil. With a spread of tantalizing tapas that beckon sharing and savoring, it's the perfect locale for kindling passion. Paired with rich wines, every bite evokes the lively spirit of Spanish festivities, ensuring an evening of spirited conversation and closeness.
Banzarbar:
A sip at Banzarbar is not just about tasting a cocktail; it's about embarking on a polar adventure. Drawing inspiration from maritime explorations, this spot offers a chilled ambiance, both figuratively and literally, complemented by its selection of exotic cocktails and delectable small plates. An evening here is akin to a voyage through icy waters, brimming with mystery and allure.
Compagnie des Vins Surnaturels:
This spot is more than just a wine bar; it's an ode to the art of viniculture. Ensconced in a cozy setting, guests can explore an extensive array of wines from around the world. The hushed ambiance, soft lighting, and the clinking of glasses make it an intimate retreat for wine aficionados seeking a romantic rendezvous.
Cote:
Embracing the finesse of Korean culinary traditions, Cote offers a gastronomic spectacle, especially for meat lovers. The rich aromas of barbecued meats, combined with an array of traditional accompaniments, ensure a sensory delight. It's not just a meal; it's a ritual that brings couples closer as they explore flavors and share moments.
Icca:
Transporting diners to the sun-kissed coasts of Naples, Icca stands as a testament to authentic Italian flavors. With dishes that capture the essence of Neapolitan cuisine, every mouthful promises a burst of freshness and tradition. The warm, rustic interiors, combined with the melodious tunes of Italy, make it a romantic sanctuary in the midst of the city's hustle.
Conclusion
New York City's restaurant landscape is a veritable melting pot, reflecting its storied history and global influences. A gastronomic paradise, it offers everything from age-old family-run diners to avant-garde establishments pushing culinary boundaries. Every corner of the city hides culinary gems, each bearing its distinct character, ambiance, and flavor profiles.
Whether it's the art-deco diners of Manhattan or the rustic eateries of Brooklyn, the restaurants of New York serve not just food, but memories, cultures, and traditions on a plate. It's a city where every meal narrates a tale, waiting to be explored and savored by its discerning diners.
In case you want more content like this, visit Orderific right now!
FAQs
What do you order at a fine dining restaurant?
When at a fine dining establishment, it's often recommended to try the chef's specials or signature dishes.
What do fine dining restaurants offer?
Fine dining restaurants are known to provide a trifecta of gourmet cuisine, an exquisite ambiance, and impeccable service.
Why do people go to fine dining restaurants?
People are drawn to fine dining restaurants for a myriad of reasons: the allure of unique culinary experiences, to celebrate special occasions, and more.
Why are fine dining restaurants so dark?
The dim lighting in many upscale restaurants is intentional. It fosters an intimate and cozy ambiance, allowing guests to focus on their food.
Are fancy restaurants worth the cost?
For many, the allure of fancy restaurants lies not just in the dishes but in the entire dining experience.
How often do you visit a fine dining restaurant?
While some food aficionados might treat themselves monthly, others might reserve such luxurious dining experiences for special occasions or celebrations.
Do people actually get full at fine dining restaurants?
While the portion sizes at upscale restaurants might appear smaller compared to casual eateries, the dishes are typically rich and crafted with high-quality ingredients.