Starting a food truck business can be a mouthwatering prospect. Imagine sharing your culinary passion with enthusiastic foodies, one delicious serving at a time. However, before you can tantalize taste buds, there's a key ingredient you need: funding. Let's explore how to knead your financial dough, from small business loans to creative financing options. We'll sift through the differences between traditional bank lenders and alternative lending avenues, like Accion Opportunity Fund and Funding Circle. Navigating the financial landscape may feel overwhelming, but fear not! With the right business plan and determination, your food truck dreams can sizzle into reality. So, let's embark on this journey, transforming your flavorful vision into a thriving financing food truck.
How to Buy a Food Truck?
Purchasing a food truck, your soon-to-be mobile culinary castle is a stimulating adventure. It marks the first tangible step in turning your food truck dream into reality. Let's put first things first – decide on new or used. This decision, like choosing between a savory or sweet concoction, depends on your budget and unique business needs.
Now, imagine stepping into the food truck. Breathe in the aroma of potential mixed with a dash of excitement and a sprinkle of trepidation. This is where your small business will bloom. It's crucial to ensure the truck's kitchen layout fits your operations like a well-tailored chef's jacket. The right layout can enhance your cash flow, making each service smoother.
Financing your truck is your next hurdle, but fear not! There are numerous avenues to explore. Traditional bank loans, Small Business Administration (SBA) loans, or alternative lenders such as Accion Opportunity Fund or Funding Circle can be your ticket to ownership. Remember, your credit score matters. It's your golden ticket, opening the doors to various loan programs.
Finally, complete your purchase and let the real journey begin! So, buckle up, future food truck owner; your road to culinary success awaits.
How Much Is a Food Truck?
The cost of a food truck, your future mobile marvel, can vary widely. For the culinary connoisseurs desiring the best, purchasing a brand new, fully-fitted food truck from a specialty dealer might be the perfect recipe. This investment, ranging from $50,000 to $175,000, ensures every piece of onboard equipment is in pristine condition, ready to cater to your eager customers. Typically, these new trucks come bundled with warranties, offering an added layer of financial security. Indeed, peace of mind can be worth every penny!
However, if a shiny new van is a pinch too pricey but still tantalizes your taste, consider leasing as an alternative financing option. Leasing can ease upfront costs while still offering the benefits of a new food truck, making it an attractive prospect for many budding business owners.
On the flip side, the used food truck market isn't to be underestimated. Scoring a pre-owned food truck can be a fantastic budget-friendly alternative. With prices ranging from $30,000 to $100,000, this path could be your gateway to joining the bustling food truck scene.
Alternatively, a used trailer or cart can be an even more affordable option, with the caveat that you'll need a separate vehicle for towing. It's a different can of worms, indeed, but one that might suit your unique needs!
What Are Food Truck Loan Options?
Securing funding for your food truck business is akin to finding the perfect spice blend for your signature dish. It requires a keen sense of understanding, patience, and a sprinkle of strategy. Let's explore the diverse menu of food truck loan options that may help you turn your entrepreneurial dreams into a reality, one delectable dish at a time.
Like hunting down the freshest ingredients, finding the right funding source can be a journey. However, this journey can be made smoother by understanding your options. Here's a flavorful selection of loan options to consider:
Equipment Financing: A perfect fit if you're looking for a direct method to fund your new kitchen equipment. It's like picking out the best utensils for your culinary creations.
Working Capital Loan: Much like your trusty blender, this loan is designed to keep your business operations running smoothly, covering daily expenses during off-peak seasons.
Merchant Cash Advance: Imagine it as a quick pinch of salt, providing immediate cash in exchange for a portion of future credit card sales.
Business Line of Credit: Just like keeping a well-stocked pantry, having a business line of credit ensures you have funds at your disposal when you need them.
Business Term Loan: The hearty main course of business loans – a fixed lump sum you repay over a set term.
Small Business Administration Loan: A government-backed loan that can add security to your funding journey.
Vendor Leasing Programs: Consider hiring a sous-chef; they provide the equipment, and you make the magic happen.
Remember, each financing option serves a unique purpose, much like the diverse ingredients in your mobile kitchen. Understanding these options can help you make the best decisions for your food truck business. So, let's start cooking up your dream business, one step at a time.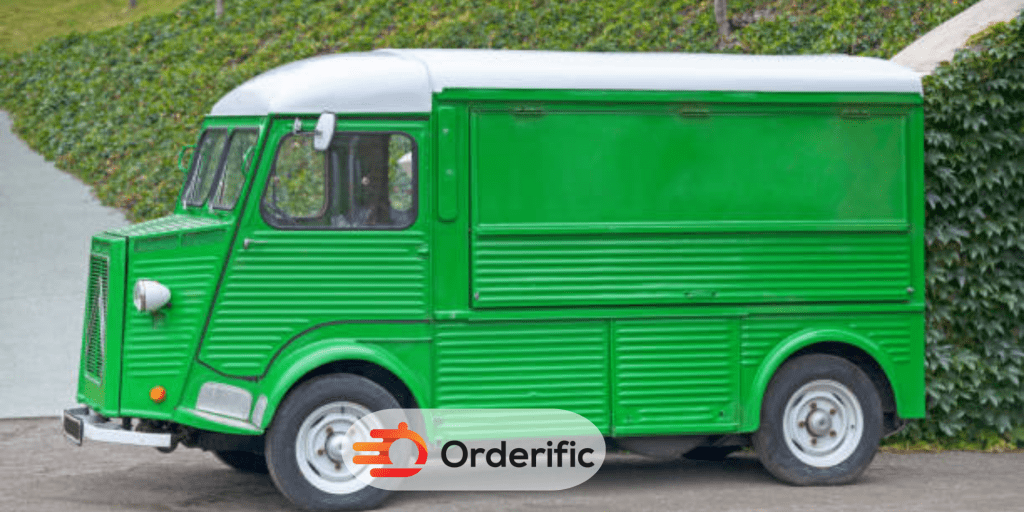 How to Get Financing for a Food Truck Business
Securing financing for your food truck business can feel like embarking on a culinary journey, where each step brings you closer to serving your delectable dishes. It's like kneading dough, requiring patience, effort, and a dash of strategic thinking.
First off, know your credit score. It's like the temperature of your oven – it must be just right to bake the perfect financial loaf. In essence, a solid credit score can pave the way to diverse loan programs.
Next, craft your business plan. Consider this your food truck recipe, detailing every ingredient needed for success. It's an essential tool for lenders, showing them the potential of your culinary venture.
Consider applying for a Small Business Administration loan. Backed by the government, it adds a layer of security, like a well-cooked crust on your financial pie.
Alternatively, explore options with alternate lenders. Institutions like Accion Opportunity Fund or Funding Circle can offer the financial yeast needed for your business to rise.
If you're seeking funds specifically for equipment, equipment financing can be your perfect utensil. It's like choosing a chef's knife – precise, essential, and designed to perform a specific task.
Don't overlook personal savings or funds from friends and family either. They can provide the initial sprinkle of capital needed to get your food truck wheels rolling.
In essence, financing your food truck dream requires a blend of patience, planning, and smart decision-making. Much like a well-prepared meal, getting the funding right can ensure your food truck business is a delight to the taste buds of success.
How to Get Food Truck Financing with Bad Credit
Securing food truck financing with less-than-stellar credit can feel like baking the perfect loaf with less-than-ideal yeast – challenging yet possible. It demands patience, perseverance, and a pinch of creativity. Your credit score might be a bit doughy, but let's explore the alternative financing options that can add that essential flavor to your food truck business.
Microloans: These mini marvels, typically below $50,000, can provide that essential boost. Imagine them as the subtle spice that adds an unexpected kick to your dish. It's an option, mainly if traditional banks give you the cold shoulder.
Business Credit Cards: They are like the trusty frying pan in your kitchen, versatile and ready to serve various purposes. Despite your credit hiccups, these cards can fund more minor expenses, keeping your operations sizzling.
Crowdfunding: Picture it as the bustling farmer's market of financing. Platforms like Kickstarter or GoFundMe allow your food truck dream to reach potential investors and eager foodies across the globe.
Investors: It's like having a co-chef in your kitchen, sharing the heat and rewards. Angel investors or venture capitalists could be an option, providing the much-needed dough in exchange for a slice of your business pie.
Community Development Financial Institutions (CDFIs): Think of these as your neighborhood grocery stores focused on serving small businesses in their community. These institutions can offer loans even if your credit score exceeds the top tier.
Remember, a lower credit score doesn't mean a closed door. It's merely a challenge to your culinary journey. But with persistence, intelligent choices, and a dash of creativity, you can secure financing for your food truck business. After all, the most flavorful dishes often come from overcoming the most demanding cooking challenges.
Best Practices for Managing Your Food Truck Finances
In the heart of the bustling city, a food truck hums. The scent of sizzling patties wafts through the air. Customers line up, money in hand, ready for a tasty treat. Yet, behind the delicious creations, a crucial aspect simmers quietly: finance management. Shrewd handling of funds can be the secret sauce to a thriving food truck business. Let's delve into the world of best practices for managing your food truck finances, a world where numbers marry flavors.
Creating and Maintaining a Business Budget
Indeed, preparing a budget can seem as daunting as perfecting a new recipe. Fear not! It's all about knowing your ingredients. In this case, those are your income and expenses. Begin with determining your food truck's revenue. It's akin to understanding the yield of a recipe.
Next, track your expenses. Picture it like identifying all the elements that go into a culinary masterpiece. Be thorough. Include costs like ingredients, fuel, maintenance, and permits. Remember, even the smallest spice can make a significant impact on flavor!
Now, subtract your expenses from your revenue. It's like ensuring your kitchen is in order after a busy day. This exercise gives you a clear snapshot of your business's financial health. Like tasting your dish before serving, this step is crucial.
Lastly, review and adjust. Like fine-tuning a recipe, your budget needs regular revisits. It helps keep your food truck business financially tasty!
Strategies for Sustaining Cash Flow During Off-Peak Seasons
Off-peak seasons can feel like a sudden lull in a buzzing kitchen. Yet, entrepreneurs can utilize several strategies to keep the cash flow simmering.
Firstly, consider diversifying your menu. Much like experimenting with seasonal ingredients, offer unique dishes that cater to off-peak preferences. A warm bowl of soup during winter.
Secondly, explore catering opportunities. Picture it as serving your signature dishes at a private gathering. It can provide a steady income stream during quieter months.
Balancing high and low-cost dishes could be another strategy. Imagine it like balancing flavors in a dish, ensuring your menu appeals to a broad range of tastes and budgets.
Finally, building a loyal customer base is crucial. It's like having regulars at your diner who love your offerings, ensuring consistent business. Engage with customers, offer loyalty programs, or host special events. After all, good food coupled with excellent service often equals repeat customers!
In essence, managing your food truck finances is like perfecting your cooking technique. It requires patience, practice, and constant learning. But with the right strategies, your food truck business can create a financial storm, leaving a delightful taste of success!
Conclusion
Just like the sizzle of a perfectly grilled burger, the journey of financing your dream food truck business promises a flavorful experience. With the right blend of financing, investment, and business loans, your culinary ambitions can become a thriving reality. Savor the satisfaction that comes from the perfect balance of careful planning and strategic decision-making. Remember, each financial decision adds a unique note to your business's flavor profile. As you navigate through this stimulating journey, remember that tools like Orderific are here to simplify your operations and enhance your customer experience. With increased revenue and decreased operational costs, Orderific is your partner in crafting the perfect customer experience. So, why wait? Step into the exciting world of food truck entrepreneurship and create a storm of success. For more information on how Orderific can help, schedule a FREE DEMO today.
FAQs
What are 3 startup expenses for a food truck business?
Three startup expenses for a food truck business are the truck itself, kitchen equipment, and initial food supplies.
What is a startup expense for a food truck?
A startup expense for a food truck includes costs for permits and licenses, truck modification, and marketing activities.
How much money does it take to start a profitable food truck?
Starting a profitable food truck business typically requires an initial investment between $50,000 to $150,000.
How much should you invest in a food truck?
The investment in a food truck can range from $50,000 to $150,000, depending on the truck's size, equipment, and location.