In the bustling heart of a vibrant metropolis, the savory aroma of sizzling street food wafts. Food trucks, with their tempting fares, have become an integral part of the urban culinary scene. Yet, behind the tantalizing flavors lies a crucial responsibility – ensuring food safety and hygiene. As a food truck operator, your top priority should always be the safeguarding of public health. The stakes are high, with dangers like foodborne illnesses and poisoning lurking around improperly handled Food. With diligent adherence to hygiene and cleanliness standards, you can serve not just delectable Food but also peace of mind. Let's embark on a journey to explore the best practices to ensure food safety in the dynamic world of food truck operations.
Why Is Food Safety Important?
Food safety is the unsung hero of the culinary world, quietly ensuring that every bite we savor is free from harmful contaminants. It's a crucial shield that guards against the menace of foodborne illnesses and food poisoning. But why exactly is food safety so important?
Guardian of Public Health: Food safety practices protect the public from harmful bacteria that can lead to severe illnesses. It's a steadfast sentinel, tirelessly watching over our health and well-being.
Custodian of Reputation: A food truck's reputation hinges on its commitment to food safety. A single instance of food contamination can irreparably tarnish an otherwise reputable brand.
Underscores Professionalism: Strict adherence to food safety hygiene cleanliness standards demonstrates a business's professionalism and respect for its customers.
Ensures Compliance: Upholding food safety regulations is paramount for operating lawfully. Falling short can lead to penalties or, worse, closure.
Prevents Waste: Safe handling and proper storage of food help prevent spoilage and waste, ensuring raw Food transforms into delightful meals instead of ending up in the bin.
Imagine the scenario: a food handler, donning gloves, meticulously prepares a mouth-watering meal in a clean, well-organized food truck. The raw meat is stored separately, avoiding cross-contamination. The food handler's hygiene is impeccable, reducing the risk of transferring harmful bacteria. It's a scene of precision and care, where a deep understanding of food safety informs every action.
This is more than just a food preparation process; it's a testament to the pivotal role food safety plays in ensuring public health and securing the food truck's standing in the community. So, the next time you relish a meal from your favorite food truck, remember the silent sentinel that is food safety, working behind the scenes to ensure your culinary enjoyment is unmarred by concerns of health and hygiene.
5 Keys to Food Safety
As the sun rises, a food handler meticulously prepares for another bustling day at the food truck. Their mission is clear: safeguard public health and uphold the reputation of the mobile eatery. To achieve this, they follow five fundamental principles of food safety.
Maintain Personal Hygiene: The food handler starts their day with a thorough hand wash. Personal hygiene is their first line of defense against harmful bacteria. Each glove donned, each apron worn, echoes their commitment to food safety.
Avoid Cross-Contamination: The food handler cautiously stores raw meat and vegetables separately. This vigilant act of segregation eliminates the risk of cross-contamination, a common culprit behind foodborne illnesses.
Cook Food Thoroughly: With precision, the food handler ensures every meal reaches the right temperature. Cooking Food thoroughly is not just a culinary art but a crucial step in killing harmful bacteria.
Store Food Safely: The food handler pays close attention to food storage. By keeping hot food hot and cold food cold, they ensure food safety long after the cooking process.
Keep a Clean Environment: From cleaning utensils to pest control, a pristine environment is maintained. The food truck, in its gleaming glory, stands as a testament to their unwavering resolve for hygiene and cleanliness standards.
The food handler's day ends as the sun sets, but their commitment to food safety and hygiene never wavers. Each day, they reinforce the importance of these safety measures, serving not just delightful meals but peace of mind to every customer. Amid the tantalizing aroma of street food, the silent sentinel of food safety steadfastly guards public health, ensuring each bite is a safe and savory delight.
Keeping Things Clean in the Kitchen
In the bustling hub that is the food truck's kitchen, cleanliness reigns supreme. The gleam of the stainless-steel surfaces greets the day, reflecting an unwavering commitment to hygiene. Through the rhythmic dance of food preparation, each utensil returns to its sanitized home post-use. Freshly washed cutting boards tell tales of colorful fruits and vegetables meticulously sliced while the aroma of disinfectant mingles with the lingering scent of delicious fare.
The food handler, the heart of this hub, embodies cleanliness. Sporting immaculate attire, they exude a sense of purity that transcends their culinary creations. Each scrub, each rinse, is a silent pledge to food safety. Echoing this dedication, the appliances bask in the warm glow of cleanliness, their shiny exteriors speaking volumes.
Pest control measures stand like silent sentinels, safeguarding the kitchen's sanctity. As dusk falls, the kitchen remains a beacon of cleanliness, its high standards intact. The closing ritual, a thorough cleanse, ensures the kitchen awaits another day of culinary artistry in pristine glory. Through the lens of hygiene and cleanliness standards, the food truck kitchen ceases to be a mere facility. It transforms into a testament to food safety, a haven where delightful meals and peace of mind are served equally enthusiastically.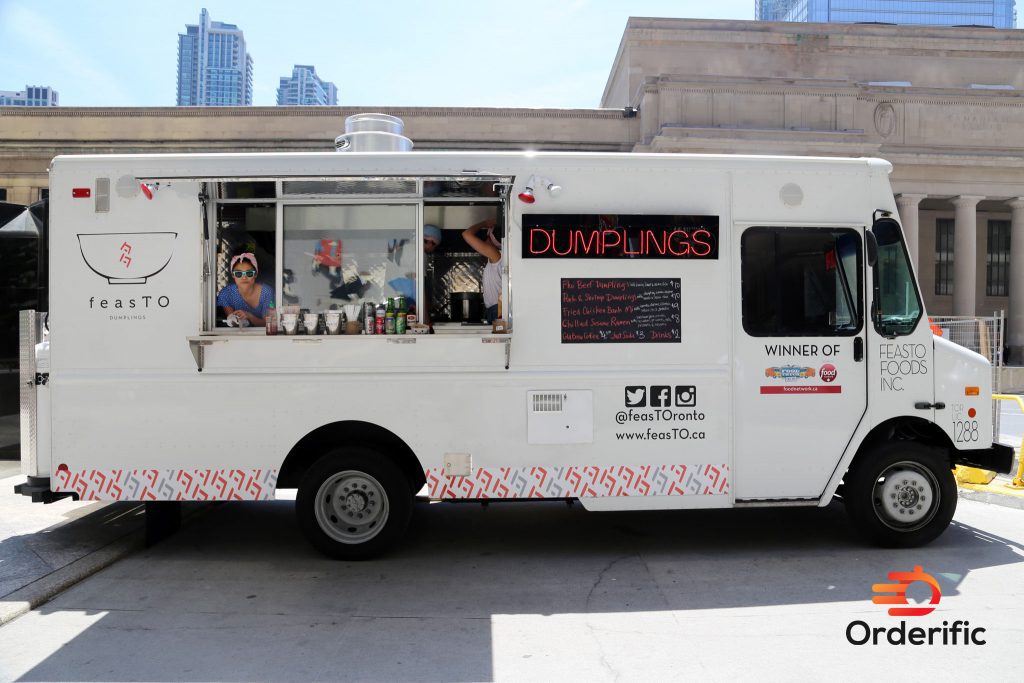 Food Safety & Sanitation in Action
Stepping into the heart of a food truck, we witness 'Food Safety & Sanitation in Action.' Early morning greets us with the crisp scent of disinfectant, symbolizing a kitchen prepped for the day. The food handler, our unsung hero, springs into action, their aura of dedication filling the compact space.
Firstly, a thorough hand wash sets the stage. Then, donning gloves and aprons, they radiate a commitment to cleanliness standards. Their hygiene is flawless. Each move is a dance of precision underpinned by food safety consciousness.
Next, they move to storage. Raw meat, carefully placed safely from vegetables, avoids cross-contamination:
Their careful segregation
A firm stand against foodborne illnesses
A nod to public health
The act of cooking unfolds next. Each meal, meticulously heated to the right temperature, transforms into an artistic yet bacteria-free delight. The hum of the grill, the sizzle, titillates our senses, amplifying the experience.
Food storage, their next concern, sees hot Food kept hot and cold food cold. This diligent act ensures that even post-cooking, safety reigns. The refrigerator hums softly, a comforting assurance of food safety.
Lastly, a clean environment is maintained. Each utensil basks in the glow of cleanliness post-use, pest control measures stand guard, and the truck mirrors a gleaming castle of hygiene. As the day ends, a final cleanse reinstates the kitchen's pristine glory, ready for another day of safe culinary magic.
This journey, 'Food Safety & Sanitation in Action,' is more than a process. It's a testament to the food handler's unwavering resolve for food safety and hygiene, a silent tribute to the guardians of public health.
Ensure the Safety of Your Food With American Dining Creations
Venturing into American Dining Creations, you are welcomed by a dedication to food safety that's almost tangible. Each meal here is a symphony of flavors, masterfully orchestrated under stringent safety measures. The aroma of culinary delights permeates the air, yet there's an underlying scent of cleanliness that reassures diners.
Every food handler embodies the ethos of hygiene. Donning pristine uniforms, they represent a tangible commitment to cleanliness standards. Their hands, gloved and clean, meticulously prepare each dish. The act is almost ritualistic, steeped in professionalism, respect for customers, and a deep understanding of food safety norms.
The handling of raw meat is particularly impressive. Cautious storage practices ensure no risk of cross-contamination, eliminating any shadows of foodborne illnesses. Simultaneously, the food handlers' hygiene remains impeccable, reducing the transfer of harmful bacteria.
The sight of a sparkling clean kitchen, the stainless steel gleaming under the soft glow of sanitary lights, reassures you further. Cleanliness here isn't just a standard; it's a way of life. The environment, free from pests and contamination, forms a perfect backdrop for creating gastronomic delights.
As you savor a meal, the flavors dance on your palate, unmarred by worries of health and safety. American Dining Creations isn't just about Food; it's an experience. It's where food safety, hygiene, and irresistible flavors blend seamlessly, serving not only meals but also peace of mind. Here, food safety isn't just a silent sentinel; it's a celebration, a commitment, and a promise delivered with every bite.
Conclusion
In conclusion, food safety, hygiene, and cleanliness standards are not mere buzzwords in the food truck operations landscape but the fundamental ethos of exemplary service. Each bite of the delicious fare is a testament to the unwavering commitment to these standards. As you savor the flavors, you can appreciate the silent, steadfast guardianship of your health. With businesses like Orderific at the helm, ensuring seamless operational efficiency, restaurant owners can focus more on what matters most – crafting a safe, hygienic, and delightful dining experience. For more information on how Orderific can transform your business, schedule a FREE DEMO today.
FAQs
What are the essential food safety standards and hygiene practices for restaurants?
Essential practices include maintaining personal hygiene, preventing cross-contamination, proper cooking, safe food storage, and a clean environment.
How can businesses ensure they maintain high cleanliness and safety standards?
Businesses can ensure high cleanliness and safety standards by implementing regular training, strict protocols, and frequent audits.
Are there software or tools that help restaurants monitor and improve food safety?
Yes, software like Orderific can help monitor operations, ensure compliance, and improve food safety standards in restaurants.
What are the consequences of failing to meet food safety and cleanliness standards?
Failure to meet food safety and cleanliness standards can result in fines, closure of business, or even legal action.