In the ever-evolving world of gastronomy, staying abreast of the latest food trends can feel like a formidable task. Fear not, dear reader! We're here to unravel the culinary mysteries of 2023 for you. Experience the future of food through our lens as we unpack trends, taking social media by storm. Nothing is off the table, from the resurgence of tinned fish to the quirky charm of potato milk. Marvel at the innovative ingredients transforming everyday meals into culinary masterpieces. With our finger firmly on the pulse, you'll navigate the food scene like a pro. So, sit back, relax, and let us serve you a delicious slice of tomorrow today. Prepare to have your taste buds tantalized, your curiosity piqued, and your love for food rekindled. Welcome to your guide to the food trends shaping 2023.
Instagram Food Trends and Statistics
Imagine, if you will, a world freshly brewed with culinary innovation. Where tinned fish, once scorned, reigns supreme. Or picture the humble potato, now the star ingredient of a creamy, delectable drink. Yes, you heard it right – potato milk. Now, add a dash of the exotic – fermented foods. They're flavorful and pack a powerful punch of gut-friendly bacteria.
But the feast of trends doesn't stop here. The rise of functional foods is one to watch. Packed with health-boosting properties, these superfoods are stealing the limelight. From oat milk's rise to prominence to the increasing demand for plant-based foods – these trends are redefining the food industry.
Unsurprisingly, social media, especially Instagram, plays a pivotal role in these emerging trends. The platform has become a vibrant marketplace, introducing us to new culinary delights. So, stay tuned if you're a consumer eagerly anticipating the next 'big thing' or a restaurant owner looking to spice up your menu! With Instagram leading the way, the international food scene is set for an exciting evolution.
So, brace yourself! The food trends of 2023 promise a rollercoaster ride for your taste buds. Let the gastronomic journey begin.
Healthy Snacking
Ready for a delicious pivot? Meet the superstar of the food trends: Healthy Snacking. Imagine biting into a crisp apple, its sweetness flooding your senses. The crunch, the juice, the delicate balance of tart and sweet is nature's candy, a perfect embodiment of healthy snacking. Next, visualize a handful of almonds, their earthy aroma wafting up to greet you. The satisfying snap as you bite into one rewards you with a burst of nutty richness.
Now, picture slices of creamy avocado on whole grain toast, a dash of olive oil adding a hint of luxury. This is no mere snack; it's a love letter to your well-being. So, as we ride the wave of food trends, let's celebrate these power-packed nibbles. They're not just a trend; they're a lifestyle. After all, it's not just about eating; it's about nourishing – each bite is a small step towards a healthier, happier you.
Baked Feta Pasta
Welcome to the world of Baked Feta Pasta. Picture this: you're standing in your kitchen, the scent of roasting tomatoes and feta cheese wafting through the air. Suddenly, there's a sizzling sound. You peer into your oven with a perfect blend of melting feta and blistered tomatoes.
With a wooden spoon, you break apart the cheese, its creamy goodness mingling with the juicy tomatoes. In goes the pasta, twirling and turning, soaking up the rich, tangy sauce. Every strand is coated, every piece decadent.
Before you know it, you're sitting at the table, a plate of steaming pasta before you. Each bite is a revelation – tangy, creamy, and comforting in equal measures. The flavors dance on your tongue. This isn't just a meal; it's an experience. With Baked Feta Pasta, dinner is never just dinner; it's a taste of Italy at your dining table. So, grab a fork and dive in!
Charcuterie Boards and Butter Boards
Feast your eyes on the culinary masterpiece that is the Charcuterie Board. A painter's palette of cured meats, cheeses, fruits, and nuts, it's a delight for the senses. Every morsel is a gastronomic journey, taking you from the salty tang of prosciutto to the sweet crunch of an apple slice.
Now, imagine a Butter Board – yes, you read right! A symphony of artisanal butter, each with its unique flavor profile. From garlic-infused to honey-whipped, these spreads transform the humble bread slice into a taste sensation. Savor each bite, allowing the velvety richness to melt on your tongue.
These boards aren't just about food. They're a celebration of craftsmanship and culinary artistry. An invitation to explore, engage, and enjoy. So, it's time to board the flavor train, whether you're a restaurant seeking to wow your guests or a food lover searching for new experiences. Here's to the delectable journey that awaits with the Charcuterie and Butter Boards of 2023!
Cross-Hatching
Welcome to the world of Cross-Hatching, a culinary delight that's taken Instagram by storm. Imagine plates adorned with intricately scored ingredients, their surfaces etched in a beautiful grid pattern. As they hit the heat, these crisscrossing grooves crisp up, forming a tantalizing lattice of char.
Each bite is a sensory feast, the contrasting textures of the caramelized exterior and succulent interior adding an element of surprise. The cross-hatches enhance the flavor, too, allowing marinades and spices to penetrate deeper. This technique isn't just about visual appeal; it explores taste and texture, celebrating food's versatility.
Whether you're a restaurant owner seeking innovation or a home cook ready to experiment, Cross-Hatching presents endless possibilities. Every dish is transformed into a culinary canvas, from grilled veggies to seared steaks. So, get prepared to crisscross your way into the hearts of food lovers on Instagram. Here's to Cross-Hatching, the trend redefining the art of cooking in 2023!
Fresh Greens
Introducing 'Fresh Greens,' the vibrant superstar in food trends. As the name suggests, it celebrates nature's bounty. Imagine a plate heaped with an array of crisp, succulent greens. There's the crunch of fresh lettuce, the peppery bite of arugula, and the mellow sweetness of spinach. The sight alone is a feast for the eyes, a riot of shades from emerald to jade. Now, imagine the experience of tasting it.
Each bite is a burst of freshness, a tangy interplay of textures and flavors. But there's more than meets the eye. These 'Fresh Greens' aren't just tasty; they're packed with nutrients, too. They're a testament that eating healthy doesn't mean compromising taste. So, as you navigate the food trends 2023, take a moment to savor the simple pleasure of 'Fresh Greens.' Because sometimes, the best flavors are the ones nature makes.
Butter Chicken
Let's embark on a delectable journey, introducing a revered classic – Butter Chicken. Picture a simmering pot, its contents bubbling gently. A vibrant medley of rich tomato and cream forms the heart of this Indian delicacy. Your senses awaken as a blend of aromatic spices wafts into the air – a harmonious cumin, coriander, and turmeric symphony.
Now, imagine chunks of succulent chicken, marinated and char-grilled to perfection. Each piece is tender, soaking in the tangy, creamy gravy. And as you lift a spoonful, the anticipation builds. Upon tasting, warm, velvety layers of flavor unravel, dancing on your palate. Each morsel combines comfort and surprise, wrapping your senses in a culinary embrace.
Undeniably, this is more than just a dish. It's a narrative of tradition, an ode to India's rich cultural tapestry. So, as you delve into the food trends 2023, let's pay homage to timeless classics. After all, in food, tradition and innovation go hand in hand.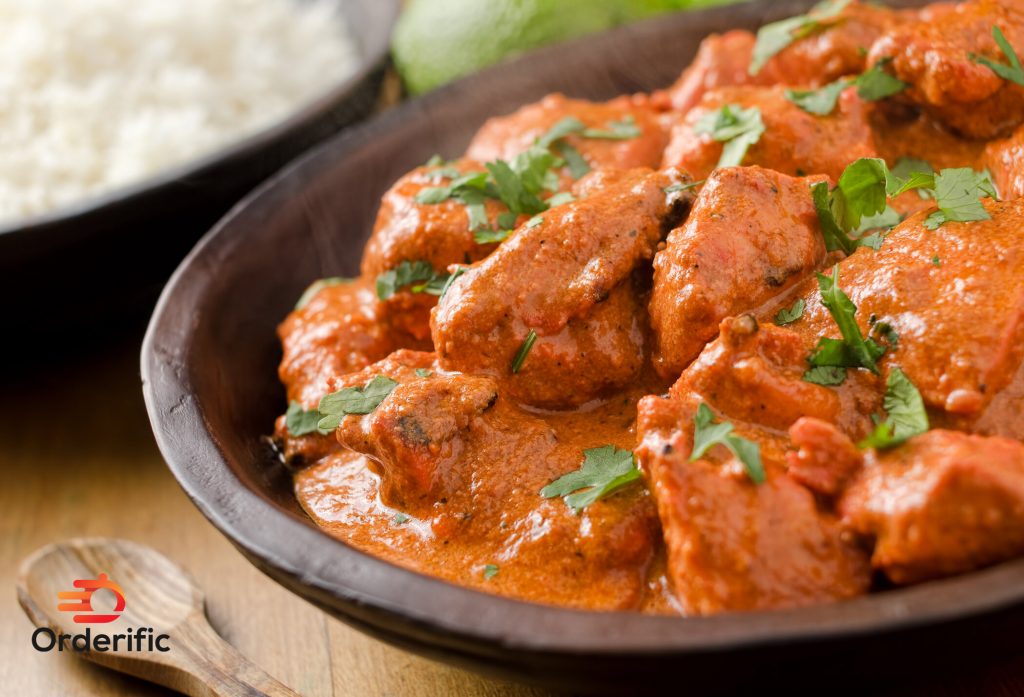 Cloud Bread
Welcome to the fluffy world of Cloud Bread. Picture a golden loaf, light as a feather and irresistibly soft. Envision running your fingers over its smooth surface, likened only to the gentle caress of a cloud. Upon tearing into it, observe the steam nestling around each fluffy curd. Then, imagine bringing a piece to your lips, the bread's warmth radiating against your skin. Your first bite is a revelation, a delicate dance of eggy sweetness and airy texture.
It melts in your mouth, leaving behind a lingering trace of comfort. This would be it if there were a bread akin to a warm hug. With each serving, Cloud Bread takes you on an unforgettable journey, tantalizing your senses and teasing your palate. Indeed, it's not just a trend; it's a culinary experience that has captured hearts and taste buds on Instagram. So, are you ready to float away with Cloud Bread in 2023?
Nacho Tables
Picture this: a long table adorned with a vibrant fiesta of nachos. A colorful tapestry of crispy tortilla chips slathered in molten cheese unfolds before you from one end to the other. Each chip is a canvas embellished with a medley of toppings – from spicy jalapenos to chunky avocado. Suddenly, the aroma wafts up, a tantalizing mingling of cheese and herbs commanding your attention.
With the first bite, an explosion of flavors ensues. There's the chips' crunch, the cheese's smoothness, and the jalapenos' fiery punch. Each morsel is a surprise, a culinary adventure for your taste buds. Imagine sharing this gastronomic journey with friends, laughter, and conversations filling the air.
Yes, Nacho Tables are more than a food trend; they celebrate togetherness. So, get ready to dive into this social dining experience and embrace the novel food trend 2023.
Cinnamon Rolls
Let's embark on a culinary journey to the world of Cinnamon Rolls. Envision a soft and fluffy swirl with a hint of golden crispness. Each layer is a testament to the delicate art of baking. As it bakes, the aroma of sweet cinnamon envelopes your senses, creating an atmosphere of warmth and comfort.
The fun continues beyond there. Imagine drizzling a glossy vanilla glaze over the roll. It seeps into every crevice, adding a lush touch to each bite. Undeniably, the experience of biting into a Cinnamon Roll is magical. The sweet, spiced filling unravels with every taste, pairing harmoniously with the dough's buttery softness.
These rolls, however, are more than just a dessert. They're a symbol of joy, a shared moment of indulgence. Catering to sweet tooths worldwide, they're an enduring food trend. So, as you explore the food trends of 2023, let the timeless charm of Cinnamon Rolls guide you.
Restaurant Industry Trends and Statistics in 2023
Picture a bustling restaurant in 2023. The buzz of conversation and clinking cutlery fills the air. The aroma of sizzling dishes wafts from the open-plan kitchen, captivating your senses. It is a sensory symphony that perfectly embodies the latest restaurant trends.
Innovative Dining Formats: The rise of pop-up restaurants and ghost kitchens is a testament to the industry's adaptability. They provide novel dining experiences, satisfying consumers' appetites for something different. Whether it's a gourmet meal from a cloud kitchen or an exclusive pop-up event, the dining landscape is shifting.
Tech-Savvy Operations: Digital ordering systems and contactless payments have become the norm in the industry. Restaurants are integrating technology into their operations, enhancing efficiency while providing a seamless dining experience. It's a win-win situation – for the restaurants and the customers.
Emphasis on Sustainability: The surge in demand for plant-based meals and a focus on reducing food waste reflects a growing consciousness about sustainability. Consumers are making greener choices, and restaurants are responding. This trend is here to stay, shaping the industry in the future.
Experiential Dining: Dining out is no longer just about the food. It's about the whole experience. The line between dining and entertainment blurs from interactive kitchens to immersive-themed restaurants. Expect more of such exciting ventures in the future.
Diverse Menus: Global flavors are taking center stage, with fusion cuisines gaining popularity. Consumers are exploring new tastes, and restaurants are delivering. This trend is expanding the culinary horizon, making dining a thrilling adventure.
In 2023, the restaurant industry is set for an exciting evolution. The stats reflect a dynamic, innovative sector and are responsive to changing consumer preferences. As the year unfolds, expect these trends to gain momentum, shaping the future of dining.
Conclusion
As we bid farewell to 2023, we reflect on the gastronomic journey that Instagram has treated us to. A canvas painted with vibrant food trends that tantalized our senses and took us on a culinary adventure. Each trend was a revelation, from the comforting embrace of Baked Feta Pasta to the picturesque Charcuterie Boards to the fluffy clouds of Cloud Bread. Yet, they were more than just a feast for the palate. They encapsulated the spirit of togetherness, the joy of sharing, and the thrill of discovery. As we anticipate future food trends, one thing is clear – the culinary landscape is ever-evolving, a testament to the creativity and innovation of food enthusiasts worldwide. For restaurant owners seeking to harness these trends, Orderific offers an invaluable tool for enhancing operational efficiency and customer experience. Schedule a FREE DEMO today to explore how Orderific can transform your restaurant experience.
FAQs
What are some recent and emerging food trends that have gained popularity?
Some popular emerging trends include Charcuterie and Butter Boards, Cross-Hatching, Fresh Greens, and Cloud Bread.
How do food trends influence menu development in restaurants and eateries?
Food trends inspire chefs to innovate and adapt their menus, ensuring they stay relevant and cater to changing consumer tastes.
What role do social media and digital platforms play in spreading and adopting food trends?
Social media platforms are pivotal in showcasing, spreading, and popularizing food trends on a global scale.
Can you give examples of food trends that have significantly impacted the culinary world?
Examples include the avocado toast trend, the vegan movement, and the rise of international fusion cuisines.