Are you prepared to embark on your exciting venture in the food truck industry? Food truck equipment is the most essential supply that might seem overwhelming, but don't let that discourage you. Our Comprehensive Food Truck Equipment Guide is here to simplify the process for anyone aiming to kickstart a thriving food truck business. 
We'll walk you through the crucial items you'll require, including cooking and storage tools, truck outfitting materials, safety essentials, and other valuable products that can give you a competitive edge. By diligently following this guide and ensuring each item is secured before your launch day, any aspiring entrepreneur entering the world of mobile cuisine will have everything they need to begin their successful journey confidently!
Introduction to Food Truck Equipment
In the realm of food trucks, equipping yourself with the right tools is pivotal for a prosperous venture. Whether it's a roomy storage area or efficient cooking apparatus, an array of equipment is indispensable for any food truck proprietor. Among these, a refrigerator stands as a crucial asset, preserving ingredients and warding off spoilage. Equally vital is a cooking source, be it a range or griddle, enabling the delivery of piping-hot, delectable dishes. Ventilation systems, hand-washing sinks, and dish-cleaning stations further contribute to the ensemble, while storage racks keep utensils and supplies in order. Armed with apt equipment, a food truck can adeptly serve patrons, crafting scrumptious meals that delight while on the move.
Essential Food Truck Equipment List (Appliances, Tools, Essentials)
Here's an essential equipment list for your food truck business, including appliances, tools, and essential items:
Appliances:
Refrigerator: To store ingredients and keep them fresh.
Cooking Range or Griddle: For preparing a variety of hot dishes.
Deep Fryer: For frying items like french fries, chicken, etc.
Microwave Oven: For quick reheating or cooking certain items.
Steamer: Useful for steaming vegetables, dumplings, and more.
Grill: Ideal for grilling meats, vegetables, and sandwiches.
Convection Oven: Baking and roasting options for your menu.
Tools:
Chef's Knives: Various sizes for chopping, slicing, and dicing.
Cutting Boards: Hygienic surfaces for food preparation.
Pots and Pans: Assorted sizes for cooking different dishes.
Utensils: Spatulas, ladles, tongs, and more for handling food.
Mixing Bowls: Different sizes for mixing and preparing ingredients.
Measuring Utensils: Accurate measurements for consistent recipes.
Can Opener: For opening canned goods quickly.
Kitchen Shears: Versatile for cutting packaging, herbs, and more.
Essentials:
Generator: To power your food truck's equipment and lights.
Serving Counter: A designated area for assembling and serving food.
Cash Register or POS System: For efficient order processing and payments.
Handwashing Sink: To maintain proper hygiene and sanitation.
Dishwashing Sink: For cleaning utensils and cookware.
Fire Suppression System: Ensures safety in case of a kitchen fire.
First Aid Kit: For any minor injuries that might occur.
Menu Boards: Display your offerings clearly for customers.
Storage Containers: Keep ingredients organized and fresh.
Trash and Recycling Bins: Maintain a clean environment.
Remember, the specific equipment you need might vary depending on your menu and concept. Make sure to adhere to local health and safety regulations when setting up your food truck.
How Much is Equipment for a Food Truck
In recent times, the allure of food truck enterprises has surged, attributed to their mobility and accessible charm. They provide a distinct dining encounter that resonates with numerous patrons. Nevertheless, the outlay for food truck equipment can significantly fluctuate, contingent on your cuisine and the dimensions of your truck.
The equipment requisites can span from $20,000 to $100,000 or potentially more. These expenditures encompass a spectrum of appliances like grills, fryers, refrigerators, and essential culinary tools. Before embarking on this thrilling journey, it's crucial to factor in the outlays linked to initiating a food truck business, which encompasses equipment costs, ensuring a well-informed start.
Things to Consider Before Buying Restaurant Equipment
1. Quality
Prioritizing quality during equipment selection is paramount. While opting for high-quality equipment might involve a higher initial investment, the dividends it yields over time are substantial. Sturdy equipment boasts reduced susceptibility to breakdowns, resulting in diminished maintenance costs and a decreased need for frequent replacements. Moreover, it guarantees consistent performance, a pivotal asset that bolsters the overall efficiency of your kitchen operations.
2. Space
The physical space available in your kitchen dictates the size and type of equipment you can accommodate. Overcrowding can lead to inefficiencies and safety hazards, while insufficient equipment can slow down your operations. Before purchasing, carefully measure your kitchen space and plan how each piece of equipment will fit within it to ensure a well-organized and functional layout.
3. Kitchen Blueprint
Efficient kitchen design is crucial for optimizing workflow and minimizing bottlenecks. Consider the flow of tasks, from food preparation to cooking and serving. Position equipment in a logical sequence to enable smooth movement and easy access. This planning can enhance staff productivity and customer service.
4. Functionality and Maintenance
Equipment should align with the type of cuisine you'll be offering and the volume of customers you expect to serve. Consider the equipment's features and capabilities, ensuring they meet your specific needs. Additionally, assess how easy it is to clean and maintain. Equipment that's challenging to clean can lead to hygiene issues and impact the overall operation of your kitchen.
5. Suppliers
Research suppliers with a strong reputation for providing reliable equipment and excellent customer service. Read reviews, seek recommendations from industry peers, and compare different suppliers' offerings. Establishing a relationship with trustworthy suppliers can lead to better deals, timely maintenance support, and a smoother procurement process.
6. Pricing
While cost is a factor, avoid making decisions solely based on the lowest price. Equipment with a slightly higher upfront cost might offer better performance, energy efficiency, and longer lifespan. Assess the value the equipment brings to your business over time, considering factors like reduced downtime, increased productivity, and potential energy savings.
7. Financing or Leasing
Depending on your financial situation, consider options like equipment financing or leasing. Leasing can help you manage initial costs by spreading them over time, allowing you to allocate resources to other aspects of your business. Financing also offers tax benefits, making it a viable option for some businesses.
Ultimate Food Truck Equipment Checklist
1. Ovens
In the realm of food trucks, a reliable oven stands as an absolute necessity. It holds the prowess to elevate your offerings, whether it's delectable hot sandwiches, freshly baked treats, or mouthwatering pizzas. Here's why a dependable oven is indispensable for your food truck venture:
Precision in Culinary Artistry: The cornerstone of any culinary masterpiece is precision in cooking. A dependable oven ensures your creations are flawlessly cooked to perfection, tantalizing taste buds and leaving customers craving for more.
Compact Versatility: Operating within a confined space demands equipment that optimizes every inch. A compact oven that efficiently utilizes minimal room is quintessential. It enables you to harness the power of baking, roasting, or grilling without compromising on valuable kitchen space.
Tailored for Mobile Culinary Ventures: The market offers a diverse range of ovens meticulously designed for food trucks and mobile culinary endeavors. These ovens are fine-tuned to cater to the unique demands of mobility, ensuring steady performance and ease of use even on the move.
When making your oven selection, prioritize the following factors: size to seamlessly fit your limited space, a suitable power source to match your setup, and user-friendliness that streamlines your culinary operations. Armed with the right oven, you'll orchestrate culinary marvels that not only delight but also keep patrons flocking back for more.
2. Ranges, Grills, and Ventilation
In the realm of flourishing food truck operations, the significance of appropriate equipment cannot be overstated. Within this realm, three pivotal components stand out: ranges, grills, and ventilation. Each plays a distinct role in orchestrating a culinary experience that resonates with customers and ensures their satisfaction.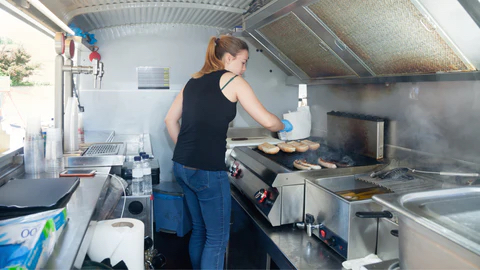 The Range: A range emerges as the epicenter of your food truck kitchen, where culinary symphonies are composed. This multifunctional marvel allows for the simultaneous preparation of diverse dishes, each at its ideal heat threshold. The harmony of flavors and textures, orchestrated by the range, becomes the cornerstone of memorable culinary offerings.
The Grill: Envision your food truck as a theater of sizzling delights, with the grill as its star performer. Here, burgers attain the epitome of juiciness, chicken reaches perfect tenderness, and vegetables transform into delectable charred wonders. A well-equipped grill invites a queue of patrons, each enticed by the tantalizing aromas and mouthwatering creations.
Proper Ventilation: While the range and grill craft culinary magic, proper ventilation is the unseen magician that ensures both comfort and well-being. Adequate ventilation maintains a pleasant ambiance for you and your team, making the cooking process more enjoyable. Furthermore, it safeguards health by ushering away smoke, steam, and airborne particles, thereby cultivating an environment conducive to both exquisite dishes and safety.
With these three pivotal components seamlessly integrated into your food truck setup, you're poised to embark on a gastronomic journey that resonates with customers, fosters culinary excellence, and propels your food truck's reputation to new heights.
3. Microwaves
A microwave stands out as a pivotal asset for three compelling reasons:
Swiftness and Convenience: The microwave's rapid heating capabilities provide an expedient solution for reheating dishes swiftly. This efficiency ensures shorter waiting times for customers and maintains the pace of service during busy periods.
Versatile Culinary Tool: Beyond reheating, a microwave's versatility shines through in its capacity to cook or steam a diverse array of ingredients. This adaptability empowers food truck owners to craft an expansive menu that spans comfort food classics to innovative culinary creations.
Elevated Dining Experience: Introducing a microwave to your food truck equips you with the means to enhance the overall dining experience. Whether it's the comfort of sizzling hot comfort food or the display of your culinary ingenuity, the microwave can elevate your offerings and leave a lasting impression on patrons.
As you curate your ultimate food truck equipment checklist, the inclusion of a microwave has the potential to revolutionize your mobile dining venture, presenting a realm of possibilities that cater to both efficiency and culinary creativity.
4. Freezers and refrigerators
For food truck operations, dependable equipment reigns supreme. At the core of this arsenal lie two indispensable components: the freezer and refrigerator. These stalwart appliances stand as sentinels of freshness and safety, safeguarding the quality of your culinary offerings.
Preserving Freshness: The freezer and refrigerator duo collectively ensure that your food remains in a state of optimal freshness. The freezer's embrace is perfect for safeguarding frozen meats, fruits, vegetables, and delectable ice creams, while the refrigerator caters to perishables like dairy, produce, and meats, maintaining their integrity at a safe temperature.
Culinary Excellence: Armed with these vital appliances, your food truck takes center stage in dishing out culinary excellence. Your customers can savor your high-quality creations, assured that each bite reflects your commitment to excellence and uncompromising taste.
Adapting to Demands: Be it a bustling day or a calm moment, these essential tools equip your food truck to adapt to varying demands gracefully. The dynamic interplay between the freezer and refrigerator empowers you to meet customer expectations, regardless of the pace, by serving up fresh, flavorsome delights with every order.
5. Food prep surfaces
When it comes to food preparation, three pivotal points underscore the significance of clean and secure surfaces: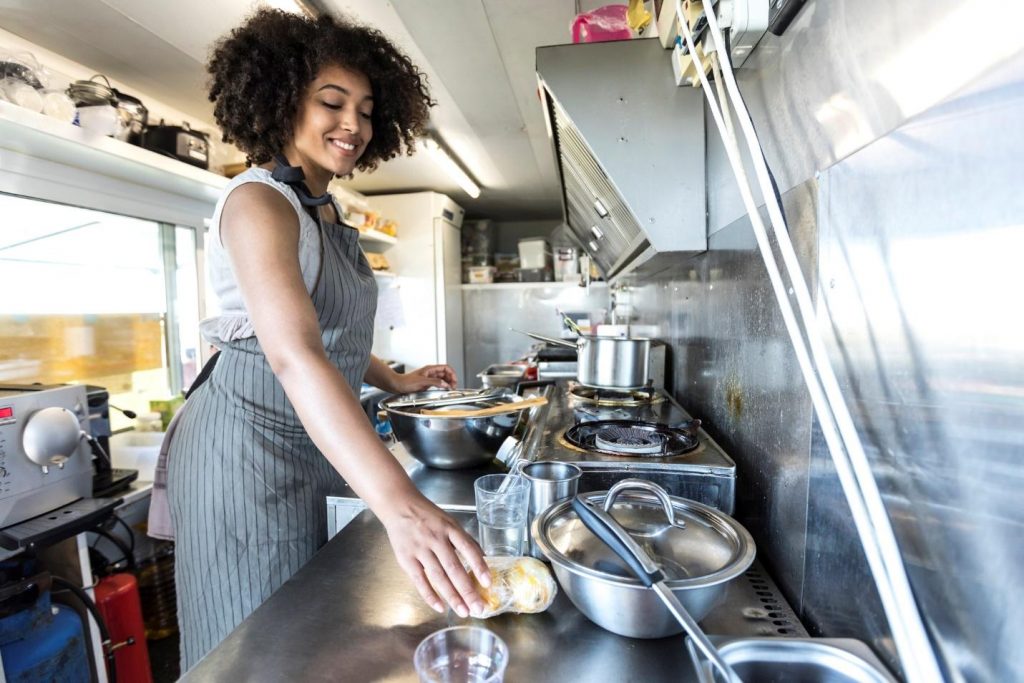 Hygiene at the Forefront: Prioritizing clean surfaces is paramount for safe cooking. Designated food prep areas not only enhance organization but also mitigate the risk of cross-contamination, safeguarding the integrity of your dishes.
Enhanced Efficiency: From dicing veggies to crafting delectable burgers, a clean and robust surface provides the foundation for efficient food preparation. It streamlines tasks, optimizes workflow, and contributes to a seamless kitchen operation.
Customer Satisfaction: The quality of your culinary creations relies on the quality of your workspace. Incorporating high-quality food prep surfaces into your food truck setup translates to delectable outcomes. Happy customers are more likely to return for more, making this investment an essential ingredient for sustained success.
6. Food Prep Equipment
For aspiring food truck entrepreneurs, acquiring the right equipment for food preparation is paramount. The Ultimate Food Truck Equipment Checklist encompasses all the essentials, from burners to refrigerators, ensuring your food is meticulously and safely prepared. Notably, this checklist underscores three pivotal elements:
Essential Prep Equipment: Elevating your culinary game demands indispensable tools such as a commercial-grade food processor, a top-tier blender, and a robust chef's knife. These staples ensure efficiency and precision in your food preparation, setting the stage for a delectable menu.
Comprehensive Setup: With this comprehensive checklist in hand, you're equipped to transform your food truck into a fully functional kitchen. It ensures you have every crucial item to facilitate seamless cooking operations, whether you're a seasoned culinary expert or venturing into the food industry.
Recipe for Success: Embarking on the food truck journey demands meticulous preparation. The Ultimate Food Truck Equipment Checklist is your recipe for success, guiding you toward a well-equipped kitchen that enhances your food truck venture's potential to thrive.
Whether you're a culinary virtuoso or a newcomer to the food scene, this checklist is an invaluable resource to pave the way for a triumphant food truck enterprise.
7. Safety equipment
Running a food truck presents an exhilarating opportunity for profit, yet safety must reign supreme. Vital to this is the possession of essential safety equipment. Consider these three key aspects:
Comprehensive Safety: Prioritize a comprehensive safety equipment checklist. Equip your food truck with essentials like fire extinguishers and first aid kits. This prepares you for unforeseen emergencies and safeguards both you and your clientele.
Trust and Reputation: Demonstrating a serious commitment to safety fosters trust and confidence among customers. A visible dedication to their well-being can translate to repeat business and positive feedback, amplifying your food truck's reputation.
Investment in Success: Viewing safety equipment as an investment, not a mere expense, is crucial. A well-prepared food truck demonstrates professionalism and contributes to the long-term success of your enterprise.
By adeptly integrating these elements, your food truck business not only thrives but also embraces a culture of safety, nurturing growth and patron trust.
8. Sinks
In the realm of food truck outfitting, the choice of equipment holds immense significance. Among the essential components, the sink stands as a cornerstone, ensuring cleanliness and hygiene in your workspace. Beyond its basic utility for hand washing and dish-cleaning, selecting the appropriate sink involves a deeper evaluation of available space, water supply, and plumbing needs. By securing the right sink, you pave the way for an efficient food truck setup that seamlessly meets the demands of a bustling kitchen.
Three Key Considerations:
Functional Core: The sink's role goes beyond cleaning – it's a pivotal element in maintaining a sanitary environment.
Space Efficiency: Choosing a sink that fits seamlessly within your available space optimizes workflow and layout.
Utility Integration: Harmonizing your sink choice with water supply and plumbing ensures operational ease and effectiveness.
9. Restaurant point of sale system
In the realm of food truck operations, the significance of appropriate equipment cannot be overstated. Central to this is a restaurant point of sale (POS) system, a pivotal tool offering a trifecta of advantages.
Efficient Order and Payment Management: A restaurant POS system orchestrates seamless order processing and payment transactions. This streamlines customer interactions, enhancing service speed and accuracy.
Inventory Tracking and Informed Decision-Making: An adept POS system goes beyond transactions, enabling meticulous inventory monitoring. This equips food truck proprietors with insights into ingredient levels, facilitating informed choices on menu items and daily specials.
Enhanced Operations and Customer Experience: By amalgamating order and payment management with inventory control, a reliable POS system elevates operational efficiency. This, in turn, translates to a smoother, more gratifying customer experience, a cornerstone of any thriving food truck enterprise.
10. Kitchen Display System (KDS)
The Kitchen Display System (KDS) is a must-have for your food truck. Here are three reasons why:
Seamless Order Processing: Elevate your food truck operation with a Kitchen Display System (KDS) that simplifies order handling. Say goodbye to traditional paper tickets and hello to real-time digital order tracking, ensuring a streamlined process from order placement to meal preparation.
Accuracy and Efficiency: With a KDS in place, modifying orders becomes a breeze. This guarantees that each customer receives their meal precisely as requested. The result? Improved accuracy, efficient kitchen workflow, and delighted customers who enjoy prompt service.
Professionalism and Modernization: Beyond enhancing operational efficiency, a KDS adds a touch of professionalism and modernity to your food truck. Embrace technology that not only optimizes your workflow but also showcases your commitment to providing top-notch dining experiences on the go.
Investing in a Kitchen Display System sets your food truck on a course for smoother operations, accurate order fulfillment, and an upgraded customer experience.
Conclusion
In conclusion, operating a successful food truck requires more than just an appetizing menu. It's equally critical to equip your mobile kitchen with essential tools and technology — from a high-performing grill to a reliable POS system — each piece contributing towards an efficient, safe, and customer-centric operation. Furthermore, your commitment to quality, safety, and exceptional customer experience, reflected in your equipment choices, will set your venture apart in the competitive food truck industry.
To learn more about running a successful food truck and other food-service-related topics, check out more blogs on Orderific. Packed with industry insights and tips, our content is designed to inform, inspire, and help you navigate the exciting and challenging world of food service with confidence. Stay tuned and keep reading!
FAQs
Q. What appliances are essential?
Ans. Essential appliances for a food truck include a grill, refrigerator, freezer, microwave, sink, food prep surfaces, and a POS system.
Q. Is the equipment portable?
Ans. Most food truck equipment is designed to be portable to fit within the compact space, but the level of portability may vary.
Q. How much power is required?
Ans. The power required depends on the specific equipment used; refer to individual product specifications for accurate information.
Q. Are they certified for safety?
Ans. Always ensure to buy equipment that has been certified for safety by recognized institutions.
Q. Can I get financing options?
Ans. Financing options are often available and vary by supplier; reach out to specific vendors for more information.