Beneath vibrant canopies and twinkling string lights, the allure of food trucks captivates hearts and stomachs alike. Picture this: the sizzling symphony of grills, the tantalizing aroma of street-side delicacies, and the irresistible chorus of lively chatter. A sensory fiesta. But behind the hum and hustle, there is often an untold saga. Stories of tenacious entrepreneurs, their aspirations, and their triumphant journeys. In this blog, we delve into the real-life experiences of such stalwarts: their highs, lows, and mouthwatering success stories. We bring exclusive owner interviews filled with inspiration, wit, and wisdom. So, buckle up for a delightful detour into the world of legendary food truck owners, where culinary dreams are cooked up on wheels. From humble beginnings to gastronomic grandeur – we're about to hit the road!
How Profitable Can a Food Truck Business Be?
Shattering the myth, the profitability of a food truck business is not a stroke of luck but a result of strategic project management and a customer-centric approach. Picture the enticing aroma of sizzling delicacies wafting through the air. Now, imagine the fluttering dollars that follow this scent. Yes, that's the potential of a well-run food truck.
To start, let's consider the humble beginnings of most food truck entrepreneurs. Often starting with a dream and a small investment, these business owners quickly learn the ropes. They immerse themselves in the day-to-day operational realities, from sourcing fresh ingredients to mastering social media marketing.
Customer experience is paramount in this business, often being the key differentiator. A satisfied customer is not just a repeat customer but a raving fan who spreads the word about your exemplary customer service. This organic growth can catapult an entrepreneur from a single food truck to a fleet.
There's also a significant financial advantage compared to a traditional brick-and-mortar restaurant. The initial investment is lower, and so are the overhead costs. Plus, a food truck's mobility allows flexibility and the chance to tap into multiple markets.
However, the journey to entrepreneurial success has its challenges. Like any business leader, food truck owners must juggle multiple projects and responsibilities. They must manage their team, maintain high customer satisfaction standards, and navigate the ever-changing legal and health regulations.
The successful entrepreneurs we interviewed agreed that the rewards outweigh the challenges. They expressed the joy they experience serving their culinary creations to a diverse crowd and the satisfaction of seeing their customer base grow.
So, how profitable can a food truck business be? The answer lies in the unique blend of passion, resilience, and business acumen that each food truck owners brings to their kitchen on wheels. With a compelling story, memorable food, and a keen eye for opportunity, the sky's the limit.
Food Trucks Adapt to a Changing World During the Pandemic
As pandemics upended the world, food trucks adapted with resilience and ingenuity. In the face of adversity, these kitchen-on-wheels embraced change, proving their mettle on the gastronomic battlefield. From the bustling throng of hungry patrons, the scene transformed into socially-distanced queues and online orders. However, the essence remained intact – delectable food served with love in disposable packages.
Kooper's Chowhound Burger Wagon, a well-established name, refashioned its business model, ensuring safety without compromising on the taste that Baltimore had grown fond of. Next, the Craving Potato Factory, renowned for its unique potato-based gourmet dishes, revamped its operation to prioritize customer health and satisfaction. All the while, they kept the city's taste buds entertained with their creative culinary offerings.
Stony Man Coffee & Donuts, a favorite amongst coffee enthusiasts and sweet-toothed patrons, introduced contactless pickups and digital payments. Despite the pandemic's challenges, they continued to serve their signature brews and doughnuts, bringing comfort and warmth to their loyal customers.
The Smoking Swine, the beloved BBQ truck, kept the grills burning amidst the crisis. Their mouthwatering ribs and brisket sandwiches comforted the hearts and stomachs of the locals during the tough times. Lastly, B'More Greek Grill stayed true to its roots and provided a delicious Greek escape to the Baltimore residents while adapting their service to the new normal.
In the face of an unprecedented crisis, these food truck legends rose to the occasion, exemplifying entrepreneurial success. Their compelling stories of adaptability and resilience underline the unwavering spirit of the food truck industry.
Founder Stories: Brett Lindenberg's Food Truck Empire
Brett Lindenberg, the mastermind behind Food Truck Empire, has a tale as flavorful as the dishes served from his fleet of trucks. Lindenberg set forth on a culinary adventure with a dream and a relentless commitment. His journey, filled with grit, a dash of determination, and a hearty entrepreneurial spirit, transformed into an inspiring success story.
Every day, the sizzling grills of his food trucks come alive, wafting mouthwatering aromas down bustling city streets. Brett's trucks offer more than just food, from the crackling of the grill to the clattering of pots. They serve up a palpable sensory experience. Each dish, meticulously crafted, carrying his signature touch, resonates with his unique entrepreneurial journey.
His story isn't just about his successful venture. It's about the resilience and innovation required to navigate the food truck industry. Lindenberg's proactive project management skills and an unwavering focus on customer experience set the foundation for his empire.
But the path to success could have been smoother. Lindenberg faced his fair share of challenges. However, his ability to adapt and learn turned these hurdles into stepping stones. His story emphasizes the importance of tenacity and adaptability in entrepreneurship.
Modern and savvy, he harnessed the power of social media to expand his reach. He transformed his food trucks into mobile culinary destinations, each telling a unique part of his journey. Lindenberg's story is a beacon of entrepreneurial success, inspiring aspiring food truck owners.
In the world of food trucks, Brett Lindenberg's Food Truck Empire stands as a testament to his culinary passion and business acumen. From a single truck to a thriving empire, his journey embodies the quintessential success story. As we explore his journey, we celebrate the spirit of entrepreneurship on wheels.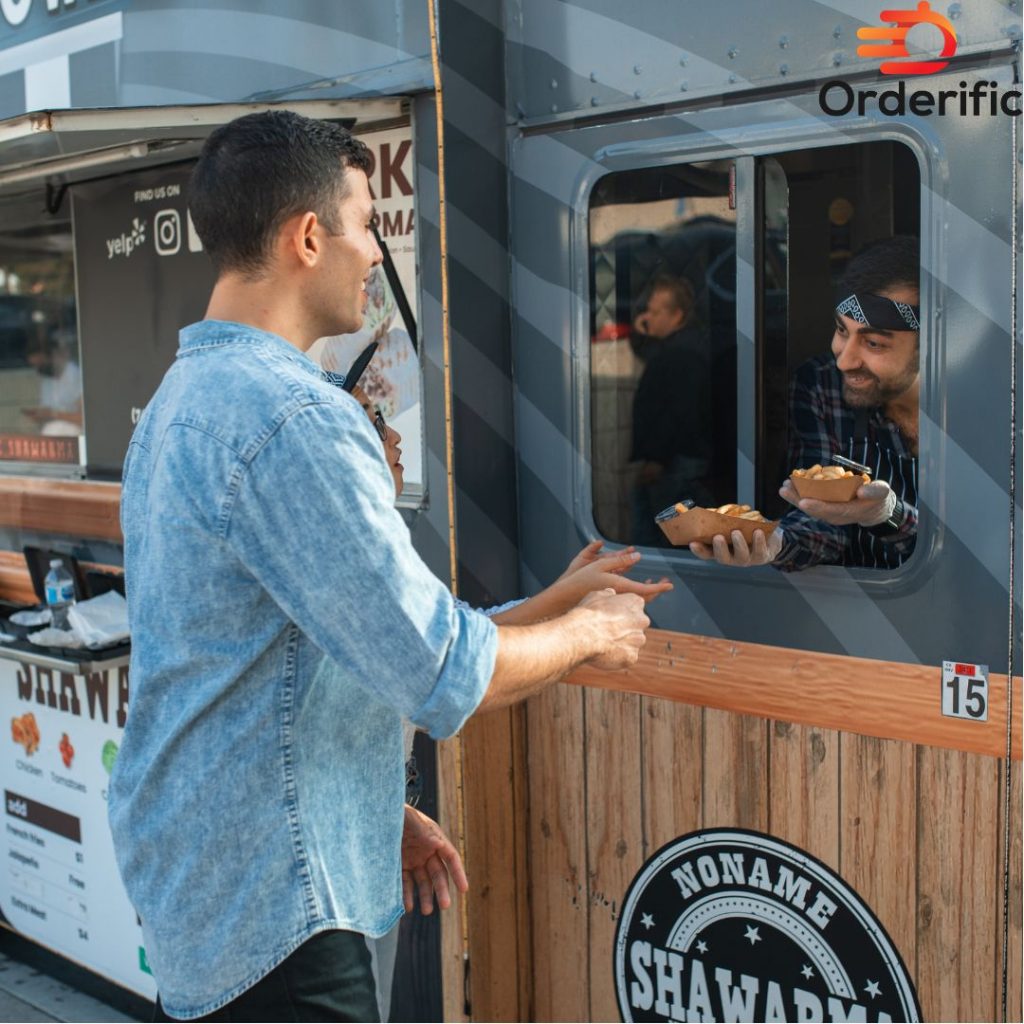 Seoul Taco: A Korean-Fusion Food Truck Entrepreneur Success Story
David Choi's Seoul Taco, a Korean-Mexican fusion food truck, is an anthem of flavors on wheels. Bursting with bold, spicy notes, its culinary creations are a testament to Choi's innovative spirit. Once an unknown entity, it is now a beacon of entrepreneurial success.
A walk towards the vibrant food truck stirs the senses. The sizzling symphony of a hot grill, the marinated meats' tantalizing aroma, and the satisfied customers' lively chatter. Every bite of their signature Gogi bowl or Bulgogi taco is a sensory fiesta.
Yet, the journey could have been smoother. Behind the scenes, Choi battled numerous challenges. From learning the ropes of the food industry to navigating strict city regulations – his path took a lot of work. But with resilience and a customer-centric approach, he built a food empire.
Seoul Taco's success lies in its unique fusion of Korean and Mexican flavors. Each dish is crafted with meticulous attention to taste, texture, and presentation. Even amidst the pandemic, Choi adapted by focusing on safety without compromising quality.
Social media played a pivotal role in Seoul Taco's growth. Vibrant pictures of their dishes, coupled with engaging content, helped to expand their customer base. From a single food truck to multiple locations across North America, Seoul Taco's journey is filled with inspiring milestones.
Choi's story reiterates the importance of passion, grit, and adaptability in entrepreneurship. His vision transformed a humble food truck into a celebrated culinary destination. Today, Seoul Taco's rich flavors, compelling story, and fervor for customer satisfaction continue to resonate with foodies.
In the bustling world of food trucks, Seoul Taco stands apart. It is more than just a food truck; it is a gastronomic journey. A celebration of fusion cuisine, a champion of entrepreneurial spirit, and a haven of unforgettable experiences. Indeed, Seoul Taco is a legendary tale in the culinary world on wheels.
The Rolling Stove: A Journey from Local Popularity to Nationwide Acclaim
In the vibrant realm of street-side gastronomy, 'The Rolling Stove' stands proud. Once a local haunt, it is now a nationwide sensation. Bursting with bold flavors, each dish is a culinary masterpiece.
The journey begins with the sizzle of the grills. As tantalizing aromas waft through the air, anticipation builds. Every juicy burger, each golden-fried side, is crafted to perfection. A bite into their signature sandwich is indeed a sensory fiesta.
Behind this success lies a tale of perseverance. From humble beginnings, 'The Rolling Stove' has climbed the ladder. The secret? A customer-centric approach and relentless dedication. Despite the trials faced, the owners remained focused on their gastronomic dream.
In today's digital age, 'The Rolling Stove' has stayed the same. It has amassed a strong online following through engaging content and vibrant photos food truck owners. This online presence and delightful real-life experiences catapulted it to nationwide acclaim.
Through all its growth, 'The Rolling Stove' retains its warm, human touch. A visit isn't merely about the food. It's about the charming banter, the friendly service, and the genuine care for each customer's satisfaction.
Indeed, 'The Rolling Stove' is more than a food truck. It's a testament to entrepreneurial spirit, a beacon of resilience, and a gateway to unforgettable culinary experiences.
Conclusion
Embarking on this culinary expedition, we delved deep into the riveting world of food trucks through exclusive owner interviews. Brimming with real-life experiences, this journey has led us to the heart of street-side gastronomy. Each success story, a testament to passion, resilience, and adaptability, paints a vivid picture of the entrepreneurial spirit at its best. From the sizzling grills to the bustling queues, the essence of these food trucks resonates with every sensory experience. And always, at the core, a warm, human touch that transforms a meal into an unforgettable encounter. These inspiring tales of legendary food truck owners embody the spirit of "Tales from the Road." As we conclude, remember the power of embracing change, putting customer experience at the forefront, and harnessing technology to improve operations, as exemplified by Orderific's innovative solutions. For more insights to elevate your restaurant business, schedule a FREE DEMO with Orderific today.
FAQs
How profitable is a food truck?
The profitability of a food truck can vary widely based on location, menu, costs, and demand, but many find substantial success.
Who started Seoul Taco?
Seoul Taco was started by entrepreneur and culinary innovator David Choi.
How much does the best food truck make a year?
Successful food trucks can earn around $250,000 to $500,000 in profit annually, depending on location and customer demand.
How many customers does a food truck get per day?
A busy food truck can serve about 100-200 customers daily.