Connecticut's food truck scene is a dynamic culinary adventure, serving up an extraordinary array of gastronomic delights right from the streets. With a rich blend of global and local flavors, the food trucks in CT offer a unique platform for experimental and traditional chefs alike to showcase their skills. Whether you're a foodie on a quest or someone looking for a quick grab-and-go meal, there's something to tantalize every palate.
From New Haven's renowned pizza trucks to Hartford's fusion food masters, each food truck in CT offers a distinct flavor profile. You'll find everything from comfort food classics to innovative cuisine that pushes the boundary of street food. With an emphasis on fresh, locally sourced ingredients, these mobile kitchens are revolutionizing on-the-go dining in Connecticut, making it a must-visit destination for avid food truck enthusiasts.
The Best Food Trucks in CT
Without further ado, let's dive into our curated list of the best food trucks in Connecticut. Each one of these mobile marvels represents the spirit of innovation and tradition that characterizes the CT food truck scene. They serve everything from mouth-watering tacos to gourmet burgers, from sweet and savory crepes to refreshing ice cream. Whether you're a local looking to explore your state's culinary scene or a visitor seeking a delightful food adventure, these food trucks are well worth a stop!
Smetana Food Truck
Mediterranean cuisine is renowned for its use of olive oil, while French cuisine relies on butter. However, the cornerstone of Eastern European food is sour cream, seamlessly integrated into our dough, sauces, and soups. So, it's significance drives us to painstakingly culture our own.
In 2021, Smetana Food Truck emerged, a testament to owner and head chef Nick Valenta's rich heritage, formal education, and diverse professional background. Rooted in Bristol, CT, Nick's parents, immigrants from Poland and the Czech Republic, instilled in him the value of education, motivating him to pursue a career as a lawyer, advanced sommelier, and chef.
With a wealth of experience garnered from acclaimed restaurants in NYC and CT, Nick invested his life savings to establish a unique food truck experience. Every dish is meticulously crafted to order, eliminating heat lamps and chafing dishes. Nick's commitment to using seasonal, responsibly sourced, and top-quality ingredients is unwavering. He firmly believes that even in the realm of food trucks, there should be no compromise on excellence. (www.smetanafoodtruck.com)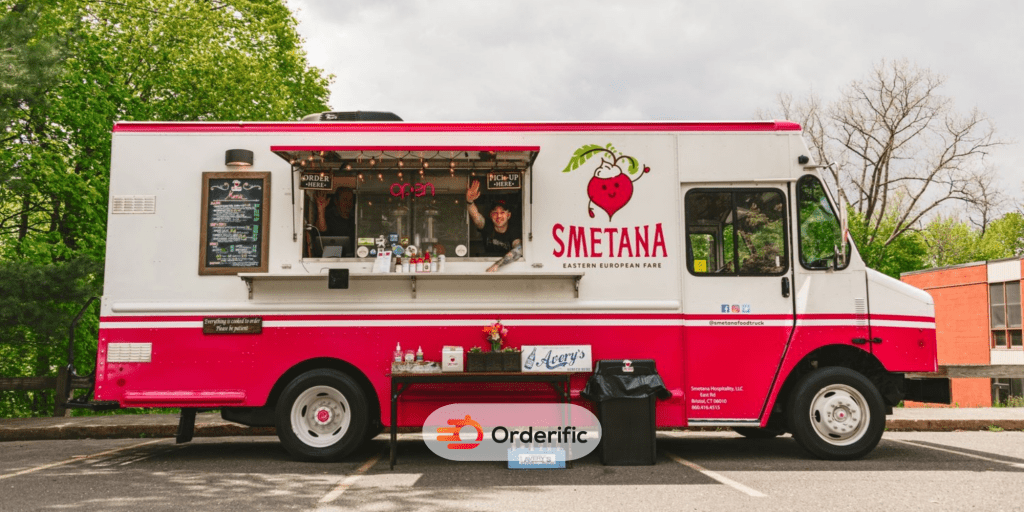 The Whey Station
The Whey Station stands out as a mobile Food Truck, Trailer, and Caterer dedicated to serving a delectable menu of Gourmet Grilled Cheese and Sides. Our pride lies in the exclusive use of fresh, high-quality ingredients in our from-scratch recipes. We are committed to sourcing local and unique accompaniments, such as Zapp's Chips from Louisiana and soda from Avery's in New Britain, CT.
Founded in 2011 by the dynamic duo, husband and wife team Josh and Jillian Moskites, The Whey Station was born from their shared love for comfort food and culinary innovation. Jillian boasts a culinary degree from Johnson and Wales University, coupled with 12 years of experience in restaurants and specialty foods, with a particular focus on gourmet cheese. Josh, who attended the Johnson and Wales Culinary Program, brings 9 years of expertise in restaurants and specialty foods to the table. Together, they have seamlessly blended their passion for gourmet cheese and homestyle cooking, resulting in the unique culinary experience offered by The Whey Station. (www.wheystation.com)
Zuppardi's Pizza Truck
The captivating tale of Zuppardi's Apizza commenced in New Haven, CT, under the skilled hands of Dominic Zuppardi. Having honed his craft along the shores of southern Italy, Dominic emerged as a master bread-baker in 1920s New Haven. However, fate took a turn when Dominic fell ill in the late 1940s due to a stroke, leaving the bakery in need. After stepping into his father's shoes, Anthony Zuppardi assumed control of the business after serving as a cook in the Navy during World War II.
Recognizing the soaring popularity of the bakery's pizza, Anthony made it the focal point of their offerings. Anthony's vision flourished, starting with a modest selection, including the classic plain pie with tomato sauce and grated Pecorino Romano cheese. With time, the menu expanded, reflecting the family's dedication to their patrons. So, over the years, their passionate efforts transformed the restaurant into a cornerstone of West Haven, solidifying its status as an iconic institution in the realm of New Haven-style pizzerias.
Although Anthony Zuppardi passed away in 1988, his legacy endures through the unwavering commitment of his children and grandchildren, who continue to operate Zuppardi's with the same integrity and dedication. Upholding the traditions set by Dominic and Anthony, the Zuppardi family remains steadfast in their pursuit of providing customers with the finest quality New Haven-style pizza. (www.zuppardisapizza.com)
Conclusion
In conclusion, the food truck scene in Connecticut is a vibrant tapestry of scrumptious flavors and exciting culinary innovation. Whether it's the tantalizing Eastern European dishes from Smetana Food Truck, the comforting gourmet grilled cheese from The Whey Station, or the traditional New Haven-style pizza from Zuppardi's Pizza Truck, there's an array of diverse options to cater to every taste. So, these food trucks in CT highlight the state's culinary dynamism, infusing it with a unique charm that's worth exploring.
Next time you find yourself on the streets of Connecticut, do not miss the chance to embark on a mobile dining adventure. You'll not only satisfy your cravings but also experience a delightful gastronomic journey that reflects the spirit of CT. With food trucks pushing the boundaries of street food in the state, your Connecticut food trail promises to be a memorable one, full of culinary surprises. The CT food truck scene is a testament to the fact that sometimes, the best dining experiences do indeed come on wheels!
Click here for more flavorful and tasty content with Orderific. To start experiencing the great benefits Orderific can bring to your business, click here now. Try Orderific!
FAQs
How do I find the best food trucks near me?
You can start by researching online or checking out local food truck events. Many food trucks also have a social media presence, so follow them to stay updated on their location and offerings.
What's the best taco food truck near me?
Some popular taco food trucks in CT include The Rolling Tomato, Mercado, and Four Flours Baking Company. However, the best one for you depends on your taste preferences.
Is there a pizza food truck in CT?
Surely, Zuppardi's Pizza Truck is a well-known and beloved food truck in CT that serves traditional New Haven-style pizza.
Where can I find a food truck festival in Connecticut?
Connecticut is home to several food truck festivals throughout the year, such as the New Haven Food Truck Festival and the Mystic Food Truck Rally.
Is there a food truck battle in CT?
Of course, the Connecticut Food Truck Festival & Battle takes place yearly in North Haven, featuring over 20 food trucks competing for various categories.