When we think of alphabet games, foods that start with P might be the last thing that comes to mind. The first thing to consider might be road trip diversions or children's education. Yet, why should kids have all the fun? A playful approach to food choices, especially those beginning with a particular letter like 'P,' adds intrigue and excitement to dining. 
While the pursuit may sound peculiar to some, focusing on foods that kick off with this prominent letter can be a delightful way to diversify our diet. Beyond the fun aspect, diving into the foods that start with P whisks us away on a gastronomic trip across continents. 
From the tropical allure of pineapples to the hearty goodness of potatoes and peanut butter, the letter 'P' opens up a universe of culinary possibilities.
1. Potatoes
Historical Roots and Spread
Origins: Potatoes are probably the first thought when someone says foods that start with P. From the native to the Andean region of South America, Potatoes originate from ancient civilizations as early as 8,000 years ago. The Spanish conquistadors were the first Europeans to encounter the potato in their conquests. They introduced it to Europe in the late 16th century.
Global Adoption: From its South American roots, the potato quickly spread across Europe, Asia, and other parts of the world. It played an especially crucial role in Irish history and cuisine, so much so that the infamous Irish Potato Famine in the 19th century led to mass emigration and a significant population decline.
Culinary Varieties and Uses
Varieties: Over 4,000 varieties of potatoes, each with its unique texture, flavor, and color. Common types include Russet, Yukon Gold, Red, Fingerling, and Purple potatoes.
Cooking Techniques: Whether indulging in crispy fries, enjoying a creamy mash, savoring roasted potatoes with herbs, or diving into a baked potato topped with sour cream and chives, potatoes are incredibly versatile. Other global dishes include Spanish tortillas, Indian aloo gobi, potato pancakes, mashed potatoes, and Russian pierogi.
Sweet Potatoes: A distinct species from the common potato vegetable, sweet potatoes come in various shades, from orange and purple to white. They can be roasted, made into pies, or used in casseroles, especially in traditional American Thanksgiving dishes.
Nutritional and Health Benefits
Essential Nutrients: Beyond their starchy goodness, potatoes are a source of Vitamin C, Vitamin B6, and potassium. They're also rich in antioxidants and resistant starch, significantly when cooled after cooking.
Sweet Potato Boost: The sweet potato, with its orange flesh, is a powerhouse of beta-carotene, which the body converts to Vitamin A. This is essential for vision, growth, and immune function.
Dietary Considerations: While potatoes are nutritious, preparation methods matter. For instance, deep-frying can significantly increase the calorie and fat content in a dish. Choosing to boil, steam, or roast can maintain more of their natural health benefits.
Cultural Significance and Folklore
In many cultures, potatoes have taken on symbolic meanings. Irish folklore, for instance, sees them as a symbol of sustenance and survival due to their historical significance. In many parts of the world, potatoes signify comfort and home.
Environmental and Economic Impact
Potatoes are not just culinary staples but also significant crops in global agriculture. They are common in over 100 countries and adapt well to diverse climates, making them a crucial staple for food security.
2. Peaches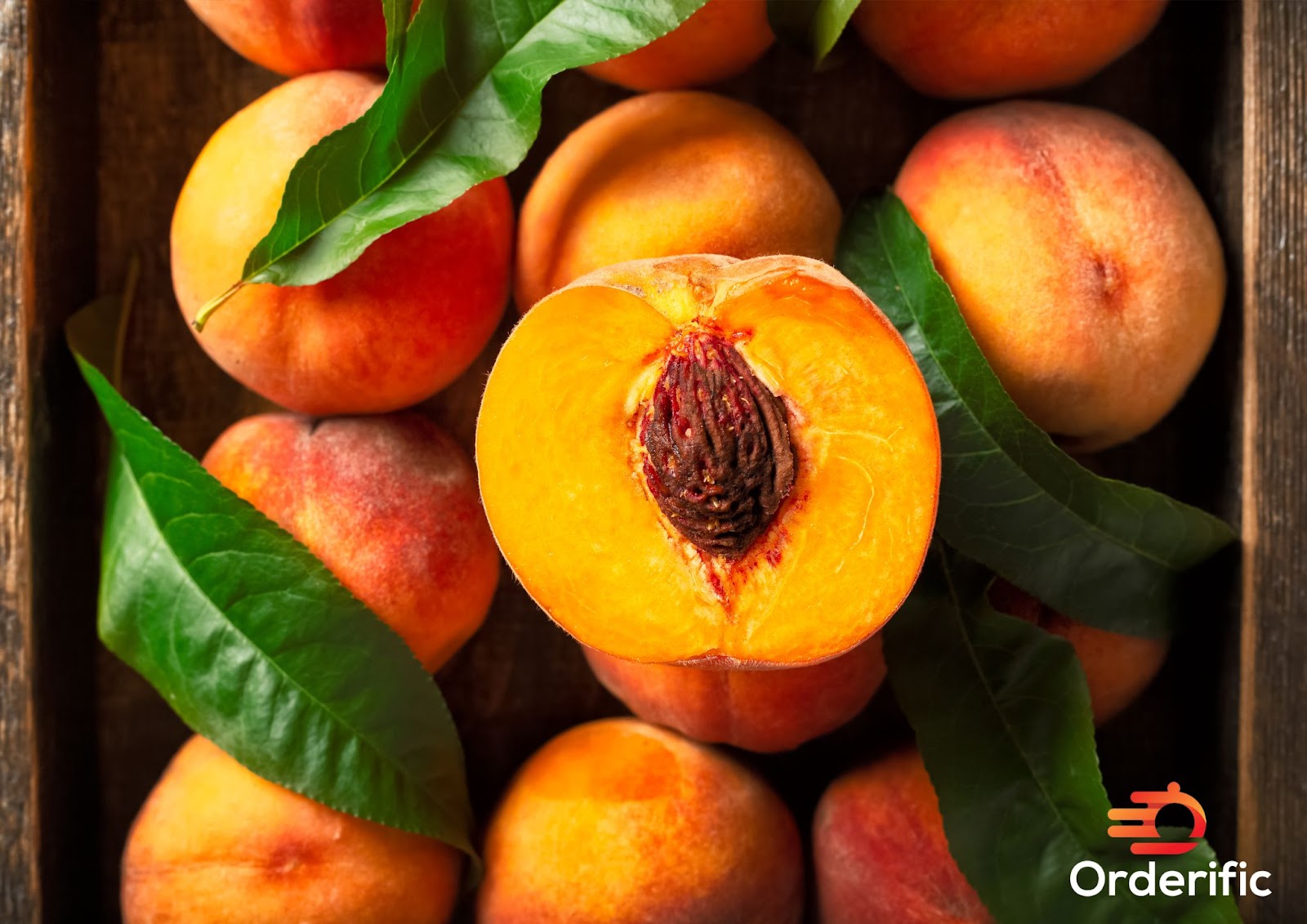 The Sensory Experience
Appearance: Peaches are one of the other well-known foods that start with P. With their velvety skin, they come in hues of pink, red, and gold. Their outer skin can range from a blush of pink to a fiery red, while the flesh can vary from a creamy pale to a vibrant yellow or red. The stone in the middle-middle, often referred to as a pit, contrasts the soft, juicy flesh surrounding it.
Texture: When perfectly ripe, peaches have a soft, juicy, and fleshy texture. The skin is a bit fuzzy, providing a unique mouthfeel. The contrast between the velvety skin and succulent insides makes each bite an experience.
Aroma: A ripe peach emits a sweet, fragrant aroma. This scent, often associated with summer, is both refreshing and inviting. The smell can transport one to a summer orchard, where trees are laden with this sun-kissed fruit.
Taste: The flavor is a delightful mix of sweetness with a hint of tartness, a balance that excites the palate. Some peaches can have a more honeyed sweetness, depending on the variety and ripeness. In contrast, others can offer a slight tart undertone.
Nutritional and Health Benefits
Vitamins and Minerals: Peaches are a good source of Vitamin C, Vitamin A, fiber, and potassium. They also provide essential nutrients such as niacin, thiamine, and pyridoxine.
Antioxidants: Rich in antioxidants, peaches help combat free radicals in the body, potentially reducing the risk of diseases and slowing down aging.
Digestive Health: The dietary fiber in peaches aids in digestion and contributes to a healthy digestive system. They can also help in detoxifying the body.
Skin Health: With Vitamin C and other antioxidants, peaches are great for skin rejuvenation. They can help maintain skin elasticity and combat signs of aging.
Origins and Cultural Significance
Traced back to Northwest China, peaches have traveled the world, finding their place in various cultures and cuisines. From ancient paintings and literature to modern-day festivals, beauty often symbolizes immortality, especially in Chinese culture.
Culinary Uses
Peaches have found their way into countless dish recipes, both savory and sweet. From classic peach cobbler, ice cream, pies, and jams to grilled peaches in salads and main dishes, their versatility knows no bounds. Peaches can also be blended into smoothies, churned into ice creams, or enjoyed fresh off the tree. Peaches are one of those exotic foods that start with P.
3. Pineapple
Origins and Historical Context
Tropical Roots: Pineapple, yet another famous food that starts with p, scientifically known as Ananas comosus. Pineapple is a tropical fruit from South America, specifically the region between Brazil and Paraguay.
Global Exploration: European explorers, notably Christopher Columbus, encountered pineapples during their voyages to the New World in the late 15th century. They named it "pineapple" due to its resemblance to pinecones. From there, the fruit embarked on a global journey, with its seeds planted in various tropical and subtropical regions worldwide.
Culinary Adventures
Taste and Texture: Pineapple boasts a unique flavor profile, balancing sweetness with tartness and a juicy, slightly fibrous texture. Its golden-yellow flesh encased in a rugged, spiky exterior is a sensory treat.
Versatility: The pineapple's vibrant taste makes it a favorite in various dishes, from tropical drinks like piña coladas and refreshing salsas to grilled skewers and decadent desserts.
The Pizza Debate: The introduction of pineapple as a pizza topping, famously known as the "Hawaiian pizza," has sparked culinary debates worldwide. While some praise its sweet contrast to the savory ingredients, others firmly believe it has no place in a pizza recipe.
Nutritional and Health Benefits
Vitamin and Mineral Powerhouse: Pineapple is an excellent source of Vitamin C, which supports immune function and skin health. Additionally, it provides ample manganese, which is vital for bone health and metabolism.
Bromelain Boost: Unique to pineapples, bromelain is an enzyme that can help break down proteins, potentially aiding digestion. It has also been researched for its potential anti-inflammatory and pain-relieving properties.
Cultural Significance and Symbolism
Pineapples symbolize warmth, welcome, and friendship in many cultures, especially in hospitality. In colonial America, for instance, the pineapple is often at the entrance of homes as a sign of welcome and affluence.
Growing and Harvesting
The cultivation of pineapples is an intricate process. It grows best in tropical climates with well-drained soil. Interestingly, it doesn't grow from seeds but from the top "crown" of mature fruit, taking around 18-36 months to produce ripe fruit.
Environmental Considerations
As with many tropical fruits, pineapple cultivation can have environmental impacts, such as deforestation and pesticide use. Sustainable farming practices and purchasing from responsible sources can help mitigate these effects.
4. Pomegranate
Origins and Historical Narratives
Ancient Roots: Pomegranates, bearing the scientific name Punica granatum, can trace their origins to the regions encompassing modern-day Iran and northern India. Their presence in ancient cultures dates back thousands of years and is no doubt one of the best foods that start with P.
Cultural Symbolism: Throughout history, pomegranates have been symbols of fertility, prosperity, and regeneration. In Greek mythology, the pomegranate plays a pivotal role in the story of Persephone and Hades, linking the fruit to the cycle of the seasons. The fruit also holds spiritual significance in several major religions, from Christianity to Hinduism.
Culinary Delights
Flavor and Texture: Pomegranate seeds, often called arils, have a unique taste and delightful balance between sweet and tart. Encased in a rugged, leathery skin, these juicy seeds burst with flavor when bitten into.
Versatility in Dishes: Pomegranates lend their vibrant color and taste to various culinary creations. They can be juiced, turned into syrups like the middle-middle Eastern 'pomegranate molasses,' sprinkled over salads, or used as a garnish in dishes from breakfast bowls to elegant desserts.
Nutritional and Health Highlights
Antioxidant Power: Pomegranates are lauded for their high content of antioxidants, particularly punicalagin and anthocyanins. These compounds help combat oxidative stress, potentially reducing the risk of chronic diseases.
Heart Health: Numerous studies have pointed towards the fruit's benefits for heart health. Pomegranate consumption may improve cholesterol levels, reduce blood pressure, and increase blood flow, which are beneficial for cardiac wellness.
Anti-inflammatory Effects: Chronic inflammation is a root cause of many serious ailments, and pomegranate compounds exhibit potent anti-inflammatory properties.
Cultivation and Harvesting
Growing Conditions: Pomegranates thrive in semi-arid, mild-temperate to subtropical climates, and they grow in regions with cold winters and hot, dry summers. The trees are drought-tolerant, making them suitable for areas with scarce water.
Harvesting: The fruit matures roughly six to seven months after flowering. It's crucial to pick them at the right time since they don't continue to ripen after the harvest.
Cultural Resonance and Modern Reverence
Today, pomegranates are cherished not just for their taste but also for their aesthetic appeal in art, fashion, and decor. Their distinctive appearance, combined with their rich historical and cultural connotations, makes them a popular motif.
5. Peppers
Origins and Historical Perspective
New World Roots: Probably one of the most important foods that start with P is Peppers. Belonging to the Capsicum genus, Peppers originated in the Americas, where they have been cultivated for over 5,000 years. Upon the European discovery of the New World, explorers like Christopher Columbus took them back to Europe, where they rapidly spread to Asia, Africa, and beyond.
Global Influence: Initially mistaken for India's sought-after black pepper (Piper nigrum), these "peppers" quickly carved their niche in international cuisines, transforming the flavors of dishes across continents.
The Vibrant Palette of Peppers
Color Spectrum: Peppers display a veritable rainbow of colors, from deep greens, bright yellows, and radiant reds to rich purples and oranges. This color variation is often an indicator of the pepper's ripeness and flavor profile.
Heat Spectrum: The spice level of peppers is measured in Scoville Heat Units (SHU). Bell peppers sit at the mild end with 0 SHU, while some of the hottest chili peppers, like the Carolina Reaper, can exceed 2 million SHU.
Culinary Uses and Delights
Versatility: Peppers can be roasted, stuffed, sautéed, or raw in salads. They're essential ingredients in various dishes, from the smoky flavors of Mexican rajas con crema to the spicy kick of Indian curries.
Sauces and Condiments: Chili peppers are the soul of many hot sauces and condiments worldwide, including Sriracha, Tabasco, and the fiery Harissa from North Africa.
Nutritional and Healthful Insights
Vitamin Powerhouse: Peppers are incredibly rich in Vitamin C, with red bell peppers containing more than twice the amount found in citrus fruits. This boosts the immune system and aids in iron absorption.
Visionary Benefits: They are also a good source of Vitamin A, which is crucial for maintaining good vision, especially in low-light conditions.
Metabolic Boost: Capsaicin, the compound responsible for the heat in chili peppers, is known to increase metabolism, potentially aiding in weight loss. It also has pain-relieving properties and can help reduce appetite.
Digestive Aid: Contrary to popular belief, peppers can promote healthy digestion by increasing stomach secretions and combatting issues like bloating.
Cultural Significance and Traditions:
Peppers, especially hot chilies, hold deep cultural significance in many societies. Festivals celebrate their heat and flavor, and they are often intertwined with regional identity. In many cultures, they're also believed to have protective qualities against evil spirits.
Agricultural Aspects and Varieties:
With the growing interest in culinary exploration and the "heat challenge" trend, farmers worldwide have started cultivating various exotic pepper varieties. This has led to the evolution of peppers with unparalleled heat levels and unique flavors.
6. Pumpkin
Origins and History:
Early Beginnings: Native to North America, pumpkins have a storied history that dates back over 7,500 years. Ancient civilizations in what is now the United States and Mexico were among the first to cultivate these hardy gourds.
Global Expansion: European explorers were introduced to pumpkins upon their voyages to the New World and brought them back to Europe. This led to their assimilation into various cuisines and cultures worldwide.
The Many Facets of Pumpkins:
Appearance and Types: Typically orange, pumpkins can range in color from white and green to deep red and even blue. They come in all shapes and sizes, from the miniature 'Jack Be Little' to the massive 'Atlantic Giant.'
Beyond the Fruit: While the fleshy part is the most commonly used, pumpkin seeds, known as pepitas, are also edible. They are often roasted and seasoned, serving as a crunchy snack or garnish.
Culinary Adventures:
Flavor Profile: Pumpkins boast a sweet, nutty taste, which is further enriched when cooked, giving dishes a comforting, earthy undertone.
Diverse Dishes: Pumpkins are versatile in the culinary realm. They can be transformed into velvety soups, classic pies, savory curries, and beverages like the famed pumpkin latte. Their puree forms the base for many baked goods, from muffins to pancakes.
Nutritional Benefits and Health Highlights:
Antioxidant Abundance: Pumpkins are notably rich in beta-carotene, a precursor to Vitamin A, essential for vision and immune function.
Dietary Delights: High in fiber, pumpkins can aid digestion and promote a feeling of fullness, making them an excellent addition to a weight-management diet.
Bone Health: With a decent amount of Vitamin K, pumpkins contribute to bone health and play a role in blood clotting.
Seed Superfood: Pumpkin seeds are a powerhouse in their own right, offering protein, magnesium, zinc, and healthy fats.
Cultural Significance and Traditions:
Halloween Icon: Come October, pumpkins are intricately carved into jack-o'-lanterns, an age-old tradition associated with Halloween. This custom has its origins in Irish folklore.
Festive Feasts: Pumpkins, especially in pies, are an integral part of Thanksgiving celebrations in North America.
Global Celebrations: Beyond the West, pumpkins have significance in various festivals and traditions. In parts of Asia, for example, they symbolize prosperity and are celebrated during harvest festivals.
Agricultural Insights and Sustainability:
Pumpkins are typically grown as winter squash and prefer warm and cool weather. They are often rotated with other crops to prevent soil depletion. As they decompose quickly, leftover pumpkins can be composted, promoting a circular agricultural system.
7. Papaya
Origins and History:
Tropical Beginnings: Papayas are one of those health-beneficial foods that start with P. Native to Central America, especially in southern Mexico, ancient civilizations have relished papayas or dragon fruit for centuries. The Spanish and Portuguese explorers significantly introduced this fruit to various parts of the world, from the Philippines to India and Africa.
The "Tree Melon": Due to its melon-like texture and tree-growing habit, papayas were sometimes referred to as "tree melons" by European explorers.
Attributes and Varieties:
Appearance: Papayas possess sunset-hued skin, ranging from green to deep orange as they ripen. The inner flesh can be a vibrant orange, pinkish, or even reddish, dotted with black, round seeds.
Types: While the most common variety is the pear-shaped papaya, there's the smaller, sweeter 'Hawaiian' papaya and the giant, milder 'Mexican' papaya.
Culinary Uses and Taste Profile:
Flavor Notes: A ripe papaya offers a sweet, buttery flesh with melon and berries undertones. Its soft texture and different flavor are often likened to that of a soft cantaloupe.
Versatility: Papayas can be relished fresh, made into smoothies, or added to fruit salads. In some cuisines, unripe green papayas are the main ingredient in salads like the Thai 'Som Tam.'
Seeds: The black papaya seed is edible and has a sharp, peppery taste. They can be dried, ground, and used as a seasoning or consumed fresh in small quantities for potential health benefits.
Health and Nutritional Insights:
Digestive Aid: The papain, abundant in papayas, is a natural digestive enzyme that aids in breaking down proteins and improving gut health.
Antioxidant Abundance: Rich in Vitamin C and beta-carotene (which converts to Vitamin A), papayas are great for boosting the immune system and maintaining healthy skin.
Heart Health: With a good dose of folate and Vitamin E, papayas contribute to a healthy heart and may help reduce the risk of heart-related ailments.
Cultural and Symbolic Significance:
Across various cultures, papayas often symbolize health, vitality, and youthfulness. In some regions, they are considered a "fruit of the angels" due to their sweet taste and numerous health benefits.
Agricultural Practices and Sustainability:
Papayas thrive in tropical and subtropical climates with well-drained soil. They are relatively easy to grow and bear fruit within a year of planting. However, they are susceptible to pests and diseases, leading to controversies regarding genetically modified (GM) papayas that resist certain viruses.
8. Pistachios
Origins and Historical Overview:
Ancient Roots: Another interesting food that starts with P is Pistachios. Hailing from Western Asia and the Middle East, pistachios have graced our world for thousands of years. They are one of the oldest flowering nut trees, with mentions dating back to 7,000 BC in ancient Mesopotamia.
Silk Route's Treasure: Pistachios spread to the Mediterranean via the famed Silk Route, becoming a prized commodity in ancient Greece, Rome, and Egypt.
Physical Attributes and Cultivation:
Appearance: Encased in a beige, semi-open shell, the pistachio nut reveals a vibrant green and sometimes purple-tinged kernel, making it visually appealing and distinct from other nuts.
Growing Regions: While historically grown in the Middle East and parts of Central Asia, today's significant producers include Iran, the United States (especially California), and Turkey.
Culinary Uses and Flavor Profile:
Taste Nuances: Pistachios offer a unique, slightly sweet, and nutty flavor with a hint of earthiness, making them beloved in savory and sweet dishes.
Versatility in Dishes: Beyond snacking, pistachios elevate various culinary creations. They're ground into a paste for creamy sauces, incorporated into desserts like baklava or gelato, and used as a crunchy topping for salads and roasted dishes.
Cultural Delicacies: In many Middle Eastern desserts, pistachios are a primary ingredient, providing flavor and vibrant color. They also feature prominently in Indian sweets and Mediterranean dishes.
Nutritional Benefits and Health Insights:
Power-packed Nutrient Profile: Pistachios are a rich source of protein, making them an excellent snack for those needing a satiating energy boost. They also offer dietary fiber, essential for digestive health.
Heart Health: Abundant in monounsaturated and polyunsaturated fats, pistachios support heart health by potentially lowering bad cholesterol. They also contain antioxidants, including lutein, beta-carotene, and Vitamin E, which combat oxidative stress.
Eye Health: Lutein and zeaxanthin in pistachios can benefit eye health, helping to reduce the risk of age-related macular degeneration.
Weight Management: Their protein and fiber content, combined with healthy fats, make pistachios a snack that promotes feelings of fullness, potentially aiding in weight management.
Cultural Significance and Traditions:
Throughout history, pistachios have been considered a symbol of wellness and wealth. In Persian culture, they're often used in rituals during the Nowruz (Persian New Year) celebrations. In many cultures, they're gifted during special occasions as a token of good wishes.
Environmental and Agricultural Aspects:
Pistachio trees are known for their resilience, ability to withstand saline soil and thrive in arid climates. This makes them a sustainable choice in regions with water scarcity. However, cultivation practices, water use, and pest control vary across areas, influencing the environmental impact of pistachio farming.
9. Pears
Origins and Historical Context:
Ancient Cultivation: Pears, believed to have originated in western China and Asia Minor regions, have been cultivated for over 3,000 years. Their presence has been noted in ancient texts, from Homer's "Odyssey" to Chinese manuscripts, attesting to their historical significance.
European Embrace: The Romans had a particular fondness for pears, cultivating various varieties and even documenting recipes. After the fall of Rome, pear cultivation was sustained and refined, especially in France and Belgium.
Varieties and Characteristics:
A World of Options: There are over 3,000 known varieties of pears worldwide. Some popular types include 'Bartlett,' 'Bosc,' 'Anjou,' and 'Comice.' Each has its own unique flavor profile, texture, and optimal use.
Texture and Taste: Pears offer a unique texture, ranging from buttery to slightly grainy. Their sweetness is often accompanied by a floral undertone, with some varieties hinting at citrus or spice. Pears are one of those tasty foods that start with P.
Culinary Delights:
Versatile Fruit: Pears are delightful, both raw and cooked. They can be enjoyed fresh, juiced, or added to salads. Pears are a staple in tarts, compotes, jams, and even savory dishes when cooked.
Pairing and Complements: The delicate flavor of pears pairs well with strong cheeses like blue cheese or gorgonzola. Additionally, they complement nuts such as almonds or walnuts and spices like cinnamon and nutmeg.
Nutritional Benefits and Health Highlights:
Dietary Dynamo: Pears are an excellent source of dietary fiber, especially if consumed with their skin. This fiber aids in digestion and promotes a feeling of fullness.
Vitamin Vitality: Packed with Vitamin C, pears support immune function and skin health. They also contain smaller amounts of Vitamins K and B-complex.
Heart Health: Regular consumption of pears has been associated with a reduced risk of heart disease. The fiber in pears can help lower harmful cholesterol levels, while the antioxidants combat oxidative stress.
Hydration Hero: Pears have a high water content, aiding in hydration and supporting overall health.
Cultural Significance and Symbolism:
Symbols of Immortality: In Chinese culture, pears symbolize immortality and longevity, given the tree's long lifespan.
Tokens of Affection: In some cultures, gifting a pear is seen as an act of love or friendship due to the fruit's sweet nature.
Agricultural Aspects and Sustainability:
Pears require a temperate climate for cultivation. The trees are relatively hardy, but the fruits are somewhat delicate, necessitating careful handling during harvesting and transportation. Organic pear farming, which forgoes synthetic pesticides and fertilizers, is gaining popularity due to increasing consumer demand for organic produce.
10. Poultry
Origins and Historical Overview:
Early Domestication: Poultry might be the last one that comes to mind when you think of foods that start with P. The domestication of birds for food likely began in Southeast Asia and the Indus Valley. Chickens, for instance, were domesticated from wild junglefowl around 8,000 years ago. Turkeys were tamed in ancient Mesoamerica, while ducks have been reared in Asia and Europe for thousands of years.
Global Migration: Through trade routes, migrations, and exploration, poultry spread to various parts of the world. Chickens reached Europe about 3,000 years ago and were introduced to the Americas by European explorers in the 15th and 16th centuries.
Types and Characteristics:
Chicken: Among the most universally consumed meats, chicken is known for its tender meat and mild flavor, making it a canvas for various seasonings and cooking techniques.
Turkey: Larger than chickens and renowned for their juicy, slightly gamey flavor, turkeys are a centerpiece in celebrations, most notably Thanksgiving in North America.
Duck: Ducks have a richer and more robust flavor than chicken or turkey. Their meat, especially the breast, is often served medium-rare and prized for its fatty and flavorful skin.
Others: There are other less common types of poultry, such as quail, goose, and guinea fowl, each with unique taste and culinary applications.
Culinary Uses and Techniques:
Versatility in Cooking: Poultry can be prepared using a myriad of techniques. It can be roasted for a crispy exterior, grilled for a smoky flavor, fried for a crunchy texture, or stewed in rich sauces.
Global Dishes: Poultry features prominently in many world cuisines. From the aromatic Indian chicken curries, Chinese Peking duck, and American deep-fried turkey to the delicate French duck à l'orange, the culinary applications are endless.
Broths and Stocks: Beyond the meat, poultry bones are simmered to make nourishing broths and stocks, forming the base for countless soups and sauces.
Nutritional Benefits and Health Insights:
Protein Powerhouse: Poultry is a prime source of lean protein, vital for muscle growth, repair, and overall bodily functions.
Vitamins and Minerals: It's rich in essential vitamins such as B6, niacin, and riboflavin. Poultry also offers a range of minerals, including selenium, zinc, and iron.
Heart Health: When consumed without the skin, poultry, especially chicken and turkey, is low in saturated fat, making it a heart-friendly choice.
Cultural Significance and Traditions:
Poultry holds cultural and symbolic significance in many societies. Chickens, for instance, symbolize fertility and prosperity in various cultures. Turkeys, native to North America, have become emblematic of American Thanksgiving celebrations.
Ethical and Environmental Considerations:
In modern times, the poultry industry has faced scrutiny for practices related to mass production, including antibiotics, growth hormones, and conditions in factory farms. This has increased demand for free-range, organic, and ethically-raised poultry. Sustainable poultry farming emphasizes animal welfare, environmental health, and produce quality.
Conclusion
Delving into foods that start with P unveils a treasure trove of culinary wonders. From the robust and hearty flavors of poultry and pork to the sweet, juicy succulence of pineapples and pears, there's an expansive diversity awaiting exploration. These foods, hailing from different corners of the world, bring a rich tapestry of cultural stories, traditional recipes, and cherished memories. 
These foods' health benefits, from the heart-healthy fats in pistachios to the fiber-rich goodness of pumpkins, are vast and invaluable. Moreover, their varied textures and tastes serve as a testament to the intricate and boundless world of gastronomy. So, the next time you're contemplating what to whip up for dinner or which snack to reach for, remember the plethora of 'P' options.
Challenge yourself to venture beyond the usual and introduce a splash of 'P'assion and 'P'izzazz to your culinary adventures. After all, food isn't just about sustenance; it's an ever-evolving journey of discovery and delight.
In case you want more content like this, visit Orderific right now!
FAQs
What are some popular fruits that start with P?
Apart from those listed, prickly pear, passion fruit, and plantains are notable mentions.
Are there any vegetables that start with P?
Yes, alongside peppers and potatoes, parsnips and peas are well-loved vegetables that start with P.
What are some healthy protein sources that start with P?
Apart from poultry, pork is another protein-rich meat. Plant-based proteins include peas and pumpkin seeds.
Can you suggest any unique spices or seasonings that start with P?
Certainly! Paprika and parsley are popular seasonings that begin with P and can add flavor to dishes.
Are there any popular dishes or cuisines that prominently feature foods that start with P?
Yes, think of pasta dishes in Italian cuisine, paella in Spanish, or pierogi in Polish cuisine.
What are some ways to incorporate more P foods into my diet?
From adding pineapples to your salad and pistachios to your desserts, there's always a delicious way to add more 'P' foods!