It's time to break out of the mundane PB&J routine and explore something new for lunch. When it comes to food, there are so many exciting options available—especially when you focus on foods that start with "V." From vegetarian dishes to vegan snacks, there's a delicious variety of victuals that begin with the letter V!
We will talk about some amazing food options that start with the word V. We will understand their benefits and see how we can incorporate them into our diet. So without further ado, here are 15 delicious foods that will take your taste buds on an amazing voyage. Bon appetite!
Vegetables That Start With V
1. Vidalia Onion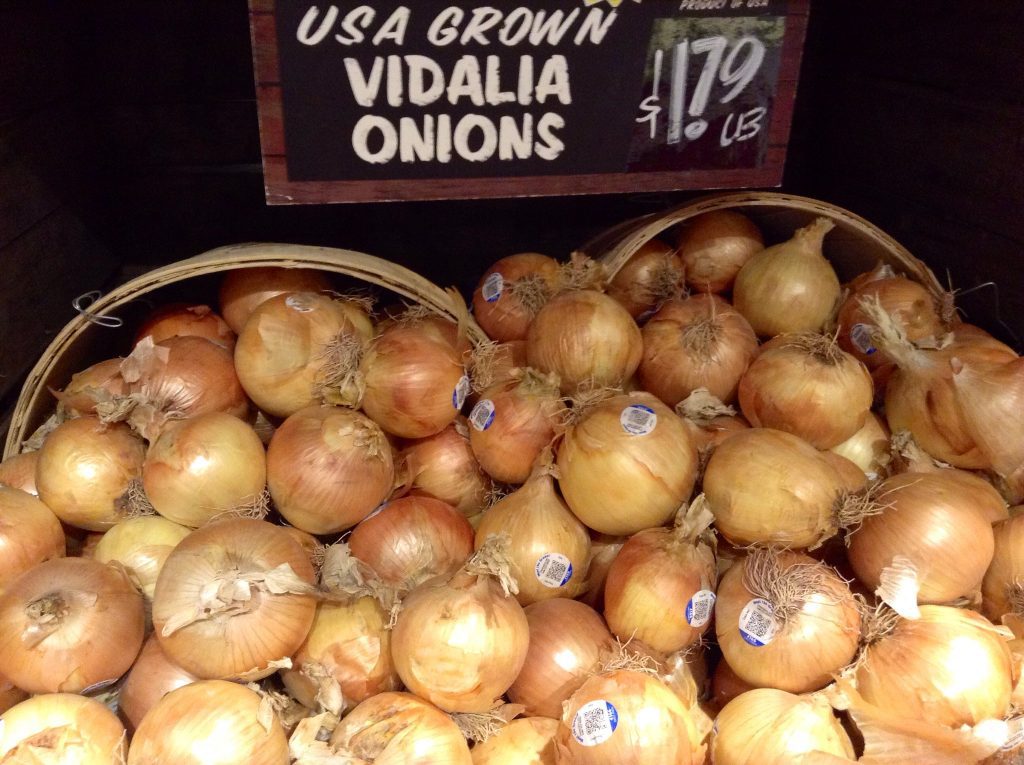 The Vidalia onion is cherished in Southern cuisine, celebrated for its delightful sweetness and uniquely gentle taste. Its popularity spans across the United States, capturing the hearts of many. Particularly remarkable, this onion takes center stage in Georgia, where it is cultivated and honored through its very own festival.
Since the 1930s, skilled farmers in this region have dedicated themselves to mastering the art of cultivating onions. The Vidalia onion, a product of their labor, has grown to symbolize Georgia's pride and agricultural excellence. Such is its significance that in 1990, it was designated as Georgia's official state vegetable.
Beyond its rich flavor profile, what truly distinguishes the Vidalia onion is its limited growing season. Thriving exclusively in a small Georgian expanse, these onions grace the market from late April to early June. Possessing one of these rare gems is a privilege, and relishing each bite becomes an experience to be savored.
2. Velvetleaf
Velvetleaf, scientifically termed Abutilon theophrasti, stands as an invasive plant species that has posed substantial concerns for agriculturalists and garden enthusiasts over numerous decades. Its aggressive nature allows it to swiftly conquer fields and gardens, stifling the growth of surrounding crops and plants. Despite its deceptively benign appearance, boasting velvety soft leaves, this plant proves to be a formidable adversary. The appellation "velvetleaf" itself derives from these lush leaves.
However, the truth reveals a tenacious adversary. Velvetleaf is renowned for prolific seed production. And also the ability for these seeds to endure in soil for as long as half a century. Such longevity in seed viability renders eradicating this weed an exceptionally challenging endeavor. Notwithstanding these formidable hurdles, dedicated efforts persist among researchers and farmers, as they collaborate to discover novel strategies for controlling and managing this persistent nuisance.
3. Vigna Beans
Discover the nutritional powerhouse of vigna beans, a hidden gem among legumes. Often referred to as cowpeas or southern peas, these beans boast a remarkable nutritional profile. They are brimming with protein, fiber, vitamins, and minerals. What truly sets vigna beans apart is their remarkable versatility. They seamlessly integrate into many culinary creations— invigorating salads, hearty soup, vegetable curry or rich stews. Their potential extends even further, as they can be finely ground into flour to elevate your baking endeavors.
Beyond their undeniable health benefits and delectable taste, vigna beans stand out for their effortless cultivation. Whether you have a garden or a farm, these beans thrive with ease, making them an exceptional addition. When you're on the hunt for a delectable, health-conscious ingredient to enhance your dishes, consider embracing the goodness of vigna beans. Your taste buds and well-being will thank you!
Fruits That Start With V
4. Vanilla Bean
The vanilla bean, a captivating plant kingdom treasure, bestows us the essence of pure indulgence. Derived from the orchid genus Vanilla, this exquisite fruit emerges as a small, elongated pod filled with a symphony of flavors. Native to tropical regions, the vanilla bean boasts a sublime aroma. And also an intricate depth of taste that transforms culinary creations into sublime works of art.
Its enchanting presence infuses desserts, beverages, and dishes with a delicate richness, captivating palates and evoking a sense of culinary luxury. Each precious vanilla bean harbors a world of gastronomic possibilities, making it a cherished ingredient sought after by chefs and food enthusiasts alike.
5. Valencia Orange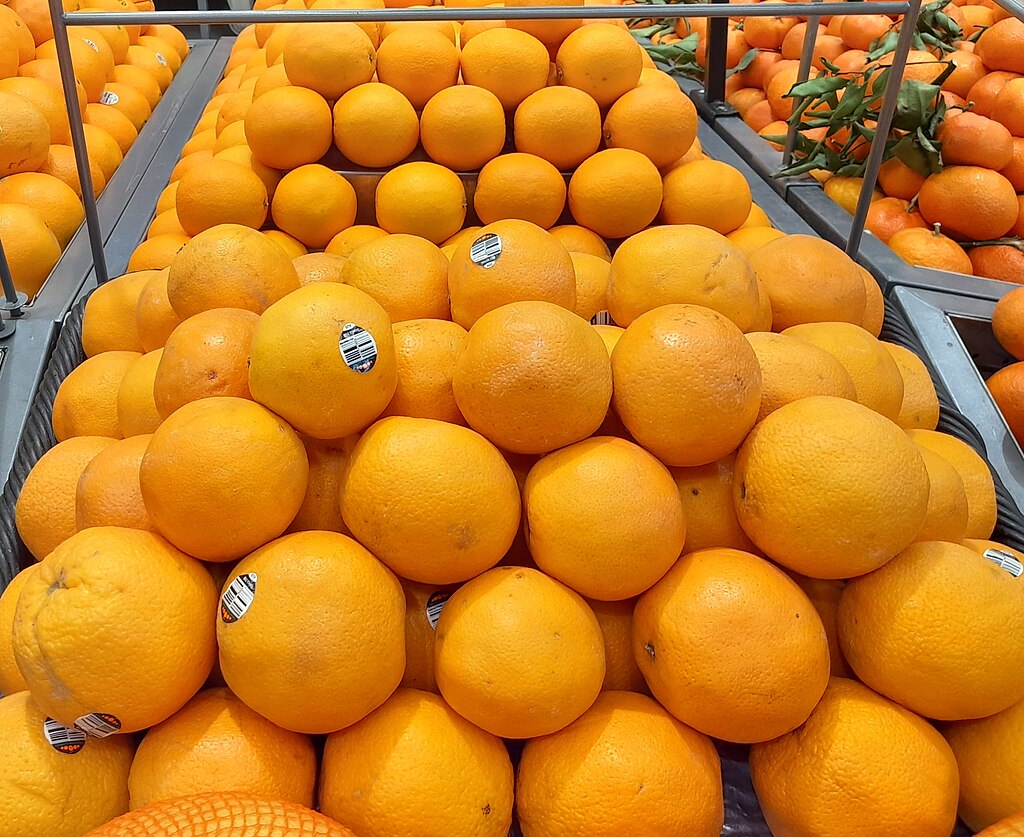 The Valencia orange stands out as a luscious and succulent citrus fruit cherished by enthusiasts of fine produce. Distinguished by its vibrant orange hue and rich, full-bodied flavor, this fruit is the ultimate choice for those seeking a revitalizing snack or a key ingredient for delectable recipes. With its origins tracing back to China, the Valencia orange made its debut in Spain over a century ago, subsequently ingraining itself as a cornerstone of California's agricultural tapestry.
Beyond its exquisite taste, this fruit boasts a spectrum of wellness advantages, spanning from enhancing the immune system to promoting skin radiance. Undeniably versatile and indispensable, the Valencia orange merits a coveted spot in every kitchen and dietary regimen.
6. Victoria Plum
Indulge in the delightful essence of summer with the exquisite Victoria plum fruit. Bursting with a harmonious blend of sweetness and juiciness, this seasonal gem traces its origins to England. Whether relished on its own or as the star ingredient in diverse recipes, the versatility of this fruit knows no bounds.
Embark on a culinary journey by incorporating these plums into your creations. Elevate them to a delectable pie, immortalize their essence in a luscious jam, or transform them into zesty pickles for an exciting snack. The array of possibilities ensures that you can relish the distinct allure of Victoria plums in every form.
Beyond their tantalizing taste, these plums harbor a treasure trove of essential nutrients, prominently featuring vitamin C and fiber. Embrace a guilt-free indulgence as you partake in this wholesome snack option, perfect for elevating your well-being.
Grains and Legumes That Start With V
7. Vermicelli
Vermicelli might sound like a fancy delicacy, but it's actually a form of pasta widely embraced in Southeast Asian cooking. Crafted from rice flour, vermicelli plays a central role in an array of culinary delights, from comforting soups, vermicelli noodles to vibrant salads and sizzling stir-fries. Its slender, see-through strands contribute a fragile yet delightful texture that harmonizes exquisitely with robust flavors and aromatic spice.
Whether served steaming hot or refreshingly cold, vermicelli is a versatile ingredient, seamlessly adjustable to suit any mealtime occasion. If you're eager to infuse your kitchen with a dash of variety, seize the opportunity to acquaint yourself with vermicelli and uncover the tapestry of delectable dishes it graciously brings forth.
8. Vetch
Vetch, a cherished member of the legume family, boasts a rich history spanning centuries as a versatile and sustainable crop. Its extensive root system plays a pivotal role in enhancing soil health by effectively fixing nitrogen into the earth. This innate ability reduces the reliance on synthetic fertilizers, fostering the growth of companion plants in the process. Beyond its soil-enriching attributes, vetch is a prominent protein source, which is valuable for augmenting livestock feed.
Furthermore, its resilient fibrous stems serve as a natural shield, intricately preserving soil moisture and thwarting erosive forces. From time-honored civilizations to contemporary agriculture, vetch remains an indispensable cornerstone for cultivating nourishing sustenance while nurturing and fortifying the soil.
9. Velvet Bean
Velvet Bean, scientifically known as Mucuna Pruriens, is a tropical legume renowned for its myriad health advantages. Abundant in L-DOPA, a dopamine precursor, this plant offers various benefits. It's been associated with enhanced mood, heightened libido, and potential cognitive improvements for specific individuals.
Beyond these, Velvet Bean boasts anti-inflammatory and antioxidant attributes, suggesting its potential in addressing diverse diseases and ailments. Given its remarkable qualities and versatile applications, delving deeper into the world of Velvet Bean is undoubtedly worthwhile.
Meats and Seafood That Start With V
10. Venison
Venison stands as a culinary treasure often overshadowed in today's era of mass-manufactured meats. Distinguished from beef or chicken, venison emerges from the wild, offering an unparalleled and opulent taste that eludes imitation. The preparation possibilities for venison are diverse; from gradual roasting to flawless searing, each method accentuates its character. Its harmonious companionship with earthy nuances like mushrooms and root vegetables renders it an impeccable ingredient for robust stews and gratifying casseroles.
Furthermore, venison is a healthier alternative than several other meat types due to its leanness and reduced fat content. Irrespective of whether one fancies it grilled, smoked, or roasted, venison unfailingly emerges as an impeccable selection for a distinctive and zestful dining experience and food recipe.
11. Veal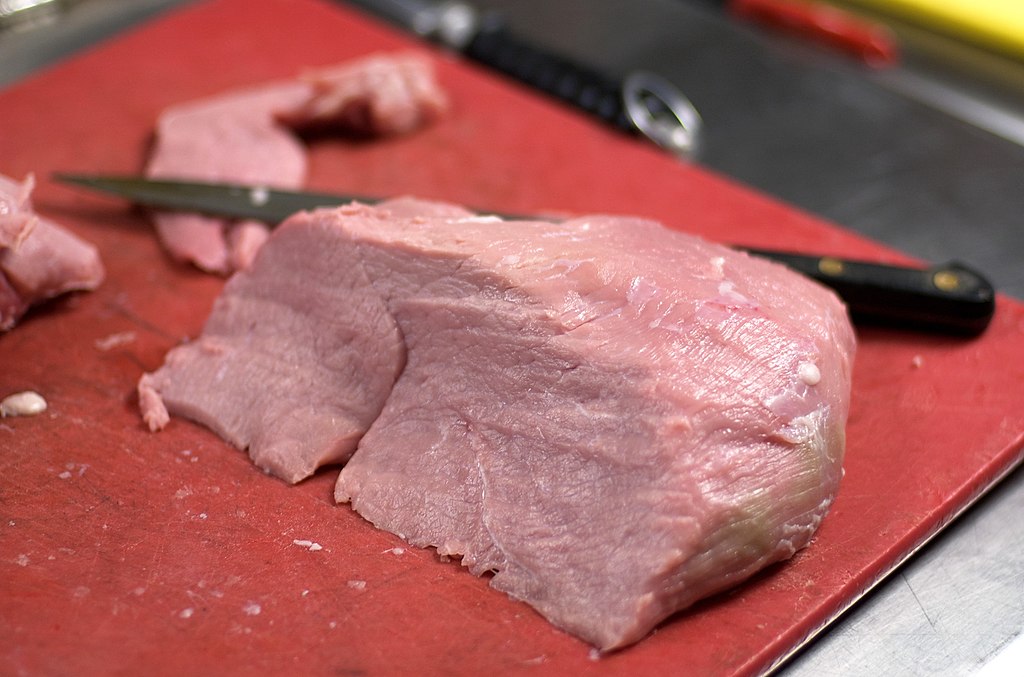 A contentious meat, Veal has ignited discussions surrounding animal rights and ethical considerations. It is sourced from young male calves specifically reared for meat production. Regrettably, numerous veal calves endure confined living spaces, where their movement is severely limited, and an insufficient diet fails to meet their nutritional needs. Such inhumane practices have fueled widespread aversion to veal consumption.
However, some farms prioritize ethical treatment, affording veal calves the freedom to move and access a natural diet. These establishments provide an alternative avenue for individuals who desire to enjoy veal without endorsing the prevailing harsh norms of the industry. The decision to support the veal industry hinges upon the personal stance of each consumer, but the option to opt for humanely raised veal is at hand.
12. Vongole (Clams)
Indulge in the culinary delight of vongole, commonly known as clams, which offer a delightful seafood experience in various delectable preparations. Whether you savor them steamed, baked, or sautéed, these petite mollusks possess a distinctive flavor that distinguishes them from other marine delicacies.
Beyond their exquisite taste, clams boast a wealth of nutrients vital for optimal health. With their low-fat, high-protein composition, they stand as an excellent option for individuals seeking to uphold a wholesome diet while reveling in delectable flavors. For aficionados of seafood or those eager to embark on a novel culinary journey, vongole promises an enticing and worthwhile adventure!
Desserts and Snacks That Start With V
13. Vanilla Ice Cream
Vanilla ice cream stands as an enduring classic, transcending time with its universal appeal. It weaves a tapestry of personal recollections and connections, evoking images of shared moments on sweltering summer days or solace found in its embrace after arduous hours.
Irrespective of the manner in which it's relished, one truth remains unshakable: the silken, velvety consistency and subtle yet unmistakable vanilla extract of this frozen delight satiates all cravings for sweetness. Be it a solitary indulgence or a harmonious duet with a freshly baked apple pieand whipped cream, vanilla ice cream retains its ageless charm, destined to remain an everlasting culinary masterpiece.
14. Viennoiserie
Viennoiserie, a delightful French term, encompasses an exquisite array of baked delicacies crafted from yeast-based dough, meticulously layered with butter. If you have a penchant for treats like croissants, pain au chocolat, and Danish pastries, you're already acquainted with the crème de la crème of viennoiseries which includes these different foods. Their ethereal, flaky consistency and a luxuriously buttery essence elevates these pastries above ordinary breads and desserts.
The 19th century witnessed Viennese bakers master the art of viennoiserie, drawing inspiration from the venerable bread-making traditions of Hungary and Vienna alongside French Cuisine. These pastries have secured a global adoration, celebrated for their indulgent, almost sinful flavors and the heartwarming, nostalgic aroma they exude.
15. Vegetable Chips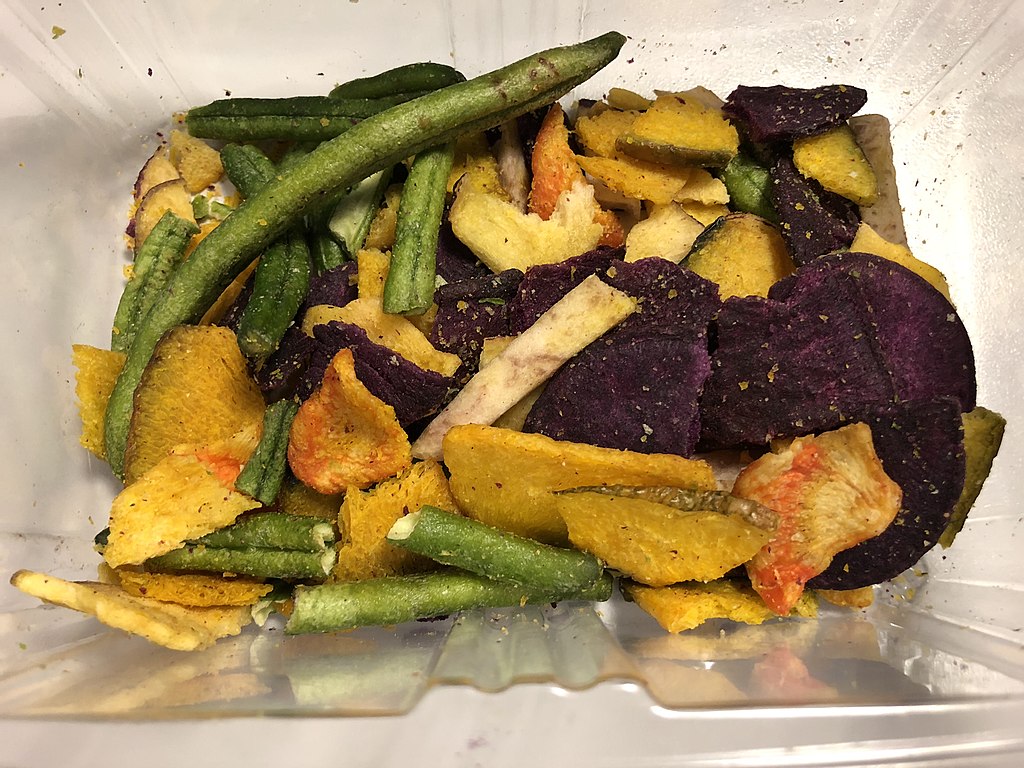 Indulge your crunch craving with a wholesome twist by opting for nutrient-packed vegetable chips. These delightfully crisp snacks are crafted from authentic vegetables such as kale, beets, and sweet potatoes, delivering an abundant dose of essential vitamins and fiber with each satisfying bite. A diverse array of choices awaits your selection, ranging from zesty jalapeño to the tangy allure of sea salt and vinegar, ensuring an enticing flavor for every palate.
Beyond their delectable taste, vegetable chips emerge as a smart substitute for conventional potato chips. They cater seamlessly to various dietary preferences, including gluten-free, vegan, and low-carb, making them an inclusive choice. Elevate your snack game by incorporating a burst of vivid hues and irresistible crunch into your routine – a bag of these exquisite vegetable chips promises a remarkable journey for your taste buds.
Wrapping Up!
So, these are just some of the food items that start with the letter V! From crunchy vegetables to sweet desserts, you have plenty of delicious options. Additionally, many of these foods are healthy and can be incorporated into a variety of meals. So don't forget to remind your family to "V is for Veggies, get some in your diet!"
Whether it be trying out something new like veal or going for an old favorite like vanilla ice cream, exploring with food is a fun way to broaden your palate and keep cooking interesting. To read more Orderific blogs for informative content about health benefits and perfect recipes, click through our website today and discover something delicious!
FAQs
Q. Can you provide some dessert and snack options that start with V?
Ans. Sure, some dessert and snack options that start with "V" include Vanilla Ice Cream, Viennoiserie, and Vegetable Chips.
Q. Are there any popular V-named dishes from around the world?
Ans. Vindaloo from India, Vietnamese Spring Rolls, and Veal Piccata from Italy are some notable V-named dishes from around the world.
Q. How can I incorporate more V-named foods into my diet?
Ans. You can incorporate V-named foods into your diet by trying different recipes like Vegetable Soup, Vietnamese Pho, or simply including more veggies like zucchini.
Q. What are some health benefits of consuming V-named foods?
Ans. Consuming V food such as vegetables can provide vital nutrients and fiber, and foods like veal are a good source of protein.
Q. Are there any V-named foods that are difficult to find or prepare?
Ans. Preparing traditional Vietnamese Pho or Vindaloo could be challenging due to their complex flavors and cooking techniques.
Q. Can V-named foods be used in a variety of cuisines and dishes?
Ans. Absolutely, V-named foods like vegetables, veal, and vanilla can be used in a variety of cuisines from Italian to Asian and are versatile in their preparation.