Welcome to a whimsical world where humor and hospitality intersect: the realm of funny restaurant names. Savor the taste of delightfully witty and creative restaurant name ideas. From New York to Ocean City, from the shores of Nova Scotia to the vibrant streets of San Francisco, these names serve a hearty helping of laughter. Fast food outlets, coffee shops, and other eateries alike have embraced this fun trend, offering an unforgettable dining experience. Whether it's a pun-filled sign like 'Pho King' that tickles your fancy or distinctive titles like 'Frying Nemo' or 'Tequila Mockingbird' that draw a chuckle, these establishments stand out in the vast culinary landscape. So, prepare for a rollicking, gastronomical journey that will feed your stomach and sense of humor. Bon Appétit!
Puns and Wordplay
In the realm of funny restaurant names, puns and wordplay reign supreme. Picture this: You're strolling down the bustling streets of New York, and a restaurant named Thai Tanic catches your eye. Intriguing. The clever play on words elicits a chuckle, piquing your curiosity. It's a testament to the restaurant owner's wit and creativity.
Imagine you're in the heart of San Francisco, a city renowned for its gastronomical delights. Amidst the multitude of eateries, one name stands out – 'Pho King.' It's audacious, cheeky, and speaks volumes about the establishment's tongue-in-cheek humor. That's the magic of puns – they transform a simple restaurant name into an invitation for fun.
You may be exploring the picturesque shores of Nova Scotia. Suddenly, the smell of rich, flavorful coffee wafts through the air. You follow the aroma and find yourself in front of 'Tequila Mockingbird.' A smile graces your lips as you appreciate the clever twist on a classic literary title. In this coffee haven, wordplay infuses humor into your daily caffeine fix.
Down South in New Orleans, 'Mother Clucker' resonates with the city's vibrant, eccentric spirit. This fast food joint serves up laughter with its chicken, turning a meal into a memorable experience. That dear reader, is the power of puns and wordplay in the world of funny restaurant names.
In the end, these linguistic tricks serve a purpose beyond mere amusement. They reflect the unique personality of each eatery, hinting at the fun, relaxed atmosphere that awaits inside. So, next time you're searching for a dining experience with a twist, watch out for these witty restaurant names. You never know; you might find your new favorite place to eat. Happy feasting!
Pop Culture References
Pop culture references add charm to the landscape of funny restaurant names. Picture yourself in the heart of the United Kingdom. You spot a quirky eatery named 'Frying Nemo.' Instantly, the cinematic reference brings a smile to your face. It's a testament to the restaurant owner's wit and creativity.
Imagine, next, you're navigating the vibrant streets of South Africa. Suddenly, 'Ak Lick' catches your eye. With its subtle nod to a popular sitcom, it's an inviting beacon for pop culture enthusiasts. Stepping inside, you get a sense of excitement. The atmosphere is buzzing with warmth and camaraderie. The scent of delicious food fills the air, and laughter echoes from every corner.
Now, transport yourself to New Orleans. There, you encounter 'Tequila Mockingbird.' The clever spin on a cherished book title resonates with bibliophiles and tequila lovers alike. It's a delightful meeting point of literary charm and culinary allure.
Lastly, envision yourself in Nova Scotia, Canada. The sight of 'Thai Me' greets you. With its playful twist on a classic rock song title, this Thai restaurant leaves you humming the tune all evening.
These eateries cleverly blend food and pop culture. They create a celebration of the senses, inviting guests to partake in a dining experience that's both nostalgic and novel. So, let these creative restaurant names guide your journey next time you're on a gastronomical adventure. After all, who wouldn't want to dine amidst a symphony of laughter and good food? Bon appétit!
Animal-Inspired Names
Place yourself in the vibrant world of animal-inspired restaurant names. The appeal is as unique as humor-filled, adding a delightful twist to your dining experience.
Frying Nemo – This name, reminiscent of the beloved animated film, sparks a smile across the United Kingdom.
The Codfather – In the streets of New York, this clever take on an iconic movie title reels in seafood lovers.
Hare Today – In Ocean City, a punny name like this whets the appetite for rabbit dishes.
Duck'n Dive – This playful name hints at a menu rich in duck delicacies along the Nova Scotian shores.
Leaping Lizard Café – This imaginative name beckons diners to a world of exotic cuisine in San Francisco.
Hog Wild – A fast-food joint in New Orleans, this name captures the city's vibrant spirit.
The Mad Cow – This amusing name bellows of juicy steaks and hearty burgers in South Africa.
The Grouchy Gator Grill – In the heart of the United Kingdom, this name paints a humorous picture, luring in seafood aficionados.
Moose Coffee – In the bustling streets of New York, this name offers a cozy refuge for coffee lovers.
Bear's Smokehouse – In Ocean City, this name ignites curiosity for smoky barbecue delights.
The Purple Pig – Along the Nova Scotian shores, this quirky name promises an experience filled with flavorful pork dishes.
Thirsty Dog – This inviting name allures parched travelers seeking a refreshing drink in San Francisco.
The Lazy Lobster – In New Orleans, this relaxed name hints at a seafood feast served in a laid-back atmosphere.
The Fat Duck – In South Africa, this name entices diners with a promise of hearty duck-based meals.
Toad Hall – This literary reference resonates with bookworms and foodies alike in the United Kingdom.
Embarking on this gastronomical journey, these animal-inspired restaurant names serve a feast of humor and creativity.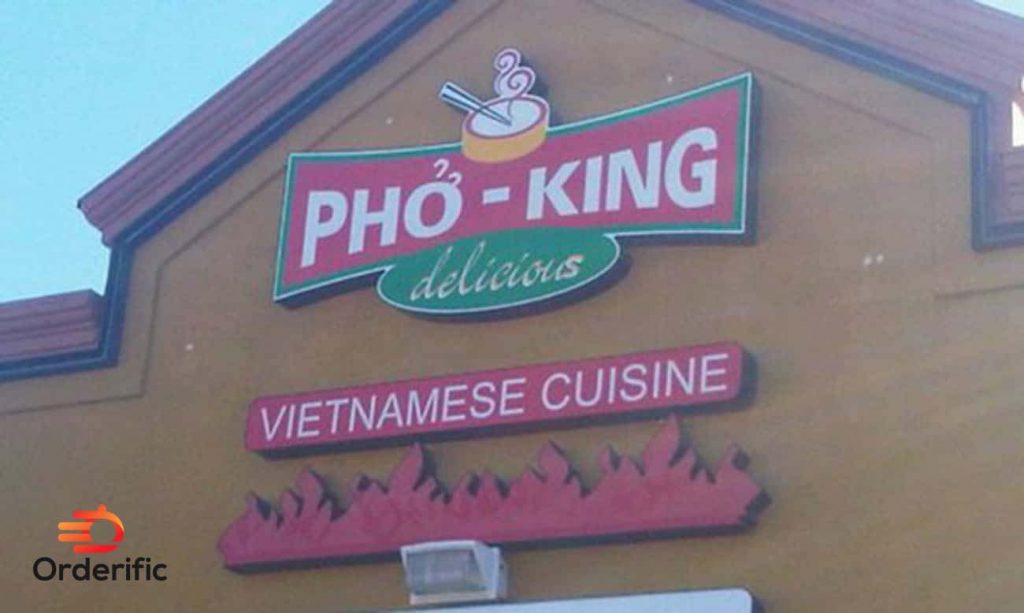 Food-Related Names
Embark on a compelling culinary journey with food-related restaurant names. These names showcase the ingenuity of restaurateurs, combining wit with mouthwatering allure.
Bun Intended – In New York, this witty pun sends burger lovers into fits of laughter.
Bean Me Up – Coffee enthusiasts find this name intriguing in Ocean City.
Planet of the Grapes – The streets of Nova Scotia echo this pun, attracting wine lovers.
Bread Zeppelin – San Francisco's rich culinary scene features this bread-centric eatery.
Pawnbroker – In New Orleans, seafood lovers chuckle at this clever name.
Thyme Square – This herb-themed name spices up the dining experience in South Africa.
Wok This Way – Among the United Kingdom's bustling streets, this Asian eatery stands out.
Sip Happens – This amusing name adds fun to the coffee-drinking scene in New York.
The Eggs Factor – Ocean City's breakfast offering is complete with this fun name.
Rolling Scones – This bakery's name in Nova Scotia garners appreciative smiles.
Pasta la Vista – San Francisco's restaurant scene gets a dose of humor with this pasta haven.
Rice to Meet You – In New Orleans, this Asian eatery's name leaves a lasting impression.
Bread Pitt – South Africa's bakeries get a Hollywood treatment with this name.
Lettuce Feast – In the United Kingdom, this vegetarian restaurant's name invites diners for a delightful meal.
Baguetteaboutit – New York's sandwich scene gets a fun twist with this name.
These food-related restaurant names serve humor alongside delicious dishes, creating memorable experiences for diners. Their wordplay adds charm to the gastronomic journey, inviting cafes to savor not just a meal but a tale spun by creativity. Enjoy your next culinary adventure with these hilariously appetizing names.
Creative and Unique Names
Immerse yourself in creative and unique restaurant names, where innovation and imagination meet to concoct a delightful dining experience.
Taco the Town – A Mexican eatery in London renowned for its witty name and spicy tacos.
Eclectic Cafe – A funky breakfast spot in New York known for its diverse egg-based dishes.
Jam & Toast – A charming brunch joint in Ocean City, drawing crowds with its clever name.
Brewed Awakening – An inviting coffee shop in Nova Scotia with a pun-filled name to start your day.
Pie in the Sky – A quaint San Francisco bakery, its whimsical name hinting at celestial pastries.
Guac' N' Roll – A lively Mexican restaurant in New Orleans, rolling out the fun with its pun-laden name.
Saucy Pot – A South African bistro, its name teases with a promise of flavorful concoctions.
Meat and Eat – A BBQ joint in the United Kingdom, its straightforward name is a testament to its specialty.
Bread and Spread – A New York deli's catchy name reflects its ample sandwich offerings.
Pour Decisions – A swanky bar in Ocean City, its witty name a lure for merrymakers.
Grillenium Falcon – A food truck in Nova Scotia, its name a playful nod to sci-fi fans.
Pita Pan – A Greek eatery in San Francisco, its whimsical name is a delightful tribute to a classic tale.
Rice to Riches – An Asian restaurant in New Orleans, its name playfully hinting at an uplifting culinary journey.
Okra Winfrey – A vegan spot in South Africa, its punny name is sure to garner smiles.
Turnip the Beet – A salad bar in the United Kingdom, its fun name resonating with health enthusiasts.
These creative and unique restaurant names serve to intrigue and delight, offering a memorable dining narrative that borders on the unbelievable.
Wrapping Up
As we wrap up our culinary journey through the world of funny restaurant names, we've savored a delightful array of puns, word plays, and pop culture references. Each name, as unique as the eatery it represents, adds a dash of humor to our dining experiences. These hilarious names not only tickle our funny bones but also hint at the unforgettable gastronomical adventures we can expect. They infuse creativity into the culinary world, making each visit to these eateries a feast for the senses. Similarly, Orderific aims to enhance the dining experience, seamlessly blending technology with gastronomy. For restaurant owners looking to elevate their customer experience while increasing revenue and reducing operational costs, consider Orderific. Schedule a FREE DEMO today to explore how Orderific can help your business stand out in this vibrant, humorous, and delicious culinary landscape.
FAQs
What are some of the best puns used in restaurant names?
Some outstanding puns include "Tequila Mockingbird," "Frying Nemo," "Bread Zeppelin," "Bean Me Up," and "Batter Up."
Which restaurants have the best pop culture references in their name?
Restaurants with notable pop culture references include "Grillenium Falcon," "Tequila Mockingbird," and "Planet of the Grapes."
What are some of the funniest animal-inspired restaurant names?
Some hilarious animal-inspired names include "Frying Nemo," "The Codfather," "Duck'n Dive," and "The Grouchy Gator Grill."
What are some of the most creative and unique restaurant names?
Some of the most innovative restaurant names include "Pour Decisions," "Bread and Spread," "Grillenium Falcon," and "Turnip the Beet."
How can a funny restaurant name help attract customers to your business?
A funny restaurant name piques curiosity, creates a memorable brand, and sets a lighthearted tone for the dining experience.