When one steps into a bar, it's more than just seeking a refreshing drink. It's a dive into an atmosphere pulsating with energy, filled with the echoes of laughter, playful banter, and the clinking of glasses. There's the unmistakable excitement of challenging a friend to a game or the collective cheer when a team scores. In today's dynamic bar scene, adding games has transformed mere drinking spots into hubs of engagement and entertainment. 
This innovative approach has been a magnet for patrons, making their time memorable and forging stronger connections with the establishment. Given this array of interactive entertainment choices, the question arises: which games genuinely reign supreme in captivating hearts and minds?
Best Bar Games of 2023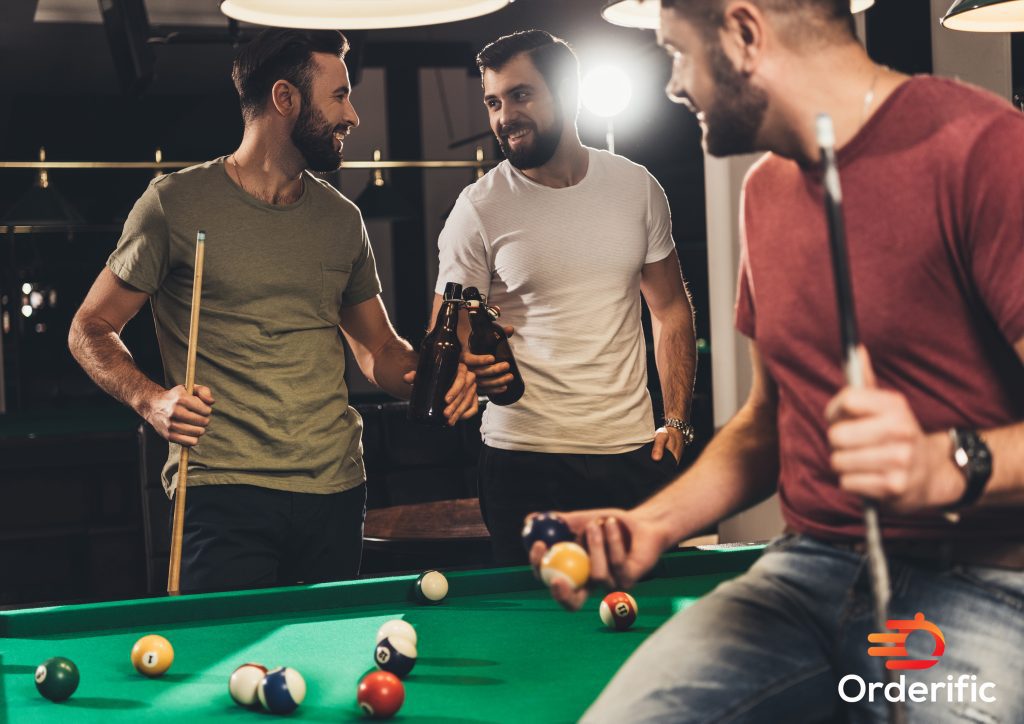 As the curtain rises on 2023, bars have evolved from mere watering holes into vibrant social arenas. It's no longer solely about the drink in one's hand but the experience that surrounds it. The culture of integrating games in bars has grown exponentially, blending social interaction with competition, strategy, and a touch of nostalgia. Whether it's a game requiring physical prowess, strategic thinking, or just plain luck, there's an allure to these playful challenges that beckons patrons. Dive into the world of bar games and discover the top picks that have set the trend this year.
1. Darts:
A classic that never goes out of style, darts combines skill, precision, and a smidge of competitiveness. Whether one is aiming for a bullseye or just trying not to embarrass themselves in front of friends, the game remains a favorite. Many bars have dedicated dart areas, ensuring safety while maintaining the fun ambiance. And with tournaments and league nights, darts offers both casual and serious players a reason to return.
2. Pool (Billiards):
The soft click of billiard balls is a familiar sound in many bars. Pool tables are not just a game apparatus but a centerpiece, around which groups gather, challenges are thrown, and friendships are tested. Billiards, with its blend of strategy and skill, offers patrons a chance to relax, converse, and compete, making it a perennial bar favorite.
3. Shuffleboard:
Shuffleboard, with its long wooden table and weighted pucks, brings patrons a game that's both strategic and accessible. Its appeal lies in the delicate balance required – too much force, and you overshoot; too little, and you're nowhere near scoring. Many bars have embraced shuffleboard for its compactness and the lively team spirit it fosters.
4. Foosball Table:
The rapid spinning, the intense focus, and the inevitable cheers and groans – that's foosball for you. It's a game that can turn strangers into teammates and friends into friendly rivals. Given its compact size and the dynamism it brings, foosball tables are becoming a staple in many establishments.
5. Trivia Games:
Who doesn't love a good challenge for the brain? Trivia nights have surged in popularity, drawing crowds eager to test their knowledge on everything from pop culture to obscure historical facts. Bars hosting trivia often see groups returning week after week, forging a sense of community and friendly rivalry.
6. Cornhole:
Simple yet addictive, cornhole has found its way from backyard BBQs to the bar scene. With its easy-to-understand rules and the blend of luck and skill involved, it's no wonder patrons are drawn to it. Many bars have now set up cornhole boards, providing a laid-back game that pairs perfectly with a chilled drink.
7. Pinball Machines:
A throwback to yesteryears, pinball machines are making a roaring comeback. The flashing lights, quirky sound effects, and the sheer nostalgia it evokes make pinball a beloved addition to many bars. For many, it's a trip down memory lane; for others, it's a brand-new challenge.
8. Buzztime Bar Trivia:
Digitalizing the trivia experience, Buzztime Bar Trivia offers establishments an interactive platform where patrons can compete in real-time, answering questions broadcasted on TV screens. With a variety of topics and the added thrill of digital scoreboards, it elevates the traditional trivia night.
9. Jenga & Giant Jenga:
The tower-building game, with its suspense and strategy, is a hit. Bars have upped the ante with Giant Jenga, where the stakes are higher, and so is the entertainment value. Every move becomes a spectacle, drawing onlookers and participants alike.
10. Beer Pong:
A game that blends skill, luck, and, of course, beer. Beer pong has transitioned from college dorms to the mainstream bar scene. Whether it's a casual toss or a heated competition, it's a game that guarantees laughter, spills, and unforgettable memories.
11. Bar Poker Night:
Taking a cue from the casinos, many bars have started hosting poker nights. It's not just about the cards but the camaraderie, the bluffing, and the thrill of the game. Whether one's a novice or a card shark, poker nights offer a mix of strategy and social interaction, making it a winning hand for many establishments.
The Pros and Cons of Adding Games to Your Bar
As bars look for innovative ways to enhance the customer experience, games have become a popular addition. But is it always a winning strategy? Let's delve into the advantages and potential pitfalls of integrating games into the bar scene.
Pros:
Increased Patronage: Games can draw a diverse crowd, from casual gamers to serious enthusiasts. Such additions can make a bar stand out and become a preferred hangout spot.
Longer Stays: Customers engrossed in a game tend to stay longer, translating to increased sales from drinks and food.
Social Interaction: Games foster camaraderie and can turn strangers into friends. They facilitate social interaction, creating a lively and welcoming atmosphere.
Repeat Business: Regular events like trivia or poker nights can establish a loyal clientele who return week after week.
Versatile Appeal: Games can cater to various age groups, from millennials enjoying a retro pinball machine to older patrons indulging in a classic game of darts.
Additional Revenue: Some games, especially arcade-style ones, can be an additional source of income.
Promotional Opportunities: Hosting tournaments or themed game nights can garner media attention and serve as promotional events.
Cons:
Maintenance Costs: Games, especially electronic ones, can break down and require regular maintenance, leading to added costs.
Space Constraints: Not all bars have the luxury of space. Allocating room for games can mean fewer tables for patrons.
Potential Disruptions: Intense games can lead to disagreements or disturbances, disrupting the overall ambiance.
Safety Concerns: Games like darts or pool require adequate space to ensure the safety of bystanders.
Licensing Issues: Some games, especially those that are digital or involve gambling elements, might need licenses or fall under specific regulations.
Overemphasis on Games: There's a risk that the primary focus of the bar could shift from its drinks and food to the games, leading to potential neglect of core offerings.
Trend Dependency: What's popular today might not be tomorrow. Investing heavily in a game trend can be risky if it loses its appeal.
Adding games for bars can add zest to a bar's atmosphere, it's crucial to weigh the benefits against potential drawbacks. The key is to strike a balance, ensuring games enhance the experience without overshadowing what makes a bar truly special: its drinks, food, and the shared moments among patrons.
Conclusion
Incorporating games into a bar setting goes beyond merely introducing another element of entertainment. It's about curating memorable experiences that resonate, crafting moments that patrons cherish, and building bridges of camaraderie amongst complete strangers. Games serve as catalysts, driving conversation, laughter, and friendly competition, enriching the overall ambience.
As the bar industry grapples with the challenges of an increasingly competitive market, setting oneself apart becomes paramount. And here, the judicious addition of the right games can make all the difference. These aren't just pastimes; they're strategic tools, pivotal in ensuring a bar etches its unique signature in the annals of a patron's memories.
In case you want more content like this, visit Orderific right now!
FAQs
What bar games do you like best?
Everyone has a personal favorite, but classics like darts and pool have enduring popularity.
Why give your customers fun games to play at a bar?
It enhances their experience, making their visit memorable and encouraging repeat visits.
Which bar games are most profitable?
Games like pool or darts, requiring minimal maintenance but attracting consistent players, often have a higher ROI.
Why should you offer restaurant games?
They provide an added layer of entertainment, set your establishment apart, and can significantly boost customer engagement and satisfaction.