Diving deep into the vibrant culinary tapestry of central Florida, one cannot help but notice a burgeoning trend reshaping the contours of its food scene. Ghost kitchen Orlando isn't merely a whisper on the wind or a transient trend. It's a groundbreaking paradigm shift in the dining narrative.
As we embrace the comforts and efficiencies of contemporary living, these ghost kitchens are brilliantly fusing the agility of modern-day conveniences with the pioneering spirit of the restaurant sector. Nestled amid the pulsating rhythms and neon glows of downtown Orlando, these avant-garde establishments are not only redefining the dining experience. They are also presenting a novel approach to food delivery, marrying tradition with innovation.
What are Ghost Kitchens?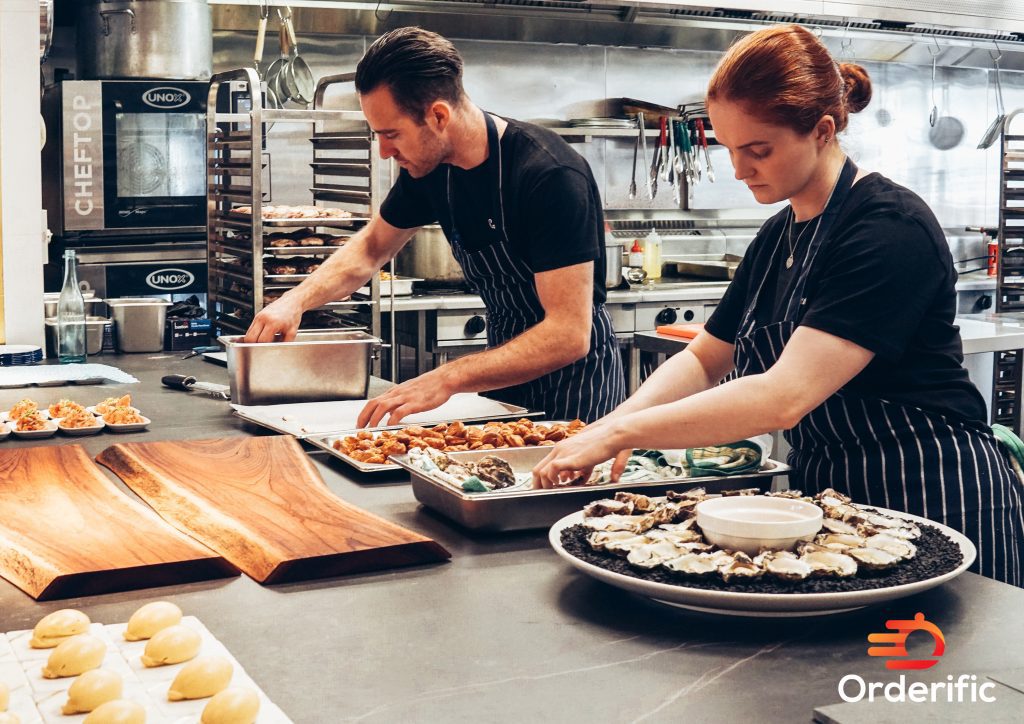 Envision a vibrant culinary hub, where every corner is buzzing with activity and chefs, with deft hands, craft exquisite dishes. The aroma is enticing, yet there's an unexpected element. It's the conspicuous absence of tables, chairs, and diners ready to relish a meal. This is the world of Ghost Kitchens. Often termed as virtual or cloud kitchens, they strip away the conventional trappings of a restaurant. They leave behind just the essence of food preparation.
Their mission is singular – to cater to the takeout, pickup, and delivery crowd. Every dish is designed for transit, moving seamlessly from the stove to eager hands awaiting its arrival. It's akin to the agility of a food truck, but with the permanence and stability of a brick-and-mortar setup, solidly rooted like a well-kept secret in the urban sprawl.
Benefits of Ghost Kitchens
In an era where convenience and efficiency reign supreme, ghost kitchens emerge as the avant-garde champions of the culinary realm. These innovative establishments, stripped of the conventional trappings of a traditional restaurant, bring forth a plethora of benefits that redefine the food and dining industry. Let's journey into the myriad advantages that these unique setups offer, and understand how they're setting a new benchmark for dining experiences.
Faster Delivery Times:
Ghost kitchens are like the superheroes of the food industry – swift, efficient, and always on time. Without the commotion of attending to dine-in patrons, these kitchens have the luxury of focusing solely on the dishes at hand. Imagine the sheer delight of receiving your boxed lunch right when hunger strikes during a sunlit picnic. With precision and pace, ghost kitchens ensure that your meal arrives with that very same promptness, evoking feelings of instant gratification.
Lower Overhead Costs:
The beauty of minimalism lies in its ability to focus on what truly matters. Ghost kitchens epitomize this principle. Without the extravagance of a lavish dining area or the bustling energy of front-of-house staff, these kitchens pare down to the essentials. The result? Significant cost savings.
Drawing a parallel, it's akin to savoring the sheer simplicity of a well-made sandwich, without the distraction of extra sides. Every resource is channeled into crafting impeccable dishes, translating to savings that often benefit both the business and the consumer.
Increased Menu Flexibility:
In the dynamic world of gastronomy, staying current is the key to winning hearts (and taste buds). Ghost kitchens, with their nimble operations, possess the dexterity to frequently revamp their offerings. It's reminiscent of how a Spotify playlist keeps evolving, introducing you to fresh beats while retaining some timeless classics.
Similarly, these kitchens have the liberty to experiment, swiftly adapting to emerging food trends or specific diner preferences. So, whether it's a sudden surge in the popularity of a particular dish or a seasonal delicacy, ghost kitchens can seamlessly integrate it into their menu, ensuring they're always in tune with their customers' cravings.
Top Ghost Kitchens in Orlando
Orlando, renowned for its sun-kissed theme parks and vibrant nightlife, now wears another feather in its cap: the rise of ghost kitchens. These culinary hotspots, while elusive in their physical presence, are crafting a name for themselves with flavors that linger and services that impress. If you're venturing into the realm of ghost kitchens in this city, there are a few names that stand out, beckoning with their unique offerings. Let's dive into the top ghost kitchens that Orlando has to offer.
The Polite Pig:
Journeying into the bustling streets of Orlando, one might stumble upon The Polite Pig, a beacon of culinary delight. Its moniker isn't just for show; the kitchen is genuinely polite in its presentation and flavors. Each dish, meticulously crafted, exudes the warmth of a meal cooked in a family kitchen. From smoky barbecues to tangy salads, The Polite Pig invites its patrons into a world where every bite narrates a story of tradition, innovation, and utmost care.
Chicken Guy!:
The age-old quest to perfect the chicken crunch finds its hero in Chicken Guy! Beyond its playful name lies a serious commitment to poultry perfection. Each piece of chicken, bathed in secret marinades and crisped to golden hues, sings a melody of flavors. It's not just about the crunch; it's about the tender meat inside, the spices, and the love with which it's prepared. For those who've always been on the hunt for that flawless crispy chicken experience, this ghost kitchen seems to have cracked the code.
Fuku:
Embarking on an oriental flavor journey in Orlando? Fuku is your destination. This ghost kitchen paints a canvas of Eastern culinary traditions with bold, modern strokes. Every dish is an adventure, blending the fiery, the subtle, and the umami in a harmonious dance. Whether it's a spicy noodle broth that warms the soul or a sushi roll that encapsulates the essence of the sea, Fuku promises an experience that's both authentic and contemporary. Each visit leaves one with a lingering taste and an eager anticipation for the next gastronomic adventure.
How to Order from a Ghost Kitchen
The allure of ghost kitchens doesn't just lie in the delectable food they whip up but also in the seamless ease with which one can order from them. Even though these kitchens operate without a traditional front-of-house, the process of getting their culinary delights to your doorstep is remarkably intuitive. Whether you're a tech-savvy diner or someone who prefers a direct approach, there's a way for everyone. Let's unravel the methods through which you can embark on this flavorful journey.
Using Third-Party Delivery Apps:
In a digital age dominated by apps, ordering food is as simple as streaming your favorite song. Platforms like Uber Eats have transformed the way we experience dining. A virtual food plaza at your fingertips, all you need to do is browse, choose, and order. A series of taps and swipes, and before you know it, a delivery executive is en route with your meal. It's comparable to hailing a ride in a bustling avenue – quick, efficient, and modern.
Ordering Directly from the Ghost Kitchen:
While third-party platforms offer convenience, there's something undeniably special about connecting directly with the source. Several ghost kitchens understand this and provide their own dedicated delivery channels. By ordering straight from the kitchen's portal or hotline, you're ensuring that every step, from the dish's inception to its arrival at your door, remains in dedicated hands. It's akin to purchasing a literary masterpiece directly from the writer, where the essence of the experience remains undiluted and pure.
Future of Ghost Kitchens in Orlando
The evolution of Orlando's culinary scene has taken a thrilling turn with the rise of ghost kitchens. Currently on an upward trajectory, these unique establishments show no signs of slowing down. As urban dynamics and gastronomic preferences undergo transformation, ghost kitchens are swiftly positioning themselves as the avant-garde titans of the food delivery domain.
Their model, which seamlessly blends modern convenience with diverse gourmet offerings, is captivating the city's residents and visitors alike. In the coming years, Orlando's reputation could extend beyond its enchanting theme parks. The city might very well be hailed as the epicenter of the ghost kitchen revolution, setting precedents for the rest of the nation to follow.
Conclusion
Orlando's gastronomic narrative is experiencing a fresh, harmonious note with the introduction of ghost kitchens. These innovative setups are leading the culinary orchestra, intertwining the elegance of gourmet dining with the intimacy of home-cooked meals. As dusk envelopes the city and the downtown Orlando horizon transforms into a silhouette, the shimmering stars aren't the only entities casting a mesmerizing glow.
Alongside them, the lights of ghost kitchens flicker, signifying their unyielding promise to satiate cravings and deliver sumptuous feasts directly to doorsteps. The allure of a mouth-watering meal, tailored to perfection and just a phone call away, adds a new dimension to Orlando's vibrant nights.
In case you want more content like this, visit Orderific right now!
FAQs
What exactly is a ghost kitchen?
It's a modern-day kitchen designed specifically for takeout, pickup, and delivery, eliminating the traditional dine-in aspect of restaurants.
Are ghost kitchens only for delivery or can I dine in?
They focus solely on delivery and takeout; no dine-in facilities are available, so you can only order food from these.
How do ghost kitchens differ from traditional restaurants?
While both whip up delicious food, ghost kitchens don't have a physical dining space for customers. Their primary focus is on delivering meals straight to your door.
How do I order from a ghost kitchen?
You can either use third-party delivery apps or order directly from the kitchen's website or contact number.
What are the benefits of ordering from a ghost kitchen?
Speedy deliveries, fresh meals, lower costs, and a vast array of menu options are just a few of the many advantages.
How do ghost kitchens keep food fresh during delivery?
With specialized packaging and quick delivery turnarounds, ghost kitchens ensure your food reaches you hot and fresh, reminiscent of straight-out-of-the-oven delicacies.