Gift cards are a popular and convenient gifting solution, but presenting them uniquely and memorably can add a personal touch that makes the gesture even more special. After all, it's not just about the gift itself, but also the presentation and thought that goes into it. As we move into 2023, there are plenty of creative gift card presentation ideas to explore to ensure that your gift stands out and is appreciated.
Whether it's for a birthday, holiday, or just because, this guide will provide you with a diverse range of creative gift card presentation ideas that can turn a simple gift card into a true gift experience. From DIY crafts to innovative packaging solutions, these ideas will help you add a personal touch to your gift card presentation and create a lasting impression. So stick around, get your creative juices flowing, and let's make your next gift card presentation something to remember!
Are Gift Cards a Good Gift?
Gift cards, without a doubt, make for a practical and versatile gift. They have grown in popularity over the years for their convenience and flexibility, allowing the receiver to purchase something they truly want or need from their favorite store. This is particularly beneficial for individuals who can be difficult to buy for, eliminating the risk of choosing a gift that may not align with their tastes or preferences.
However, some may argue that gift cards lack the personal touch that comes with a carefully selected gift. This is where creative gift card presentation ideas come in. By incorporating thoughtful and unique presentation ideas, you can transform a simple gift card into a personalized gift experience. It's about adding a dose of creativity and personal touch to let the recipient know that you've put thought and effort into their gift, making it not only a practical but also a heartfelt gesture.
Creative Gift Card Presentation Ideas
DIY Gift Card Holders: Instead of just handing over a plain gift card, why not create a personalized DIY holder? This could be something as simple as decorating an envelope or creating a custom sleeve using scrapbook paper and some glue. You can also use materials like felt or fabric to make unique holders with pockets for additional surprises.
Gift Card Bouquet: Turn a traditional bouquet on its head and create a gift card bouquet instead. Simply attach multiple gift cards to skewers or sticks and arrange them in a vase filled with shredded paper or tissue. Not only is this a visually striking presentation, but it also adds an element of surprise as the receiver pulls out each gift card.
Gift Card Puzzle: Add an element of fun to your gift card presentation by turning it into a puzzle. Print out a photo or image and have it cut into pieces, with each piece revealing a part of the gift card. The receiver will have to put the pieces together to reveal their surprise.
Gift Card Scavenger Hunt: Make receiving a gift card an adventure by creating a scavenger hunt that leads the receiver to their prize. Leave hints and clues around the house or neighborhood, each leading to the next until they finally find their gift card.
Personalized Packaging: Instead of using plain envelopes or holders, use personalized packaging to make your gift card presentation stand out. This could be a custom-made box with the recipient's name on it. Also could be a jar filled with small notes and a gift card attached to one of them.
Gift Card Wreath: Create a festive and unique presentation by making a gift card wreath. Attach multiple gift cards to a wreath base using ribbons or clips, and add some decorative elements like faux flowers or ornaments for an extra touch.
Hide-and-Seek: Hide the gift card in an unexpected place and challenge the recipient to find it. This could be inside a book, under their pillow, or even in their favorite snack bag.
These are just a few ideas to get your creative juices flowing. Remember, you can always tailor these ideas to fit the occasion. Or personalize them further based on the individual's interests and preferences. The possibilities are endless!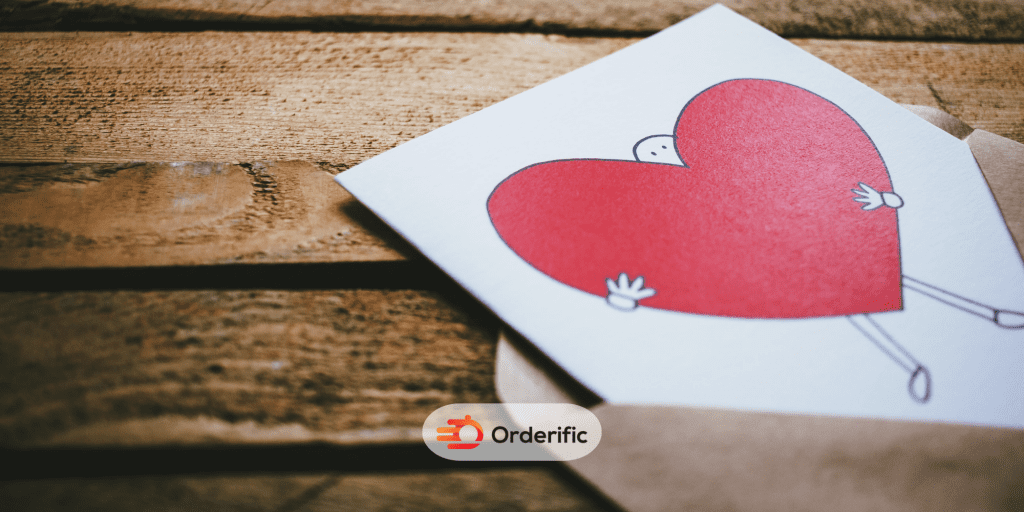 Conclusion
The art of gifting is not about the material but the thought, creativity, and personal touch we infuse into it. Gift cards, while practical and versatile, can feel impersonal. But with these creative gift card presentation ideas, you can transform them into a truly memorable gifting experience. The unique and thoughtful presentation not only provides an element of surprise but also conveys your sincere effort and thoughtfulness.
As we embrace 2023, let's ditch the ordinary and embrace the extraordinary when it comes to gift-giving. Push the boundaries of creativity and personalize your gift card presentations to suit the occasion and the recipient's personality. Remember, it's these small touches that can turn an ordinary gift card into a remarkable and unforgettable gift. Happy gifting!
Click here for more insightful advice with Orderific. To start experiencing the great benefits Orderific can bring to your business, click here now. Try Orderific!
FAQs
What are some creative ways to present a gift card?
Some ideas include DIY gift card holders, gift card bouquets, puzzles or scavenger hunts, personalized packaging, gift card wreaths, and hide-and-seek presentations.
Are there any DIY ideas for making gift card presentations more personalized?
Yes, you can use materials like scrapbook paper, felt, or fabric to create unique holders with pockets for additional surprises.
How can I make the gift card presentation more memorable and special?
You can add a personalized note to the gift card holder, incorporate inside jokes or memories related to the receiver. Or even include small gifts or treats along with the gift card.
Are there any unique and unexpected ways to present a gift card?
Yes, you can turn the gift card into a puzzle, incorporate it into a scavenger hunt. Also you can hide it in an unexpected place for the recipient to find.
Can you provide ideas for themed gift card presentations for different occasions or holidays?
For birthdays, you can create a gift card or use a box filled with balloons and confetti. For holidays, you can think seasonal decorations such as snowflakes or hearts into the presentation.