In the bustling world of supermarkets, global food trends dictate the rhythm. Imagine aisles filled with vibrant colors and diverse foods, each telling a tale of consumer preferences. The sweet aroma of plant-based meat alternatives wafts through the air, a testament to changing eating habits. After a moment's pause, you'll notice the prominence of food products marked for their safety and eco-friendly features. From North America to Asia Pacific, market trends reshape shoppers' baskets. Unprecedented consumer demand shifts, intertwined with regional variations, create a captivating dance of supply and demand. Stay tuned as we traverse this dynamic landscape, expertly navigating the currents of global food trends. Our journey is just the beginning. To stay competitive in this ever-evolving market, let's dive in and decode what lies beneath these evolving patterns.
Plant-Based Revolution
Welcome to the plant-based revolution, where consumer preference is green and growing. Here, the sizzle of plant-based meats fills the air, engaging senses and appetites. The aroma is tantalizing, awakening a newfound curiosity in consumers. A taste of this trend and your perception of 'meat' is forever changed.
Market research shows this is a moderate trend. It's firmly rooted in nutritional awareness and ethical concerns. Consumers around the globe, from North America to the Asia Pacific, are embracing plant-based foods. It's a testament to a revolution that's shaking the very core of the food industry.
A closer look at the trend reveals its vast reach. Everyone's joining the plant-based bandwagon, from food manufacturers to food service providers. They are innovating and creating more compelling foods than their meat counterparts. Even the most ardent meat lovers are tempted to indulge, and often, they do.
As dollar sales of plant-based foods surge, supermarkets are becoming green havens. Aisles are brimming with plant-based food options, reflecting changing consumer behavior. The growth is not just significant; it's exponential. The plant-based revolution isn't just a market trend; it's a global movement redefining our food choices.
In this revolution, every bite taken is a step towards a sustainable future. It's a movement driven by consumer demand and shaped by market trends. And in this dance of supply and demand, the plant-based revolution is taking center stage.
Sustainable Sourcing & Farm-to-Table
The heart of our food journey leads us to sustainable sourcing and the farm-to-table movement. Imagine the warm, earthy scent of fresh produce, ripened by the sun in fields free from harmful chemicals. Envision rows of vibrant fruits and vegetables, each embodying food safety and respect for Mother Earth.
There's been a shift in consumer preferences in the United States and across the globe. Shoppers now gravitate towards foods with a story, products that trace their lineage from soil to supermarket. It's not just about eating; it's about experiencing.
Farm-to-table is more than just a consumer trend. It's a tapestry of relationships between farmers, food companies, and consumers. It's a celebration of food's journey, honoring every hand that nurtures it from seed to plate.
Each bite resonates with the authenticity and integrity of its origins. The trend transcends geographical boundaries in Latin America, Asia Pacific, and the Middle East, weaving a global narrative of sustainable food practices.
So, let your senses guide you next time in the supermarket. Savor the taste of integrity. Embrace the farm-to-table movement. After all, it's not just about eating; it's about nourishing your body, soul, and planet.
Sustainable Operations
Welcome to the sphere of sustainable operations, the hidden cog driving the wheel of the global food industry. Picture this – behind the scenes, the hum of machinery fills the air, a symphony of sustainability. This isn't just your average backroom with stacks of canned goods and boxes. It's the nerve center of a supermarket, working tirelessly to reduce food waste and bolstering efficiency.
Imagine efficient systems brilliantly engineered to cut waste to a minimum. It's more than just an operational strategy. This is a commitment to the environment, one recyclable package at a time.
Visualize the cold storage – a marvel of modern technology, ensuring food safety while minimizing energy usage. It's a delicate balancing act, juggling temperature controls and energy conservation. Yet, this backstage dance keeps the show running seamlessly in front.
Every aspect, from logistics to inventory management, is being reimagined with sustainability. Even the white paper used for documentation bears the mark of this shift, made from responsibly sourced materials. And it's not just in the United States. This commitment to sustainable operations is a shared value, uniting supermarkets from South America to the Middle East.
Now, let's walk down a typical supermarket aisle. Notice how, amid bustling shoppers, the supermarket is a model of efficiency. The carefully stocked shelves are a testament to meticulous inventory management, ensuring optimal stock levels to minimize food waste.
So, step back and take it all in. This is the silent revolution occurring behind closed doors, shaping the future of the global food industry. It's the story of sustainable operations, the unsung hero of modern supermarkets, making every bite count towards a greener planet.
Sustainable Packaging
As we journey further into the realm of supermarkets, sustainable packaging takes the spotlight. Picture an aisle shimmering with the promise of a greener future. Here, consumer preferences dictate the transformation of shelves into a canvas of eco-consciousness. Crisply packaged goods, each adorned with the symbol of recyclability, speak volumes of a global food trend gaining momentum.
Take a moment to admire these packages. Feel their textured surfaces, the humble testimony of responsible sourcing. Listen to the rustle of biodegradable wrappers, whispering tales of sustainability. Each package tells a story, linking consumers, food companies, and our shared environment in a bond of collective responsibility.
This trend is ever-evolving across the globe, from North America to Latin America and Asia Pacific. It's an orchestra of consumers and companies harmonizing their efforts. The goal? Rethinking traditional packaging. The result? A revolution shaping the global food industry.
Hold a package in your hands. Notice its feather-light weight, a subtle nod to resource efficiency. Even the ink on the surface holds a pledge of no harm to our planet. It's a bold testament to environmental stewardship, born of market trends and consumer demand.
So, pause to appreciate this silent revolution next time you're shopping. Each eco-friendly package is a vote for a sustainable future. Embrace the trend. After all, every choice echoes in the aisles of supermarkets, echoing in the vast expanse of the global food market. Sustainable packaging – it's more than just a trend; it's a commitment to our planet.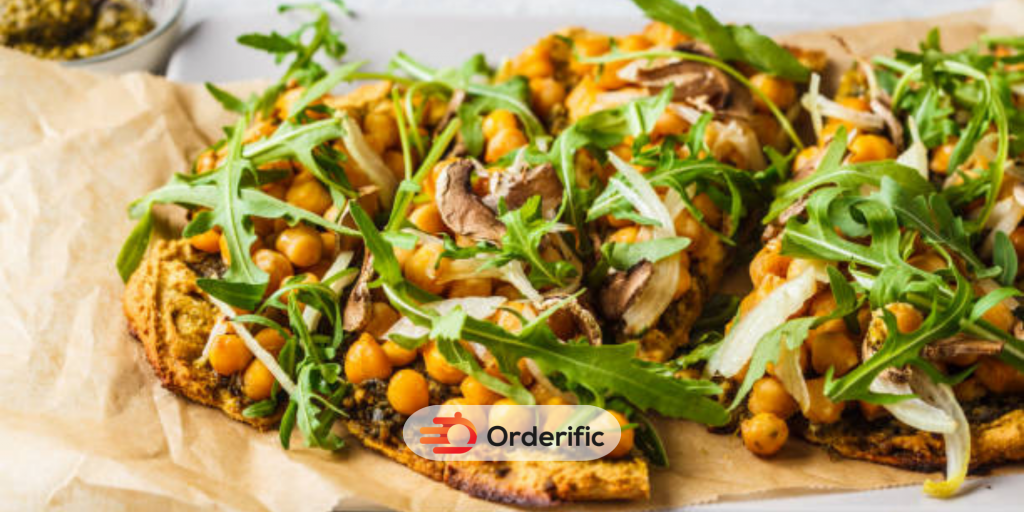 Personalized Nutrition
Welcome to the era of personalized nutrition, a fascinating frontier in global food trends. Picture a supermarket aisle, its shelves brimming with foods tailored to individual dietary needs. Here, consumer preferences shape a unique nutritional landscape. Every product, every ingredient, promises personalized health and well-being.
Feel the smooth texture of a gluten-free bread loaf, a boon for those with dietary restrictions. Savor the sweet tang of a sugar-free jam, a delight for health-conscious consumers. Each product tells a tale of nutritional customization, echoing the market trends across North America, Asia Pacific, and beyond.
Imagine a kiosk brimming with digital tools for real-time nutritional advice. An interactive display guides you, suggesting foods based on your health profile. It's more than just a shopping experience – a journey of self-discovery.
Listen closely, and you'll hear the whispers of change. It's the sound of consumer demand shaping the food industry. Everyone's tuning into the rhythm of personalized nutrition, from food manufacturers to food services.
So, next time you're in a supermarket, pause. Experience the revolution in the aisle of personalized nutrition. Engage with the digital tools. Discover foods that cater to your unique dietary needs. After all, personalized nutrition isn't just a trend; it's a testament to the power of consumer preferences in shaping the global food industry.
Food Tech & Delivery Innovations
Step into the world of food tech and delivery innovations, the grand finale in our exploration of global food trends. Picture a bustling kitchen where technology and culinary artistry blend seamlessly. Savor the tantalizing aroma of freshly cooked meals, ready to be delivered to your doorstep.
This isn't magic but the result of sophisticated food tech, marrying convenience with gastronomy. The drone humming outside your window isn't just an ingenious piece of technology; it's a harbinger of a hot, delicious meal. Each innovation tells a tale of progression in the food industry, a trend sweeping continents from North America to the Middle East.
Feel the thrumming energy of food delivery apps, transforming your smartphone into a gateway for global cuisine. Hear the satisfying tap of a key, confirming your order. It's a symphony of clicks and swipes, resonating with the rhythm of consumer preferences.
Now, let's delve deeper. Visualize data analytics, providing food companies with invaluable insights into consumer behavior. These aren't mere numbers but potent tools for reshaping consumer demand and market trends.
So, next time you order a meal or download a new food app, take a moment to appreciate the change. Revel in the convenience. This is the era of food tech and delivery innovations, a testament to the power of market trends, consumer preferences, and technology in the ever-evolving global food industry. Embrace the change. After all, every tap, every click, every delivered meal is a step towards a future shaped by food tech innovations.
Functional Beverages
Welcome to the realm of functional beverages, a thrilling chapter in our exploration of global food trends. Picture a chilled bottle, condensation tracing its curves, promising a refreshing sip with a healthy twist. Every innovative brew, whether probiotic yogurts, vitamin-infused teas, or protein-packed shakes, caters to the wellness-oriented consumers of today.
Listen to the faint fizz of kombucha, a dance of healthy bacteria and yeast, embracing your taste buds with a tangy sensation. Smell the refreshing aroma of freshly brewed green tea, steeped in antioxidants, a testament to the age-old wisdom of traditional diets. Feel the smooth texture of a protein shake, a subtle nod to the fitness trend sweeping across North America and Asia Pacific.
Each sip echoes with a promise, delivering hydration and targeted nutrition to the consumer. Now, imagine a supermarket aisle where every shelf is a testament to the power of functional beverages. Glance at the colorful labels adorned with health claims, each a beacon of nutritional advancements. These aren't mere beverages; they are potent elixirs designed to cater to the varied health needs of consumers, reflecting a global shift in market trends.
So, next time you're in the supermarket, take a moment to explore this vibrant aisle. Revel in the possibilities of a drink that quenches your thirst and nourishes your body. After all, the rise of functional beverages isn't just a trend; it's a tangible shift in consumer preferences, painting a refreshing picture of the future of the global beverages market.
Conclusion
As we conclude our journey through Global Food Trends in Supermarkets, we've seen how market trends and consumer preferences transform the global food industry. From sustainable sourcing to personalized nutrition, technology, and sustainability intertwine in this symphony of innovation. Orderific, committed to enhancing revenue and operational efficiency, plays a pivotal role in this transformation. Using superior POS systems and diversified payment partners simplifies and enhances the customer experience. Feel the power of data, enabling tailored marketing strategies that resonate with the global trends we've explored. So, why wait? To taste this revolution, schedule a FREE DEMO of Orderific today and join the dance of global food evolution.
FAQs
What methods are commonly used to identify and analyze current market trends?
Standard methods include market research, social media monitoring, competitor analysis, industry reports, and customer surveys.
How do shifts in consumer preferences influence the demand for global food products?
Shifts in consumer preferences directly affect demand, with changing dietary habits and health consciousness driving the global food market.
Discuss the challenges of catering to diverse consumer preferences for global foods.
Catering to diverse preferences challenges product customization, inventory management, and navigating cultural nuances in food choices.
How can businesses stay agile and adapt to changing market trends and consumer tastes in the food industry?
Businesses can stay agile by observing market trends, engaging with their audience, adapting quickly, and continuously innovating their offerings.