The term "greasy spoon" paints a vivid picture of nostalgia – think bustling eateries humming with chatter, the clinking of cutlery, and the warm aroma of comfort dishes filling the air. It's more than just a place to eat; it's a snapshot of daily life, capturing the essence of local culture and community.
Serving as a sanctuary for those seeking solace in hearty meals or a quick escape from life's hustle, this modest establishment resonates deeply with patrons. From truck drivers to office-goers, everyone finds familiarity and warmth within its walls. A greasy spoon represents tradition, unity, and the undying love for simple, delectable food.
What Is a Greasy Spoon?
Venture into the bustling lanes of any city, and a "greasy spoon" diner is bound to be a familiar sight. But it's more than just a name or a restaurant; it's an institution steeped in tradition, representing unpretentious dining at its finest. Characterized by its simple decor and casual ambiance, these establishments pride themselves on delivering generous portions of heartwarming meals without burning a hole in your pocket.
From early morning breakfasts featuring fluffy pancakes and crispy bacon to lunchtime specials like fried chicken sandwiches or heaping plates of baked beans, every dish is an ode to comfort and nostalgia.
For many, a visit to a greasy spoon is a trip down memory lane, a reminder of meals at grandma's, and the sheer joy of uncomplicated, soul-satisfying food. Every city, every neighborhood has its version, and each one is a testament to the timeless appeal of comfort cuisine.
What Is The History of Greasy Spoons?
The term "greasy spoon" first made its appearance in the early 20th century, capturing the essence of eateries that served simple, often fried, meals at affordable prices. In the United States, the rise of the automobile culture led to the proliferation of roadside diners, many of which fit the mold of a greasy spoon.
These diners, with their shiny metal exteriors and cozy booths inside, became symbols of American culture, offering weary travelers and locals alike a spot to refuel with hearty food.
Meanwhile, across the pond in the United Kingdom, similar establishments found their footing, particularly in working-class neighborhoods of London. They became popular haunts for workers looking for a hot cup of tea and a filling breakfast before starting their day.
Over the decades, these establishments weathered economic depressions, wars, and cultural shifts. They've seen the rise of fast-food chains and gourmet restaurants, yet they've remained resilient, adapting without losing their core essence. Today, greasy spoons stand as relics of a bygone era, yet they continue to thrive, reminding patrons of simpler times and the universal love for honest, good food.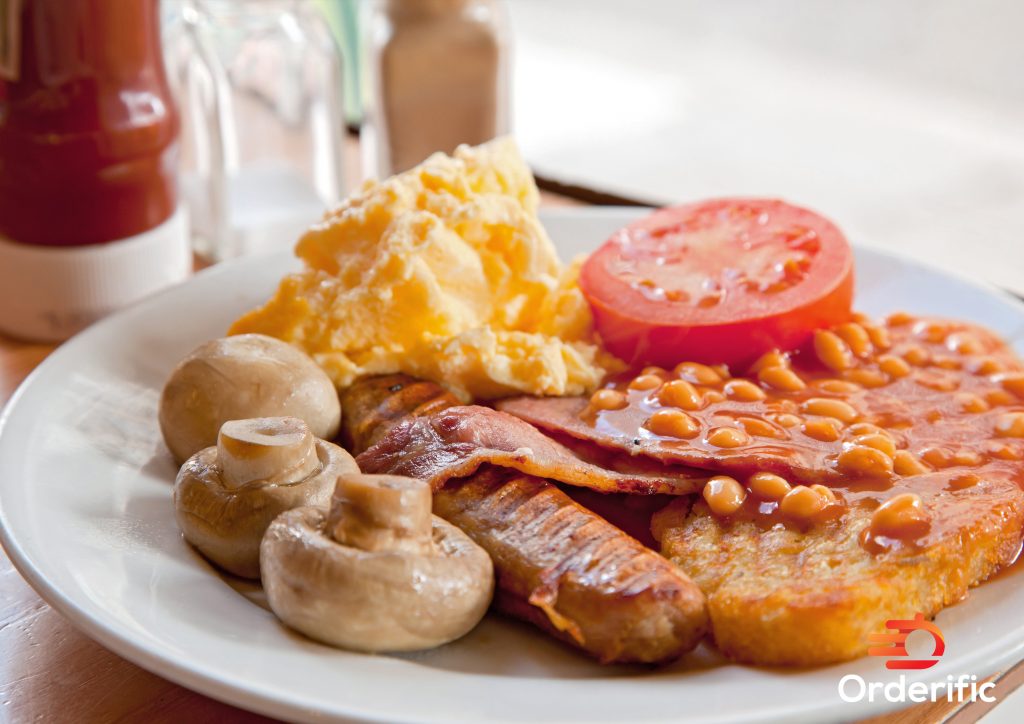 What Is Typically on The Menu at a Greasy Spoon?
The greasy spoon menu is often a delightful amalgamation of traditional, homey dishes that have stood the test of time. Breakfast is usually a star attraction, with a range of options from fluffy pancakes drizzled with syrup to hearty omelets stuffed with an assortment of fillings like cheese, mushrooms, and sausages. Then there's the classic American breakfast – eggs any style, crispy bacon, toast, and those golden hash browns.
Lunch and dinner options often lean towards the savory. Burgers, in all their juicy glory, topped with lettuce, tomatoes, and a slice of cheese, accompanied by a side of fries. Sandwiches, be they grilled cheese or a classic club, are staples. Don't be surprised to find dishes like fried chicken, meatloaf, and even pot pies.
Sides usually include comfort food favorites like baked beans, coleslaw, and, of course, those crispy onion rings. And what's a diner without beverages? Beyond that quintessential cup of coffee, there are often milkshakes, soft drinks, and sometimes, a selection of beers.
To finish, there's usually a selection of desserts – think pies (apple, cherry, pecan), sundaes, or even a simple slice of cake. Every dish, every beverage in a greasy spoon is tailored to evoke a sense of nostalgia and warmth, making patrons feel right at home.
How do you start a Greasy Spoon?
Venturing into the greasy spoon business requires more than a passion for food. Understanding the locale, curating a menu that resonates, and crafting an ambiance that's welcoming are all integral.
How much Does It Cost to Start a Greasy Spoon?
Starting a greasy spoon is a journey filled with culinary adventures, challenges, and fulfilling moments. But where does one begin? Here's a roadmap:
Research and Understanding: Before diving in, it's crucial to understand the locale. What do people in the area prefer? Are they traditionalists or open to fusion dishes? A thorough market study can provide insights.
Location Matters: Find a spot that's accessible. High footfall areas or places near offices or colleges could be gold mines. However, make sure it fits the "diner" vibe – cozy and unpretentious.
Menu Magic: While the classics are essential, adding a few unique dishes can set the diner apart. Testing recipes, sourcing local ingredients, and ensuring affordability will be crucial. Whether it's the fluffiest pancakes or the crispiest fries, quality is paramount.
Hire Right: The staff, especially the cooks and waitstaff, play a pivotal role in shaping the diner's reputation. They should not only be skilled but also align with the diner's ethos of warmth and friendliness.
Ambiance: The decor and ambiance should resonate with the greasy spoon vibe. Think of checkered tablecloths, comfy booths, and nostalgic memorabilia on the walls.
Legalities and Licenses: Ensure all necessary permits, from health and safety to food licenses, are in place. Also, consider insurances to protect the business from unforeseen events.
Marketing: A soft launch for friends and family can offer valuable feedback. Once open, consider local advertising, loyalty programs, and, of course, an active social media presence.
Consistency is Key: Regularly update the menu, ensure quality control, and always listen to customer feedback. This will ensure the diner stays relevant and loved.
Expand Thoughtfully: Once established, consider expanding through franchises or opening new branches. But always ensure the core essence of the greasy spoon remains intact.
What Are The Most Popular Types of Greasy Spoons?
Greasy spoons, with their distinct appeal, have been cherished across the globe, each version having its own flavor, history, and charm. Let's delve into some of the most popular types:
The Classic American Diner: Often characterized by its retro ambiance, neon signs, and gleaming counters, the American diner is a symbol of nostalgia. Serving everything from pancakes at dawn to burgers at midnight, they're the stalwarts of comfort food.
British Cafés (or Caffs): Known for their full English breakfasts, these establishments are traditional spots in the UK. Their menu usually boasts bacon, eggs, sausages, and baked beans, often accompanied by a strong cup of tea.
Coffee Shops: While they might emphasize their brews, many coffee shops, especially in bustling cities, offer a menu reminiscent of greasy spoons, dishing out sandwiches, toasts, and pastries.
Soul Food Bistros: Often found in southern states, these establishments serve up comfort food with deep historical roots. Dishes like fried chicken, collard greens, and cornbread dominate the menu.
Roadside Stands: These are the unsung heroes for travelers, offering quick bites like hot dogs, fries, and sandwiches. Their no-fuss menus and quick service make them perfect for those on the go.
24/7 Spots: These are the saviors for night owls and early risers. Operating round the clock, they cater to everyone from the post-party crowd seeking midnight snacks to early workers looking for a hearty breakfast.
The Urban Contemporary: These greasy spoons have adapted to the modern age, offering classic dishes but with contemporary twists. They often focus on local, organic ingredients while maintaining the hearty, filling nature of classic diner food.
Conclusion
Greasy spoons stand as timeless monuments to comfort and community in the ever-changing landscape of gastronomy. These establishments, with their checkered tablecloths and aroma of brewing coffee, are more than just dining spaces. They encapsulate stories of generations, serving as melting pots of culture and nostalgia.
Their menus, though simple, are a tribute to hearty, unpretentious food that warms the soul. In a world where dining experiences are often gauged by exclusivity and price, greasy spoons remain the unsung heroes, asserting that genuine flavor, warmth, and a sense of belonging don't always come with a hefty bill.
In case you want more content like this, visit Orderific right now!
FAQs
What defines a "greasy spoon" restaurant, and what types of food can one typically expect to find on their menu?
Greasy spoon is a colloquial term for a small, local, often family-owned eatery that serves inexpensive and simple food. Think classic dishes like burgers, fries, toast, and eggs.
Are there any famous or iconic greasy spoon establishments that are known for their unique offerings?
Yes, places like the Regency Café in the United Kingdom or the Greasy Spoon Soulfood Bistro are iconic in their regions.
Can you provide insights into the history and cultural significance of greasy spoon diners?
Absolutely. Greasy spoons emerged as affordable eating joints, offering comfort food to the working class. They've since become symbols of local culture and nostalgia.
What are some popular dishes or comfort foods commonly associated with greasy spoon restaurants?
Burgers, omelets, hot dogs, fried chicken, and pancakes top the list. However, every greasy spoon might have its own special or signature dish that locals swear by.