In the vast universe of gastronomy, there exist unexplored treasures, with Hamachi collar standing as a prime example, especially in the realm of seafood. Derived from the yellowtail fish, this specific cut, though frequently overshadowed by more popular segments, carries with it an exquisite flavor profile.
Every bite, with its tender meat juxtaposed against its crispy skin, is a journey — a delightful dance of textures and tastes. It's not just a mere dish; it's an experience, evoking the ambiance of dining by the Japanese coast, with waves serenading in the background and a cool sea breeze brushing past.
What is Hamachi Collar?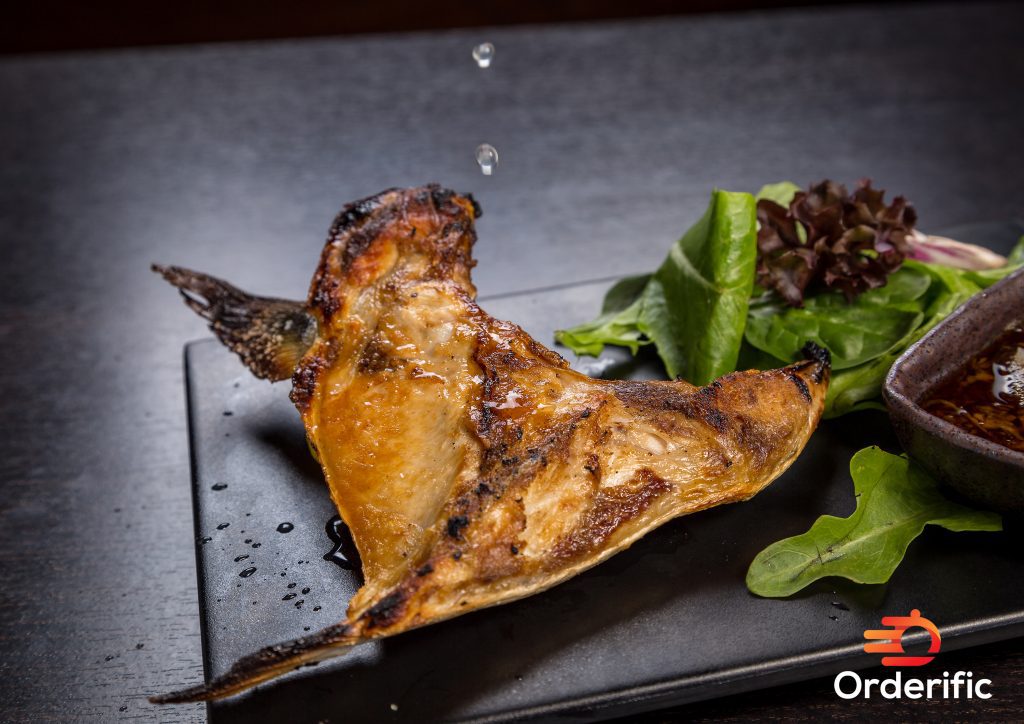 Hamachi collar, or "Hamachi Kama" as it's traditionally called in Japanese, refers to the delicately prized cut taken from the area just behind the head and gills of the yellowtail fish. This piece, often overlooked in many cuisines, is a favorite amongst Japanese seafood aficionados. Its appeal lies in its luscious and meaty texture, enriched with a natural fat content that renders it incredibly flavorful.
When subjected to the grilling process, the fat marbles beautifully, resulting in a piece that's crispy on the outside yet retains a sumptuous, melt-in-the-mouth tenderness on the inside. It's not just a dish, but a journey of flavors, from its rich, buttery taste to the slightly charred notes from grilling.
Though it's a treasured choice among connoisseurs, the Hamachi collar remains a delightful secret, with many culinary enthusiasts still on the brink of discovering its delectable wonders.
How to Select and Prepare Hamachi Collar
Selection: The first step to enjoying Hamachi Collar is picking the right piece. Freshness is paramount. Look for a collar with a firm texture and a bright pink hue. The smell should remind you of the ocean – fresh with no fishy odors. Always lean towards sustainably sourced Hamachi, ensuring both the taste and quality are optimal.
Preparation: Before cooking, rinse the Hamachi Collar to remove any scales and pat dry. A brief marinade can elevate its flavors. Consider a mixture of soy sauce, mirin, and a hint of garlic. Grilling is a favorite method among chefs. A preheated grill should be your go-to, cooking each side for about 7 minutes. The result? A charred exterior with a moist, flavorful interior. Once done, a sprinkle of green onions and a dash of lime can enhance its taste, making it a treat for the palate.
Choosing the Right Hamachi Collar
Embarking on the culinary adventure of Hamachi collar begins with selecting the perfect piece. Freshness should be your guiding star. When at the market or store, seek out collars that sport a radiant, glistening skin. A touch test is also effective; the collar should feel slightly moist and not slimy.
As you bring it closer, let your nose be the judge. Fresh Hamachi collar should have a delicate, oceanic aroma, devoid of any overpowering or off-putting fishy smell.
Cleaning and Preparing the Collar
Before you dive into the cooking process, proper preparation is crucial. Start by gently patting the collar with a paper towel, absorbing any excess moisture. Occasionally, you might encounter some stubborn scales clinging onto the skin.
The back of a kitchen knife can be your ally in gently scraping them off. Once done, give the collar a gentle rinse under cold, running water. To ensure optimal cooking, pat it dry once more, making certain it's devoid of excess moisture.
Cooking Techniques for Hamachi Collar
With your collar prepared, you're now ready for the main event: cooking. The world of culinary techniques is vast, but with Hamachi collar, some methods stand out. Whether your heart is set on grilling, broiling, or giving it a golden sear on a pan, the endgame remains consistent: you want that skin irresistibly crispy, complementing the succulent meat underneath.
Among these methods, grilling shines brightly, lending the collar a smoky essence that pairs harmoniously with its natural flavors, making every bite a symphony of taste and texture.
Delicious Recipes Using Hamachi Collar
Hamachi Collar, or Hamachi Kama as it's traditionally known, is a coveted treasure in the culinary world. Revered for its rich, buttery texture and delicate flavor profile, it's a cut that's often reserved for those with a discerning palate. Though it might be slightly lesser-known compared to other parts of the fish, its potential in the kitchen is unparalleled.
The succulent meat from this section of the yellowtail fish, when prepared correctly, can transform a simple dish into a gastronomic masterpiece. Let's dive into some delectable recipes that truly elevate this culinary gem.
Grilled Hamachi Collar with Soy Sauce and Lemon
Transport yourself to the heart of Tokyo with this classic recipe. Start by immersing the Hamachi collar in a rich marinade concocted from soy sauce, zesty lemon juice, and dashes of salt and pepper. Once it's soaked up the flavors, it's grilling time!
Begin with the skin side facing the flames, letting it reach that desired crispness. Once done, plate up and add an accompaniment of tangy ponzu sauce, finishing with a fresh lemon wedge for that extra zing.
Pan-Seared Hamachi Collar with Garlic and Ginger
Delight in the fusion of Asian flavors with this pan-seared masterpiece. First, lovingly season your collar with salt, pepper, and a whisper of ground ginger. In a sizzling hot pan with a swirl of oil, lay the collar skin-side down, letting it sear to a crispy perfection.
When it's almost ready, sprinkle minced garlic for an aromatic finishing touch. A drizzle of fresh lemon juice seals the deal, offering a citrusy contrast to the rich collar.
Hamachi Collar Poke Bowl
Why not take a Hawaiian detour? Visualize succulent pieces of grilled Hamachi collar, interspersed with a medley of vibrant veggies. Drench this mixture in a tangy sauce, and then lay it over a bed of fluffy rice. It's not just a dish; it's a mosaic of textures and flavors, promising a taste adventure with every spoonful.
Hamachi Collar Sushi Rolls
Enter the realm of sushi with a twist! Utilize tender pieces of your expertly cooked Hamachi collar, and partner them with creamy avocado slices and a dab of spicy mayo. Gently wrap this ensemble in sushi rice, cocooned within a sheet of seaweed.
Once neatly rolled, slice to reveal the cross-section of colors and flavors. For the final touch, present with pickled ginger and soy sauce on the side. A treat for both the eyes and the palate!
Where to Find Hamachi Collar
Venturing into the world of seafood, one might stumble upon various delicacies, but Hamachi Collar holds a distinctive allure. Known as Hamachi Kama in Japanese, this cut, tucked behind the head and gills of the yellowtail fish, has been a prized possession in traditional Japanese cooking. Its unparalleled flavor and rich texture make it a sought-after choice for many chefs and culinary enthusiasts.
However, the quest to find the best Hamachi Collar can sometimes be a culinary adventure in itself. Whether you're a seasoned chef or someone eager to explore this delicacy, here's a guide to locating this gem in the vast ocean of seafood options.
Local Fish Markets
If the allure of freshness beckons you, make a beeline to your neighborhood fish market. These places, bustling with activity, often have daily catches ensuring the freshest stock. Among the glistening displays of seafood, you're likely to stumble upon the coveted hamachi collar. Engage with the vendors; their insights could be valuable, especially regarding sourcing and freshness.
Online Seafood Retailers
In this digital age, the world is at your fingertips, and so is global seafood! Numerous reputable online platforms have made it their mission to deliver the ocean's bounty, including hamachi collar, straight to your kitchen.
Whether you prefer it flash-frozen for longevity or fresh for immediate culinary adventures, a few clicks can have it on its way to you. Just be sure to read reviews and ensure you're getting the best quality for your buck.
Japanese Restaurants
Why not turn the quest for hamachi collar into a delightful outing? Embark on a culinary journey at a Japanese eatery. Many traditional restaurants feature this delicacy, given its popularity and esteemed place in their cuisine. Expertly prepared by skilled chefs who understand the intricacies of the dish, dining in such an environment also offers an authentic experience, complete with complementary sides and ambiance.
Conclusion
Venturing into the realm of seafood brings forth myriad flavors, with the hamachi collar reigning as a true hidden treasure. This seemingly modest cut of fish encapsulates centuries of culinary tradition and delivers an unparalleled symphony of tastes.
From its delicate texture to its rich flavor profile, it tells a story of oceans, traditional feasts, and the skill of countless chefs who've mastered its preparation. As gastronomic enthusiasts continue their endless search for unique and memorable experiences, the hamachi collar stands as a testament that sometimes, the most exquisite adventures lie in the most unexpected places.
In case you want more content like this, visit Orderific right now!
FAQs
Where can I find Hamachi Collar?
You can typically source Hamachi Collar at local fish markets, specialized online seafood retailers, and it's also a popular offering at many authentic Japanese restaurants.
Is Hamachi Collar sustainable?
Yes, Hamachi Collar can be sustainable, especially when sourced responsibly from fisheries that adhere to sustainable fishing practices.
How does Hamachi Collar compare to other cuts of fish?
Hamachi Collar stands out as it's notably meatier, offering a distinct blend of textures and flavors that differ from standard fish fillets.
Can Hamachi Collar be used in sushi or poke bowls?
Absolutely! Hamachi Collar, when prepared right, can be a delightful and flavorful addition to sushi rolls or poke bowls, adding a richer taste profile.
What are some health benefits of eating Hamachi Collar?
Hamachi Collar is not only delicious but also nutritious. It's abundant in Omega-3 fatty acids, which promote heart health, and is a great source of protein, supporting muscle growth.
Is Hamachi Collar expensive?
While Hamachi Collar is often more affordable than some premium fish cuts, its price can vary based on factors like location, season, and availability.