Every once in a while, the world of Japanese cuisine introduces us to a delicacy that transcends the familiar realm of sushi and sashimi. One such treasure is the Hamachi Kama. Nestled within the extensive menu of a Japanese restaurant, this dish, often overlooked, promises an unparalleled gastronomic adventure. Revered by those in the know, Hamachi Kama is the collar of the yellowtail fish, grilled to perfection.
Its rich textures and robust flavors have cemented its status as a hidden gem in Japanese dining. For regulars, no meal is complete without it, but for those yet to embark on this flavorful journey, Hamachi Kama promises an experience that's both unique and unforgettable.
What is Hamachi Kama?
In the realm of seafood delicacies, Hamachi Kama holds a distinctive place. Literally translating to "yellowtail collar," it represents the section of the fish situated right behind the head, extending to the dorsal fin. A treasure trove of succulent meat lies in this collar, and given its location, it remains one of the fish's fattiest parts.
When subjected to the heat of a grill or the intensity of a broiler, this piece transforms into a culinary masterpiece. The fats render, basting the meat, resulting in a dish that's not just flavorful, but is also incredibly moist and tender. For many seafood enthusiasts, this piece represents the epitome of umami-rich elegance.
What Is the Difference Between Hamachi and Yellowtail?
The world of fish nomenclature can be a tad confusing, especially with terms like Hamachi and Yellowtail often being used interchangeably. While both are references to the Japanese Amberjack, they have distinct connotations. 'Hamachi' is traditionally associated with the younger, farm-raised fish, meticulously cultivated for dishes like sushi and sashimi.
These fish, often in their prime, present a tender and flavorful meat profile, making them favorites in elite Japanese sushi joints. Conversely, 'Yellowtail' is a broader term, spanning across various species of the jack fish family. It's a more encompassing label, especially in western culinary circles, capturing a range of tastes and textures.
What Does Hamachi Kama Taste Like?
Embarking on a Hamachi Kama tasting journey is akin to indulging in a symphony of flavors. The very first bite introduces you to its unparalleled tenderness, reminiscent of the finest cuts of fatty tuna. As you delve deeper, the meat reveals its buttery essence, enriched by the natural marbling of the collar. This ensures that every bite is not just flavorful but also sumptuously juicy.
If grilled, a delightful smokiness graces the palate, enhancing the fish's intrinsic flavors. But it's not just about the taste; the texture too plays its part. It's neither overly flaky nor too firm, striking the perfect balance that Japanese cuisine is renowned for. In essence, Hamachi Kama is not just a dish, but an experience, waiting to captivate with its rich and layered taste profile.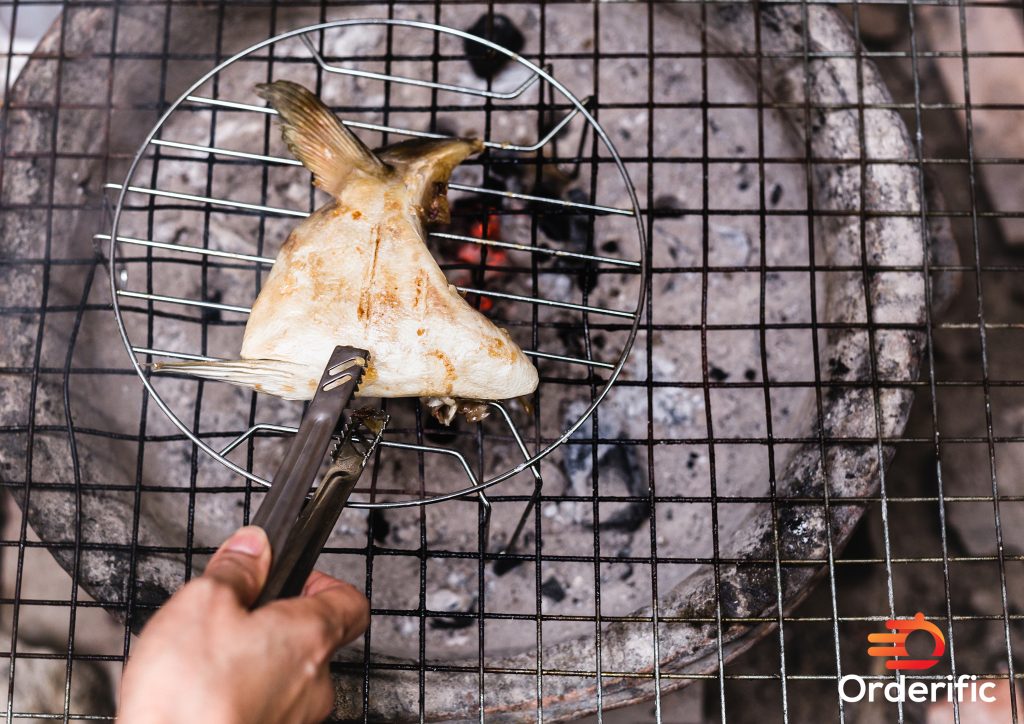 Health Benefits of Hamachi/Yellowtail
Hamachi, while gracing our plates with its exquisite taste, also packs a punch when it comes to nourishing our bodies. Let's delve deeper into the myriad of health advantages this seafood marvel offers:
Omega-3 Powerhouse
One of the standout nutrients in Hamachi is the abundance of Omega-3 fatty acids. These essential fats have gained prominence for their cardiovascular benefits. They play a pivotal role in maintaining heart health, reducing the risk of heart diseases, and ensuring smooth blood flow.
Protein Galore
For those seeking to build or maintain muscle mass, Hamachi is a godsend. It's loaded with high-quality protein, which is crucial for muscle repair, growth, and maintenance. But the benefits of protein don't just stop at muscles; it's also vital for skin, hair, and bone health.
Vitamin and Mineral Treasure
Hamachi is teeming with essential vitamins, notably Vitamin D, which plays a significant role in bone health and immunity. Vitamin B12, another prominent constituent, is vital for nerve function and the formation of red blood cells. On the mineral front, Hamachi offers selenium, renowned for its antioxidant properties, and magnesium, essential for a myriad of biochemical reactions in the body.
Mood and Brain Health Enhancer
The Omega-3 fatty acids in Hamachi are not just about the heart; they're also brain food. They play a role in cognitive functions and might help in reducing the risk of mood disorders. A diet rich in Omega-3 can potentially boost brain health and uplift mood.
Supports Immune Function
With its array of vitamins and minerals, regular consumption of Hamachi can bolster the immune system, making it more resilient against infections, and improving the overall quality of the way it functions.
Promotes Eye Health
The Omega-3s in Hamachi are beneficial for eye health. They may reduce the risk of macular degeneration and promote better vision. In general, it provides a better overall health of your eyes.
In essence, indulging in Hamachi isn't just a feast for the senses; it's an investment in well-being. Every bite contributes to better health, making it a perfect blend of flavor and nutrition.
Where to Buy Hamachi Kama
Discovering the delicious world of Hamachi Kama starts with sourcing this delectable piece of fish. Whether you're a first-timer or a seasoned seafood lover, here's a guide to finding the best Hamachi Kama:
Specialized Japanese Seafood Markets
These niche markets are the traditional sanctuaries for all things seafood, especially when you're hunting for authentic Japanese delicacies like Hamachi Kama. The staff usually possesses a deep knowledge of the fish, its source, and its freshness. You might even stumble upon some valuable cooking tips while you're there!
Local Seafood Markets
With the growing popularity of Japanese cuisine, many local seafood markets have expanded their offerings to include Hamachi Kama. It's always a good idea to visit these markets early in the day when the catch is freshest. Engaging with the sellers and asking about the source of the Hamachi can provide insights into its quality.
Online Delivery Platforms
In today's digital age, getting fresh seafood delivered to your doorstep is just a click away. Websites and apps specializing in seafood or gourmet foods often list Hamachi Kama among their offerings. When ordering online, check customer reviews, product descriptions, and storage instructions. Some platforms even provide detailed information about the fish's source and sustainability practices.
Japanese Restaurants
Hamachi Kama is a prized dish in many Japanese restaurants. If you're not in the mood to cook but crave the flavor, ordering it from your local Japanese eatery is an excellent option. Given its popularity, many restaurants have incorporated it into their takeout and delivery menus, ensuring you can relish this delicacy from the comfort of your home.
Ask the Experts
Don't hesitate to engage with sushi chefs or those passionate about Japanese food in your community. They often have insider knowledge about the best places to source Hamachi Kama and can provide valuable recommendations.
Farmers' Markets
Some farmers' markets, especially in coastal areas or cities with a significant Japanese population, might have stalls dedicated to fresh seafood. It's a great place to get Hamachi Kama while supporting local fisheries.
When purchasing, always prioritize freshness. The skin should be bright and moist, while the meat should have a firm texture. If there's any scent, it should remind you of the ocean – fresh and clean. Remember, the quality of your Hamachi Kama will directly influence your culinary experience, so choose wisely!
3 Reasons I Make Hamachi Kama at Home
Embarking on a Culinary Journey
The art of cooking is not just about the end result but also about the experience leading up to it. Preparing Hamachi Kama at home lets culinary enthusiasts immerse themselves in every step of the dish's creation. From marinating the fish with unique blends of spices to grilling it to perfection, it's an opportunity to innovate and personalize.
Every time you cook, you learn something new, making each endeavor a chapter in your culinary adventure. Plus, the sense of accomplishment when you nail that perfect flavor profile? Absolutely unparalleled.
Unmatched Freshness and Quality
Making Hamachi Kama at home puts you in the driver's seat regarding quality control. From handpicking the freshest collars from reliable sources to monitoring the storage conditions, you ensure that every bite resonates with freshness.
Moreover, by being involved in every step, from cleaning to marinating and cooking, you're ensuring that your dish is prepared with utmost love and hygiene. It's the epitome of farm-to-table, or in this case, sea-to-table, where the middlemen are cut out, and you're served the very best.
Savoring Gourmet on a Budget
Let's face it, dining at upscale Japanese restaurants, especially ordering delicacies like Hamachi Kama, can often leave a dent in the wallet. But why reserve such delights only for rare outings when they can be enjoyed more frequently at home? By sourcing and cooking Hamachi Kama yourself, you significantly cut down on costs.
You get restaurant-quality (or even better!) taste in the cozy ambiance of your home without the premium price tag. Hosting a dinner party? Impress your guests with a gourmet meal, proving that luxury dining doesn't always have to be expensive.
Conclusion
Hamachi Kama, often hailed as a hidden treasure in Japanese cuisine, offers an unparalleled gastronomic adventure. From the first bite, its luscious flavors and melt-in-the-mouth texture transport diners to coastal Japan, encapsulating centuries of culinary tradition. Whether you're a seasoned sushi lover or a curious foodie looking to explore, this dish guarantees satisfaction with every morsel.
Opting to relish it at a sushi bar paints a picture of authentic Japanese dining, while recreating it at home adds a touch of personal flair. Either way, Hamachi Kama stands as a testament to seafood's timeless allure, etching an indelible mark on every palate it graces.
In case you want more content like this, visit Orderific right now!
FAQs
What is Hamachi Kama, and what part of the fish does it refer to in Japanese cuisine?
Hamachi Kama is the collar or the neck part of the yellowtail fish, a fatty and juicy section, often grilled or broiled in Japanese cuisine.
Can you provide tips or recommendations on how to prepare and cook Hamachi Kama for a delicious dining experience?
Certainly! Start by patting the collar dry with a paper towel. Season with salt and pepper. For grilling, ensure the skin side is down first to get a crispy texture.
Are there any regional or cultural variations of Hamachi Kama that differ in preparation or seasoning?
While the traditional Japanese preparation is relatively simple with salt and sometimes soy sauce, other variations might include marinades or glazes.
How does the flavor and texture of Hamachi Kama compare to other cuts of fish commonly served in Japanese cuisine?
Hamachi Kama offers a richer, butterier taste due to its fat content compared to standard cuts. Its unique marbling and tenderness set it apart from other fish cuts.