Introduction
In the History of Restaurant Software, the restaurant industry has dramatically shifted from old cash registers and pencils to modern restaurant POS (Point of Sale) systems and comprehensive restaurant management software. This shift wasn't just a simple change of tools but revolutionized restaurant operations. The humble pencil, once used to scratch down orders on a notepad, has been replaced by sophisticated restaurant POS systems that streamline everything from order taking to inventory management.
POS systems have become integral to restaurant management, serving as the digital heart of restaurant operations. They have evolved from being mere cash registers to multifaceted tools that handle payment processing, customer data, and even employee management. As a restaurant owner, the quest for an efficient POS system can feel like navigating a labyrinth of lightspeed restaurants, each promising to transform your business.
Traditional POS Systems: The Big Innovation
Pioneering the digital transformation in restaurants, traditional POS systems marked the end of paper order tickets and manual cash registers. These History of Restaurant Software systems digitized the checkout process and significantly boosted efficiency and accuracy. They were standalone systems primarily designed to record sales and accept payments, replacing the mechanical cash registers. POS systems signaled the beginning of computerized restaurant management, bringing a new level of speed, precision, and interactivity to the industry.
However, as restaurant operations grew more complex, the limitations of these early systems became apparent. While effective at streamlining transactions, these traditional POS platforms needed the broader capabilities necessary for comprehensive restaurant management. They required more inventory management, staff scheduling, and customer relationship management. Although a significant step forward, it was clear that the evolution of restaurant software was only beginning.
The industry called for more advanced, integrated solutions that could handle the breadth and depth of restaurant operations. This set the stage for the next giant leap in restaurant software – transitioning from standalone POS systems to holistic restaurant management platforms.
Cloud POS Systems: A Life Changing Application
As the needs of the restaurant industry continued to evolve, cloud-based POS systems emerged as the answer. History of Restaurant Software innovative tools took the capabilities of the traditional POS system and expanded them, incorporating features for inventory management, staff scheduling, and customer relationship management all in one platform. These systems allowed restaurant owners to access data from anywhere, at any time, providing unprecedented operational flexibility and control.
Cloud POS systems became the ultimate game-changer for restaurant owners, providing real-time updates on inventory levels, sales, and staff performance. Restaurant owners could now easily track their daily operations, making informed business decisions based on data-driven insights. Moreover, these systems integrated seamlessly with other digital tools, streamlining all aspects of restaurant management.
From a simple pencil to complex cloud-based platforms, restaurant software's evolution reflects the industry's continual innovation. History of Restaurant Software the journey has been marked with significant milestones, the ultimate goal remains consistent – to provide restaurant owners with the most efficient tools to manage and grow their businesses.
Innovations In The Cloud Point of Sale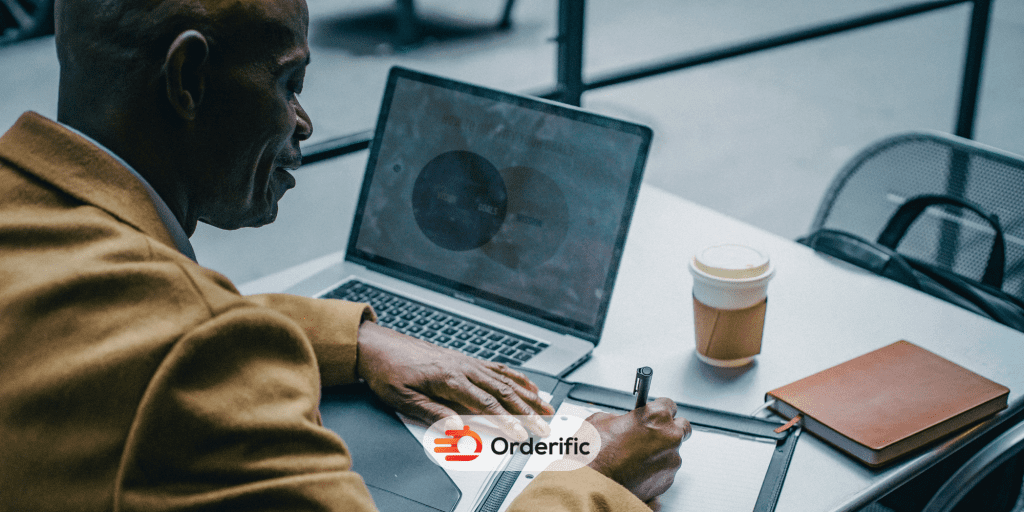 Online Ordering
One of the key innovations offered by cloud-based POS systems is the integration of online ordering. With the rise of digital technology and the changing demands of consumers, online ordering has become an indispensable feature for modern restaurants. History of Restaurant Software functionality allows customers to browse the menu, place orders, and make payments through the restaurant's website or mobile app, providing a seamless and convenient dining experience. The integration of online ordering in cloud POS systems benefits not only the customers but also restaurant owners, who can now manage and track online orders in real time, resulting in improved operational efficiency and increased sales.
Online Payment Integration
In the ever-advancing hospitality industry, the integration of online payment options has become a game-changer for restaurant operations. The evolution from mere cash-based transactions to digital payments is a testament to how far restaurant management software has come. A key feature of cloud-based POS systems, online payment integration, enables customers to pay for their orders easily and securely via the restaurant's website or mobile app. For restaurant owners, this means quicker transactions, reduced room for errors, and streamlined financial reporting. This integration essentially translates to improved customer satisfaction and enhanced business efficiency.
Increased Customer Engagement
Cloud-based POS systems have also leveled up in terms of enhancing customer engagement. Today's advanced restaurant management software allows for personalized interaction with customers, building stronger relationships and loyalty. These systems incorporate features such as customer profiles, order history, and preference tracking, enabling restaurant owners to tailor their service and offerings to individual customer needs and tastes. Moreover, these platforms facilitate communication through automated emails, push notifications, and personalized promotions, making the customer feel valued and encouraged to return. It's clear that the modern restaurant software has come a long way from the days of pencil and paper, providing multifaceted solutions that go beyond just making transactions easier.
Integrating Mobile And Online Ordering
The integration of mobile and online ordering capabilities into restaurant management software has proved to be a game-changing move. This evolution has not only provided an additional avenue for customers to effortlessly place their orders but it has also drastically improved the efficiency of restaurant operations. Mobile and online ordering features within cloud-based POS systems allow customers to order their favorite dishes from the comfort of their homes or on-the-go, expanding the reach of restaurants beyond their physical locations. For the restaurant owners, this has meant a significant rise in order volumes and an increase in customer satisfaction. Furthermore, the data generated through online orders provides valuable insights into customer behavior, preferences and peak hours, allowing for more effective restaurant management and strategic decision-making. The evolution of restaurant software, indeed, continues to transform the dining industry, shaping a more efficient and customer-centric future.
Future Trends In Restaurant Software
As we gaze into the horizon, a series of promising trends stand out in the evolution of restaurant management software. For one, the rise of AI is expected to bring significant enhancements to restaurant operations. From intelligent inventory management systems that predict stock needs based on historical data and seasonality, to AI chatbots taking customer orders and handling inquiries.
Another trend is the integration of more powerful data analytics capabilities. As restaurants collect more data about their customers and operations, powerful analytics tools can transform this raw data into actionable insights. These insights can inform everything from menu development to staffing decisions, providing a deeper understanding of business performance.
History of Restaurant Software, we anticipate further improvements in mobile and online ordering systems. More advanced user interfaces will likely improve the customer experience, and there may be additional features like real-time order tracking or loyalty programs integrated into these platforms. As the restaurant software continues to evolve, the focus will always be on improving efficiency, accuracy, and customer experience.
How Technology Is Changing The Restaurant Industry?
Order Taking
The digitalization of order taking has revolutionized the restaurant industry. No longer are servers scribbling down orders on notepads. Today, they're equipped with tablets or handheld devices linked directly to cloud-based restaurant POS systems. This innovative transition facilitates immediate transmission of orders to the kitchen, eliminating chances of miscommunication, and significantly speeding up the entire process. The result is efficient service, accurate orders, and satisfied customers. Furthermore, these digital systems capture invaluable data with every order, providing insights into customer preferences and behavior, which can be leveraged to enhance services and drive revenue growth. Thus, the evolution from pencil to digital order taking symbolizes not just a shift in tools, but a transformation in the way restaurants operate and thrive.
Reporting
The importance of reporting and analysis in restaurant management cannot be overstated. The modernization of restaurant software has dramatically improved this crucial aspect of operation. Gone are the days of laborious, manual tallying and analysis of sales, inventory, and customer data. Today's sophisticated restaurant management platforms provide comprehensive, real-time reporting features. These systems can generate insights on everything from sales trends, inventory turnover, busiest hours, to customer preferences. This data-driven approach empowers restaurant owners to make informed decisions, strategize effectively, and continually optimize their operations. In essence, the progression from manual to automated reporting signifies a profound enhancement in the efficiency, accuracy, and intelligence of restaurant management.
Cost Of Technology In History of Restaurant Software
While the initial adoption of technology in restaurants can seem costly, the benefits it brings far outweigh the expenses. High-tech systems like cloud-based POS and restaurant management software streamline operations, increase efficiency, and enhance customer service. These systems not only modernize order processing and payment transactions but also provide invaluable insights into sales trends, customer behavior, inventory turnover, and more. This data-driven approach to management allows restaurant owners to make informed decisions, optimize their strategies, and ultimately maximize their profits. The cost of technology is therefore not just an expense, but an investment in the future success of a restaurant.
Payment Processing
The digitization of the restaurant industry has significantly enhanced payment processing. Traditional methods of payment, such as cash transactions, have been replaced by swift, secure, and seamless digital payment options. Contemporary restaurant management software integrates with multiple payment gateways, providing customers with a variety of payment choices including credit/debit cards, mobile wallets, and online banking. This flexibility increases customer convenience, speeds up the payment process, and reduces the risk of errors. Moreover, digital payment processing aids in accurate financial reporting, enhancing the restaurant's ability to track and manage its revenue. This evolution in payment processing is a testament to how technological advancements continue to refine and modernize restaurant operations.
Design
The design aspect of restaurant software has also undergone significant transformation. The emphasis has shifted from simply functional systems to those that are also user-friendly and aesthetically pleasing. Modern restaurant management platforms now feature intuitive interfaces, easy navigation, and visually appealing designs. This not only enhances user experience but also aids in efficient operation management. Moreover, the flexibility of design customization allows restaurants to align the software interface with their brand identity. From the humble beginnings of pen and paper, the design aspect of restaurant software has indeed evolved, mirroring the industry's commitment to continually enhancing user experience and operational efficiency.
Support
Support services in the realm of restaurant software have become indispensable in the fast-paced, technology-driven restaurant industry. Modern restaurant management platforms are not just about providing software solutions, but also ensuring round-the-clock support to tackle any technical glitches or user queries. This includes everything from software installation, troubleshooting, to regular updates and training. The evolution of support services reflects a holistic approach towards restaurant management – it's not just about supplying a product, but also about ensuring that it seamlessly integrates within the daily operations and contributes effectively towards improving the business performance. From a time where getting assistance would mean waiting for a technician to arrive, we've moved into an era where help is just a click or a call away, further augmenting the efficiency and responsiveness of restaurant operations.
Conclusion
The journey from traditional pen-and-paper methods to sophisticated restaurant management software has been transformative, revolutionizing how restaurants operate and engage with their customers. As we look back, we can appreciate the dramatic shifts in technology that have shaped the industry, from the advent of online ordering and payment integrations to the rise of data analytics and AI in restaurant management. As the evolution continues, it promises exciting advancements for restaurants, catering to their ever-changing needs while persistently enhancing their efficiency and customer experience.
Are you ready to experience this technological marvel in your own restaurant? We invite you to book a demo with Orderific today and discover how our platform can help you navigate the future of restaurant management software.
FAQs
How does a restaurant menu ordering system work?
A restaurant menu ordering system allows customers to place their orders digitally, which are then directly sent to the kitchen for preparation.
What are the needs of online restaurant software?
Online restaurant software needs to be user-friendly, efficient, and capable of handling multiple operational tasks such as order management, payment processing, and inventory tracking.
What legacy POS systems do restaurant chains use?
Legacy POS systems used by restaurant chains often include Micros, Aloha, and Dinerware.
What are the must-have features in a point-of-sale restaurant?
A point-of-sale restaurant must have features like order management, inventory tracking, customer data management, and payment processing capabilities.