M
Do you ever wish you could make fancy cocktails like your friend does at their home bar, where they somehow always manage to impress with their skills? Well, you don't have to feel so anymore because setting up a home bar and creating a space that can mix classic or unique drinks is much easier than you think!
All you need for your home bar are:
A few spirits and mixers.
Essential barware tools and glassware.
A reliable batch of drink recipes.
You don't need a permanent bar cart or space to set it up.
But that's just the beginning.
Orderific's complete guide on How to Raise a Home Bar will walk you through every aspect of setting up your home bar, from selecting the right ingredients and tools to learning the techniques and tricks of the trade. You'll discover how to incorporate your style into your bar setup and impress your guests with irresistible drinks.
Whether you're a seasoned mixologist or a beginner, our guide will help you raise the bar and become the envy of your friends. Don't wait any longer to elevate your home entertainment game. Let's get started!
What is a Home Bar?
A home bar is more than just a small corner of your living room with a few liquor bottles and some glasses. It's a space to entertain guests, whip up an impressive cocktail, and showcase your favorite spirits.
A well-stocked home bar can include everything from various spirits, mixers, bitters, and garnishes. It's where you can get creative with your cocktail-making and experiment with new flavor combinations.
Some home bars even come equipped with
kegerators,
wine coolers, and
other gadgets to elevate the experience.
With the rising popularity of home bartending, having a home bar is no longer just a luxury but a necessity for those who value a good drink and a great time.
Whether mixing up a classic Manhattan or a trendy Aperol Spritz, a home bar is the perfect place to showcase your mixology skills and impress your guests.
Essential Components: Building a Practical and Stylish Home Bar Setup
Home Bar Basics
Start by setting up the basic elements of your home bar.
Invest in quality and durable materials that are both stylish and functional.
Look for items such as a bar cart, bar cabinet, glassware, cocktail shaker set, ice bucket and tongs, jigger and bar spoon, strainers, muddler, citrus juicer, bottle opener, corkscrew, and a cocktail book.
Bar Cart Essentials
A bar cart is an essential component of any home bar setup. It's the perfect way to showcase your liquor collection while making reaching and accessing the bottles easy.
Choose one with multiple levels to store different kinds of alcohol, like spirits, wines, and mixers.
It should also have enough room for bar tools such as strainers, shakers, and bottle openers.
Cabinet Essentials
If you don't want a bar cart or have limited space, opt for a bar cabinet with shelves and drawers. It can help you keep all your liquor bottles organized so they're easy to access when you're ready to mix drinks. This is also an excellent option to keep your bar area out of view.
Home Bar Starter Kits
For those just starting in home bartending, starter kits contain the essential bar tools. These sets usually include a
shaker and jigger,
muddler,
strainer,
juicer, and
a set of tongs
Essential Tools for a Home Bar
Finally, you'll need some essential tools to complete your bar setup. This includes a:
bottle opener,
corkscrew,
bar spoon, and
ice bucket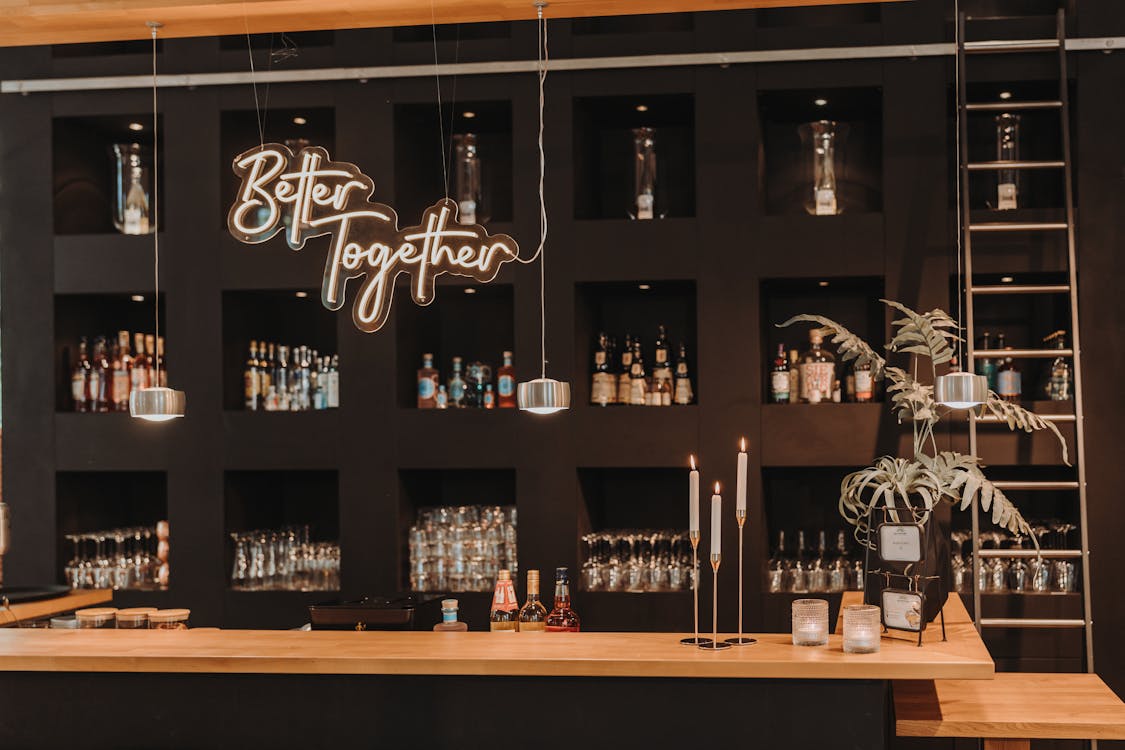 Liquor Storage Solutions: Organizing and Preserving Your Favorite Spirits
When storing liquor, you need to consider how to organize and preserve your bottles. Here are some ideas for premium wine racks, stylish cabinets, wall-mounted holders, space-saving bar shelves, and decorative decanters.
Premium Wine Racks
A wine rack is a perfect way to store, organize, and showcase your favorite bottles of reds and whites. Look for one with multiple levels in various styles and materials like wood or iron.
Stylish Liquor Cabinets
Opt for a stylish liquor cabinet if you want to keep your spirits out of view. Look for one with ample storage space and adjustable shelves to store bottles of varying sizes.
Wall-Mounted Wine Holders
For an ultra-modern look, consider wall-mounted wine holders. These come in various styles and materials, such as metal or wood, and can be mounted on any wall.
Space-Saving Bar Shelves
Opt for bar shelves tucked into corners or placed against a wall if you're short on space. This is an excellent way to store your spirits without taking up too much room.
Decorative Liquor Decanters
Finish off your home bar with decorative liquor decanters. These are perfect for displaying and storing spirits such as whiskey or brandy. You can also use them to make your signature cocktails.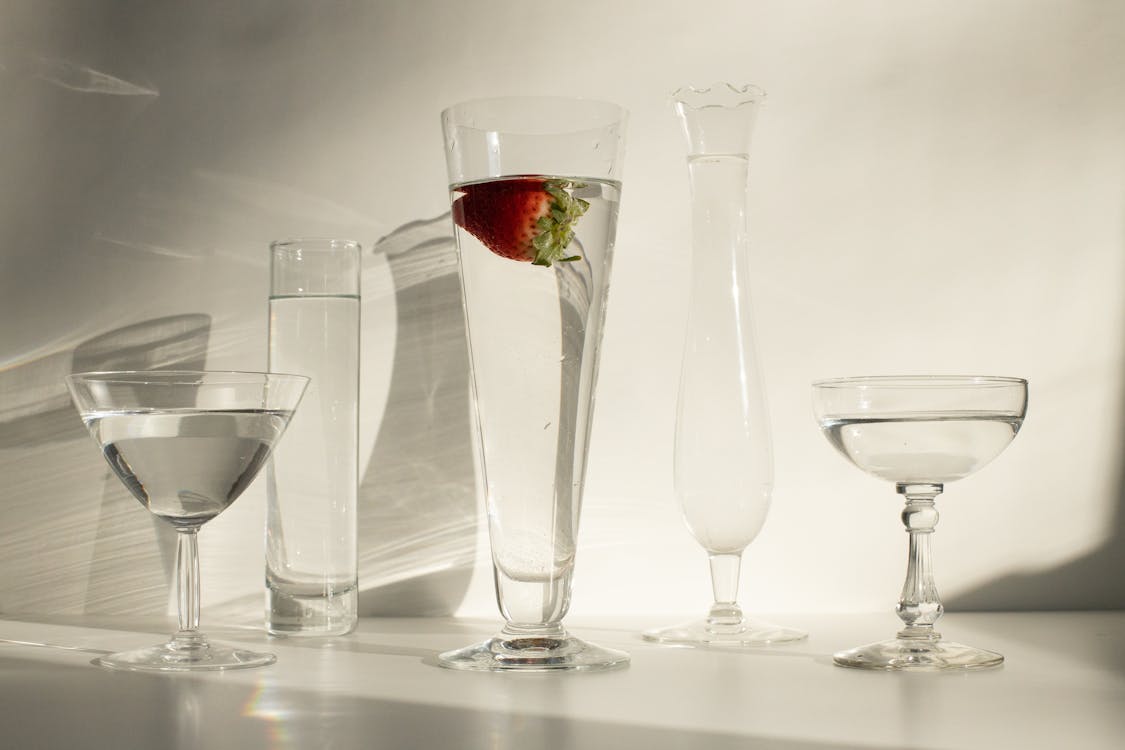 From Basic to Vintage: Must-Have Barware
Here are some must-have barware items for creating delicious drinks.
Modern Mixology
For modern mixology enthusiasts, look for sleek and stylish barware that can make even the most complex drink look effortless. Like:
stainless steel shakers,
jiggers,
ice buckets,
strainers,
bottle openers, and more.
Vintage Barware
For those who prefer classic cocktails, vintage barware is a must-have. Look for unique art deco pieces with intricate details, such as
crystal glassware, and
metallic shakers
Sleek Stainless Steel
When choosing bar tools, stainless steel is always a safe bet. It's strong, durable, and easy to clean. Look for sleek pieces with modern designs that can help elevate your home bar game. Like:
Stainless Steel Muddler
Stainless Steel Citrus Juicer
Wine Opener
Pour Spout
Cocktail Picks and more
Artistic Glassware
Glassware is an essential element of any home bar setup. Ensure looking for pieces that are both stylish and functional. Whether serving martinis, margaritas, or whiskey sours, your guests will appreciate the look and feel of a well-stocked glassware collection. Some famous artistic glassware companies are:
And more.
Functional Bar Accessories
Finally, consider adding some bar accessories that include
Cocktail Smoking Gun
Ice Ball Molds
Cocktail Bitters
Cocktail Picks
These will make it easier to mix drinks and help you achieve a polished look for your home bar.
Perfect Glassware for Your Home Bar
Choosing the right glassware is essential to any home bar setup. Here are some of the most popular types of glasses that you should have in your collection.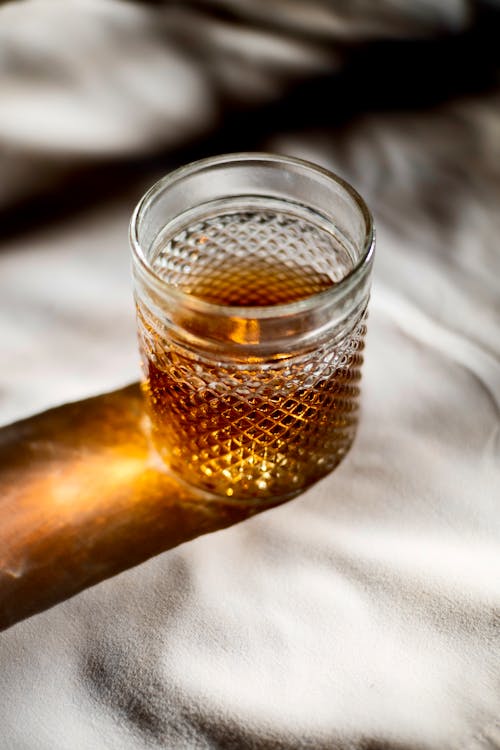 Crystal Clear Glassware
Crystal clear glassware gives a timeless and elegant touch to any drink presentation. Look for classic pieces such as
martini,
coupe, and
champagne glasses.
These can be used for anything from whiskey sours to mimosas.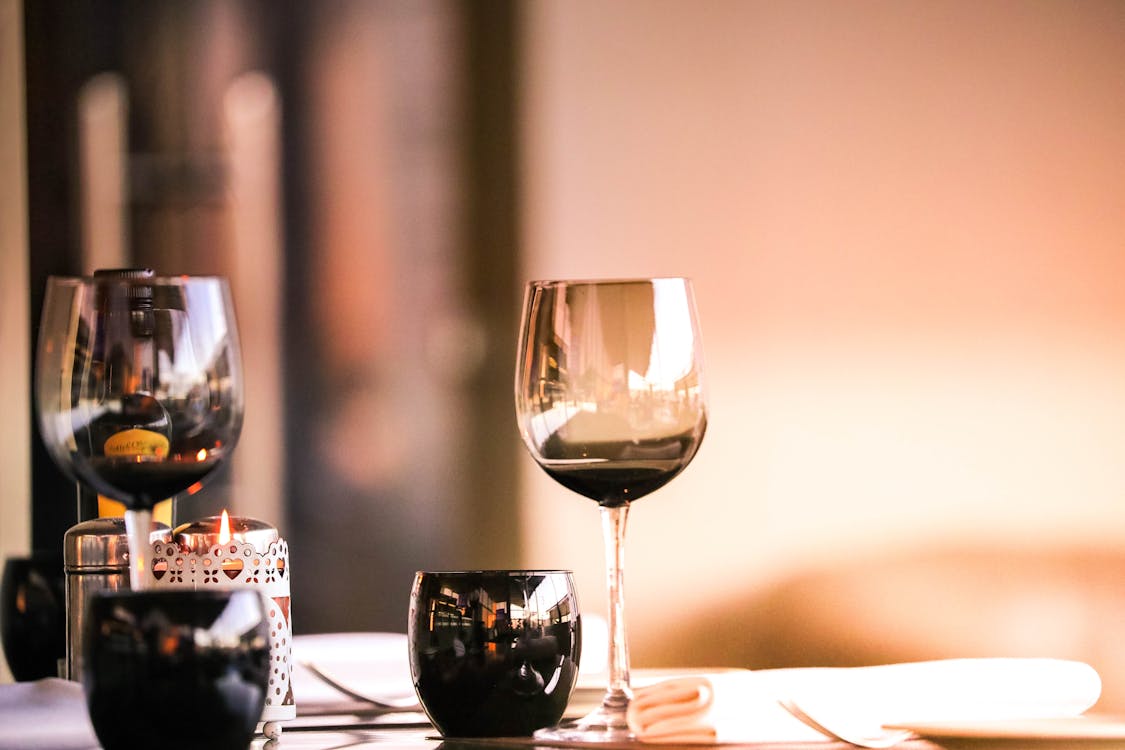 Stemless Wine Glasses
Stemless wine glasses are perfect for casual gatherings or dinner parties. Look for multi-purpose ones that you can use for:
white,
red, and
sparkling wines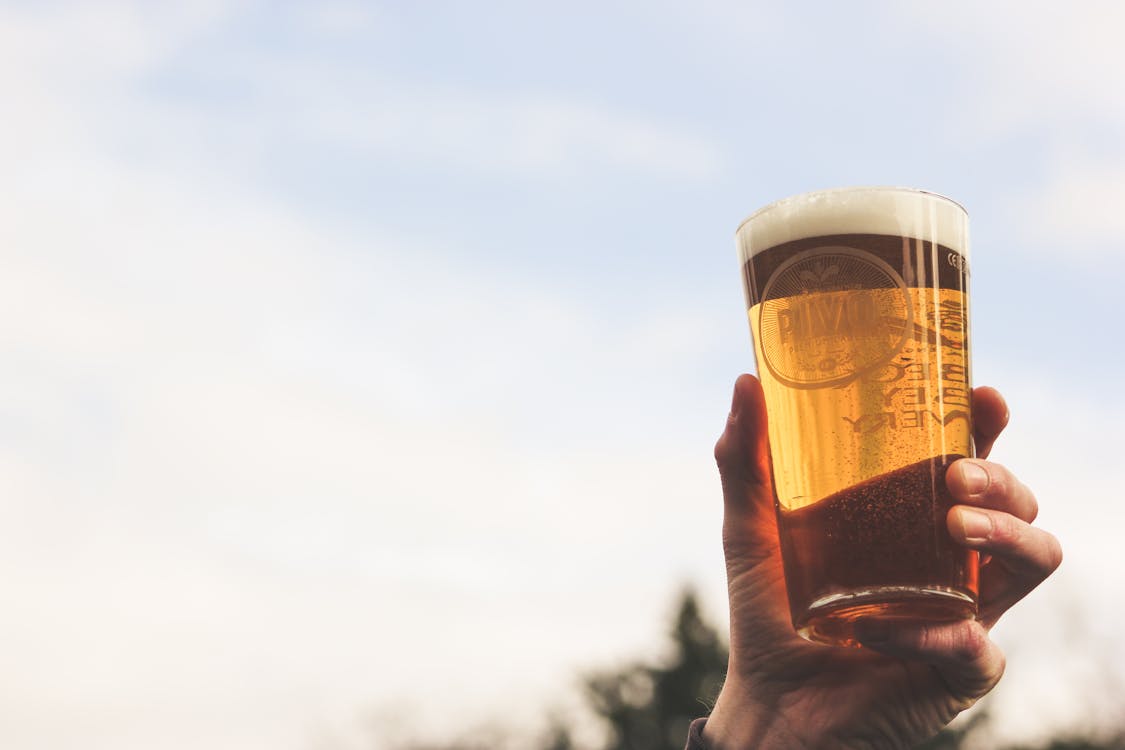 Craft Beer Glasses
For craft beer enthusiasts, there is a wide range of glasses available. Look for:
pint glasses,
mugs, and
stemmed glasses
…designed to enhance your favorite beer's flavor.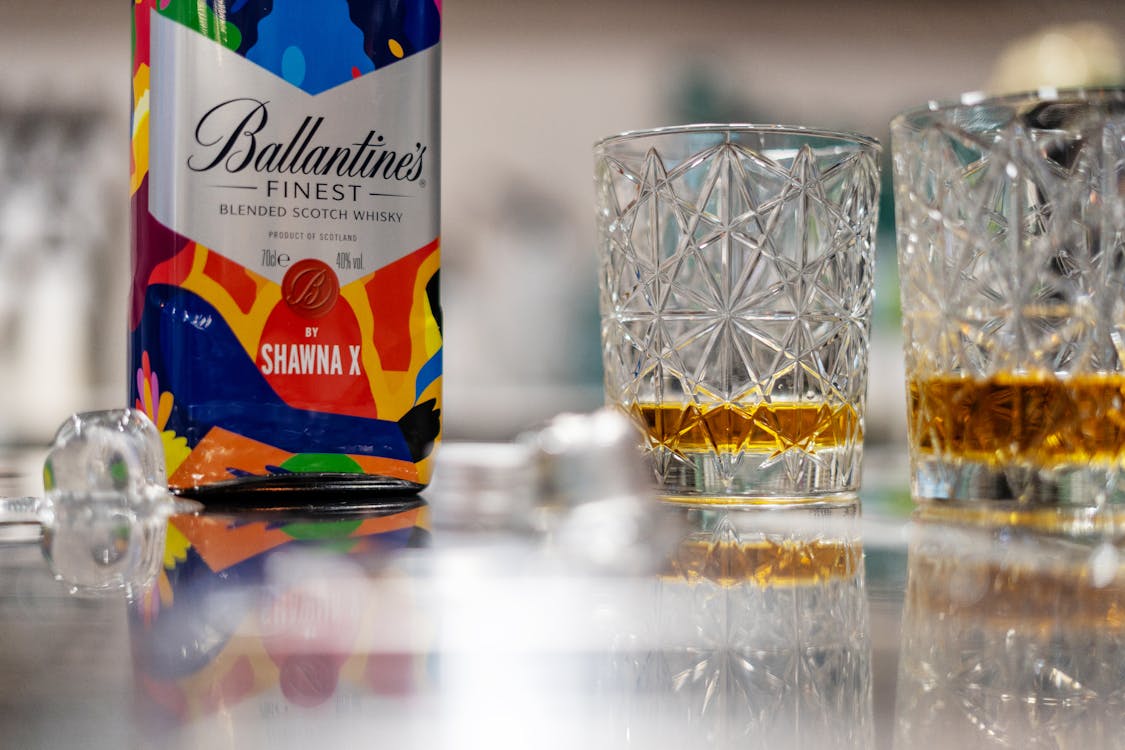 Whiskey Tasting Glasses
To elevate your whiskey-drinking experience, look for bourbon or whisky-tasting glasses. These glasses are designed to concentrate the aroma of your favorite spirit, so you can fully enjoy its flavor and complexity.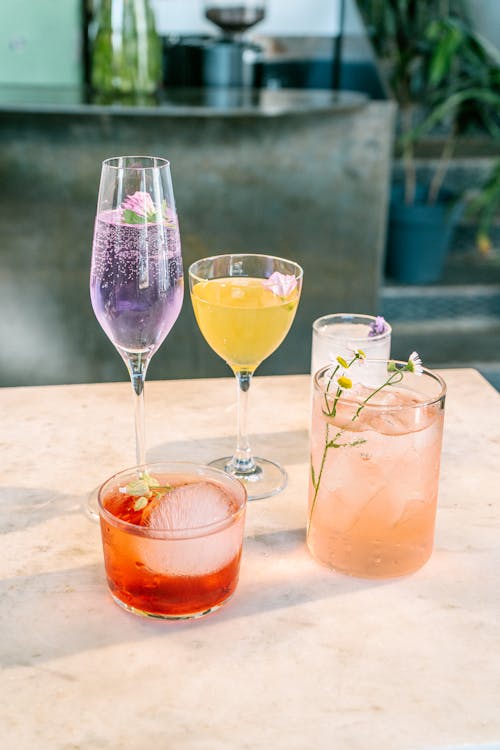 Classic Cocktail Glassware
Lastly, classic cocktail glassware will ensure that all your drinks look amazing. Look for:
Martini,
margarita, and
highball or
tumbler glasses
…for any type of cocktail.
Stocking the Bar: A Guide to The Hard Stuff and Essential Mixers
Now that you have the perfect home bar setup, it's time to stock up on all the hard stuff and essential mixers. Here are some tips to help you build a well-stocked bar.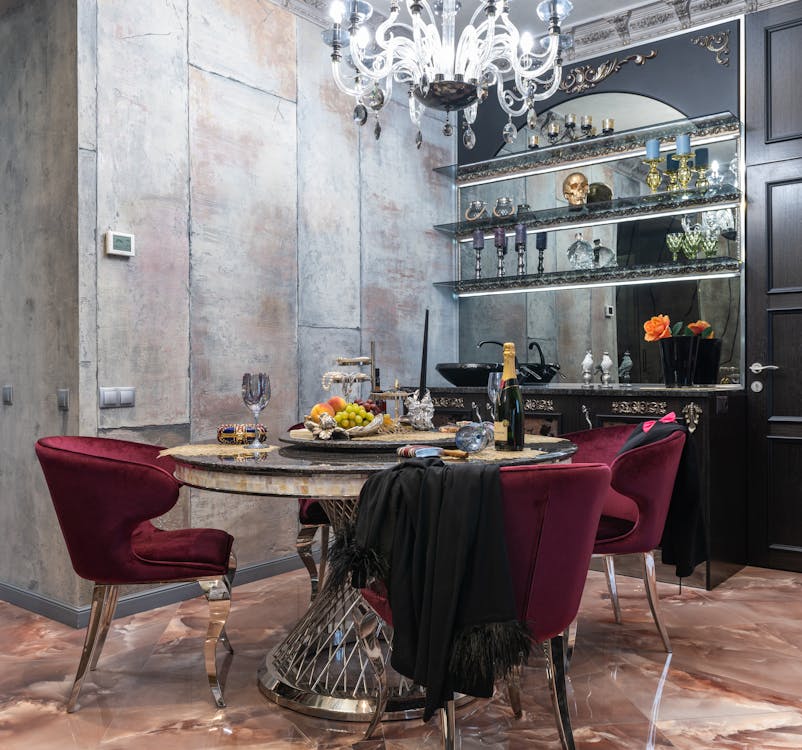 Premium Spirits Selection
When stocking your bar with spirits, consider premium brands with quality ingredients. Whether you like gin, vodka, whiskey, tequila, or rum, buy bottles from well-respected distilleries.
Craft Distilleries
For those who prefer artisanal spirits, look for craft distilleries specializing in small-batch production. These handcrafted products will surely add an interesting twist to your home bar.
Artisanal Bitters
Artisanal bitters in various flavors will add depth and complexity to your cocktails. They're also a great way to create signature drinks that perfectly showcase your bartending skills.
Handcrafted Syrups
Handcrafted syrups are essential for creating delicious mixed drinks. Look for all-natural syrups with quality ingredients such as honey, agave, and cane sugar. These will help you mix drinks that are both flavorful and healthy.
Fresh Mixers and Garnishes
Fresh mixers and garnishes can elevate your drink presentation instantly. Look for classic ones such as limes, lemons, olives, cherries, and mint to make your drinks look even more inviting.
You can set up the perfect home bar with these tips and tricks! With the right setup, you can take your bartending skills to the next level and serve delicious drinks at home.
Winding Up!
Home bartending is an art form that requires knowledge, skill, and the right tools. With this comprehensive guide by Orderific, we hope you now have the information you need to build a stylish and functional home bar setup.
You can start mixing delicious cocktails or impress your guests with your bartending skills. Whether for a small gathering or a large party, you can ensure your guests are served quality drinks.
Remember to choose stylish and functional barware and liquor storage solutions when creating your home bar setup. With the right setup, you'll be able to master the art of home bartending in no time!
Here's to a well-stocked and stylish bar area!
Until then, Happy Mixing! 
FAQs
What is needed to set up a home bar?
To set up a home bar, you'll need essential bar tools like shakers, jiggers, glassware, a variety of spirits, mixers, and garnishes.
How do I set up my bar?
Setting up your home bar involves selecting a suitable location, organizing your spirits, tools, glassware, and ingredients for easy access, and creating a welcoming bar area.
What is a full bar set up?
A full bar setup includes a wide range of spirits, liqueurs, mixers, garnishes, and a comprehensive set of bar tools to accommodate a variety of cocktail recipes.
How to make a cocktail bar at home?
To make a cocktail bar at home, ensure you have the basics like a cocktail shaker, jigger, mixing glass, strainer, and quality spirits.