The restaurant's ambiance starts long before the gentle clink of silverware or the murmur of conversations fill the dining area. It's birthed at the host stand—a beacon and the initial touchpoint that bridges eager diners to an awaiting culinary adventure. This pivotal intersection, where anticipation meets preparation, sets the rhythm for the unfolding dining symphony. 
But managing this gateway demands more than mere logistics of name-taking or guiding guests to their tables. It's about crafting that vital first impression, melding the chaotic dance of a lively restaurant into a harmonious ballet, ensuring that every guest feels valued and seen from the moment they step in.
What is a Restaurant Host Stand?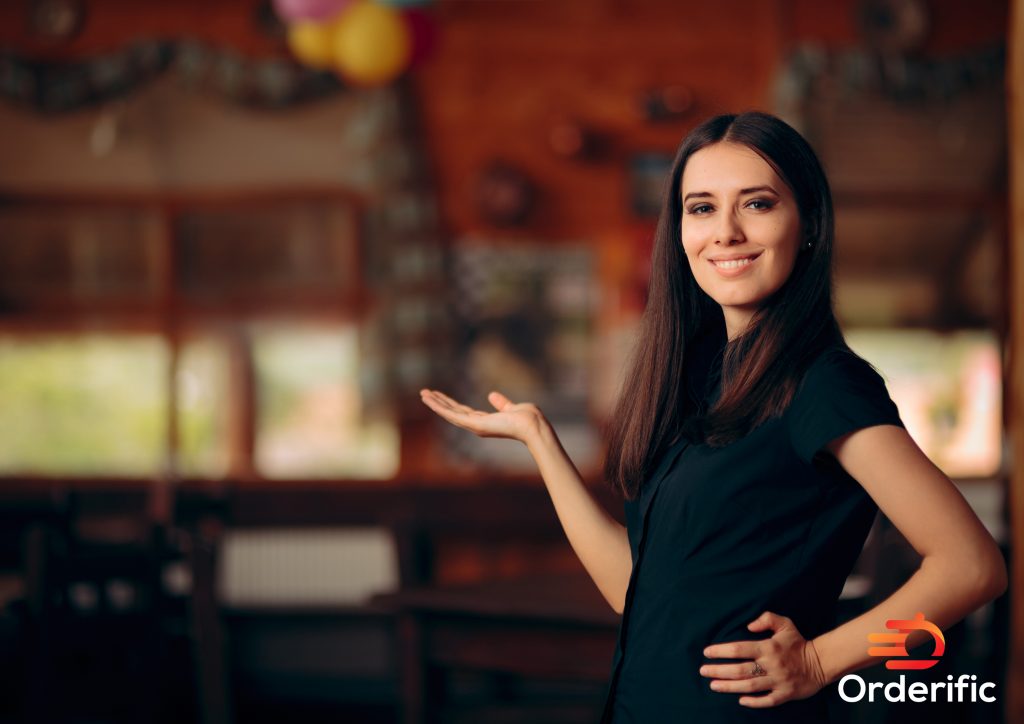 A restaurant host stand is akin to the captain's bridge on a ship. Often labeled as the hostess station or podium, this spot is more than its physical manifestation. It's the gateway to the establishment's culinary world, the first sign of hospitality that guests encounter upon entering. It's where first impressions are made and expectations set.
Here, the intricacies of restaurant operations unfold—be it handling reservations, juggling spontaneous walk-ins, or managing the intricate ballet of seating arrangements to best match guests with servers. Additionally, this hub ensures a smooth ebb and flow of diner traffic, optimizing space and time.
In essence, while to some it may seem merely a desk, for those in the know, the host stand is the heartbeat of a restaurant, ensuring every guest's experience begins on the right note.
10 Critical Tasks for an Efficient Host Stand
In the symphony of a bustling restaurant, the host stand plays the pivotal role of conductor. This space, while often physically small, shoulders the immense responsibility of shaping a guest's first and last impressions. Its efficiency can be the difference between a seamless dining experience and chaos.
It is crucial to understand that an effective host stand is not merely about greeting and seating; it's about harmonizing the myriad elements of restaurant management. Below, we delve deeper into the ten critical tasks that underline the essence of a truly efficient host stand.
Greet guests
When a guest steps into a restaurant, their first point of contact often determines their mood for the evening. A welcoming smile, a pleasant demeanor, and a friendly greeting are the starting notes of a symphony that should ideally flow through their entire dining experience. Even during the busiest hours, making a split second of eye contact, offering a nod, or uttering a brief acknowledgment ensures guests feel seen and valued.
Manage reservations
In today's tech-driven world, where many patrons prefer booking tables online, a seamless reservation management system becomes paramount. It's more than just checking names off a list. It's about preparing in advance for special requests, ensuring the reserved tables are in prime condition, and coordinating seamlessly with the service staff to guarantee a smooth dining start.
Quote wait times
This task requires a mix of experience and intuition. Quoting wait times isn't about wild guesses; it's about understanding table turnover, gauging kitchen efficiency, and reading the dining floor's current status. By setting accurate expectations, a restaurant avoids disappointed customers who might otherwise feel their time isn't valued.
Take charge of seating
A strategic seating plan goes a long way. It's not just about filling empty tables; it's about understanding the dynamics of your dining area. Which tables offer a quieter experience for those intimate dinners? Which ones are better suited for larger, louder groups? Equally, understanding a server's capacity and ensuring that no one server is overwhelmed is key to optimizing the dining experience.
Control the server rotation
A well-organized host stand maintains a rhythm, ensuring a balanced distribution of guests across servers. This is essential in maintaining high service standards, ensuring servers can attend to their tables' needs without feeling rushed or overwhelmed.
Run online ordering and takeout
The rise of delivery apps and online ordering has revolutionized dining. The challenge lies in ensuring that these orders run smoothly alongside the restaurant's dine-in service. This includes ensuring the accuracy of orders, managing pick-up timings, and maintaining the quality of food that leaves the premises.
Note dietary restrictions and special requests
In today's diverse culinary landscape, understanding and accommodating dietary restrictions is not just good service; it's expected. From allergies to cultural preferences, an efficient host stand ensures that these nuances are communicated clearly to the kitchen.
Restock supplies
Being prepared is half the battle. A host stand should always be stocked with essential supplies— from menus to promotional materials, and from pens to reservation diaries. This proactive approach ensures that the operation runs smoothly, even during unexpected busy spurts.
Prepare tables for the wait staff
Efficiency in a restaurant is often about anticipating needs. By ensuring that each table is perfectly set, from sparkling glassware to immaculately folded napkins, a host stand can significantly speed up table turnovers and streamline the dining process.
Communicate with all restaurant staff
The dining floor and the kitchen need to function as one cohesive unit. Whether it's updating the kitchen about a large group's arrival, communicating special requests, or alerting servers about potential issues, open channels of communication are the backbone of a seamless restaurant experience.
Conclusion
The restaurant host stand, often underestimated, serves as a linchpin in the bustling world of gastronomy. More than just a point of entry, it encapsulates the essence of the restaurant, setting the stage for culinary theater to unfold. This podium does more than merely welcome—it whispers promises of the delicacies to come and sets the tone for the entire dining symphony.
Each interaction here is a prelude to the culinary story that awaits inside. As dancers rely on the rhythm to guide their every move, diners look to the host stand for their initial cues. When orchestrated well, this introduction ensures a harmonious experience, with patrons leaving, not just with a full stomach, but with a heart full of cherished memories.
In case you want more content like this, visit Orderific right now!
FAQs
What does a host do at a restaurant?
The host is the restaurant's face, greeting patrons, managing reservations, overseeing seating, and ensuring smooth front-of-house operations.
What is a restaurant host?
A restaurant host is an individual responsible for welcoming guests, managing reservations, and facilitating efficient seating arrangements.
How much is a hostess stand?
The price of a hostess stand can vary, depending on its design, materials, and features, ranging from a few hundred to several thousand dollars.
What is a restaurant host stand?
It's the restaurant's focal point, a station where guests are greeted, reservations are managed, and seating arrangements are made.
Why should you choose the hostess station?
A dedicated hostess station offers an organized space to manage reservations, greet patrons, and store essential items, ensuring the restaurant operates smoothly.