Welcome to a world where comfort meets culinary perfection – the realm of hotels with restaurants. Imagine this: You're nestled in the heart of New York City, staying in a luxury hotel, and the aroma of a gourmet dinner wafts up from the lobby. Picture yourself in Las Vegas, enjoying creative cocktails at the lobby bar after an exhilarating day. Visualize a romantic, intimate dinner at a charming hotel in Little Washington, a masterful blend of local ingredients creating a symphony of flavors on your plate. That's a trip where dining transcends a mere necessity to an exquisite experience. Stay with us as we embark on a gastronomical journey across the United States, exploring hotels that offer a pleasant stay and a delightful dining experience. Your adventure in taste awaits!
The Allure of Hotels With In-House Restaurants
There's an undeniable allure to hotels with restaurants. Imagine strolling downstairs from your plush suite, steps away from a world-class dining experience. The tantalizing aroma of fresh ingredients wafts through the air, whetting your appetite.
In Las Vegas, the lights of the city twinkle outside as you savor creative cocktails. Meanwhile, you're treated to a symphony of flavors in New York City. Each dish, crafted meticulously, celebrates the city's diverse culinary scene.
Down South, in New Orleans, you indulge in authentic Creole cuisine. The flavors are intense and soulful, reminiscent of the city's rich cultural heritage. Over in San Francisco, fresh seafood takes center stage. It is cooked locally to perfection and pays tribute to the city's coastal location.
Dining at the Kimpton Hotel, you're struck by the expert pairing of wine and cuisine. The selection, diverse and exquisite, elevate your meal. Or it's breakfast in West Hollywood, where innovative dishes turn the day's first meal into a gastronomic adventure.
Indeed, hotels with restaurants offer more than convenience. They provide a sensory journey, an intimate dinner experience beyond mere sustenance. It's about experiencing the local culture, tasting the flavors that define a place, and immersing oneself in the luxury of culinary exploration.
A Culinary Journey Within the Comfort of Your Stay
Hotels with restaurants are a treasure trove of culinary delights tucked away within the comforting confines of your luxurious stay. Picture waking up in North Carolina, the scent of a home-cooked Southern breakfast wafting through your room. You head down, greeted by a hearty plate of grits and biscuits, a warm start to your day.
Transitioning to lunch, you find yourself in the heart of Los Angeles. A delectable spread of local cuisine awaits, offering a taste of Southern California's vibrant food culture. The freshness, flavors, and fusion are a sensory delight.
As the sun dips in San Diego, it's time for dinner. The hotel's restaurant presents a fine dining experience and an innovative menu of small plates. Each bite celebrates local ingredients, and each dish is a testament to craft beer's compatibility with food.
Lastly, the nightcap. Enjoy Napa Valley's finest wine at the lobby bar, perfectly rounding off your culinary journey. These hotel restaurants are not just about food and beverages but the experience. An escape into a world of flavors, a journey of taste – all within the comfort of your stay.
The Benefits of Choosing Hotels With Dining Options
Choosing a hotel with a restaurant ushers in many benefits, transforming your stay into a holistic experience. Convenience, the first benefit, wraps its warm embrace around guests. No longer a chore, mealtimes become anticipated events seamlessly integrated into your day.
Imagine waking up to the tantalizing aroma of fresh breakfast, just an elevator ride away. No need to wander unfamiliar streets in search of sustenance. Instead, you're treated to new, mouthwatering dishes lovingly prepared using local ingredients.
The gastronomic journey isn't confined to breakfast. Lunch dazzles you with a myriad of flavors, each dish a testament to the hotel's commitment to providing a delightful dining experience. The evening continues the sensory adventure, with dinner showcasing the hotel's culinary prowess.
Moreover, the dining options continue beyond the restaurant's doors. Room service stands ready to deliver culinary delights to your suite, perfect for intimate dinners or late-night snacks. A luxury hotel offers diverse dining options, including al fresco, small plates, and special offers.
Finally, hotels with a restaurant have a unique allure, the perfect blend of comfort and fine dining. It's much more than mere convenience. It's a blend of modern amenities, exquisite cuisine, and warm hospitality elevates your stay to a gastronomic extravaganza.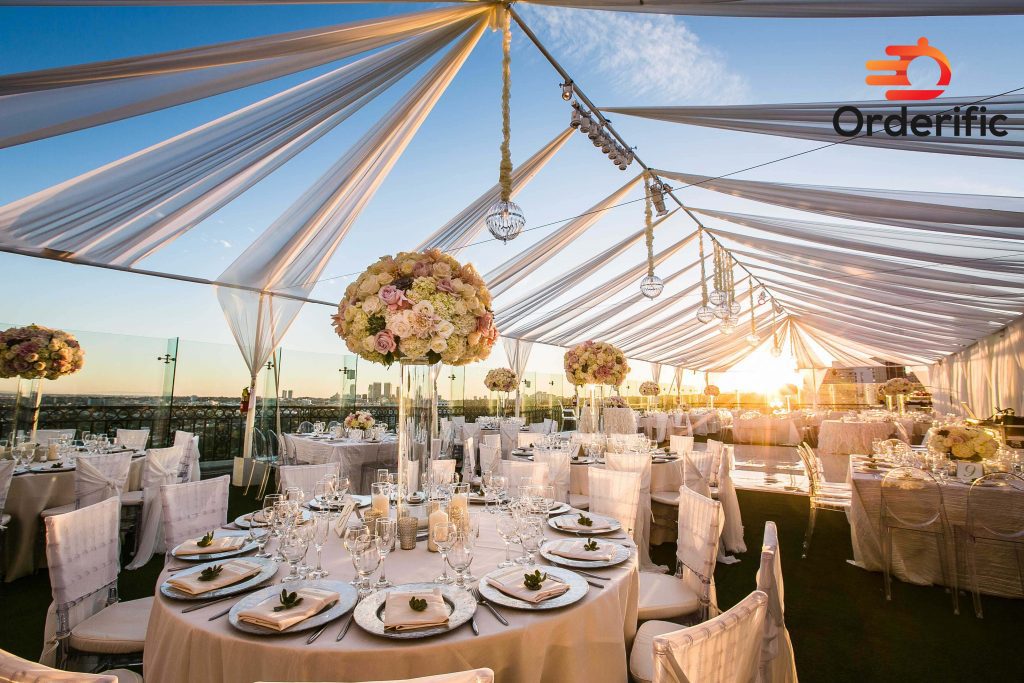 From Breakfast to Dinner: Indulge in Varied Culinary Delights
Whether it's a refreshing Southern California sunrise, an energetic New York afternoon, or a tranquil San Francisco evening, hotels with restaurants cater to every gastronomic whim. Start your day with a flavorful breakfast, where the aroma of freshly brewed coffee blends with the enticing scent of delectable dishes. As the sun climbs higher, the scene shifts to lunchtime. Immerse yourself in various culinary delights, each plate a canvas of color, texture, and taste.
Come afternoon, as the bustle of the city fades into a serene hum, the hotels' dining options evolve again. Indulge in a delectable dinner as the day's end draws near, with each meticulously crafted dish representing a culinary journey. Picture it: a North Carolina hotel where the evening air is filled with the tantalizing aroma of Southern cookery. Or an intimate dinner in the heart of Los Angeles, where the city's vibrant food culture comes alive on your plate.
From the first meal of the day to the last, these hotels with restaurants offer a seamless sensory experience. It's not just about satisfying your hunger; it's about reveling in a culinary adventure from sunrise to sunset. Experience the comfort, relish the cuisine, and let your taste buds take a delicious trip around the United States.
Navigating the Choices: How to Choose the Perfect Hotel With a Restaurant
Choosing the ideal hotel with a restaurant seems daunting. With so many delightful options, one can quickly feel overwhelmed. However, a few key factors can simplify this endeavor. First, consider the location. Does the hustle of New York City excite you? You may prefer the Southern charm of North Carolina.
Next, think about cuisine preferences. Are you drawn to fresh seafood, or do creative cocktails pique your interest? Also, consider the dining experience. Do you fancy an intimate dinner, or are you more inclined towards casual small plates? Lastly, consider the hotel's amenities. Are modern features and room service essential for your comfort? Once you've weighed these factors, the perfect choice will emerge. It's not just about selecting a hotel; it's about choosing an experience.
So go ahead and dive into the world of hotels with restaurants. Your perfect stay, complete with an exceptional dining experience, is just a choice away.
Where Luxury Meets Flavor: Exceptional Hotel Restaurants Await
Indulge in a realm where luxury intertwines with flavor; an extraordinary world of hotel restaurants awaits. Picture yourself in a plush suite, savoring the aroma of exquisite cuisine wafting from below. As you descend, your senses are greeted with culinary delights. In New York, each bite showcases the city's vibrant food culture.
Over in West Hollywood, innovative breakfast dishes transform a routine meal into a gastronomic journey. In New Orleans, authentic Creole cuisine paints a picture of rich cultural heritage. Creative cocktails spark excitement in Las Vegas, while San Francisco's fresh seafood celebrates its coastal roots.
From the heart of Los Angeles to the charm of North Carolina, these hotels with restaurants offer a multi-sensorial experience. They redefine dining, turning it into an engaging journey that unfolds in your stay's comfort. Here, every dish is a testament to culinary prowess, every meal an intimate celebration of local flavors.
So, prepare for a tasteful adventure where an extraordinary dining experience complements the luxury of your stay. After all, exceptional hotel restaurants are not just about food; they're about creating unforgettable memories, one plate at a time.
Conclusion
As we conclude our gastronomical journey, it's clear that hotels with restaurants are more than just a haven for weary travelers. They transform ordinary stays into culinary adventures, where the fabrics of comfort and taste intertwine. Waking up to the aroma of freshly brewed coffee, savoring an intimate dinner, or indulging in a midnight snack, each experience is a testament to the blend of luxury and gastronomy. Hotels like these, such as Orderific, are pioneers in elevating the guest experience. They offer increased revenue, decreased operational costs, and a better user experience. For restaurant owners and customers alike, a world of culinary delights awaits exploring. So why wait? Choose a hotel with a restaurant for a taste of luxury and delight. To experience the prowess of Orderific, schedule a FREE DEMO today.
FAQs
What are hotels with restaurants?
Hotels with restaurants provide guests with convenient, on-site dining options, enhancing their accommodation experience with culinary delights.
Why are hotels with in-house restaurants popular among travelers?
Hotels with in-house restaurants offer travelers convenience, culinary variety, and seamless integration of dining and accommodation.
Do all hotels offer dining facilities?
No, not all hotels offer dining facilities. It varies based on the hotel's services, size, and target market.
Are hotel restaurants open to the public or only for guests?
Hotel restaurants are typically open to the public and guests, allowing everyone to enjoy culinary delights.
What types of cuisines can I expect at hotel restaurants?
Hotel restaurants often offer a variety of cuisines, reflecting local flavors as well as international culinary trends.