Welcome! Here, we embark on crafting your perfect fine dining logo. Visualize your establishment, an epitome of sophistication and excellence. It goes beyond simply serving food; it's a curated experience of grace and elegance. Your potential customers should anticipate this unique experience when they see your logo. It's not just about color or shape; it's about evoking an emotion and capturing the essence of your brand. A great logo can make this instant connection. This guide, peppered with ideas and professional insights, will help you navigate the nuanced path of logo creation. From design elements to layout, we will cover it all. So, take a moment, imagine your brand, and let's start shaping it together.
Why is a Fine Dining Logo Important?
A fine dining logo carries immense weight in the culinary world. It's the first impression, setting the stage for the gastronomic journey awaiting potential customers. Like a maestro conducting an orchestra, it orchestrates customers' expectations, highlighting the luxurious dining experience ahead.
The logo mirrors the establishment's unique personality. It communicates the exclusivity and sophistication synonymous with fine dining. Subtle design elements can hint at the cuisine, the ambiance, or even the history of the establishment. It is an important part of the branding strategy, seamlessly aligning with other visual elements like stationery design and business cards.
Think about it. An eye-catching logo imprinted on social media posts or event banners arrests viewers' attention. It intrigues them, inviting them to explore what's beyond the emblem. The logo becomes an icon, symbolizing your establishment's high quality and exquisite standards.
A well-designed logo can create differentiation in the bustling nightclub industry or even a casual sports bar. It can make your establishment stand out in the crowd, capturing the curiosity of potential customers.
In conclusion, a well-crafted, professional fine dining logo is not just a design element—it's a powerful tool that can contribute significantly to the success of an establishment. It's an investment that can yield fruitful returns through brand recognition and customer loyalty.
What to Consider When Making a Fine Dining Logo
Embarking on the journey of crafting a fine dining logo takes careful deliberation. As the emblem of your establishment, the logo should resonate with the ethos of your brand.
Consider these key factors:
Color and Shape: Your logo's palette and shape can evoke certain emotions. Cool blues evoke a sense of tranquility and trust, while vibrant reds stir feelings of passion and energy. Shapes, too, can subtly influence perceptions. Circles suggest unity and harmony, squares imply stability, and triangles convey power.
Design Elements: Incorporate design elements that capture the essence of your establishment. Is there a unique architectural feature or a specific culinary ingredient that defines your restaurant? Include it in a tasteful, subtle way.
Typography: Choose a typeface that complements your design and aligns with your brand personality. A clean, modern font might suggest a contemporary, trendy place, while a classic serif font may hint at tradition and elegance.
Alignment with Other Branding: Ensure your logo aligns seamlessly with other visual elements, such as stationery design and business cards. Consistency is key to establishing a recognizable and memorable brand.
Versatility: A great logo looks good in various sizes and platforms. From social media posts to large event banners, ensure your logo remains clear and compelling.
Professional Designer: Collaborating with a professional designer can significantly enhance the outcome. Their expertise can help transform your vision into a compelling, eye-catching logo.
In essence, a well-thought-out fine dining logo tells a story. It speaks of elegance, hints at the exceptional culinary experience awaiting inside, and ultimately leaves an indelible mark on the customer's mind. It's more than a simple icon; it's the heart of your brand's visual identity.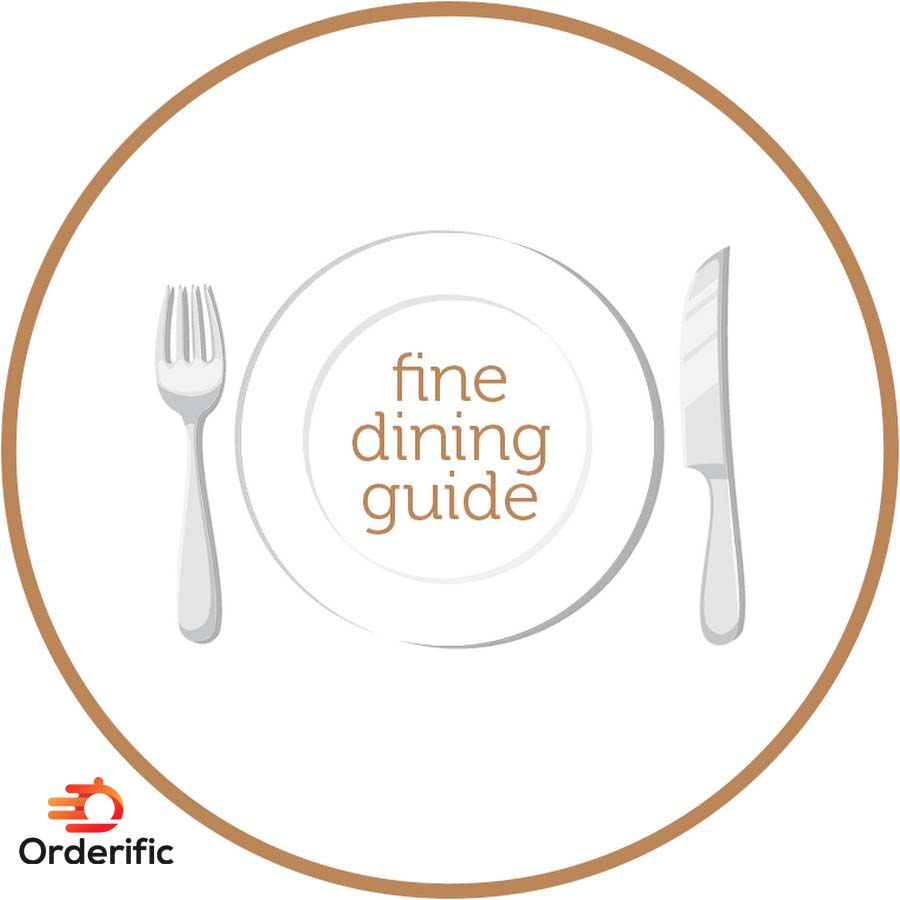 How to Make a Fine Dining Logo
The art of creating a fine dining logo is much like orchestrating a symphony. It requires a delicate balance of elements, each contributing to a harmonious ensemble that resonates with your audience. Your logo becomes that perfect note that lingers long after the meal ends, evoking memories of an exquisite dining experience.
Start with your Brand
Your brand is the crux of your establishment. It's the heart that pumps life into every corner, every experience, every interaction. Begin by understanding your brand. Is it a classic, opulent affair steeped in tradition and exclusivity? Or it's a vibrant, contemporary space brimming with innovation and creativity. Dive deep into the core of your brand, for therein lies the essence of your fine dining logo.
Every detail matters. The ambiance of your restaurant, the murmur of intimate conversations, the clink of fine cutlery, and the enticing aroma wafting from the kitchen each play a part. They paint a picture, a compelling scene that entices potential customers, luring them into the lavish world of fine dining. Your brand is more than just a name; it's a multisensory experience that sets the stage for unforgettable moments.
Identify what sets your brand apart. It could be a signature dish, a unique cocktail, old-world charm, or modern comfort. Translate this unique selling proposition into your logo. Remember, a great logo is an extension of your brand, a silent ambassador that introduces potential customers to the unique experience that awaits. Lean on professional designers for this. Their expertise can help distill the essence of your brand into an eye-catching logo that captures hearts and minds.
Build your Vision
Now, it's time to shape your vision. Envision your logo as a tangible embodiment of your restaurant's aura. It's not just about clever design or pleasing colors. Your logo should resonate with the soul of your establishment. Imagine your customers' reaction upon seeing it. Are they intrigued, delighted, or filled with anticipation? This emotional connection is key.
Consider your restaurant's unique features. It could be a historic building, a stunning waterfront view, or a renowned chef. These elements can inspire your logo design, adding depth and character. Collaborate with your designer, sharing your insights and ideas. Their expertise can translate these elements into a visually compelling logo.
Remember, your logo will appear on various platforms. From business cards to social media posts, it's the face of your brand. It must be versatile, maintaining its integrity in different sizes and other materials. Here, simplicity often trumps complexity. A simple, intelligent logo design can adapt effortlessly and is easier for customers to remember.
When crafting your logo, think long-term. Trends come and go, but your logo should withstand the test of time. This timeless appeal can be achieved by staying true to your brand's core values and avoiding fleeting trends.
Building your vision involves a deep understanding of your brand, a creative spirit, and a keen eye for design. It's a delicate balance, but it can yield a logo reflecting your fine dining experience.
Choose a Fine Dining Logo Design for Avenue
Choosing the right path for your fine dining logo design is akin to selecting the finest ingredients for a gourmet dish. It requires a discerning eye, an understanding of balance, and a splash of creativity. The design avenue you select should reflect the essence of your restaurant, much like a signature dish encapsulates a chef's culinary prowess.
First and foremost, consider the professional designer route. Much like a sommelier's expertise, their seasoned expertise can elevate your logo to new heights. Alternatively, consider online design platforms. These platforms resemble a bustling marketplace brimming with fresh and diverse design ideas.
Remember, the design avenue you choose must cater to your unique needs. It should be flexible, enabling adjustments and refinements, like perfecting a recipe. Ultimately, your chosen path should lead to a logo as captivating as the aroma of a freshly prepared gourmet dish, igniting anticipation and desire in your potential customers.
Choosing the right design avenue for your fine dining logo is crucial in your branding journey. It lays the groundwork for creating a logo that's as memorable and enticing as the dining experience you offer.
Crafting a fine dining logo is an exercise in creativity and strategic thinking. Like a chef who carefully chooses ingredients for a signature dish, select your design elements thoughtfully. A well-designed logo is more than just an ornamental accessory; it's the beacon guiding your customers to the unforgettable dining experience that awaits them at your establishment.
Conclusion
Crafting the perfect Fine Dining Logo is akin to preparing a gourmet meal: meticulous, artistic, and strategic. It's about serving up an enticing visual feast that mirrors the elegance and excellence of your establishment. Each element, like the carefully chosen ingredients in a signature dish, plays a pivotal role in shaping the unique flavor of your brand. The journey, filled with creativity and strategic thinking, results in a logo that leaves an indelible impression, much like the lingering taste of a delicious meal. This journey is a memorable adventure filled with discovery, innovation, and the joy of creating something extraordinary. Here at Orderific, we appreciate the effort that goes into creating such experiences. We provide solutions that automate manual tasks, allowing you to focus more on enhancing the customer experience. For more information on Orderific, schedule a FREE DEMO today.
FAQs
What design elements help create a sense of elegance and sophistication in a fine dining logo?
Elegance in a fine dining logo can be achieved through minimalist design, refined typography, sophisticated color palette, and tasteful imagery.
How can a fine dining logo reflect the quality and unique offerings of the restaurant?
A fine dining logo can reflect the restaurant's quality and offerings through symbolic imagery. An error occurred during generation. Please try again or contact support if it continues.
Are certain typography choices suitable for conveying a fine dining ambiance?
Yes, serif fonts often convey a sense of tradition, elegance, and sophistication, which are suitable for a fine dining ambiance.
How does a visually appealing fine dining logo impact customers' perception of the restaurant?
A visually appealing fine dining logo can significantly enhance customers' perception, associating the restaurant with quality, sophistication, and an exquisite dining experience.