Opening a bar can be an exhilarating journey filled with challenges and rewards. Picture the lively ambiance, the clinking of glasses, the hum of conversation, and the satisfaction of serving the perfect cocktail. With the proper planning, owning a bar can become a reality. This comprehensive guide will walk you through the critical steps of opening your bar, from obtaining the necessary permits to mastering mixology. We'll equip you with tips and tricks, ensuring you're prepared for the highs and lows of the bar business. By the end, you'll have the knowledge and confidence to take your first step toward becoming a master bartender in your establishment. So, grab a drink, sit back, and let's dive in.
What Do You Need to Start a Bar Business?
Starting a bar business requires a cocktail of ingredients. First and foremost, you'll need a clear vision. Imagine the aesthetic of your bar, the type of clientele you want to attract, and the ambiance you want to create. Is it a haven for craft beer enthusiasts or a cozy spot for classic cocktails?
Next, you'll need a healthy dose of paperwork. It's all part of the process, from obtaining the essential licenses and permits to registering your business. A business plan is also vital. It's like a roadmap, guiding you through the challenging terrain of starting a business.
After the paperwork, you'll need the actual bar itself. This means finding a location that fits your vision and furnishing it to match the vibe you want to create. Equally important are the tools of the trade. You'll need everything from a well-stocked inventory of alcoholic beverages to the right bar equipment.
Lastly, you'll need people. Ideally, a strong team of certified bartenders with bartending class experience is vital. They are the ones who will bring your vision to life, serving drinks and creating a welcoming environment for your patrons. With these ingredients in place, you're ready to embark on the exciting journey of how to open a bar.
How to Open a Bar: Your Complete Checklist
Write Your Bar's Business Plan
Your business plan is the blueprint of your bar, a vital document that paints a vivid picture of your vision. Start by outlining your concept. Imagine a cozy, dimly lit space where patrons sip classic cocktails and engage in quiet conversation. Or, you might envision a lively, bustling venue bursting with energy and serving various craft beers.
Next, delve into the nitty-gritty. Detail your market analysis, identifying your target audience and understanding their preferences. Are they craft beer enthusiasts, cocktail lovers, or wine connoisseurs? This analysis will guide your choices, from your drink menu to interior design.
Then, outline your financial plan. This section should be as detailed as possible, including cost estimates for everything from leasing your location, stocking your bar with a range of alcoholic beverages, and hiring professional, high-volume bartenders.
Remember to include your marketing strategy. How will you attract your desired clientele? Will you offer team-building cocktail workshops, host classes, or perhaps showcase a master bartender whipping up signature cocktail recipes?
Finally, detail your organizational structure. Who will manage day-to-day operations? What are the roles of your team members? With this plan, you're one step closer to opening a bar.
Set Up Your Business Structure
Setting up your business structure may seem daunting, but it's integral to learning how to open a bar. Imagine it as the backbone supporting your dream. It determines the path of responsibilities, liabilities, and tax regulations. Starting with the basics, you'll choose from structures such as sole proprietorship, partnership, or corporation.
Next, you'll need to register your business. This is akin to giving your bar its official name, a moniker that will resonate with your patrons. Now, let's talk about financing. Acquiring funds can be a roller-coaster ride, with thrilling peaks of securing investment and daunting valleys of loan paperwork.
But remember, this is the fuel that will power your dream. Your journey continues with securing an Employer Identification Number (EIN). Think of it as your bar's social security number, a key in the lock of federal tax filings.
Lastly, you'll need to understand your state's specific requirements. It's critical for a smooth operation, like learning the rules of a cocktail recipe. With your business structure firmly in place, your blueprint is taking shape, guiding you on your exciting journey of opening a bar.
Trademark Your Name and Logo
Creating your bar's name and logo is akin to christening a ship before its maiden voyage. Imagine feeling pride and anticipation as you etch your brand into the bartending world. Your name and logo serve as your bar's identity, resonating with your clientele and setting the tone for their experience.
Like the first sip of a well-crafted cocktail, your logo should stir emotion, capturing the essence of your bar in a single glance. Consider the care and creativity that master bartenders infuse into each drink order. Your logo should be a visual reflection of that same artistry. It's the face of your bar, inviting patrons to step in and savor a memorable experience.
Once you've created your name and logo, it's time to secure their uniqueness. Trademarking is crucial, offering protection against any corporate restaurant training wannabes trying to duplicate your brand. Imagine a certified bartender vigilantly guarding their classic cocktail recipes. That's how fiercely you want to protect your trademark.
With the trademark secured, you're not just a learner anymore; you're gearing up to become part of the elite classes in the bar business. So, here's to your journey of learning how to open a bar made uniquely yours by a name and logo that are exclusively yours.
Obtain the Proper Licenses
Navigating the labyrinth of licenses is your next challenge in the journey of how to open a bar. Think of it as learning your first complex cocktail recipe. It needs to be clarified initially, blending unfamiliar terms and strict procedures. Yet, with patience and persistence, it becomes second nature.
First, you require a business license, the cornerstone of your legal operations. Next is the liquor license, a must-have tool in the certified bartender's arsenal. Like mixing the perfect martini, its acquisition requires precision and an understanding of local laws. 
Remember the health and safety permits. These are your bar's assurance of cleanliness and security, akin to the master bartender's meticulousity in sanitizing their equipment. On top of these, a music license might be necessary if your bar will resonate with melodies, setting the mood for patrons to enjoy their classic cocktails.
Remember, like every ingredient is crucial in a cocktail, each license has its significant role. Together, they create a concoction that brings your bar to life, is compliant with regulations, and is ready to serve. Slowly but surely, your dream of opening a bar transforms into a reality.
Choose a Location
Choosing a location is akin to selecting the perfect stage for your grand performance. It's a thrilling part of your journey on how to open a bar. Imagine, if you will, the heartbeat of a bustling avenue or the serene whisper of a tucked-away alley. Each locale offers a distinct flavor, much like the varied ingredients of a well-crafted cocktail.
Consider, too, your desired clientele. Are they high-energy night owls drawn to the city center's bright lights and pulsating rhythms? Or perhaps they're laid-back locals seeking a cozy corner in their neighborhood to enjoy classic cocktails.
Remember, your location sets the mood, dictating who walks through your doors and their expectations. The right place echoes your bar's vibe, enhances its aesthetic, and amplifies its charm.
Yes, this step involves crunching numbers and studying demographics. However, it's also about instinct. It's about standing in potential locales and envisioning your dreams coming alive. It's about sensing the hum of your future patrons' chatter, the clink of their glasses, and the satisfaction of serving them in a venue that feels just right.
Design Your Bar
Designing your bar is akin to painting your dreams onto a canvas. It's where your vision takes tangible form. Each decision you make, from the choice of furniture to the color of the walls, is a stroke of your brush. Picture your patrons walking into a space that resonates with your ethos.
Are they stepping into a sophisticated lounge bathed in subdued lighting, where the soft hum of jazz complements their classic cocktails? Or, perhaps, they're entering an upbeat bar filled with vibrant colors, where the lively chatter mingles with the clink of beer mugs. Like the ingredients in a well-mixed drink, each element contributes to the overall experience.
Consider the layout carefully. It should flow smoothly, leading your guests from the entrance to the bar and their seats. This aspect is as crucial as a certified bartender's skill in blending flavors seamlessly.
Remember the bar itself, the heart of your establishment. This is where your professional high-volume bartenders will work their magic, crafting drink orders into memorable experiences. As they masterfully mix ingredients, they'll be framed by a backdrop that reflects your bar's personality.
In essence, designing your bar is a creative journey. It's where dreams meet reality, merging to create a unique space. Ultimately, a well-designed bar tells a story, inviting patrons to be a part of it.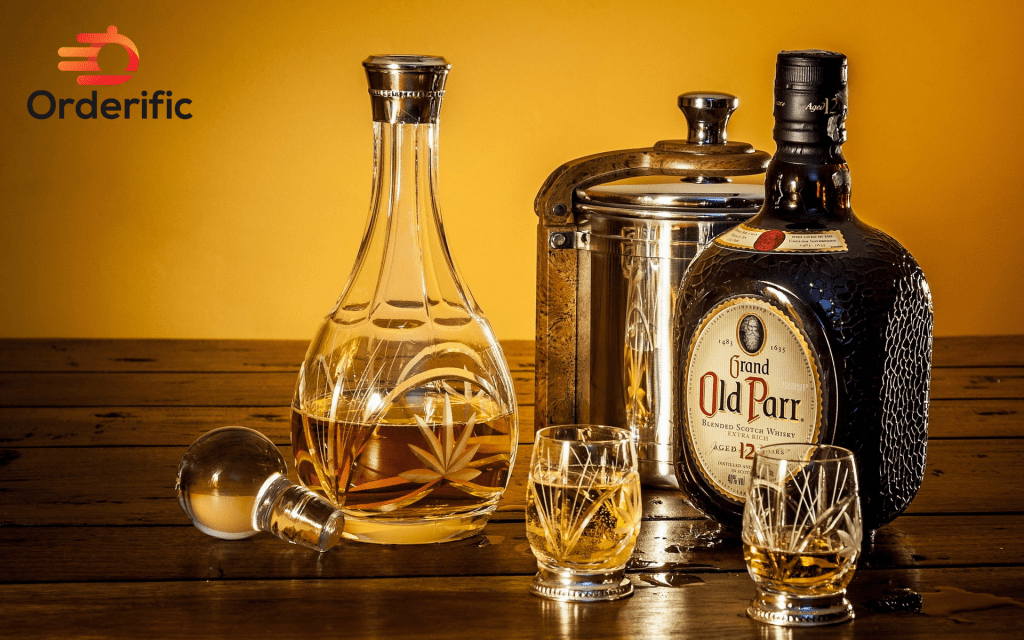 Purchase and Track Your Inventory
Think of purchasing your inventory as stocking up your armory, readying yourself for the thrilling battleground of bar management. You'll need various weapons, from the most popular alcoholic beverages to the unique, niche offerings that set your bar apart. Imagine your certified bartenders, their hands deftly selecting from a well-stocked arsenal, concocting drink orders into works of art.
But, as any seasoned master bartender will tell you, mere purchasing isn't enough. Tracking your inventory is crucial. It's like maintaining a keen, watchful eye on your armory, ensuring you're always battle-ready. It's a continuously shifting puzzle that needs constant attention and regular audits.
With every order every restock, you'll find patterns emerging. These patterns, like secret cocktail recipes, are golden nuggets of information. They tell you what works and what doesn't, guiding your future purchasing decisions.
In this digital age, you have a host of inventory management software. These are your loyal lieutenants, providing real-time data and helping you maintain the delicate balance of supply and demand.
So, embark on this exciting journey of purchasing and tracking your inventory with an open mind. Because, in the end, it's about more than just having enough bottles on the shelf. It's about creating a seamless, satisfying experience for your patrons, one perfect cocktail at a time.
Buy a Bar Point of Sale System
Buying a Bar Point of Sale (POS) system is a transformative step in your journey to open a bar. Imagine it as the silent conductor, orchestrating each transaction gracefully and efficiently. Picture the ease with which your skilled bartenders tap orders into the sleek interface, their faces reflecting in the soft glow of the screen.
Hear the satisfying chime that signifies a completed transaction, a sound synonymous with success. A POS system is more than just hardware and software; it's your bar's pulse, beating steadily amidst the lively chatter and clinking glasses.
Like a tried-and-true cocktail recipe, the right POS system blends efficiency, accuracy, and ease of use. It should be robust enough to handle high-volume nights yet intuitively sufficient for new hires to master quickly.
Imagine the relief of having real-time inventory updates at your fingertips. Feel the gratification of viewing detailed sales reports, revealing patterns that guide strategic decisions.
Moreover, a modern POS system offers more. Picture mobile ordering capabilities, enabling bartenders to mix and serve without missing a beat. Envisage a system that integrates seamlessly with your accounting software, streamlining processes while minimizing errors.
So, as you explore options, remember this: a Bar POS system isn't merely a purchase. It's an investment that paves the way for a smoother, more successful operation.
Hire Excellent Bartenders, Barbacks, and Staff
Hiring your team is much like crafting a perfect cocktail. It blends different personalities, each adding unique flavor and depth. Picture this: a bustling bar, the air vibrating with laughter and chatter. At its heart, your bartenders perform, their hands moving deftly among gleaming bottles.
The barback, the unsung hero, works tirelessly in the background, ensuring everything runs smoothly. They're like the ice in your cocktails, often overlooked but essential for balance. Now, listen: the rustle of orders, the clink of glasses, the hum of conversation. It's a symphony, and your staff are the musicians.
Each bartender is a maestro, interpreting your guests' desires into memorable drinks. Feel the camaraderie, the teamwork, underlining the night's rhythm. Smell the tang of citrus, the richness of aged whiskey. Each scent tells a story, much like each of your staff members.
Your team isn't just employees. They're ambassadors, building relationships with each pour, each smile, each conversation. So, choose wisely, invest in training, and create an environment they are proud to be part of. Because, in the end, a bar is more than just a place to drink. It's a community, and your team is at its heart.
Conclusion
Opening a bar is a journey, a vibrant dance where passion meets business. Each step, from securing licenses to hiring passionate staff, is a thrilling chapter in your unique story. You've navigated the complexities, mixed the perfect blend of planning, dedication, and creativity, and are ready to serve your community. Much like Orderific makes life easier for restaurant owners, turning your dream into reality can be less daunting and more rewarding. With the right approach, your bar can become a masterpiece, a hub of memories crafted one cocktail at a time. Remember, like every perfect cocktail, success in the bar business lies in the balance. For more information on Orderific, schedule a FREE DEMO today.
FAQs
What are the key steps and considerations involved in opening a bar from scratch?
The key steps involve planning, obtaining licenses, choosing a location, designing the bar, managing inventory, buying a POS system, and hiring staff.
How does the process of opening a bar differ based on the location and type of establishment?
The process varies based on local regulations, customer demographics, cultural preferences, and the nature of the establishment itself.
What licenses, permits, and regulations should entrepreneurs know when opening a bar?
Depending upon their location, entrepreneurs should be aware of business, liquor, health and safety permits, and possibly music licenses.
What challenges and opportunities are commonly encountered when starting a new bar business?
Common challenges include complying with regulations, managing inventory, and hiring qualified staff. Opportunities include niche markets and unique themes.