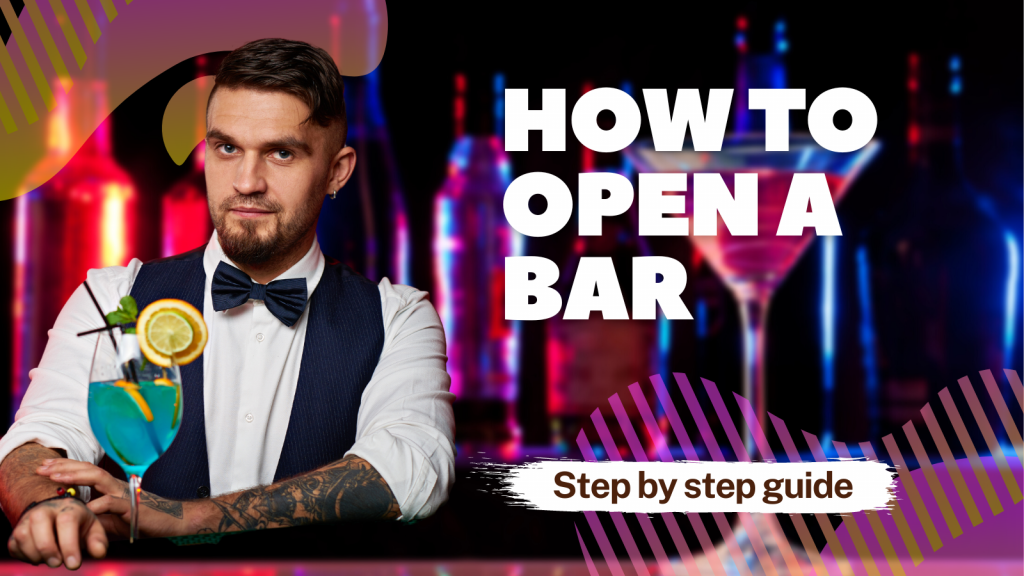 Opening a bar is a lot like other forms of business. There is a healthy amount of competition, both good and bad, that you'll have to try and overcome.
There are also a few things unique to your business that needs to be considered. From the moment you throw open the doors for the first time to when you shut down for good at the end of the night, your mind will be racing with logistics and decisions.
Where should I set up my bar? How big should my bar area be? What kinds of drinks or food should I serve? Will my bar make me any money? This guide will take you through the entire process.
Essential Ideas To Help You Start Up A Bar
If you're thinking about how to open a bar soon, here are some great tips to help you get started :
Choose a Bar Concept and Brand
Decide what kind of bar you want to open. Do you want to focus on craft beer?
Make sure your concept is unique enough to attract customers and reflect the type of atmosphere you want at your place.
Choose a Name for Your Bar
This may seem easy, but several things to consider when choosing a name. Is it memorable? Does it fit into your theme?
Is it too similar to another establishment? Once selected, check with local authorities to ensure there aren't legal issues.
Choosing a Business Entity for Your Bar
When you're opening a bar, it's essential to choose the right business entity. There are many different types of businesses.
Some are easy to start and run, while others require more time and money. The most common business entities are sole proprietorship, partnership, corporation, and limited liability company (LLC).
Write a Bar Business Plan
One essential piece of advice we can give on opening a bar is to write an extensive business plan before going into operation.
This will help ensure that all aspects of your plan are accounted for before investing in anything, including equipment and inventory.
A good bar business plan should include information about:
Business Objectives
Marketing Plan
Location Analysis
Financial Projections
Secure Funding for Your Bar
You can start a bar on a shoestring budget, but it won't be easy. The most important thing is to secure funding before you open your doors.
Look into loans, bank loans, and investors who will put their money into the business. If you don't have any family members or friends willing to invest in your business, try approaching banks and other financial institutions for help.
Find the Perfect Location for Your Bar
If you're going to open a bar, it's essential to find the right location for it. You need to ensure that your bar is easily accessible by customers and that there's plenty of parking nearby.
Your business should also be located near other bars and restaurants so that you can attract customers from those areas.
Obtain licenses and permits
Before you can begin to open a bar, you need to make sure that you have all the legal documents in place.
This includes getting your liquor license, health department permits, and fire department certificate of occupancy (CO).
The CO is required because it is illegal for any business to operate before it has received its CO.
You will need to contact your local government offices and ask them about the process for obtaining these permits.
Find a Liquor Supplier
The next step is finding a liquor supplier with everything you need at competitive prices. If you are opening a beer or wine bar, many suppliers carry everything from premium beer to fine wine and champagne at affordable prices.
Suppose you are opening up an upscale restaurant with fine dining options. In that case, you will want to find an upscale liquor distributor who carries only top-shelf brands like Grey Goose Vodka or Patron Tequila so that your customers have something special when they visit your establishment.
Design a Bar Layout
The layout of your bar is essential for both the customer and your employees. It should be visually appealing and easy to navigate.
Start with a sketch of the bar's look, including where you want all your equipment and supplies. Then, add in the details of what you need for each area – such as how many beers you want in kegs, bottles, or cans, whether or not you want taps, etc. Once you have this layout down, make sure it fits into your budget!
Buy Your Equipment and Supplies
Now that you have a basic idea of what kind of bar layout you want and how much it will cost, it's time to start shopping around for everything that goes into that bar, from furniture to glassware!
Start by looking through catalogues or visiting local retailers such as restaurant supply stores to see what they have available.
Your bar also needs a POS System and its a great idea to have a digital menu where people can also order from a distance. Its very convenient for customers to order with their phones when there is loud music and they don't want to move to a crowded bar.
Try Orderific's Free digital menu for making your bar orders and payments hassle free.
If there are certain types of items that are hard to find locally, like beer taps, search online at sites like eBay or Craigslist or ask friends who own bars if they can help out with those items!
Hire the Right Staff
You can't run a successful bar without good employees. The right staff members will ensure that customers are served quickly and get their money's worth at your establishment.
If you're running an upscale lounge or nightclub, you'll need bartenders who know how to mix drinks and interact with customers. Hiring friendly and outgoing people will be more important than hiring mixologists if you're running a neighborhood tavern or sports bar.
Advertise Your Bar
Once your bar opens, you need to let people know about it, especially if your goal is to generate revenue from alcohol sales.
Advertising can be expensive, but if you want new customers in your place every night of the week, it's an important expense that can pay off quickly if done correctly.
Host Your Soft Opening
Before officially opening your doors for business, host a "soft opening" event at your new bar so everyone can get acquainted with the place while having fun celebrating its grand opening.
A soft opening is essential for any new bar because it allows you to test out all of the equipment and ensure that everything works as it should before having an official grand opening.
If there are any problems with anything, such as the air conditioning or the sound system, you'll have time to fix them before most new customers notice them.
Conclusion
The steps above will vary slightly depending on where you want to open your bar, but ultimately this is what you need to do to get started.
Remember, bars are businesses, and you'll need to follow business procedures almost every step. If you want your venture to succeed, you can't afford to skip any steps.
If you liked these tips form us , please make sure to subscribe to our news letter for weekly tips and news in the food and beverage industry!
Visit Orderific website for more information like this!
FAQs
How profitable is owning a bar?
The profitability of owning a bar can vary widely based on location, concept, management, and market conditions, but it can be lucrative if well-managed.
How to start a bar with no money?
Starting a bar with no money is challenging, but options include seeking investors, securing a small business loan, or exploring partnerships to obtain the necessary capital.
Is it hard owning a bar?
Owning a bar can be challenging due to intense competition, regulatory requirements, staffing issues, and the need for strong business acumen.
What do you need to buy to open a bar?
To open a bar, you'll need licenses and permits, a suitable location, bar equipment, inventory (alcohol, glassware, etc.), furniture, and a well-thought-out business plan.