Introduction
Imagine the last time you had a craving for ice cream. Perhaps it was a hot summer day; all you could think about was a cool, creamy, handcrafted ice cream cone. Or maybe you were scrolling through multiple websites, and an advertisement caught your eye – a photo of exquisite, flavorful gelato that was too tempting to resist. Often, what draws us to these decadent delights isn't just the product itself but how it's presented to us. Yes, we're talking about ice cream shop logos. These logos are more than just graphics on a sign or website; they are the visual representation of the brand, and believe it or not, they play a crucial role in our decision to indulge in that delicious Dairy Queen treat or handmade gelato. But how do these logos come to be? This guide delves into the exciting ice cream logo design journey, offering insight into the process, from the initial concept to the final, mouth-watering product. Whether you're an aspiring graphic designer, an ice cream shop owner, or simply an ice cream lover with a curiosity for logo aesthetics, keep reading to scoop up some frosty facts!
Why Is An Ice Cream Shop Logo Important?
A logo is the face of a business, the visual cue that sparks recognition in customers' minds. For an ice cream shop, its logo must encapsulate the delight, the sweetness, and the chill that the shop promises. It's not just about being aesthetically pleasing. The logo should tell a story, evoke a sense of anticipation for a sweet treat, and subtly hint at the uniqueness of the brand. Whether it's the choice of colors mirroring the rich flavors of the gelato or the font style hinting at the nostalgia of traditional creameries, every element of the logo serves a purpose. This attention to detail helps distinguish a shop amidst a market brimming with frozen dessert choices. An ice cream shop's logo is a vital ingredient in its recipe for success.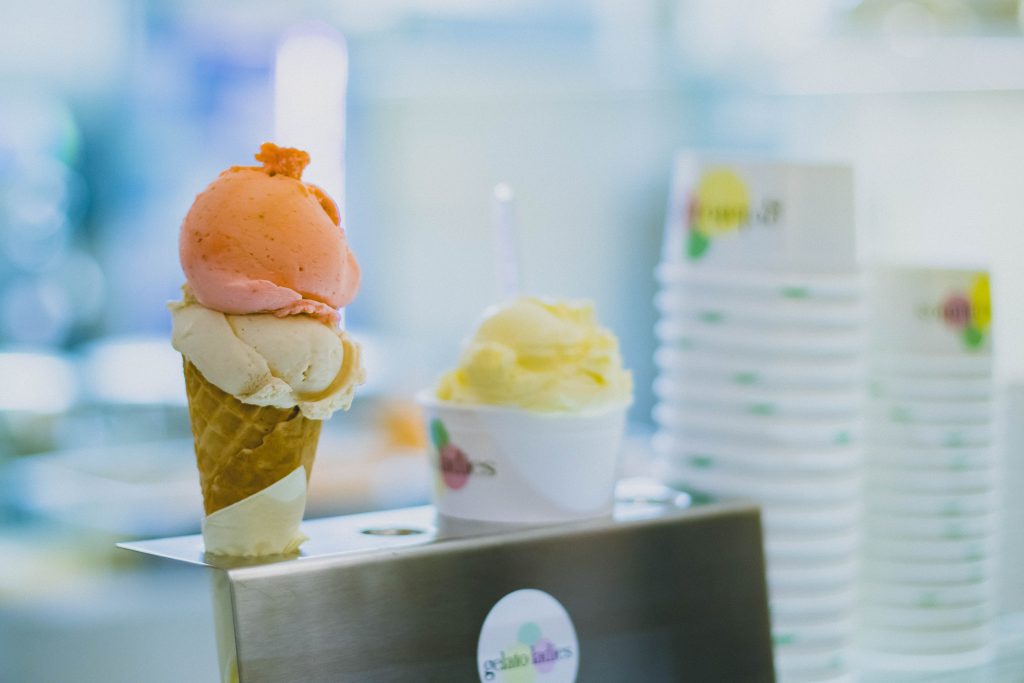 What To Consider When Making An Ice Cream Shop Logo
When crafting an ice cream shop logo, several key elements must be considered.
Colors play a crucial role. They should be chosen carefully to reflect the mood and atmosphere of the shop, as well as the delicious flavors it offers. Pastel tones often work well, invoking feelings of nostalgia and summertime happiness. Bright, bold colors can also be effective, creating a sense of fun and excitement.
Next, consider the imagery and symbols that would best illustrate the character of your ice cream shop. A simple image of an ice cream cone or a sundae can work but don't be afraid to get creative. Think about what sets your shop apart and try to incorporate that into your logo.
Typography is another vital element. The font should be easy to read but also stylish and appealing. It should complement the other aspects of the logo and help convey your shop's personality.
Lastly, strive for simplicity and memorability. The best logos are simple yet striking and memorable enough to recall the brand they represent instantly.
Remember, the key is to create a logo that catches the eye and tells a story about your ice cream shop – a story of cool, creamy, delectable treats that customers can't resist.
How To Make An Ice Cream Shop Logo
The process of designing an ice cream shop logo goes beyond just combining colors, fonts, and images. It involves a deep understanding of the brand, its identity, and what it stands for. Here are some steps to guide you through the creative journey.
1. Understand Your Brand
Identify the unique traits of your ice cream shop. Is it playful and fun, or does it exude a more classic, nostalgic vibe? Understanding your brand personality is the first step in creating a logo that communicates your brand effectively to customers.
2. Research and Inspiration
Look for inspiration around you. Explore popular trends in ice cream shop logos, but don't forget to consider the unique aspects of your own brand. Remember, the goal is for your logo to stand out, not blend in.
3. Sketch Initial Concepts
Start with a sketch. This stage is about getting all your ideas on paper and beginning to visualize how they might come together. Don't be afraid to explore multiple designs and variations.
4. Refine Your Design
Once you've chosen a concept, refine it. Experiment with different color palettes, typography, and imagery until you're satisfied with how these elements interact. This is where you breathe life into your design.
5. Finalize and Test The Logo
Once your design is finalized, it's time to test it in various contexts. How does it look on your shop's sign, on your website, or on a tub of your delicious ice cream? Make sure it works well in different scales and formats.
Designing an ice cream shop logo can be a journey brimming with creativity and fun. Remember, the result should not only be visually appealing but also encapsulate the rich, creamy, cool essence of the delectable treats you offer. So, grab your design tools and let the creativity flow like a river of molten chocolate on a scoop of vanilla.
What Makes A Great Logo?
A great logo is more than just a compilation of colors, fonts, and images. It's a visual embodiment of your brand's story, values, and personality. For an ice cream shop logo, it should ideally evoke the cool, creamy, and delightful essence of the delicious treats you offer. But what exactly makes a great logo? Here are some characteristics of a successful logo.
Firstly, a great logo resonates with its target audience. It should appeal to the demographic that your ice cream shop aims to attract. For example, if your shop primarily targets children, a playful, colorful logo may be appropriate. On the other hand, if you cater to an adult demographic, a more sophisticated design might be fitting.
Secondly, it should be uniquely identifiable. A great logo should be distinct enough to be easily recognized and remembered by customers. It should differentiate your shop from competitors and reflect what makes your ice cream unique.
Thirdly, a successful logo is timeless. While it can be tempting to follow current design trends, it's important to create a logo that will remain relevant and attractive over time. Trends may come and go, but a great logo stands the test of time.
Finally, a great ice cream shop logo should be versatile. It should look good in various applications, from your shop's signage to its menu cards, online presence, and even on the wrapper of your ice cream cone. It should be effective in different scales and formats, whether it's printed in one color or in full color.
Remember, a great logo is one of your most powerful marketing tools. It's worth investing the time and effort to get it right. A well-designed ice cream shop logo can serve as the cherry on top of your brand, making your shop the go-to place for that next scoop of creamy delight.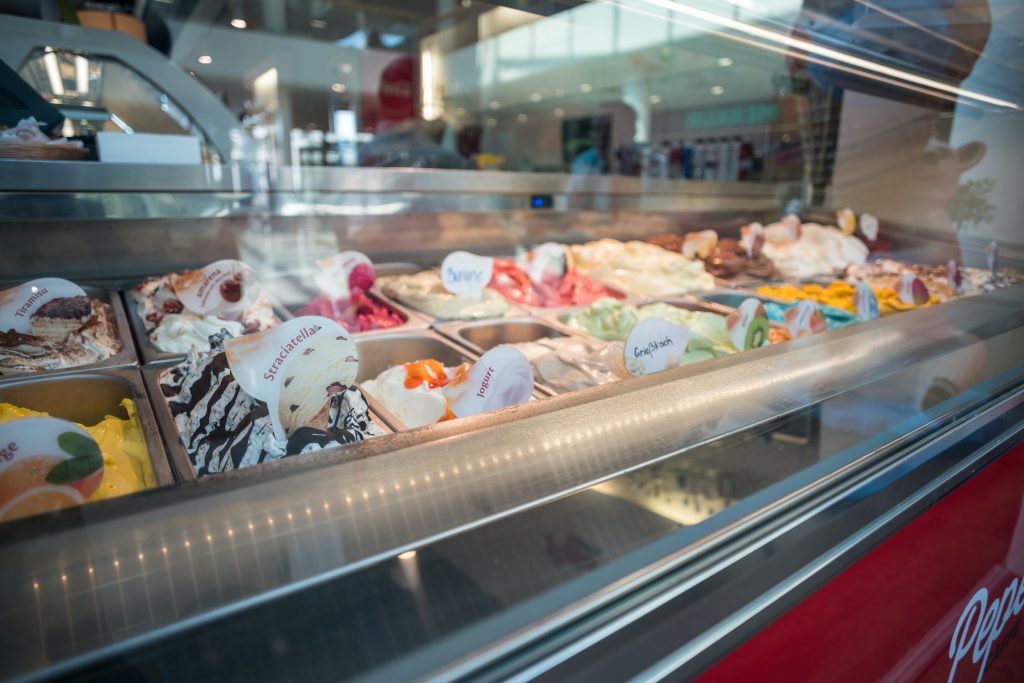 Tips For Making A Great Logo
Be Original: Avoid generic or cliche symbols and aim for a logo that's unique to your brand. Remember, your logo should differentiate your ice cream shop from competitors.
Prioritize Simplicity: A simple logo is often more memorable and easier to recognize. Avoid cluttering your logo with too many elements or intricate details.
Consider Color Psychology: Colors evoke emotions and can communicate a lot about your brand. Make sure the colors you choose align with the feelings you want your brand to evoke.
Choose the Right Typography: Your font choice can impact how your brand is perceived. Choose a font that complements your brand's personality and is legible in different sizes.
Test Your Logo: Make sure your logo looks good in different contexts, scales, and formats. Test it on various mediums, from shop signs to websites and product packaging.
Seek Feedback: Get opinions from others, preferably from a diverse group of people. This can provide valuable insights into how your logo is perceived.
Keep it Timeless: While it's fine to take inspiration from trends, your logo should have a timeless quality to it. You don't want to constantly update your logo to keep up with the latest trends.
Think About Your Target Audience: Your logo should appeal to the demographic you're trying to attract. Consider their tastes and preferences when designing your logo.
Tell a Story: A great logo doesn't just look good; it tells a story about your brand. Use your logo to communicate your brand's values, story, or unique selling points.
Hire a Professional: If you're not confident in your design abilities, consider hiring a professional. They'll have the experience and expertise to create a logo that's effective and visually appealing.
Conclusion
In conclusion, crafting an enticing ice cream shop logo can be a fun, creative journey as well as a strategic one. Remember, your logo is more than just a pretty image; it's the face of your brand, telling a story about your ice cream shop and the delectable, cool treats it offers. It should resonate with your target audience and communicate the unique flavor of your brand. Prioritize simplicity, but don't shy away from showing off what makes your ice cream shop unique. Consider color psychology, choose the right typography, and test your logo in different contexts to ensure it's effective and versatile. Don't forget to seek feedback, and when in doubt, consider hiring a professional to guide you in your design journey. And remember, while you're serving up some delicious scoops of ice cream, let your logo serve as the cherry on top, drawing customers in and leaving a lasting, flavorful impression.
Ready to take your ice cream shop logo to the next level? Schedule a demo with us at Orderific, and we'll guide you through the process of creating a logo that truly reflects your brand and captivates your customers. To schedule a demo, simply click here. Let's create some cool designs together!
FAQs
What key elements should an ice cream shop logo convey?
An ice cream shop logo should convey the brand's unique personality, the joy and coolness associated with ice cream, and the shop's specific offerings.
Are there design trends that are particularly popular for ice cream shop logos?
Yes, trends include the use of pastel colors, playful typography, and minimalist ice cream imagery.
How can an ice cream shop logo reflect the brand's unique flavors and personality?
Through careful choice of colors, imagery, and typography that reflect the unique offerings and brand identity.
Can you share examples of successful ice cream shop logos?
Some examples of successful ice cream shop logos include Ben & Jerry's, Baskin-Robbins, and Häagen-Dazs.