Imagine an enticing culinary masterpiece, the ice cream tempura. It's a splendid combination of hot and cold, crispy and creamy, a delight that awakens the senses. We begin with a heart of vanilla ice cream enveloped in a cloud of pound cake. This ice cream ball is then frozen to the perfect temperature, ensuring it stays intact during the next step.
Now, picture the ice cream ball coated in a light, airy tempura batter. This coated ice cream is gently dropped into hot oil and fried until it turns a beautiful golden brown. The result? A warm, crispy exterior that, when broken, reveals a still-frozen, creamy interior. This tempura fried ice cream is a harmony of contrasts, a delicious paradox.
What if we told you that you can recreate this magic at home? Yes, this blog will guide you through the process step by step. Get ready to impress your friends and family with your homemade tempura ice cream!
What is tempura ice cream?
Tempura ice cream, often called fried ice cream, is an exquisite delight that teases your palate most agreeably. Picture this: a scoop of your favorite ice cream, typically vanilla for its classic charm, cradled in a nest of fluffy pound cake. Before you know it, the ice cream is transformed into an ice cream ball, a little gem awaiting its golden cloak.
Next comes the magic. The ice cream ball takes a dip in batter, a concoction known for its light, puffy texture. Dressed in this batter, the ice cream is ready for a quick plunge in hot oil. Despite the heat, our frozen delight stays cool, thanks to the protective layer of pound cake.
A few moments in the hot oil, and voila! The tempura shell turns a delightful golden brown, creating an enticing contrast of textures and temperatures. Beneath its hot and crispy exterior, the vanilla ice cream remains wonderfully cold and creamy.
Imagine the thrill of breaking into the crispy tempura, the satisfying crunch giving way to the still-frozen ice cream within. Every mouthful is a delightful paradox, the warmth of the fried tempura batter balancing the cold creaminess of the ice cream. The final touch? A drizzle of chocolate syrup for that extra indulgence.
Tempura Ice Cream–Origin Story
The birth of tempura ice cream, like many culinary masterpieces, is shrouded in a veil of mystery. Some accounts attribute its inception to the 1893 Chicago World's Fair, an event famed for birthing the ice cream sundae. However, in 1894, a Philadelphia company was celebrated for its strikingly similar creation: a frozen cake of ice cream, swaddled in a thin pie crust, then dropped into a vat of boiling lard or butter. The result? Crisp on the outside while preserving the ice cream's frozen solidity within.
This intriguing plot thickens in the 1960s when a new contender enters the fray: Japanese tempura. Known for its delicate, light batter, it became a famous coat for ice cream, turning the sweet treat into a warm, crispy delight. This version, fried tempura ice cream, has since captivated palates globally.
So, who was the true innovator? The World's Fair? The Philadelphia company? Or was it the ingenious Japanese tempura? The debate continues, but one thing is sure: its enchanting dance of contrasting textures and temperatures, is a testament to culinary creativity. It truly exemplifies how gastronomic delight knows no boundaries.
Step-by-Step Guide to Making Tempura Ice Cream
In a whimsical dance of contrasts, tempura ice cream spins into existence. Within its crispy shell, a heart of pure sweetness resides, tantalizing the taste buds and calling out to the senses. The making of this delightful dessert is quite an adventure.
To start, a generous scoop of vanilla ice cream is chosen, embodying classic charm. This frosty gem is lovingly nested atop a slice of soft pound cake and then rolled into an ice cream ball. An adorable little package of sweetness, it awaits its dramatic transformation.
Next, it's time for the tempura batter. Known for its light texture, tempura batter swaddles the ice cream ball in a cloud of fluffiness. Encased in this batter, our cold delight is ready for its next adventure.
The heat of the moment arrives as the tempura-coated ice cream ball takes a hot oil dip. Magic happens here. As the hot oil teases the tempura into a crispy golden brown, the ice cream stays chilled, thanks to the protective pound cake layer.
The result is a dance of opposites. The exterior is hot and crispy, perfectly contrasting to the cold, creamy ice cream within. A perfect harmony of textures and temperatures, each bite offers a delightful paradox.
Finally, a drizzle of chocolate syrup adds an extra indulgence, making the tempura ice cream an absolute treat for the senses.
And there you have it. The birth of tempura ice cream is a culinary wonder that tickles the palate and warms the heart. Whether for a special occasion or a sweet treat for yourself, tempura ice cream is sure to delight. As you savor each mouthful, remember it's more than a dessert. It's an experience, a journey of contrasts, and a celebration of culinary creativity.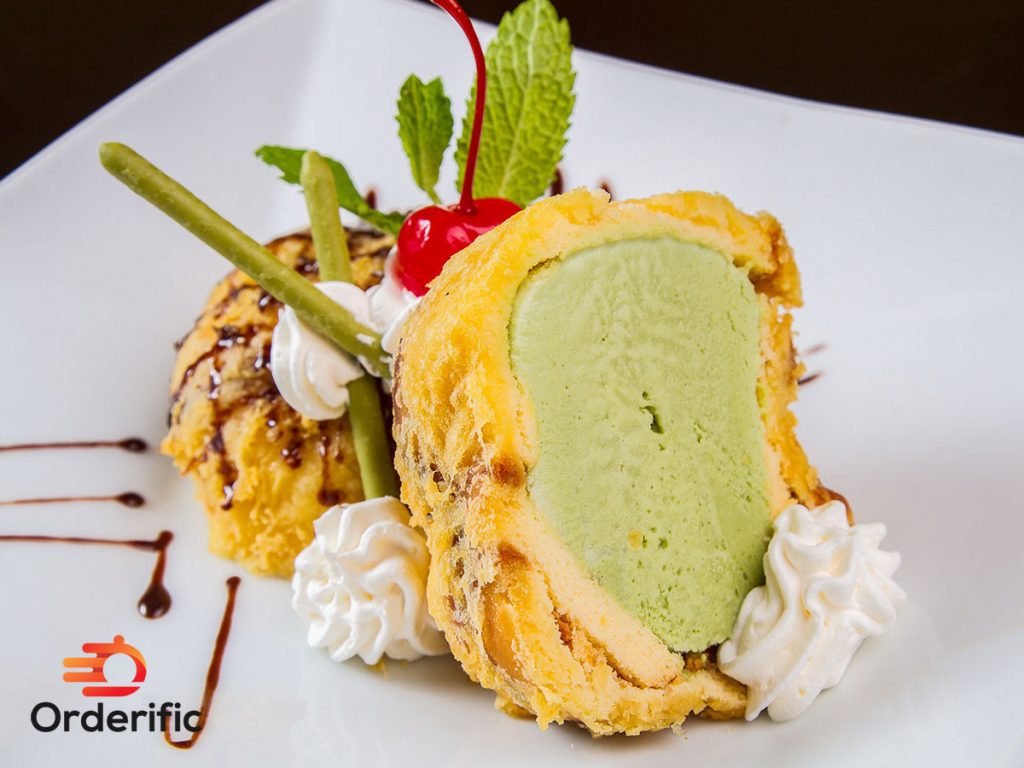 Other ways to enjoy tempura ice cream
Beyond the traditional chocolate syrup drizzle, there are numerous other ways to enjoy your homemade tempura ice cream. For starters, consider replacing the classic vanilla ice cream with different flavors. Picture a scoop of mint chocolate chip or strawberry enveloped in crispy tempura, the bright flavors a delightful surprise beneath the golden shell.
Alternatively, replace the chocolate syrup with a drizzle of caramel or hot fudge, adding a new dimension of sweetness to the dish. Envision the warm sauce contrasting with the ice cream, a compelling play of temperatures. Also, a sprinkle of powdered sugar adds a simple yet effective touch of elegance.
For a more adventurous twist, serve your tempura-fried ice cream atop a bed of fruity sauces. Imagine the crisp tempura contrasting with a tangy raspberry coulis or a sweet mango puree, a taste sensation that awakens the senses. Furthermore, a handful of fresh berries or slices of banana can provide a refreshing counterpoint to the rich ice cream.
Lastly, why not pair your tempura ice cream with a warm beverage? Think of a match made in heaven: a hot cup of green tea complementing the cold, creamy delight. The contrast of temperatures, textures, and tastes promises an experience beyond compare.
It is a dessert with endless possibilities. It invites twists and turns, a canvas for you to impress your culinary creativity. So, explore these options, and remember: the joy of cooking is in the journey, not just the destination.
Toppings to enjoy
The well-chosen toppings further enhance a Tempura Ice Cream experience. They provide a delightful burst of flavor, creating a symphony of tastes and textures. Here's a selection that promises to elevate your tempura ice cream treat:
Chocolate Syrup: A classic choice, it adds a decadent, sweet twist to the crispy tempura.
Caramel Sauce: This offers a buttery, smooth contrast to the chilly ice cream.
Powdered Sugar: A light dusting brings a touch of simplicity yet sophistication to the dish.
Fresh Berries: A fresh burst of flavor, they balance the richness of the ice cream.
Sliced Bananas: Their soft texture and natural sweetness perfectly complement the tempura crunch.
Panko Bread Crumbs: For an extra crunch, this Japanese-style breadcrumb is an inventive addition.
Green Tea Powder: An adventurous choice, lends a subtle, earthy flavor.
Hot Fudge: A luxurious drizzle amplifies the warm and cold contrast in this dessert.
The essence of the tempura ice cream experience lies not just in its unique preparation but also in the joy of personalization. The choice of toppings paves the way for an individual, unmatched gastronomic adventure. This versatile dessert invites everyone to create their delicious version of this incredible culinary paradox.
Nutritional Facts and Considerations
Indulging in a serving of tempura ice cream is an enchanting sensory experience. Yet, it's crucial to acknowledge the nutritional aspects of this delightful treat. With its rich, creamy vanilla ice cream core and crispy tempura coating, does pack a calorific punch. Typically, a serving might contain around 300-400 calories, mainly from the ice cream and deep-fried batter.
This dessert also offers a fair amount of protein, thanks to the milk in the ice cream and eggs in the tempura batter. However, remember, alongside the protein and calcium, It also contains sugars and fats. These elements contribute to the overall flavor and mouthfeel of the dish, but they do add to the calorie count.
For those following a restricted diet due to health or personal choices, it's worth considering some adaptations. Try using a low-fat or sugar-free ice cream alternative. Alternatively, a gluten-free batter could be the answer for those with specific dietary needs.
It is a delightful paradox, a sensory delight that balances hot and cold, crispy and creamy. However, like all delicacies, it's most enjoyed when consumed mindfully, striking a balance between indulgence and nutrition.
Serving Suggestions
Tempura ice cream, a symphony of contrasts, deserves to be served with equal panache. Imagine the crispy golden ball, harboring a frozen treasure, presented in an array of enticing manners. This section unveils various serving suggestions, adding a dash of creativity to this delightful paradox.
Classic Simplicity: In its simplest form, tempura ice cream is served solo on a plate. A drizzle of chocolate syrup completes this minimalist serving, creating a visual and gustatory masterpiece.
Fruit Fiesta: Envision pairing tempura ice cream with a medley of fresh fruits. The brightness of the berries or the tropical charm of kiwi slices can add a refreshing twist to the rich dish.
Saucy Adventure: One can also consider serving this golden delight atop a pool of fruity sauce. The tangy raspberry coulis or a sweet mango puree contrasts beautifully with the creamy vanilla.
Warm Beverage Complement: Tempura ice cream's contrasting temperatures can be further emphasized by pairing it with a warm beverage. A hot green tea or a rich coffee brew amplifies this hot-cold play.
Exotic Indulgence: For a more luxurious touch, serve the tempura ice cream on a bed of velvety crème anglaise. This French custard sauce adds an extra dimension of creaminess, enhancing the overall dessert experience.
Remember, each serving suggestion elevates the tempura ice cream experience, adding layers of flavors, textures, and contrasts.
Conclusion
In the culinary world, few experiences rival the sensory delight of tempura ice cream. This intriguing paradox of hot and cold, crispy and creamy, is a testament to gastronomic creativity and a sensory treat. From its mysterious origins to the thrill of making it and the joy of personalized toppings, this dish is a delightful journey. We invite you to indulge in this extraordinary dessert, savoring each bite to celebrate contrasts. And for restaurant owners seeking to elevate the customer experience with such exquisite treats, consider Orderific. Automated order and payment systems, customized customer experiences, and valuable marketing data are all at your fingertips. For more information on Orderific, schedule a FREE DEMO today. Celebrate culinary creativity and enhance your operational efficiency with Orderific.
FAQs
How is ice cream tempura made?
Made by coating a scoop of ice cream in tempura batter, freezing it, and then deep-frying it.
What flavors are typically used for tempura?
Vanilla is the most common, but other flavors like chocolate, strawberry, or mint can also be used for variety.
What kind of batter is used in ice cream tempura?
Tempura batter, used in ice cream tempura, is a light, airy batter made from cold water, flour, and egg.
Can ice cream tempura be enjoyed with different toppings or sauces?
Absolutely! It can be enjoyed with toppings or sauces like chocolate syrup, caramel, or fruity spices.