If there's a culinary hotspot in New York that brilliantly marries the rich, authentic Japanese ramen culture with the unmistakable electrifying energy of Times Square, it's undoubtedly Ichiran Ramen NY Times Square. This renowned ramen shop, with its meticulously crafted bowls and immersive dining experience, has become an irresistible lure for both wanderlust-driven tourists and discerning locals. 
Positioned at the crossroads of tradition and innovation, Ichiran Ramen stands as a vivid testament to New York City's eclectic and ever-evolving gastronomic landscape.
Why Ichiran Ramen is a Must-Try in Times Square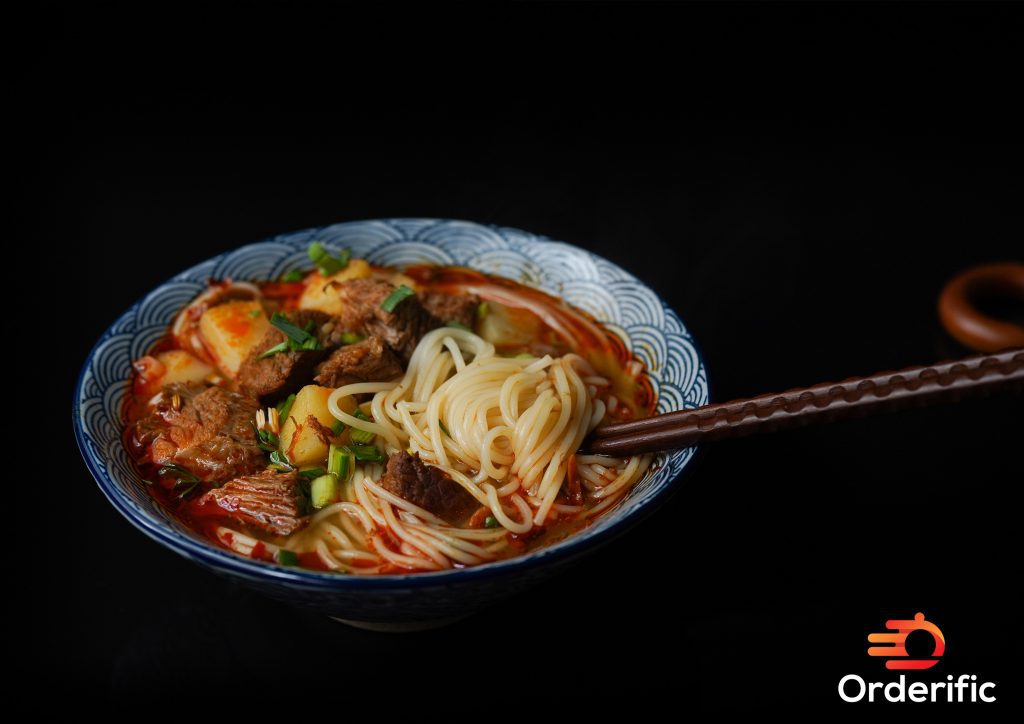 Nestled in the iconic heart of Times Square, amidst a mosaic of lights, sounds, and ceaseless energy, Ichiran Ramen emerges as a culinary beacon. This haven, celebrated for its legendary tonkotsu ramen, offers more than just a meal; it promises a memorable journey of taste and tradition.
While the surrounding area pulsates with the rhythm of New York's vibrancy, Ichiran serves as a serene alcove, transporting diners straight to Japan. Here, amidst a backdrop of towering skyscrapers and flashing billboards, one can indulge in a bowl brimming with authentic flavors, marrying the essence of Japan with the dynamism of New York City.
What to Expect at Ichiran Ramen in Times Square
Diving into the culinary scene of Times Square, amidst its hustle and bustle, is the enchanting Ichiran Ramen. This spot promises an experience that's as authentic as it is unique, with traditions and flavors deeply rooted in Japanese culture. But what exactly sets it apart in this vibrant maze of eateries?
Ordering Your Bowl:
Upon entering Ichiran, a delightful surprise awaits. Instead of the usual menu card, you're met with a vending machine-style ordering system. Not only does this ensure a quicker service, but it also introduces diners to a plethora of choices. From deciding the noodle's thickness to the broth's depth, each bowl becomes a reflection of your personal taste preference. It's a seamless blend of technology and tradition.
The Flavorful Tonkotsu Broth:
This is where Ichiran truly shines. Their tonkotsu broth, simmered to perfection after boiling pork bones for extended hours, brims with richness. Each sip offers a creamy, flavorful sensation, transporting diners to the streets of Japan. It's the heart and soul of the dish, capturing the very essence of traditional ramen.
Noodles and Toppings:
The broth, while being the soul, is beautifully complemented by the body of the dish – the noodles. Whether you like them al dente or soft, customization is key. To elevate the dish further, a myriad of toppings from succulent pork slices to fresh scallions await. It ensures that no two bowls are ever truly identical, each one tailored to the diner's whim.
The Solo Dining Booths:
Amidst the overwhelming vibrancy of Times Square, Ichiran offers a retreat into a world of solitude and flavor. The solo dining booths, a signature of the restaurant, provide an intimate space. Here, distractions fade away, allowing diners to immerse themselves fully in the ramen experience. It's not just about eating; it's about savoring, relishing, and truly feeling every ingredient of the dish.
Tips for Making the Most of Your Ichiran Ramen Experience
When you walk through the doors of Ichiran Ramen, you're not just entering a restaurant; you're stepping into a world that celebrates the art of Japanese cuisine. To ensure you capture every facet of this experience, here are some expert tips to enhance your ramen adventure:
Customize Your Bowl to Your Liking:
Dive deep into the heart of customization at Ichiran. With a plethora of options at your fingertips, make your bowl reflect your unique tastes. Whether it's a fiery kick to your broth or noodles that have just the right bite, you have the power to craft your ideal ramen.
Try the Original Tonkotsu Ramen:
Among the myriad of options, there's one that stands timeless – the Original Tonkotsu. This dish, an embodiment of Ichiran's legacy, offers a taste that's both authentic and exquisite. It's a blend of flavors that tells the story of traditional ramen in every bite.
Add Toppings for Extra Flavor:
While the broth and noodles are stars in their own right, the symphony of flavors is truly completed with the right toppings. Enhance the depth of your dish with tender pork slices or add a refreshing crunch with fresh scallions. The possibilities are endless, allowing for a new experience with every visit.
Enjoy the Solo Dining Experience:
In the heart of the city that never sleeps, Ichiran offers a moment of serenity with its solo dining booths. It's more than just a meal; it's an experience of mindfulness. Here, you can focus entirely on the symphony of flavors, textures, and aromas, making it a truly immersive dining adventure.
Pair Your Ramen with a Japanese Beer or Sake:
To round off your culinary journey, introduce your palate to the refreshing notes of Japanese beer or the nuanced flavors of sake. These beverages not only complement the rich flavors of the ramen but also elevate the entire dining experience, ensuring every sip and bite is a memory in the making.
Other Must-Try Ramen Spots in New York City
New York City, a melting pot of cultures, offers a myriad of culinary delights. But when it comes to ramen, the city transforms into a playground for noodle enthusiasts. Here are some top-notch ramen joints that promise a slurping good time:
Ippudo:
When you mention ramen in New York, Ippudo invariably springs to mind. This iconic ramen establishment is revered for its luscious broths that simmer for hours, absorbing every ounce of flavor. Topped with succulent slices of pork, every bowl serves as a testament to Ippudo's commitment to authentic Japanese flavors and techniques.
Totto Ramen:
Veering away from the conventional pork-based broths, Totto Ramen introduces diners to the umami-rich world of chicken-based broth. It's a unique spin that resonates with those craving something different. Paired with their precise noodle texture and an array of toppings, it's no wonder Totto has carved a niche for itself in the ramen realm.
Ivan Ramen:
A marriage between Japanese authenticity and New York flair, Ivan Ramen is nothing short of a culinary adventure. Every bowl tells a story, reflecting the passion and creativity that goes into crafting it. Whether it's their classic offerings or their inventive takes, diving into an Ivan Ramen bowl is a sensory delight.
Nakamura:
Celebrating the vast spectrum of ramen lovers, Nakamura offers a menu that speaks to everyone. Whether you're a vegetarian seeking a flavorful broth or a meat-lover craving the classic tonkotsu, Nakamura ensures you're in for a treat. It's their dedication to quality and inclusivity that sets them apart.
Mu Ramen:
Nestled in a snug corner of the city, Mu Ramen is where innovation meets tradition. While they honor the age-old techniques of ramen making, they aren't afraid to experiment. From unconventional toppings to broths that surprise your palate, Mu Ramen promises an experience that's both familiar and novel.
Planning Your Ramen Adventure in New York City
Embarking on a ramen adventure in New York is akin to diving deep into a rich culinary tapestry. Beyond savoring the intricate flavors of each bowl, it's a quest to discover the stories, traditions, and passions that fuel these establishments. The city's bustling streets are lined with ramen havens, each echoing its unique interpretation of this Japanese classic.
From the age-old methods of broth preparation to the contemporary twists on toppings, New York's ramen offerings are a testament to its vibrant food culture. With renowned places like Ichiran paving the path, anyone traversing the city's ramen trail is guaranteed a symphony of tastes and tales.
Conclusion
Ichiran Ramen in Times Square transcends the ordinary dining routine, elevating it to a gastronomic voyage. Nestled amidst the pulsating heartbeat of New York, it beckons diners to immerse themselves in a rich tapestry of Japanese culinary artistry. Every slurp of their broth, every bite of their noodles, tells a story of tradition, craftsmanship, and passion.
It's a harmonious blend of the age-old ramen culture with the dynamic ambiance of Times Square, making every visit not just a meal, but a memorable escapade into the essence of authentic Japanese flavors.
In case you want more content like this, visit Orderific right now!
FAQs
What makes Ichiran Ramen in Times Square unique?
The solo dining booths, customizable bowls, and rich tonkotsu broth make it stand out from all the similar joints.
How do I order my ramen at Ichiran?
Orders are placed through efficient vending machines, allowing for multiple customizations.
What is tonkotsu broth?
It's a rich type of broth made by boiling pork bones for several hours. This makes for quite a remarkable taste.
Can I customize my ramen bowl at Ichiran?
Absolutely, from the intensity of the broth to the noodle texture, everything can be tailored.
What types of noodles and toppings are available at Ichiran?
They offer a range of noodle textures and a plethora of toppings like pork slices, scallions, and more.
What is the solo dining experience like at Ichiran?
It's a unique way of enjoying your meal in a personal booth, ensuring privacy and an intimate experience with your food.