Iconic food that sounds familiar! Throughout history, the art of naming dishes has woven intricate tales. Whether inspired by royalty, significant events, exotic locales, or pure serendipity, each name carries a backstory rich in culture and history. As these culinary delights journeyed across continents and found homes in diverse cultures… The flavors evolved, intertwining with their narrative essence.
By delving into these enthralling origins, a bond forms between the diner and the dish, transcending beyond mere taste. This exploration not only satiates our palate but also our curiosity. It casts light on the often-overlooked historical and cultural fabric sewn into the very names of our favorite foods.
The History of Caesar Salad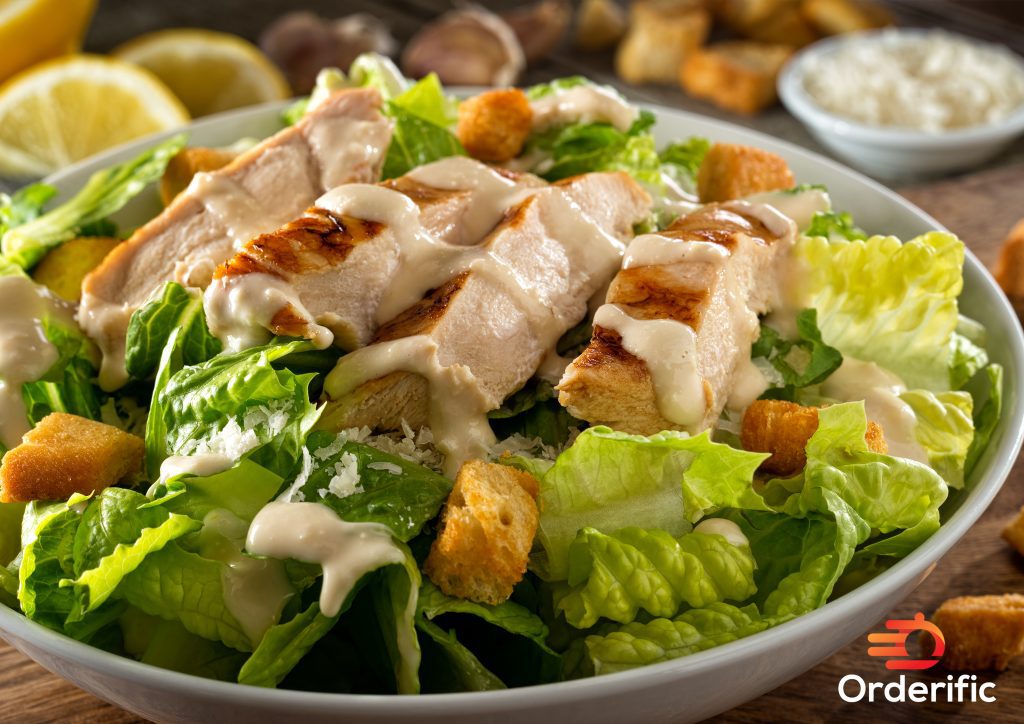 Every time we sit down in a restaurant and glimpse the Caesar salad on the menu, it evokes an image of a classic dish known globally for its creamy dressing and crispy croutons. But how many of us pause and wonder about the origins of this beloved salad? 
Behind its crunchy romaine lettuce and Parmesan shavings lies an intriguing tale filled with innovation, serendipity, and culinary evolution. Let's embark on a journey to uncover the history of the Caesar salad. We will try to understand how a seemingly simple dish became a worldwide sensation.
Who invented Caesar Salad Iconic food?
Contrary to common belief, the Caesar salad doesn't bear the name of the famous Roman emperor. Instead, it owes its invention to an Italian immigrant, Caesar Cardini, who lived in San Diego but operated restaurants in Tijuana, Mexico, during the 1920s. 
Legend has it that on a bustling Fourth of July weekend in 1924, Cardini's restaurant ran low on food. To not turn away his guests, he concocted a salad from the remaining ingredients in his kitchen. The resultant dish was an instant hit!
What is the origin of the name "Caesar Salad"?
The Caesar salad is not a tribute to ancient Rome but rather to its very creator, Caesar Cardini. As the story goes, after Cardini whipped up his impromptu creation, it rapidly gained popularity.
Patrons would visit his restaurant requesting the "salad by Caesar," and thus, the name naturally stuck. Over time, "Caesar's Salad" was streamlined to the now universally recognized "Caesar Salad."
How has Caesar Salad evolved over time?
While the original Caesar salad by Cardini contained romaine lettuce, garlic, croutons, Parmesan cheese, boiled eggs, olive oil, and Worcestershire sauce, over the decades, it has witnessed countless variations. Anchovies, which many believe to be a classic ingredient, were not part of the original recipe but were a late addition due to the anchovy essence in Worcestershire sauce.
Today, you can find Caesar salads topped with grilled chicken, shrimp, or even steak. The dressing, too, has seen variations, from the traditional table-side preparation using raw egg to commercially available bottled versions. From a makeshift dish in Tijuana to a global culinary icon, the Caesar salad's journey is a testament to the evolving nature of Iconic food.
The Origins of Eggs Benedict
The humble brunch menu often boasts an elegant dish that has captivated palates for generations: Eggs Benedict. A perfect balance of toasted English muffin halves, ham or bacon, poached eggs, and a blanket of rich hollandaise sauce, this dish epitomizes indulgence. 
But where did this delectable dish originate, and how did it get its intriguing name? Delving into the history of Eggs Benedict, we unravel tales of New York's elite, midnight hunger pangs, and culinary innovation. As we slice through the layers of this dish, both literal and historical, we'll uncover its rich lineage and lasting impact.
Who invented Eggs Benedict Iconic food?
The origin of Eggs Benedict is a topic of debate, with multiple narratives claiming its invention. One popular story attributes its creation to Lemuel Benedict, a Wall Street broker. In 1894, he walked into the Waldorf Hotel in New York, seeking a hangover cure and ordered "buttered toast, poached eggs, crisp bacon, and a hooker of hollandaise." 
The hotel's maître d'hôtel, Oscar Tschirky, was so impressed that he adapted and added the dish to the breakfast and luncheon menus. Another narrative credits the invention to Commodore E.C. Benedict, a banker and yachtsman, whose recipe was supposedly passed to The New York Times by a relative.
What is the origin of the name "Eggs Benedict"?
Given the stories of its creation, the name "Eggs Benedict" likely derives from the surnames of those claiming its invention. Whether it bears the name of Lemuel Benedict, the Wall Street broker who sauntered into the Waldorf Hotel, or in tribute to Commodore E.C. Benedict, the name has remained iconic. The dish's title seamlessly marries the dish's luxuriousness with its purported inventors' legacy.
How has Eggs Benedict been adapted in different regions?
Eggs Benedict's essential components have been a canvas for culinary creativity across the globe. In the Southern United States, a version replaces ham with crab cakes or shrimp to create "Eggs Sardou" or "Eggs Creole." In Spain, "Eggs Flamenco" might feature chorizo and pimientos, while in Mexico, "Eggs Benedicto" introduces avocado and spicy hollandaise. 
Canada often uses back bacon, renaming it "Eggs Blackstone." Some modern adaptations even swap out the muffin base for artichoke bottoms, hash browns, or potato pancakes. This global love for Eggs Benedict illustrates how a classic dish can inspire variations that reflect regional tastes and ingredients.
The Story of the Reuben Sandwich
A savory dance of flavors and textures, the Reuben sandwich is an American deli classic. Layered with corned beef, Swiss cheese, sauerkraut, and Russian dressing, all sandwiched between slices of rye bread, it's a hearty meal that has tantalized taste buds for decades. 
But like many iconic dishes, the Reuben sandwich has many tales of its origins, with multiple claims of invention and a history as rich as the sandwich itself. As we explore the legacy of this beloved sandwich, we'll delve into the mysteries of its inception, the individuals who vied for its creation, and the journey that elevated it to classic status in American cuisine.
Who invented the Reuben Sandwich Iconic food?
The creation of the Reuben Sandwich has two main origin stories. The first credits its inception to Reuben Kulakofsky, a Lithuanian-born grocer from Omaha, Nebraska. During a late-night poker game at the Blackstone Hotel in the 1920s, Kulakofsky, hungry for a snack, concocted a sandwich with corned beef, Swiss cheese, and sauerkraut. 
The hotel owner was so impressed he added it to the menu. The second tale hails from New York City, with Arnold Reuben, owner of Reuben's Delicatessen, claiming he created the "Reuben Special" in 1914 for an actress named Annette Seelos.
What is the origin of the name "Reuben Sandwich"?
Given the two competing stories of its creation, the name "Reuben Sandwich" either pays homage to its alleged creator, Reuben Kulakofsky of Omaha or to Arnold Reuben of New York City's Reuben's Delicatessen. Regardless of its true originator, the moniker "Reuben" has become synonymous with this delectable sandwich, cementing its place in culinary lore.
How has the Reuben Sandwich become an American classic?
The Reuben sandwich's ascent to stardom owes to its perfect blend of flavors and textures, which resonates with many. Its global introduction was arguably accelerated by Patricia Taylor, who entered a Reuben sandwich recipe in a national contest in the 1950s and won, giving it nationwide recognition.
From New York delis to Midwest diners, its unique taste combination proved universally appealing. Over time, the Reuben has become a staple on deli menus, with each region adding its touch, ensuring its status as a beloved American sandwich. Whether enjoyed in a bustling city eatery or a small-town diner, the Reuben remains a testament to culinary innovation and timeless appeal.
The Mystery of Beef Wellington
Wrapped in a flaky, golden crust, Beef Wellington is the epitome of gourmet indulgence. This sumptuous dish, comprising a tenderloin smothered in a rich mushroom mixture, wrapped in prosciutto and finally enveloped in a puff pastry, exudes luxury. While its flavors are undeniably rich and memorable, the origins of Beef Wellington remain debated and, to some extent, elusive.
Dive into the history of this culinary masterpiece as we explore the contested tales of its creation, the story behind its regal name, and its journey from traditional kitchens to contemporary culinary stages.
Who invented Beef Wellington Iconic food?
The true creator of Beef Wellington remains a topic of culinary debate. While some historians suggest that it has British roots due to its association with the Duke of Wellington, others believe its origins might be French, given the dish's evident gourmet techniques and its resemblance to certain French dishes. However, despite its uncertain inception, the dish's popularity soared in the mid-20th century, especially in the United States.
What is the origin of the name "Beef Wellington"?
The name "Beef Wellington" is commonly believed to be linked to Arthur Wellesley, the 1st Duke of Wellington, who achieved fame after defeating Napoleon at Waterloo. Some posit that the dish was named in his honor, either for his fondness for the dish or as a culinary representation of the Wellington boot. The name might have been a patriotic rebranding of an existing dish during a time of tension between the British and the French.
How has Beef Wellington been adapted in modern cuisine?
The essence of Beef Wellington has remained largely consistent, but contemporary chefs often add their unique twists. Some opt for alternative fillings like chicken or salmon, while others introduce varying herbs and spices to elevate the dish's flavor profile.
Gourmet versions might feature truffles or foie gras, blending tradition with luxury. Modern presentations also see individual, portion-sized Wellingtons becoming popular, making the classic dish more accessible to home cooks and allowing for more varied fillings and flavors, thus ensuring the dish's place in the pantheon of timeless culinary wonders.
The Legend of Tiramisu
When one thinks of an ethereal, creamy dessert that perfectly balances the bitterness of coffee with the sweetness of mascarpone, Tiramisu inevitably comes to mind. This delectable Italian dessert has charmed palates globally with its luscious layers of ladyfingers soaked in coffee, interspersed with rich mascarpone cream and a generous dusting of cocoa. 
Yet, the origins of this iconic dessert are as layered as the treat itself. Let's embark on a sweet journey to unravel the mystery behind Tiramisu, its captivating name, and its meteoric rise to global fame.
Who invented the Iconic Food Tiramisu?
Tiramisu's birthplace is a subject of regional contention in Italy, with both Veneto and Friuli Venezia Giulia claiming its invention. The most popular lore dates back to the 1960s in the region of Veneto, where a restaurant named "Le Beccherie" in Treviso is believed to have first introduced this dessert. It was supposedly concocted by a confectioner named Roberto Linguanotto, known as "Loly."
What is the origin of the name "Tiramisu"?
The name "Tiramisu" is derived from the Venetian dialect phrase "tireme su," which translates to "pick me up" or "lift me up" in English. This name aptly encapsulates the dessert's essence, given the energizing combination of coffee and sugar. Some also believe that the dessert was named for its potential aphrodisiac properties and the joy it could bring to those who consumed it.
How has Tiramisu become a popular dessert worldwide?
Tiramisu's global recognition comes from its perfect harmony of flavors, making it universally loved. Its simplicity allows for variations, adapting to various tastes and preferences. The 1980s and 1990s saw its popularity surge in the US, with numerous Italian restaurants adding it to their dessert menus.
Its fame spread rapidly, fueled by its feature in popular movies, TV shows, and cookbooks. Today, from high-end restaurants to family gatherings, Tiramisu has found its place, representing a slice of Italian heritage enjoyed worldwide.
The Origins of Margherita Pizza
From the bustling streets of Naples to high-end restaurants across the globe, Margherita Pizza stands as a testament to Italian culinary genius. This iconic dish, adorned with vibrant red tomatoes, white mozzarella, and fresh green basil, doesn't just tantalize taste buds—it tells a tale. 
A tale steeped in Italian pride, historic lore, and a love for simplistic, fresh ingredients. The Margherita Pizza, in all its glory, is not just a pizza; it's a story of a nation, an emblem of its culinary traditions. Let's delve deep into the heart of Italy to discover the origins of this iconic pizza.
Who invented Iconic Food Margherita Pizza?
Margherita Pizza traces its origins to Naples, Italy. According to popular lore, in 1889, pizzaiolo Raffaele Esposito crafted this pizza to honor the visit of Queen Margherita of Savoy. Esposito presented three pizzas to the queen, with the tomato, mozzarella, and basil variant standing out, symbolizing the colors of the Italian flag.
What is the origin of the name "Margherita Pizza"?
The pizza bears the name "Margherita" in honor of Queen Margherita of Savoy. It's a common belief that the queen took a particular liking to this pizza due to its colors, which resembled the Italian flag, and the delightful combination of flavors. The name "Margherita" became synonymous with this specific combination of ingredients, forever immortalizing the queen's preference.
How has Margherita Pizza become a symbol of Italian cuisine?
Margherita Pizza, with its simple ingredients and deep-rooted history, quickly became an emblem of Italian pride and culinary expertise. As Italian immigrants ventured abroad, they took with them the flavors of home, introducing Iconic food pizzas to various corners of the globe. 
Margherita, in its authenticity, stood out. Its simplicity emphasized the quality of ingredients over complexity. Over time, as pizzerias proliferated worldwide, Margherita Pizza retained its classic appeal, becoming an unwavering symbol of Italian cuisine and a beloved favorite across continents.
Conclusion
Food names serve as a gateway to the rich tapestry of our global culinary heritage. They aren't just mere labels; they are fragments of stories, capturing moments of serendipity, cultural exchange, and innovation. Each dish, with its unique name, encapsulates epochs of human history, traditions, and the myriad journeys of explorers and settlers. As we indulge in these dishes, we don't just relish the exquisite combinations of ingredients. We immerse ourselves in tales of passion, discovery, and legacy. Every morsel becomes an exploration, a celebration of the culinary artistry and the historical epochs that shaped it.
In case you want more content like this, visit Orderific right now!
FAQs
What is the origin of the name "Tiramisu"?
Originating from Italian, "Tiramisu" means "pick me up," hinting at its caffeine content and the effect it provides.
How did Margherita Pizza become known by its name?
It was named in honor of Queen Margherita of Savoy, showcasing the Italian flag's colors on the actual food.
What are some other iconic food names and their origins?
Dishes like "Chicken Kiev" or "Baklava" have origins tied to places or historical events, making the culinary world a vast tapestry of stories.
How have food names influenced popular culture?
Dishes like "Spaghetti Western" films or saying "that's the cherry on top" influence language and media.
How do food names reflect cultural identity?
Names like "French Fries" or "Belgian Waffles" tie dishes to their regions, showcasing cultural pride.
How have food names changed over time?
As dishes migrate, their names sometimes adapt to local languages or ingredients, resulting in unique interpretations.