Ah, Indian cuisine! It's a symphony of flavors and aromas, each dish telling tales of the country's rich history, cultural tapestry, and centuries-old traditions. Among its vast gastronomic landscape lies a special niche, often recognized by the crimson hue and the distinctive smoky aroma: the world of Indian Tandoori. 
This cooking technique, using a cylindrical clay or metal oven called the 'tandoor', has been a cherished culinary treasure for ages. The smoky fragrance that wafts out when meats, paneer, and vegetables, meticulously marinated in spiced yogurts and herbs, are seared to perfection, is unmistakably tantalizing. The beauty of tandoori dishes lies in the balance – the charred exterior and the tender inside.
From the bustling streets of Punjab to the fine-dine restaurants worldwide, tandoori cuisine has traveled far and wide. So, are you ready? Strap in as we embark on this fiery, flavorful adventure.
Introduction to Indian Tandoori Cuisine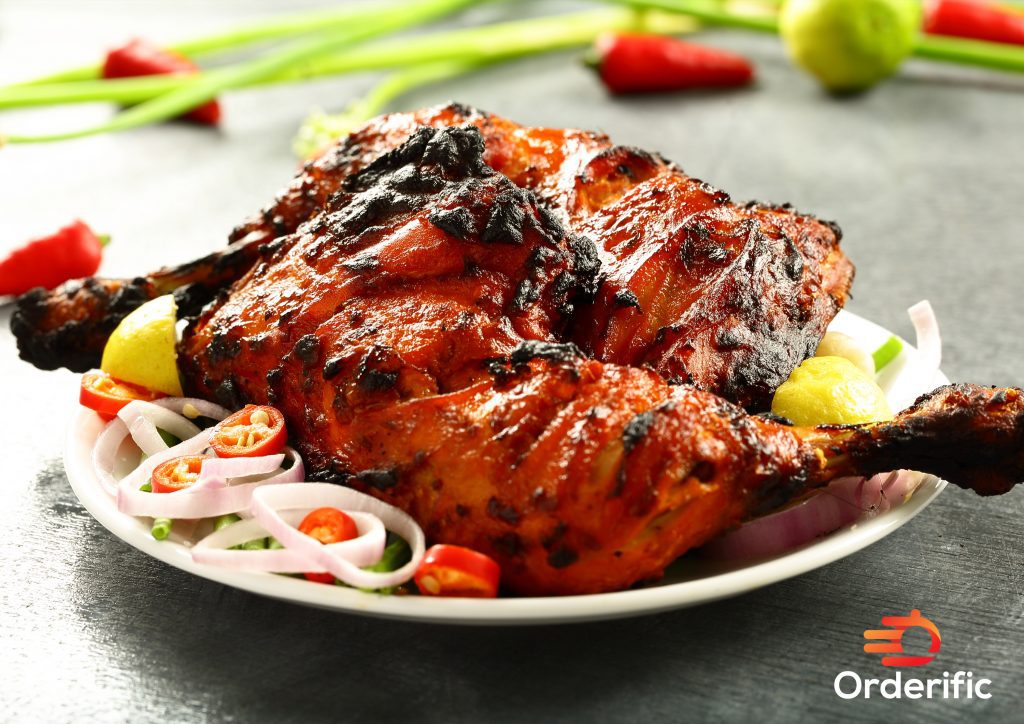 Delving into the realm of Indian Tandoori cuisine, you dive into a world of aromatic symphony and culinary mastery. Central to this experience is the 'tandoor'. An ancient invention, this cylindrical clay or metal oven has been the cornerstone of Central Asian and Indian gastronomic traditions for millennia.
Succulent meats soaked in a rich marinade made of creamy yogurt, tangy lemon juice, and a bouquet of spices… These marinated delights are then threaded onto skewers and introduced to the fiery embrace of the tandoor. As the flames dance, they imbue the meat with a smoky essence, charring the exterior to crispy perfection while ensuring the insides remain tender and flavorful.
Tandoori Ingredients and Techniques
1. Common Tandoori Spices and Seasonings
The key to tantalizing Tandoori dishes? A symphony of spices. From the heat of red chili powder to the warmth of garam masala and the tang of lemon juice, every seasoning plays its part.
2. Types of Meats and Vegetables Used in Tandoori Cooking
While Tandoori chicken is a star, meats ranging from lamb to fish also shine in this cuisine. And let's not forget the succulent vegetables like bell pepper and onion, turned into char-grilled delights.
3. Marinating and Grilling Techniques
The secret behind those flavorsome bites is the marinade. Usually a mix of creamy Greek yogurt, lemon juice, garlic, ginger, and spices, this marinade seeps into meats and vegetables, ensuring they're full of flavor before they even hit the grill.
Popular Tandoori Dishes
Tandoori Chicken
Undoubtedly the crown jewel of Tandoori cuisine, this delicacy features chicken cuts marinated meticulously in a tangy mixture of yogurt, a medley of spices, and a hint of lemon. Once grilled in the tandoor, the chicken emerges with a characteristic smoky aroma and a fiery red hue. The finishing touch? A drizzle of fresh lemon juice and a side of cool mint chutney, offering a dance of flavors with every bite.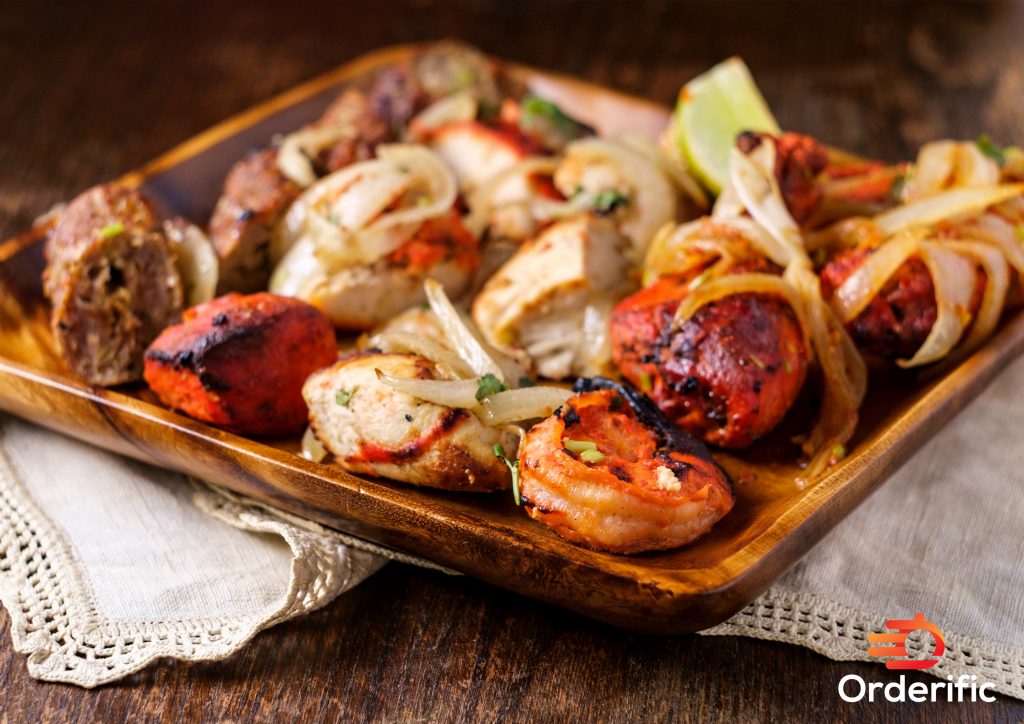 Chicken Tikka Masala
An international sensation, this dish marries the smoky essence of tandoori-grilled chicken chunks with a lusciously creamy tomato sauce infused with Indian spices. Each spoonful promises a harmony of textures and flavors, making it a global favorite.
Tandoori Fish
Venturing beyond poultry, the tandoor works its magic on marine delights too. Fish fillets, typically of a firm variety, are bathed in a zesty marinade featuring a unique combination of spices. Grilled to perfection, the result is a dish that's crispy on the outside, moist and tender inside, and packed with flavors reminiscent of coastal India.
Paneer Tikka
A testament to Tandoori cuisine's versatility, paneer tikka caters to vegetarians with as much zeal as its meaty counterparts. Chunks of paneer (Indian cottage cheese) are marinated in a spicy yogurt blend, then skewered and grilled. The outcome? Golden-brown morsels with a soft, melt-in-your-mouth interior, making it a vegetarian delight that even meat-lovers often can't resist.
Vegetarian Tandoori Delights
Aloo Tikka
Taking the humble potato to gourmet levels, Aloo Tikka celebrates this starchy favorite in all its glory. Marinated in a rich blend of Indian spices and yogurt, these potato chunks are then skewered and grilled in the tandoor until they're golden and crispy on the outside, yet irresistibly soft within. Paired with tangy mint or tamarind chutney, they're a heavenly delight that proves potatoes are anything but boring.
Tandoori Gobi
A twist to the beloved vegetable, Tandoori Gobi sees cauliflower florets getting a luxurious treatment. Immersed in a vibrant marinade, they're then grilled to achieve a smoky char, transforming the often-understated cauliflower into a star dish. With its mix of crunchy and soft textures, and an explosion of flavors, it's a treat that'll make one see cauliflower in a whole new light.
Chana Tikka
Breaking away from the usual hummus and curries, Chana Tikka introduces chickpeas in a refreshing avatar. Marinated in a tantalizing spice mix and yogurt blend, these chickpeas are grilled to a delightful crunch on the exterior while remaining delectably soft inside. Served with a squeeze of lemon, they're a protein-packed delicacy that's sure to impress.
Tandoori Mushroom
Elevating the earthy flavors of mushrooms, Tandoori Mushroom offers a unique culinary experience. Large mushroom caps are full of spicy masala mix, often combined with cheese or paneer. Once grilled, they present a delightful contrast of the crispy exterior and the juicy, flavor-packed interior. It's a must-try for those seeking a rich and flavorful vegetarian treat.
Serving and Pairing Tandoori Cuisine
Naan Bread and Other Tandoori Breads
Dive into the world of Indian breads that elevate the Tandoori experience. The soft, pillowy texture of the naan, sometimes laced with garlic or brushed with butter, creates the perfect scoop for Tandoori gravies. On the other hand, the multilayered laccha paratha, with its flaky layers, adds a delightful crunch.
And then there's the 'rumali roti', as thin as a handkerchief, or the sesame-encrusted 'til naan'. Truly, these breads are more than accompaniments – they're an essential part of the Tandoori narrative.
Raita and Other Condiments
What's a Tandoori meal without the sidekicks? Raita, a creamy yogurt delight, often mixed with cucumbers, onions, or even fruits, offers a cooling respite from the spices. Meanwhile, the tangy mint or coriander chutneys and the sweet tamarind sauce provide a carousel of flavors, making every bite a new experience. Not to forget the spicy pickles, ranging from mango to chili, that add an extra kick.
Pairing Tandoori Dishes with Wines and Beers
Tandoori delicacies, with their robust flavors, demand drinks that can stand up to them. For a spicy Tandoori chicken or a fiery lamb kebab, a chilled beer is often the drink of choice, dousing the flames and complementing the spices. However, if wine is more your style, a semi-sweet Riesling or a robust red like Shiraz can handle the Tandoori heat, making each sip and bite harmoniously blend.
Desserts and Sweets
As the spice saga concludes, a sweet epilogue awaits. Indian desserts, known for their rich flavors and textures, are the perfect endnotes. 'Kheer', a creamy rice pudding laced with cardamom, serves as a gentle palate cleanser. For those craving something richer, the syrupy 'gulab jamun' or the milky delight of 'rasmalai' ensures that the Tandoori journey concludes on a decadently sweet note.
Tandoori Cuisine Around the World
Tandoori Cuisine in the UK and Europe
The love affair between Tandoori cuisine and the UK began years ago, notably with the emergence of "curry houses" in places like Brick Lane in London. With the rise in migration and cultural exchange, Tandoori dishes have found a special place in the European culinary scene. 
From Birmingham's Balti houses to Berlin's curry spots, Tandoori blends traditional flavors with European sensibilities.
Tandoori Cuisine in North America
The allure of Tandoori in North America is undeniable. Cities from coast to coast, be it the multicultural mosaic of Toronto or the vibrant lanes of Los Angeles, have witnessed a growing appetite for Tandoori. Over time, the dishes have been Americanized, leading to inventions like Tandoori burgers or Tandoori salads. Still, the essence remains, as the clay oven continues to churn out smoky and sumptuous delights.
Tandoori Cuisine in Other Parts of the World
From the lively souks of Dubai to the bustling markets of Nairobi, Tandoori has set its roots far and wide. As the Indian diaspora settled in various parts of the world, they carried with them the flavors of home. Today, Tandoori is not just an Indian restaurants dish. In some places, it became everyday food, combining with local ingredients and preferences.
Fusion Tandoori Cuisine
The global kitchen is a melting pot, and when Tandoori enters the scene, culinary wonders happen. Think Tandoori shrimp tacos with a tangy mint sauce or a Tandoori chicken pizza with a creamy masala base. Chefs across the world, inspired by the rich flavors of Tandoori, are getting creative, merging it with their local cuisine, and presenting dishes that tantalize the taste buds in unexpected ways.
Conclusion
The journey through the Tandoori trail has been a delightful dance of flavors, aromas, and textures. It's a testament to how Indian Tandoori cuisine has not just remained confined within geographical boundaries but has spread its wings, capturing hearts and appetites worldwide.
So the next time the scent of charred, spiced meat wafts through, remember, it's not just food, it's a story, a tradition, a legacy.
In case you want more content like this, visit Orderific right now!
FAQs
1. What are the origins and history of Tandoori cuisine?
Tandoori cuisine originates from the Indian subcontinent, with its popularity surging in the mid-20th century.
2. What is a Tandoor oven and how is it used in Indian cooking?
A Tandoor is a cylindrical oven for cooking and baking, giving dishes a distinct charred and smoky flavor.
3. What kind of spices and seasonings are used in Tandoori cuisine?
Common spices include red chili powder, garam masala, cumin, ginger, and garlic, with yogurt as a base for marinades.
4. What kind of meats and vegetables are commonly used in Tandoori dishes?
Chicken, lamb, fish, shrimp, bell peppers, onions, cauliflower, mushrooms, and paneer are the common Tandoori style grill items.
5. How are Tandoori dishes marinated and grilled?
Items are marinated in spiced yogurt, skewered, and grilled in a Tandoor.
6. What are some popular Tandoori dishes?
Popular dishes include Tandoori Chicken, Chicken Tikka, Paneer Tikka, Naan, and Tandoori Fish.