Welcome to the heartland of America – Indiana, a state renowned for its rich culinary heritage and diverse dishes. Whether you're in bustling Indianapolis or a cozy small town, Indiana food is a delightful journey of flavors.
Get ready to immerse yourself in the world of Indiana food. A delightful blend of traditional American fare with a unique Hoosier twist. Whether it's savory, sweet, or something in between, Indiana's culinary scene has something to satisfy every palate. So put on your dining shoes and allow us to guide you through 13 must-try dishes that truly define Indiana's gastronomic identity.
Most Famous Indiana Food
Hoosier food culture is a celebration of its farming roots. And the diverse ethnic groups that have shaped its culinary scene. Indiana's fertile farmlands produce an abundance of corn, soybeans, and wheat, which are staples in many traditional dishes. The state's farming heritage shines through its affinity for hearty, home-cooked meals, from the farm to the table. Indiana is also known for its food festivals, like the Persimmon Festival in Mitchell and the Pierogi Fest in Whiting. The locals and tourists alike can indulge in authentic Indiana cuisine.
But Indiana's food culture isn't just about its agricultural prowess. Waves of immigration have brought varied influences to the Indiana culinary scene. You can find fragrant Amish-style pies in Elkhart and LaGrange counties, soulful Southern cooking in Evansville. And a global culinary mosaic in Indianapolis with influences from Latin America, Asia, and the Mediterranean. The common thread that binds these diverse food traditions is the Hoosier spirit of hospitality. And the community, reflected in the shared meals and the joy of cooking and eating together. This unique blend of local and global, traditional and contemporary, is what makes Indiana's food culture truly special.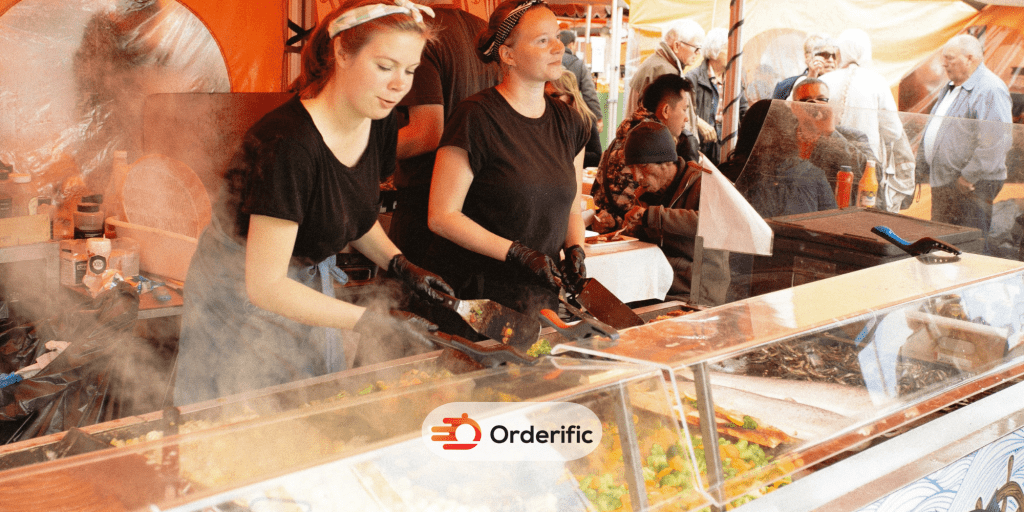 Popular Food Indiana Is Known For
Indiana's culinary landscape is as vibrant and diverse as its people, and it's time to take a closer look at some of its most popular dishes. These are the meals that locals love and visitors seek out, the flavors that tell the stories of Indiana's history, its traditions, and its communities. Each dish, in its way, has helped to shape the Hoosier culinary identity. So, get ready to embark on a flavorful journey that takes you from the cornfields to the city, introducing you to the heart and soul of Indiana cuisine.
Southern Indiana BBQ Pork Loin
The Southern Indiana BBQ Pork Loin is a symphony of flavors that illustrates the state's penchant for hearty, comforting food. This dish features a succulent cut of pork loin, slow-cooked to perfection over a low flame until it's melt-in-your-mouth tender. It's then generously slathered with a homemade barbeque sauce, a tangy and slightly sweet concoction that's a well-guarded secret among local pitmasters. The result is a piece of meat that's moist, flavorful, and falls apart at the slightest touch. It's commonly served with a side of coleslaw and cornbread, making for a complete meal that's deeply satisfying and quintessentially Indiana. Whether it's served at a backyard cookout or a local diner, the Southern Indiana BBQ Pork Loin is a dish that never fails to evoke a sense of home and community.
Country-Fried Steak
Another classic Indiana comfort food is the country-fried steak, a dish that often shows up on restaurant menus across the state. This dish features a thinly pounded cut of beef that's coated in seasoned flour and fried until golden brown and crispy. It's then smothered with creamy gravy and served alongside mashed potatoes or French fries for an indulgent plate of stick-to-your-ribs goodness. Indiana's version of this classic Southern dish has become a favorite among locals. And its popularity is growing in other parts of the country too.
Indiana Style Fried Catfish
For a taste of Indiana's deep-rooted fishing culture, there's nothing quite like fried catfish. This dish is made from freshly caught catfish coated in a cornmeal batter. Fried Catfish lightly fried until it achieves a delicate golden-brown crispiness. The fish stays moist and tender on the inside, with just enough crunchy texture to make it stand out as a unique Hoosier delicacy. Fried catfish is typically served with hush puppies and fries, for a wonderful combination of sweet, savory, and crunchy.
Chicken And Waffles
One of the most beloved Indiana food traditions is chicken and waffles. This classic dish is a delectable combination of savory fried chicken and fluffy golden-brown waffles, usually served with a side of creamy butter and maple syrup. Indiana's version features crispy pieces of fried chicken that are cooked to perfection in a tangy buttermilk marinade, served with a light and fluffy waffle that's flavored with delicate hints of cinnamon. Whether you're having it for breakfast or dinner, chicken and waffles is always guaranteed to be an unforgettable experience.
Reuben Sandwich
Another widely beloved Indiana food is the Reuben sandwich, a classic favorite among locals. This version features thick slices of rye bread spread with Russian dressing and layered with succulent corned beef, melted Swiss cheese, and sauerkraut for a heart-warming combination of flavors. It's then grilled to perfection on a hot flattop griddle until it reaches a warm gooey goodness. The result is a classic comfort food that's sure to satisfy even the most discerning palate.
Pork And Beans
Pork and beans are another popular Hoosier favorite that's been around for generations. This dish features a rich stew made with pork, navy beans, tomatoes, and spices, simmered together until it achieves a deep flavor complexity. It's traditionally served over steamed white rice, creating a complete meal that warms both heart and belly. So the hearty goodness of this classic Indiana favorite makes it a perfect companion for cold winter nights.
Snack Food Indiana Is Known For
Just as Indiana's hearty meals are a testament to its rich culinary heritage, the state's varied snack offerings are no less notable. From sweet treats to savory bites, Indiana's snack culture presents an array of flavors perfect for any time of the day or night. Whether you're strolling through a local farmers market or settling in for a cozy night at home, these Hoosier snacks are sure to satisfy your craving.
Indiana Sweet Corn
Indiana sweet corn is a summertime staple that's beloved by locals. This delicious variety of corn has long been grown in the state, and it's renowned for its sweet flavor and tender kernels. It's typically boiled or grilled and served with butter and salt or sometimes enjoyed as a snack on its own. You can find fresh Indiana sweet corn at farmers' markets throughout the state during the summer months.
Popcorn Balls
Popcorn balls are a classic Indiana treat that's been enjoyed for generations. This snack is made from freshly popped popcorn, mixed with butter and sugar to form delicious little balls of sweetness. It's often served plain or dipped in chocolate and sprinkled with colorful nonpareils for a festive touch. So, Popcorn balls make for the perfect movie night companion or a delightful after-school snack.
Gooey Butter Cake
Gooey butter cake is another popular Indiana snack and one that's sure to satisfy your sweet tooth. This indulgent dessert features a layer of soft, buttery cake topped with a layer of gooey, sugary goodness. It's typically served with a generous topping of powdered sugar for an added bit of sweetness.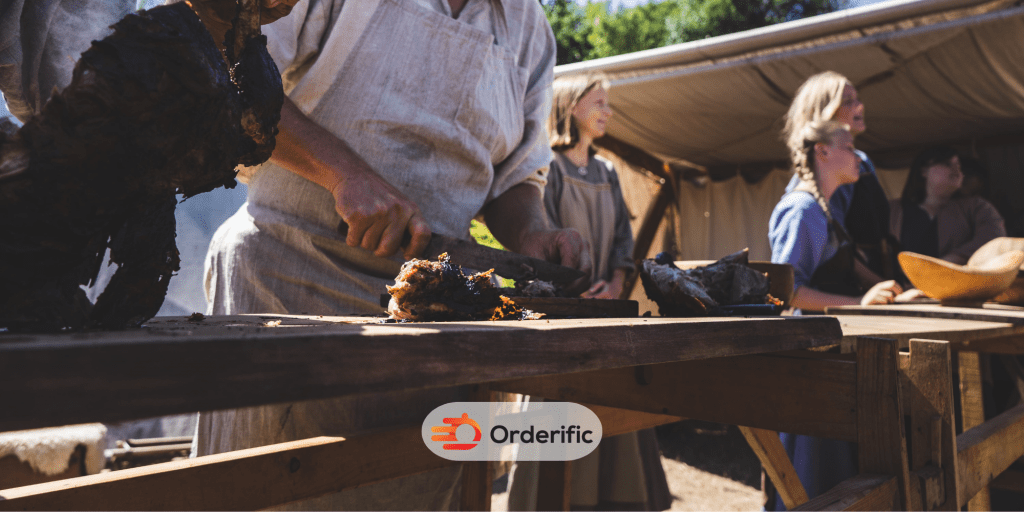 Desserts and Sweet Indiana Food
Indiana is not just about hearty meals and savory treats; it's also a paradise for those with a sweet tooth. The Hoosier state offers a bevy of luscious desserts and sweet delights that round off any meal perfectly or can be relished just by themselves. So, from classic pies to innovative ice creams, Indiana's dessert scene tells a story of tradition, creativity, and an enduring love for all things sweet.
Sugar Cream Pie
The Sugar Cream Pie is one of Indiana's most beloved desserts. This pie is made from a simple, yet incredibly flavorful combination of cream, sugar, and vanilla. It's usually baked in a flaky crust or served without a crust as a custard. The result is an indulgent treat that's creamy and sweet, with a hint of warm spices to balance it out. It's often served with a dollop of fresh whipped cream or a scoop of vanilla ice cream for an extra special touch.
Dutch Baby Pancakes
Dutch baby pancakes are a popular brunch item in Indiana, and they're sure to please everyone at the table. This puff-style pancake is made from a light and fluffy batter that's baked until golden brown. It's then served with fresh lemon wedges, butter, and powdered sugar for an added touch of sweetness. Dutch baby pancakes make for an impressive presentation and an unforgettable taste that everyone is sure to love.
Persimmon Pudding
Persimmon pudding is a traditional Hoosier dessert that's been around since the 19th century. It features a rich custard made from ripe persimmons, sugar, milk, and spices, which is then baked until it achieves a thick and creamy texture. The result is an unforgettable taste of Indiana history in every bite. Persimmon pudding is often served with a scoop of ice cream or fresh whipped cream, creating a luscious combination of flavors that will have you coming back for more.
Apple Butter
Apple Butter is a delightful Hoosier snack, particularly cherished in the autumn months when local apples are in abundant supply. This spread is made by slow-cooking apples with sugar and spices until they turn into a thick, sweet, and deeply flavorful concoction. It's often slathered on warm biscuits, toast, or pancakes, adding an unmistakable touch of Indiana sweetness to any dish. You can find homemade apple butter at farmers' markets, local diners, and even some supermarkets across the state.
Conclusion
From the hearty pork loin and catfish to the sweet treats and snacks that are unique to Indiana, there's a world of flavors waiting for you in the Hoosier state. Whether it's a home-cooked meal or a decadent dessert, every dish has been crafted with care. They are reflecting the distinct culture and traditions that make Indiana cuisine so special. So take a bite, savor the flavor, and experience all that Indiana has to offer. Bon appetit!
To get an authentic taste of Indiana food, there's no better place than its many eateries. From bustling restaurants in Indianapolis to cozy diners in small towns like Elkhart and LaGrange, you can find a wide variety of local and global flavors that truly define Indiana's culinary identity. And don't forget to visit the state's various food festivals, like the Persimmon Festival in Mitchell. Also the Pierogi Fest in Whiting, for an unforgettable experience that will leave your mouth watering. Now let's dig into some delicious Indiana cuisine!
Find more delicious and delightful content with Orderific here. For the many ways Orderific can improve your business, start trying it out here. It's Orderific time now!
FAQs
What are popular Indiana dishes?
They are BBQ Pork Loin, Country-Fried Steak, Indiana-style fried Catfish, Chicken and Waffles, Reuben Sandwich, and many more.
Are there unique regional flavors?
Yes, Indiana's food culture is a reflection of the state's diverse heritage and its farming roots.
Are there any local food festivals?
Indiana is home to many food festivals, such as the Persimmon Festival in Mitchell and Pierogi Fest in Whiting.
Does Indiana have signature desserts?
Yes, Indiana has signature desserts such as Sugar Cream Pie, Dutch Baby Pancakes, and Persimmon Pudding.
Are there famous food markets in the state?
Yes, numerous farmer's markets throughout Indiana offer a variety of local and regional food items.