In the world of juice bars, the debate between local and global ingredient sourcing is always simmering. Relishing fresh juice, brimming with local ingredients, is undeniably appealing. Simultaneously, the allure of exotic flavors from globally sourced ingredients is hard to ignore. It's a conundrum that juice bar owners often grapple with. On one hand, you have the charm of supporting local farmers and boosting the local economy. On the other, there's the tantalizing prospect of introducing your customers to an array of unusual, world-spanning flavors. Then there's the matter of sustainability. Emissions, animal welfare, and regenerative agriculture also factor into the equation. So, let's dive into the juicy details of this compelling debate, starting with the flavor profiles that different sourcing strategies can unlock.
4 Variables of Smart Ingredient Sourcing
Navigating the labyrinth of ingredient sourcing is akin to a well-choreographed dance, requiring precision, timing, and a keen eye for detail. Four variables take center stage in this performance: Quality, Functionality, Availability or Lead Time, and Price. Each variable presents unique challenges, but when harmoniously aligned, they orchestrate the symphony of smart sourcing.
Quality – The cornerstone of any successful juice bar is the commitment to high-quality ingredients. Consumers crave fresh, natural ingredients, a demand that juice bar owners strive to meet. The art of sourcing quality ingredients lies in building solid relationships with reliable suppliers, ensuring that every sip of juice is a testament to quality.
Functionality – The versatility of an ingredient is just as crucial as its quality. Can a single ingredient be a star in a smoothie and play a supporting role in a dietary supplement or a pet food? Functionality refers to an ingredient's ability to adapt and shine in various menu items, making it a key ingredient in the sourcing process.
Availability or Lead Time – Timing is everything in ingredient sourcing. Every step in the supply chain must be synchronized from farm to glass. Sourcing ingredients with due consideration for their availability and lead time prevents supply hiccups and keeps the juice flowing.
Price – Lastly, price plays an undeniable role in the sourcing equation. While quality and sustainability are paramount, cost-effectiveness remains a reality for juice bar owners. The challenge lies in finding the right balance – sourcing quality ingredients that don't squeeze the profit margins too tightly.
Smart ingredient sourcing is not just about finding the right ingredient; it involves weaving these four variables into a strategy that ensures your juice bar thrives, offering consumers the perfect blend of taste, nutrition, and value.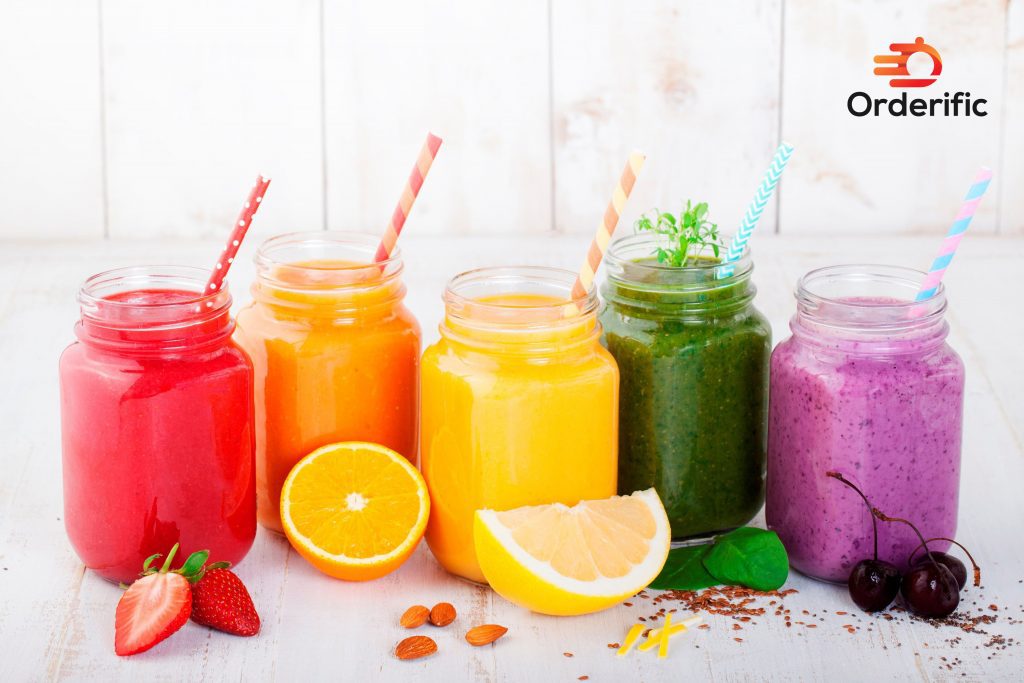 Additional Things to Understand
Unraveling the intricacies of ingredient sourcing is like embarking on a treasure hunt, with every decision opening a new path in the labyrinth of supply chains. Each turn, guided by a compass of quality and sustainability, leads juice bar owners to fresh discoveries about their suppliers. Understanding these nuances becomes paramount, as they are the golden keys to sourcing success – and unlocking the treasure chest of customer satisfaction.
How Close Is the Supplier to the Source?
Distance to the supplier can have a profound impact on ingredient sourcing. Picture this: a local farmer tending to his organic ingredients with care. The dew-kissed kale and vibrant carrots are harvested at sunrise, ensuring peak freshness. In contrast, imagine a distant supplier in North America. Here, specialty ingredients like acai berries or spirulina are cultivated. They're unique, but the journey from farm to juice bar is long and arduous.
These key ingredients traverse multiple time zones before reaching your establishment, challenging quality assurance. Therefore, knowing your supplier's proximity to the source is crucial. It helps you strike a balance between novel flavors and local freshness. Ultimately, it allows you to craft a juice menu that satisfies customer demand for high-quality, diverse offerings. Proximity doesn't just influence freshness; it also factors into emissions, contributing to sustainable sourcing practices in the juice bar industry.
Who Else Do They Supply?
Knowing who else your suppliers cater to can provide insight into their practices and reliability. Picture the buzz of a bustling kitchen at a renowned juice bar miles away. Can you smell the tangy aroma of freshly squeezed oranges or the robust earthiness of beetroot? Intriguing. This juice bar shares with your supplier, trusting them to deliver fresh, quality ingredients consistently.
Now, imagine a fast-paced food manufacturing industry. Your supplier is their trusted source, too. From juice bars to food factories, their reach is vast, serving diverse industries with their range of quality products. This in-depth understanding of supplier reach can aid in evaluating their reliability and versatility. It's an essential puzzle piece in your quest for the perfect ingredient. Consumers crave trust in their juice bars, and knowing your suppliers' clientele can help instill that trust, strengthening your bond with your local community.
Do They Stock What You're Looking For Year-Round or Just Seasonally?
Seasonality introduces an exciting twist to the tale of ingredient sourcing. Imagine delighting your customers with the sweet allure of locally sourced strawberries in summer, then transitioning to the tart zing of imported pomegranates in winter. This simple pleasure of savoring the season's best is a great boon for consumers. However, it does present a logistical challenge for juice bar owners.
Ensuring a consistent supply of local and exotic ingredients, regardless of the season, requires a keen understanding of your supplier's stock patterns. Does your trusted supplier provide fresh, quality ingredients year-round, or are they limited by the seasons? Regardless of seasonality, a reliable supplier who consistently meets your raw material needs can be a game-changer in your quest for success in the juice bar business. It allows you to keep your menu dynamic and customer satisfaction high all year round.
Can They Send Sample Sizes to Get You Started?
Sampling new ingredients is akin to embarking on a culinary adventure. Picture yourself unwrapping a package from your supplier. Inside, nestled amidst a bed of straw, are sample sizes of various ingredients. You're greeted with the vivid hues of tropical fruits, their exotic scents wafting up to tease your senses. There may be a bag of organic spirulina powder, its deep green color hinting at the earthy flavor it can add to your juices.
Or there's a bunch of locally sourced kale, its freshness evident in the crisp texture and bright color. You're not just receiving a package – you're opening a box of potential, each sample a seed that could blossom into your next best-selling juice. It's a delicate dance of discovery and decision-making as you navigate the world of ingredient sourcing, one sample at a time.
What Is the Freshness of the Product They Are Shipping You?
The freshness of a product is a key determinant in juice bar ingredient sourcing. Imagine holding a ripe, juicy apple plucked from a local farmer's orchard. It's crisp, fragrant, and so fresh that the juice begins to bead on the smooth skin. On the other hand, consider a batch of exotic fruits that have journeyed across oceans. Despite the distance, they arrive pristine, their aroma still intoxicating.
This freshness isn't just appealing; it's essential. It defines the taste, nutrition, and overall quality of your juices. Additionally, it reflects on your commitment to providing consumers with high-quality ingredients, enhancing customer satisfaction. However, ensuring consistent freshness does require a robust supply chain and reliable suppliers. Therefore, understanding the freshness quotient of your supplier's products is crucial. It holds the key to crafting juices that are not only delicious but also radiate the wholesome goodness of top-notch ingredients.
Conclusion
In the whirlwind world of juice bars, the art of ingredient sourcing straddles the line between local charm and global allure. Whether it's the crisp crunch of a locally grown apple or the exotic tang of imported acai berries, the quest for quality and freshness never ends. The dance of discovery intertwines with the rhythm of supply and demand, choreographing a masterpiece of flavors in every glass. It's a journey that enriches the local economy, embarks on global adventures, and champions consumer satisfaction. For those in the food business aiming for seamless operations, Orderific can be your trusted partner. Streamline your tasks, enhance the customer experience, and boost revenue. For more information on Orderific, schedule a FREE DEMO today.
FAQs
How do businesses decide where to source their ingredients?
Businesses consider quality, cost, supplier reliability, and sustainability when deciding where to source their ingredients.
Why is local ingredient sourcing important for businesses?
Local sourcing supports the local economy, reduces transportation emissions, and often ensures fresher, high-quality ingredients.
What challenges do businesses face in global ingredient sourcing?
Global sourcing can pose challenges like maintaining quality, dealing with long lead times, and managing high transportation costs.
How can businesses ensure the quality and safety of sourced ingredients?
Businesses can ensure ingredient quality and safety by conducting regular audits, maintaining strict quality control, and fostering transparent supplier relationships.
What impact does ingredient sourcing have on the overall sustainability of a business?
Ingredient sourcing influences a business's carbon footprint, local economic impact, waste generation, and overall resource consumption.