Dipping ripe, juicy strawberries into a bowl of velvety irresistible chocolate dip is truly a heavenly experience, isn't it? But why limit it to strawberries? There's a whole world of delicious snacks and fruits just waiting to be dunked into this delectable treat. It's time to explore the wonderful possibilities of chocolate dips!
Homemade chocolate dip is surprisingly simple to prepare, and it's an easy way to up the ante of your dessert game. Bananas, marshmallows, pretzels, or even cookies – they all take a delicious turn for the better when swirled in a pool of rich chocolate. Ready to dive into the world of chocolate dips? Let's get started!
Why You Should Make Chocolate for Dipping
Making your chocolate dipping sauce is the perfect way to make your snacks and desserts even more special. Not only does it save you from store-bought options which may not be of the best quality, but it also ensures that you can customize the recipe according to your preferences – use milk or dark chocolate, add a hint of vanilla extract, or sprinkle some nuts for a crunch!
It's also the perfect dessert for entertaining and impressing your guests. You can serve it as an appetizer with fruits or pretzels, or use it to make fondue for a fun and interactive treat. All you need are some basic ingredients, a few minutes, and creativity – voila, you've got yourself the makings of an extraordinary dessert!
How to Make 3 Ingredient Chocolate Dip
Here's a simple yet delightful recipe for a chocolate dip that only requires 3 ingredients. Make sure to use high-quality chocolate here – it will make all the difference in flavor!
Ingredients:
8 ounces of your favorite Chocolate, roughly chopped
2 tablespoons of Heavy Cream
1/2 teaspoon of Vanilla Extract (optional)
Instructions:
Heat a double boiler over medium-low heat or use the microwave in 30-second intervals. Place the chocolate pieces and heavy cream into the top of the double boiler or in a microwave-safe bowl.
Stir until all of the ingredients are melted together and smooth, about 5 minutes for stovetop melting or 2-3 rounds in the microwave.
Add the vanilla extract and stir until fully incorporated.
Transfer to a bowl for serving and enjoy!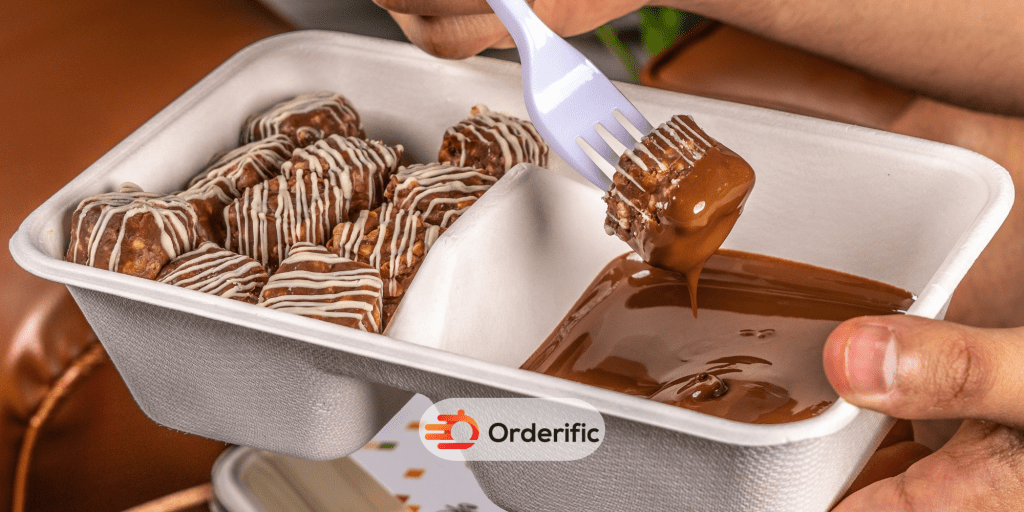 What to Dip in the Chocolate Dipping Sauce.
The possibilities for dipping are almost endless! Here are some of our favorite options:
Strawberries
Marshmallows
Pretzels
Apples
Bananas
Oreos or your favorite cookies
Graham crackers or other crunchy snacks.
Feel free to mix and match – you can pair sweet fruits with crunchy snacks, or try two different types of fruits and compare the flavor combinations!
Does This Chocolate Dip Harden?
Yes, this chocolate dip does harden when cooled, but don't let that worry you. The hardening of the dip is due to the cocoa butter in the chocolate, which solidifies at room temperature. While it might seem like a disadvantage at first, this feature makes this dip perfect for creating chocolate-dipped treats that you can store and enjoy later.
To use the hardened dip, simply reheat it gently until it reaches a smooth, liquid consistency. You can do this either in a double boiler on the stove or the microwave using short intervals and stirring in between to prevent overheating.
How to Reheat Easy Chocolate Dip.
Reheating your chocolate dip is easy and can be done using a double boiler on the stove or in the microwave. Here are the steps for both methods:
Using Stovetop:
Fill a pot with 2-3 inches of water and bring to a simmer over medium heat.
Place the bowl of hardened chocolate dip into the pot and stir with a rubber spatula until it melts and becomes smooth. This will take around 5 minutes.
Using Microwave:
Place the bowl of hardened chocolate dip into the microwave and heat in 30-second intervals, stirring each time. Do not overheat as this can cause the chocolate to burn or seize up.
Continue microwaving and stirring until the dip is smooth and liquid again.
Is This Dessert Dip Recipe Like Hot Chocolate Dip?
This dessert dip recipe is similar to hot chocolate dip, but it's made with melted semi-sweet chocolate instead of hot cocoa mix. It's best served warm or at room temperature for dipping. For a more indulgent treat, you can also serve it as a fondue – simply transfer the dip into a fondue pot and keep it warm over low heat.
This chocolate dip becomes the star of any party, instantly transforming it into a chocolate lovers' paradise. Imagine dipping a crisp apple slice or a chunk of banana into the hot, molten chocolate and biting into it – the combination of fresh fruit and luscious chocolate is nothing short of divine! Not just fruits, crunchy bites like pretzels or cookies also pair brilliantly with this dip. The salty pretzel or a sweet cookie dunked in creamy chocolate is an irresistible snack that will have everyone reaching out for more. So, the next time you're hosting a gathering or simply craving a treat, whip up this easy 3-ingredient chocolate dip and let the dipping fun begin!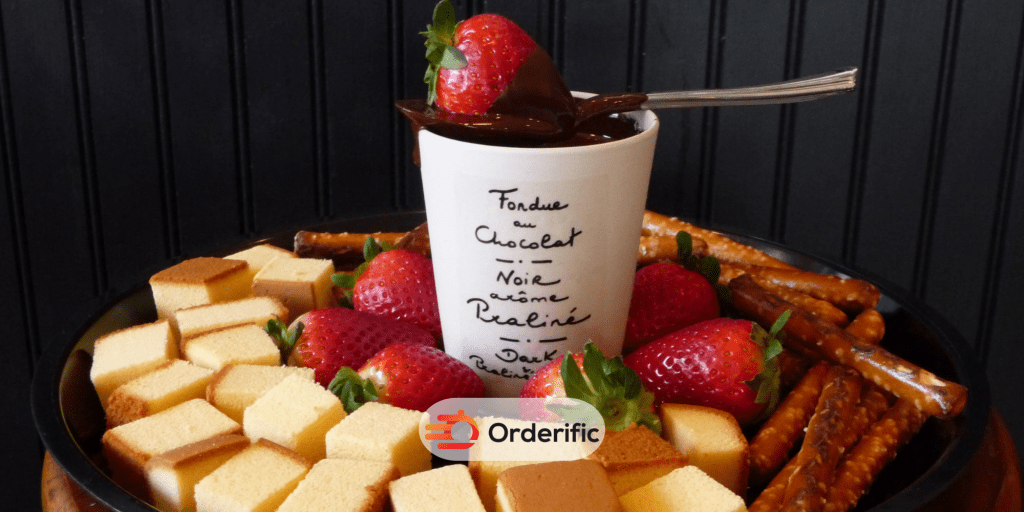 Conclusion
Whether you're hosting a party or simply need a quick and easy dessert, chocolate dips are the perfect way to elevate your snacks. With just 3 ingredients and a few minutes, you can have yourself an indulgent treat that everyone will love. Don't forget to experiment with different flavors and toppings – get creative with it!
Now that you know how to make your chocolate dip, why not try it with some other recipes? A few of our favorites include Chocolate French Toast and Chocolate Peanut Butter Pretzel Bites. Both are easy to whip up and guaranteed to be crowd-pleasers. Now that's a treat everyone will love! Enjoy!
Click here for more flavorful and informative advice with Orderific. To start experiencing the great benefits Orderific can bring to your business, click here now. Try Orderific!
FAQs
How to thin chocolate for dipping?
If the chocolate is too thick for dipping, you can thin it out by adding a tablespoon of heavy cream.
Can I use milk chocolate for dipping?
Yes, you can use milk chocolate for dipping. It will have a sweeter flavor than dark chocolate, so adjust the amount of sugar accordingly.
How to make chocolate frosting without butter?
You can make a delicious chocolate frosting without butter by using a combination of dark chocolate, milk, cream cheese, and powdered sugar.
What are some things one can dip in caramel?
Caramel is delicious with a variety of snacks and fruits! Try dipping apple wedges, graham crackers, pretzels, strawberries, or marshmallows in caramel for an extra special treat.
Are chocolate-covered strawberries really good?
Yes, chocolate-covered strawberries are delicious! The combination of sweet berries and rich chocolate is a match made in heaven.
Do you like chocolate-dipped strawberries?
Yes, I love chocolate-dipped strawberries! The combination of sweet and tart berries with the smooth and rich chocolate is truly magical. It's one of my favorite treats!