Introduction
Welcome to the realm of juice bar ambiance, where fresh ingredients meet unique blends in a welcoming atmosphere. Here, guests are treated to a spectrum of delights, from refreshing smoothies and cold-pressed juices to indulgent acai and smoothie bowls, each boasting delicious flavors. Every ingredient, be it ripe fruits, crunchy granola, or creamy almond butter, is carefully chosen to serve you a drink that's tasty and rich in nutrients. Our juice bar operates to revolutionize the concept of healthy living, introducing customers to a healthier lifestyle that can be both easy and enjoyable. The space we've created isn't just about serving juice; it's about providing an experience where each sip of our fresh juice, wholesome smoothie, or even a comforting cup of coffee is a step towards wellness.
Why Does Ambiance Matter for Customer Retention?
A juice bar is more than just a space where guests walk in, grab a glass of fresh juice, and walk out. The ambiance, or the atmosphere of the juice bar, plays a significant role in how customers perceive their experience. The power of ambiance lies in its ability to elevate a simple act of drinking juice or smoothies into an immersive, memorable experience.
Whether it's a refreshing cold-pressed juice on a hot day, a comforting cup of coffee on a chilly morning, or a nutrient-packed acai bowl after a workout, a well-crafted ambiance can make these moments even more enjoyable. Unique menu items or specialty drinks, such as a tropical smoothie or a green juice with a hint of ginger, can be highlighted better when the space supports the product's narrative.
Crafting an Inviting Juice Bar Space
Creating a warm and welcoming atmosphere for your juice bar requires careful consideration of various aspects. Paying attention to the décor, lighting, music, and overall layout can make a significant difference. To enhance the ambiance, consider incorporating natural elements like plants, which add a touch of freshness and align perfectly with fresh ingredients in your juices and smoothies. The vibrant greenery creates a soothing and inviting environment, making customers feel connected to nature while enjoying refreshing beverages. By attending to these details, you can ensure that your juice bar provides a delightful experience for your customers.
Regarding seating, it's crucial to prioritize comfort and arrangement that fosters social interactions while respecting individual space. Imagine plush and cozy chairs strategically placed to encourage conversations, with small tables for guests to put their drinks and snacks.
Uniqueness and Variety in Offerings
To truly stand out in a market overflowing with juice bars, embracing uniqueness and offering a wide range of options is crucial. One way to achieve this is by curating a healthy and creative menu. Imagine serving delectable smoothie bowls generously topped with crunchy granola and a dollop of creamy almond butter. For those seeking a nutrient-packed green juice, why not blend a refreshing combination of kale and spinach?
In addition to creating enticing and innovative offerings, consider catering to a broader audience by including vegan options. This showcases your commitment to inclusivity and opens your business to a more extensive customer base. By offering plant-based alternatives, you provide individuals with dietary restrictions or preferences an opportunity to indulge in the goodness of your juices and smoothies.
Furthermore, consider incorporating seasonal changes to keep your menu exciting and in sync with the changing seasons. By utilizing the freshest produce available during different times of the year, you add variety to your offerings and ensure the utmost freshness and quality of your ingredients.
Exceptional Customer Service
Exceptional customer service is crucial and plays a significant role in enhancing the juice bar experience for your customers. From the moment a customer steps into the juice bar to the moment they leave, every interaction should be characterized by genuine friendliness, unwavering attentiveness, and utmost professionalism. The staff should warmly welcome customers, making them feel valued and appreciated. They should be knowledgeable about the different juice options available and be able to provide personalized recommendations based on individual preferences and dietary needs. The staff should proactively offer assistance throughout the customer's visit, ensuring their needs are met promptly and efficiently.
Effective customer service also involves listening to feedback, promptly addressing issues, and striving to exceed customer expectations. Remember, a happy customer is a repeat customer and one who is likely to spread good word-of-mouth about your juice bar.
A Nod to Tech-Forward Operations
In today's digital era, integrating tech-forward operations into your juice bar can significantly elevate the customer experience. Imagine having an easy-to-use and intuitive POS system that streamlines transactions, making it a breeze for your staff to serve customers efficiently. Additionally, offering online ordering options provides unparalleled convenience, allowing customers to place their orders from the comfort of their own homes or on the go.
But that's not all. To truly stand out in the competitive landscape, implementing a comprehensive loyalty program can be a game-changer. By rewarding frequent customers, you foster a sense of appreciation and build long-lasting relationships. Imagine the joy on your customers' faces when they are recognized and rewarded for their loyalty.
However, it's not just about the front-end experience. Ensuring a smooth and seamless operation behind the scenes is equally vital. A robust inventory management system guarantees that all your ingredients, from a wide variety of fresh fruits to almond milk, are consistently well-stocked.
How to Improve Your Juice Bar Ambience?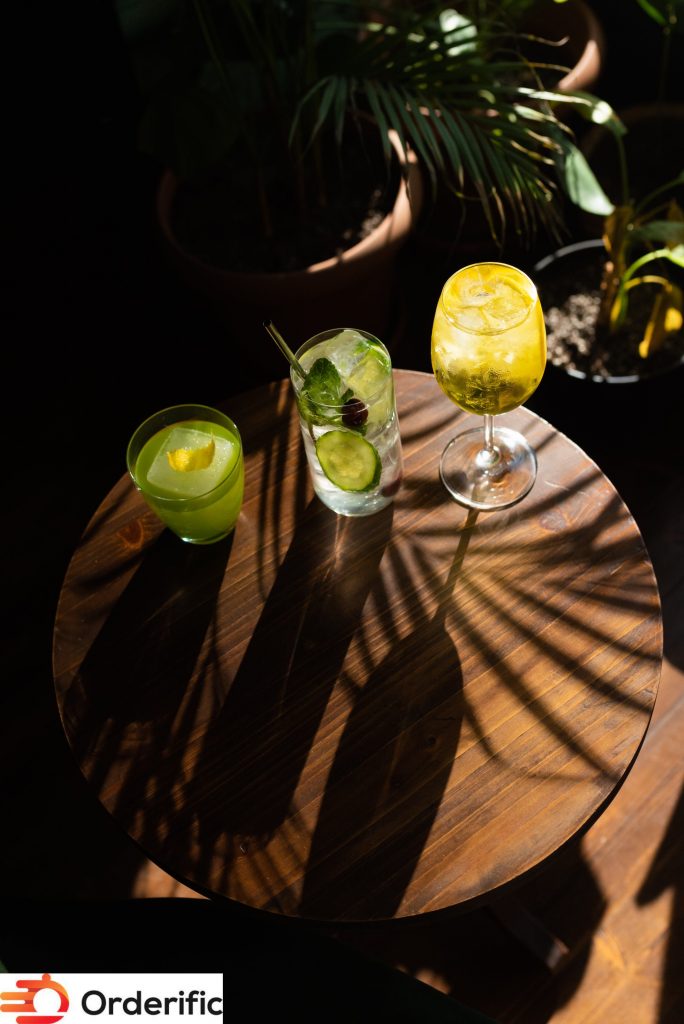 Show Off Your Fresh Fruits
A highly effective way to enhance your juice bar's ambiance is by showcasing fresh fruits. Think of a vibrant display of colorful, fresh produce strategically positioned within the customer's sight. This serves multiple purposes. Firstly, it visually communicates the freshness of the ingredients used in your juices and smoothies. The sight of these fresh fruits can stimulate appetites and pique customer interest in trying out different combinations. Secondly, such a display can act as a natural decor element, adding to the color and vivacity of your space. Imagine a beautiful array of oranges, apples, strawberries, and spinach exuding a riot of colors, enhancing the attractiveness of your juice bar.
Furthermore, a transparent display of ingredients reassures customers about the quality and cleanliness of the products they consume. A juice bar that takes pride in its ingredients and displays them boldly is likely to win the trust and admiration of health-conscious customers. Thus, showcasing fresh fruits can dramatically improve your juice bar's ambiance and overall customer experience.
Bring the Outdoors Inside
Blending the charm of the outdoors with your juice bar's interior design can create a truly enchanting ambiance. This approach resonates with the freshness of the ingredients and the vitality inherent in your juices and smoothies. Consider including indoor plants, vertical gardens, or even a minor indoor water feature. These additions enhance the aesthetic appeal and contribute to a calming and refreshing atmosphere. Think of your customers sipping their delicious smoothies amidst lush greenery and the soothing sounds of water, an experience that bridges the gap between nature and nourishment. Furthermore, with natural light pouring in, your space can capture the essence of a serene outdoor setting, promoting feelings of relaxation and well-being among your customers. This harmonious blend of indoor and outdoor elements can transform your juice bar into a tranquil oasis, elevating the customer experience to new heights.
Install Standout Light Fixtures
Lighting is a pivotal aspect that can dramatically enhance the ambiance of your juice bar. Standout light fixtures illuminate the space and serve as a statement piece, adding to the aesthetic appeal. Consider using distinctive pendant lights or trendy chandeliers that reflect your brand's personality. Soft, warm lighting can create a soothing and welcoming environment, invoking a sense of comfort and relaxation. Imagine customers unwinding under gentle, ambient lighting, savoring their juices or smoothies. Conversely, brighter lights can energize the space, making it lively and vibrant. This can be particularly effective during peak hours when the buzz is high.
Moreover, natural light streaming in through large windows during the day adds an element of freshness, aligning with the vitality of your offerings. By carefully selecting and positioning your light fixtures, you can craft a captivating ambiance that resonates with your customers, enhancing their overall experience at your juice bar.
Use the Modern Design for Your Tiny Shop
Implementing a modern design in your small juice bar can significantly transform and elevate the customer experience. Attention to sleek lines, minimalistic furniture, and a simple yet elegant color scheme can make your space look larger, cleaner, and more inviting. Opt for open shelving to display fresh ingredients and create an interactive environment. Use mirrors to give the illusion of a larger space while adding a fashionable element to your design. Natural materials such as wood or stone can lend a sense of harmony and balance, reinforcing the idea of natural nutrition. Lastly, don't forget to leave adequate room for movement to ensure a comfortable and enjoyable visit for your customers. With a well-executed modern design, even a tiny shop can offer a memorable and pleasant juice bar experience.
Design a Popular and Profitable Juice Bar Menu
Designing a popular and profitable juice bar menu is an art that requires careful consideration of several factors. Your menu should display a wide range of offerings to cater to diverse tastes and dietary preferences. This includes creative and delicious smoothies, nutrient-packed green juices, and plant-based options for vegetarians and vegans. Seasonal changes in the menu can add variety and ensure the freshness of your ingredients. The menu design should be appealing and easy to read, with concise and enticing descriptions of each item. It should also highlight your unique offerings, drawing the customers' attention to your signature drinks. To enhance profitability, strategically position your high-margin items where they are most likely to catch the customer's eye. By incorporating these elements, your menu can attract a broader customer base, boost sales, and elevate the customer experience at your juice bar.
Add Patio Furniture
Incorporating patio furniture into your juice bar can provide a delightful outdoor experience for your customers. Al fresco dining allows guests to savor their drinks while soaking in the fresh air and natural surroundings. This addition creates an inviting atmosphere that promises relaxation and leisure. Consider comfortable seating arrangements, such as cushioned chairs or wooden benches, that align with your establishment's aesthetics. Consider adding a touch of greenery with potted plants or hanging baskets to reinforce the connection to nature. Furthermore, patio umbrellas provide shade, allowing customers to enjoy refreshments even under the bright midday sun. This seamless blend of indoor service with an outdoor setting can significantly enhance the overall appeal of your juice bar, providing a unique customer experience that sets you apart from the competition.
Use Reused or Recycled Materials
Incorporating reused or recycled materials in your juice bar's décor is not just an eco-friendly decision but adds character and uniqueness to your establishment. Consider furniture made from reclaimed wood or recycled metal or glass light fixtures. Even the most minor items like coasters, menu holders, or decorative pieces can be made from repurposed materials. This creates a rustic, earthy ambiance that resonates with the freshness and naturalness of your offerings. Furthermore, it sends out a strong message about your commitment to sustainability and the environment, which can resonate with environmentally-conscious customers. By smartly integrating reused or recycled materials, you can create a visually appealing, sustainable, distinct juice bar ambiance that enhances the overall customer experience.
Do Something With Your Exterior Design
The exterior design of your juice bar is just as important as the interior. It's the first thing customers see, setting the tone for the experience they can expect inside. A well-designed exterior should be inviting and reflect the ethos of your brand. Using bright and fresh colors for a juice bar can evoke a sense of vibrancy and health. Placing potted plants or green walls outside can echo the freshness of your ingredients, reinforcing the connection to nature. Hanging attractive signage with your logo and name in a prominent, visible area can help your establishment stand out. If space allows, setting up an outdoor seating area with comfortable and stylish furniture can be an excellent way to attract passersby.
Remember, an appealing exterior can intrigue potential customers, encouraging them to step in and try your delicious and healthy offerings. Investing in a captivating exterior design can enhance visibility, attract more customers, and create a holistic juice bar experience that begins from the very moment they lay eyes on your establishment.
Use a One-Stop Technology Solution
Investing in a one-stop technology solution can significantly streamline your juice bar operations, enhancing the overall customer experience. Implement solutions that take care of everything from point-of-sale transactions to inventory management, online ordering, and customer loyalty programs. An intuitive POS system speeds up service, reduces errors, and allows staff to focus on delivering excellent customer interactions. Meanwhile, a robust inventory management system ensures you're never out of the ingredients for your customers' favorite juices and smoothies. Online ordering options bring convenience to customers, letting them order from anywhere, anytime. A comprehensive loyalty program integrated with your system can recognize and reward your most loyal customers. This tech-forward approach makes your operations seamless and can elevate your brand image, making your juice bar synonymous with convenience and efficiency.
Conclusion
In conclusion, creating an inviting ambiance and providing a memorable customer experience in your juice bar is multifaceted, from showcasing fresh fruits to implementing a modern design. To use standout light fixtures and offer a vibrant outdoor seating area. Each step contributes to crafting an exceptional juice bar experience. Your menu should be as enticing as your interior. Featuring a wide range of offerings and highlighting your unique, signature drinks. Integrating recycled materials in your décor adds character to your establishment and demonstrates your commitment to sustainability. Lastly, implementing a one-stop technology solution can streamline your operations, making your juice bar synonymous with convenience and efficiency. By paying attention to these details, you can transform your juice bar into a vibrant one. Inviting space where customers feel valued and enjoy spending their time.
If you want to optimize your juice bar operations and enhance your customer experience, don't hesitate to reach out. Orderific offers industry-leading technology solutions designed specifically for businesses like yours. Why not schedule a demo and see how we can help you elevate your juice bar to new heights?
FAQs
What are some quick tips for creating a cozy atmosphere?
Use soft lighting, comfortable seating, warm colors, and ambient music to create a cozy atmosphere.
Any low-cost ideas to improve my ambiance?
Incorporate indoor plants, use second-hand furniture, or create a mural with local art.
How can music and lighting influence ambiance?
Music sets the mood and ambiance, while lighting can enhance the overall aesthetic and comfort of the environment.
How important is the ambiance for customer satisfaction?
Ambiance is crucial to customer satisfaction, impacting their overall experience and likelihood to return.