Step into the vibrant world of juice bars – an industry bursting with color, health, and vitality. The fresh scent of crisp fruits and vegetables fills the air, while the whir of juicers creates a soothing, rhythmic backdrop. From the tangy zing of freshly squeezed lemon to the sweet smoothness of blended berries, a juice bar's offerings are as diverse as they are delightful. Yet, in this saturated market, standing out is a task that requires more than just a great menu. Here, the power of effective branding and savvy marketing comes into play. A well-crafted logo, a carefully curated brand identity, and a strategic marketing approach can make your juice bar the go-to spot for wellness enthusiasts. This article will guide you through innovative branding and marketing strategies to elevate your juice bar, carving out a unique space in the busy juice industry.
Understand Your Target Market
Understanding your target market is the key to success in the bustling world of juice bars. Imagine stepping into your customer's shoes. As the door opens, they're greeted by the refreshing aroma of fresh fruit and the soothing hum of juicers. A vibrant array of colors from a rainbow of fruits and vegetables beckons them forward. 
Appealing to your customers' senses is only the first step, however. You need to resonate with their wellness aspirations and lifestyle choices, too. Are they health-conscious gym goers? Are they busy professionals seeking a nutritious on-the-go option? Or parents aim to introduce fresh, healthy alternatives to their children. Understanding these nuances allows you to craft a juice bar experience that is visually and gastronomically appealing and deeply personal.
Effective juice bar branding is about more than aesthetics – the right logo design, the perfect logo, or even the most attractive. It's about creating an experience that stirs emotions and builds a connection. The most successful juice bars understand this, making every customer feel part of a wellness community. This sense of belonging and the irresistible taste of fresh juice keep customers returning for more. It's time to explore how your juice bar can create this magic.
Develop a Unique Value Proposition
Crafting a unique value proposition requires both authenticity and innovativeness. Imagine your juice bar as more than just a provider of refreshing beverages. Picture it as a sanctuary where health meets taste and wellness becomes a lifestyle. Consider how the citrusy aroma of a freshly squeezed lemon or the lush sweetness of ripe berries can transport customers to a serene oasis.
Every element, from your menu's standout smoothie bowls to the refreshing cold-pressed juices, becomes a part of your story. And what makes your account unique? It's the careful selection of fresh produce and commitment to quality. It is the inviting juice bar design that fosters a sense of community. It's the warm smile welcoming every customer.
The heart of your juice bar branding lies within these experiences. Your brand identity should evoke feelings of freshness, health, and camaraderie. It's about more than just selling drinks; it's about promoting a healthier lifestyle, one delicious sip at a time.
Navigating the juice bar industry successfully involves meeting and exceeding customers' needs. It's about understanding and becoming an integral part of their wellness journey. Your juice bar can become more than a business with the right branding and marketing efforts. It can inspire a wellness revolution, one fresh juice at a time.
Build an Online Presence
In today's digital era, establishing a solid online presence is vital to your juice bar's branding strategy. It's your virtual storefront, welcoming a global audience. Envision your potential customers scrolling through stunning images of your vibrant juice bar kiosk. Imagine their senses being tantalized by vivid descriptions of lemon-infused cold pressed juice, almond butter-adorned smoothie bowls, and refreshing juice shots.
They explore fresh ingredients in your offerings as they navigate your user-friendly website. They read stories of how you source your fresh fruit, promoting local businesses. Moreover, they discover your commitment to wellness, drawing them closer to your brand.
Alongside your website, harness the power of social media. Regularly update your profiles with glimpses of your juice bar in action. Showcase the freshness of your ingredients, your team's passion, and your customers' satisfaction. Engage with your followers, appreciating their loyalty and feedback.
Finally, consider leveraging tools like juice bar management software or a POS system to streamline operations and improve customer experiences. Building an online presence is about creating a virtual extension of your juice bar. It's a space to interact, engage, and build a community of health enthusiasts, boosting brand awareness and business growth.
Implement Local Marketing Strategies
In the heart of your neighborhood, your local juice bar is a beacon of wellness and vitality. As you approach, the inviting scent of fresh fruit pulls you towards the door. Opening it, you're greeted by the comforting hum of busy juicers, an instant sign of the freshness and quality within. The sight of colorful smoothie bowls glistening with almond butter and racks of cold-pressed juices in a rainbow of hues immediately delights your eyes.
As a small business owner, you understand the power of marketing efforts. You see your customers, from busy professionals to health-conscious gym-goers, each drawn in by different aspects of your brand identity. The mom with her kids in tow appreciates your commitment to fresh ingredients and is assured that her children are being introduced to healthy nutrition. The gym enthusiast, on the other hand, is drawn to your protein-packed smoothie bowls, knowing they fuel his workouts and aid recovery.
Your juice bar branding is not just about aesthetics but about personal connections. It's about every customer who enters your doors feeling welcomed into a wellness community. They're not just quenching their thirst as they sip their drinks, from tangy lemon-infused juices to smooth berry blends. They're embarking on a wellness journey guided by your juice bar.
From your unique juice bar logo to carefully crafted marketing messages, your branding strategies attract and retain customers. Your juice bar becomes not just a place to grab a drink but a sanctuary of health, community, and fulfillment. An integral part of their lives and a testament to the power of effective juice bar branding.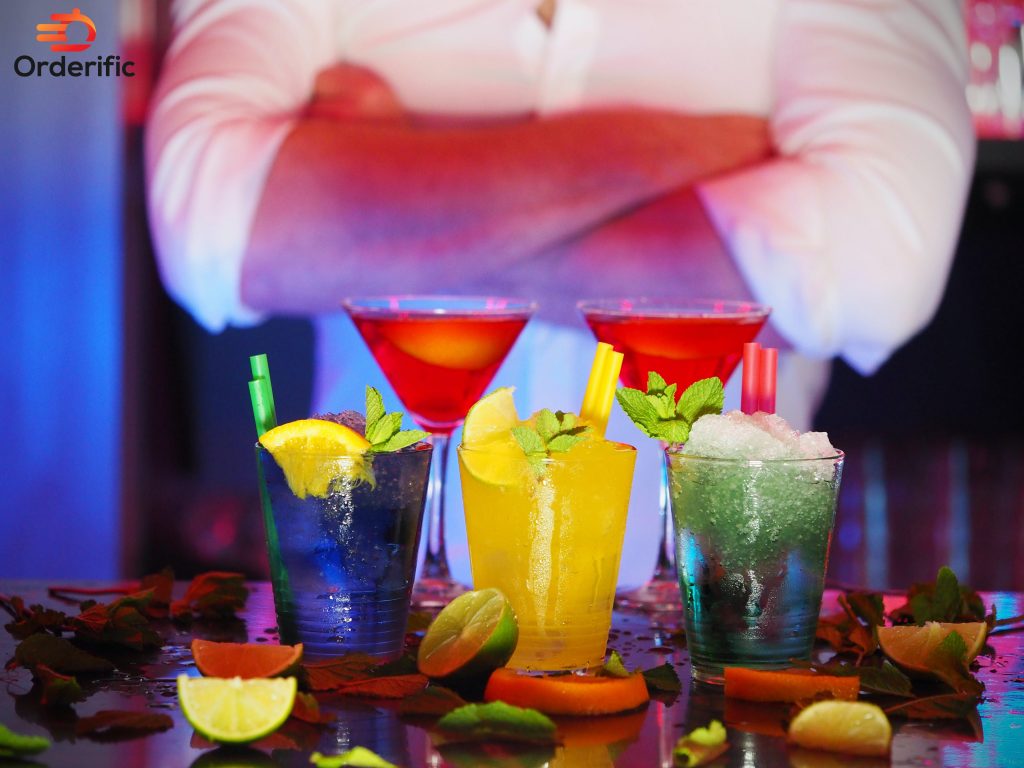 Leverage Influencer Marketing
Influencer marketing presents a golden opportunity for juice bar branding in the rapidly evolving digital landscape. Picture this: your favorite health enthusiast shares a mouthwatering image of a smoothie bowl from your juice bar. The vibrant colors of fresh fruit, the creamy swirl of almond butter, and the artistic arrangement of ingredients immediately catch your eye.
As they delve into their delightful experience at your local juice bar, their followers are captivated. The tangy citrus hit of a lemon-infused drink, the satisfying crunch of fresh vegetables in a salad, or the rejuvenating kick of a cold-pressed juice shot – each description paints a vivid picture in the reader's mind.
A well-placed mention by an influential fitness blogger or a wellness coach can significantly boost your brand awareness. It's about more than just the reach, however. It's about the trust and authenticity influencers bring to their content. When these trusted voices advocate for your brand, their followers take note.
Remember, the key is to collaborate with influencers who resonate with your brand identity and values. It's about creating a genuine connection, not just a promotional stint. Influencer marketing can turn potential customers into loyal patrons through authentic storytelling and engaging content. Ultimately, it's about sharing the vibrant experience and wellness journey your juice bar offers, one influencer post at a time.
Marketing Your Juicing Business
Imagine the bustling activity of launching a new juice bar, the vibrant colors of fresh produce, the refreshing scent of citrus, and the hum of eager anticipation. In such a lively atmosphere, marketing your juicing business becomes an exciting journey of showcasing your unique brand identity, engaging with your target audience, and nurturing a community of health enthusiasts.
Each marketing strategy is like a refreshing squeeze of lemon, adding its unique zest and flavor to the overall blend, from the tangible touch of flyer marketing that reaches local customers to the generous giveaway of free products that create buzz and build brand loyalty. Furthermore, strategic partnerships infuse the power of collaboration, enhancing your brand's reach and visibility.
An e-newsletter campaign serves as a refreshing wellness shot, regularly delivering health tips, exciting offers, and engaging stories directly to your patrons' inboxes. Meanwhile, your social media platforms become vibrant juice bars in the digital realm, offering tantalizing glimpses of your offerings and stirring conversations around wellness and vitality.
Flyer Marketing
Give Away Free Products
Build Strategic Partnerships
Start an E-newsletter Campaign
Social Media to Market Your Juicing Business
DIY Infographics
Influence Marketing
Create Instructional Videos
Paid Advertising to Market Your Juice Business
Free Taste Testing
The power of DIY infographics lies in their ability to present complex nutritional information in an enticing and easily digestible format, just like your delicious juice blends. On the other hand, influencer marketing leverages the trusted voice of health influencers to narrate their wellness journey with your juice bar authentically.
Conclusion
In conclusion, juice bar branding is more than a surface-level aesthetic; it is the soul of your business. It paints a vivid picture, crafting a wellness journey that entices the senses and inspires a lifestyle change. It's about a refreshing citrus blast, a welcoming smile, and a sense of community that your customers can't resist. Like a well-crafted juice, the powerful blend of branding and marketing strategies energizes your business's growth. As each drop of effort falls into the vibrant mix, your juice bar becomes a sanctuary of health and vitality. Remember, with tools like Orderific, you can focus on crafting your branding while ensuring seamless operations and an enhanced customer experience. For more information on Orderific, schedule a FREE DEMO today. Here's to a flourishing juice bar that quenches thirst and nourishes bodies, one sip at a time.
FAQs
How can effective branding distinguish my juice bar in a competitive market?
Effective branding differentiates your juice bar by creating a unique customer experience, fostering a wellness community, and promoting a healthy lifestyle.
What marketing channels work best for promoting juice bars online and offline?
Effective marketing channels for juice bars include social media, SEO-optimized websites, influencer collaborations, local partnerships, and in-store promotions.
Are there specific strategies to target health-conscious consumers for juice bar marketing?
Targeting health-conscious consumers involves utilizing wellness influencers, sharing nutritional information, and promoting organic, fresh ingredients.
How can social media be leveraged to enhance the brand image of a juice bar?
Social media can enhance a juice bar's brand image by showcasing fresh products, sharing health tips, and engaging with customers.