Welcome, juice enthusiasts! It's an exciting time in the world of juice recipes. Never before have we seen such creativity and innovation in this vibrant field.
From the tangy twist of lemon to the refreshing hint of cucumber, new juice blends are pushing boundaries. They're pioneering uncharted territories of taste. You may have thought you knew what to expect from your morning green or apple juice. But get ready to be surprised.
Incorporating the latest health trends, these recipes are more than just pleasing your palate. They're nutrient powerhouses packed with vitamins A, C, and K. More than that, they're a testament to how far we've come in perfecting the art of juicing. 
These advancements are a game-changer for those committed to clean eating, like a juice cleanse or meal prep. Intrigued? Let's dive in and explore together.
Flavor Fusion Mastery
When it comes to 'Flavor Fusion Mastery,' think of it as an adventure. A journey through the world of taste, where boundaries dissolve and new territories emerge. Here, the tangy zip of fresh ginger meets the sweet sparkle of pineapple. This is where the bright, citrusy burst of lemon dances with the earthy depth of beet in a vibrant symphony of flavor.
Imagine waking up to this novel orchestra of tastes each morning. As you sip your green juice, the familiar notes of kale are elevated by the bold zing of ginger. Then, the comforting sweetness of apple effortlessly merges with the exotic tartness of passion fruit. It's a sensory feast that leaves your taste buds tingling with delight.
This mastery isn't just about creating exciting tastes, though. It's about marrying flavors with purpose. Each ingredient is carefully selected, not just for its taste but for its nutritional profile, too. Hence, every sip of your homemade juice is delicious and bursting with health-boosting nutrients like vitamins A, C, and K.
The beauty of 'Flavor Fusion Mastery' lies in its versatility. The possibilities are endless: a zesty carrot-cucumber blend to kickstart your day or a soothing watermelon-lime concoction for a hot afternoon. And the best part? You can savor these incredible flavor fusions at home with your trusty Juicer. So, elevate your juicing recipes and embark on this tantalizing voyage of flavor fusion.
Health-Boosting Innovations
The realm of 'Health-Boosting Innovations' is truly extraordinary. Here, the magic of science meets the splendor of nature. Each sip of your customized juice blend is more than a delightful assault on your taste buds. It's a ticket to a healthier, more vibrant you.
Imagine starting your day with a glass of refreshing green juice. The nutrient-dense kale dances with the refreshing cucumber in an exciting tango. It's a concoction so pure you can almost taste the morning dew on the leafy greens. As the savory sip slides down your throat, you can feel your body thanking you for the fresh shot of vitamins A, C, and K.
Then, there's a zesty orange and ginger juice mid-day treat. The fiery ginger is a perfect foil for the sweet tang of the ripe oranges. Its robust flavor fills your mouth while heat radiates through your body, awakening your senses. This juicy concoction, brimming with Vitamin C, is your perfect defense against the mid-day slump.
Unwind as the day winds down with a soothing beet and carrot juice. The sweet, earthy beetroot notes blend harmoniously with the crisp freshness of carrot. The rich, ruby-red color is a treat for the eyes, and the naturally sweet flavors indulge your taste buds. More importantly, this nutrient-packed elixir is your optimal solution for a rejuvenating detox.
Each of these health-boosting juices is a product of relentless innovation. They affirm the wonders that can be achieved by harnessing nature's bounty for our well-being. So, gear up to transform your health with these exciting juice recipes and innovative juicing techniques.
Nutritional Trends and Research
In the 'Nutritional Trends and Research world,' exciting discoveries await everywhere. Imagine stepping into this vibrant landscape ripe with possibilities. As you delve deeper, you uncover the latest research on juice recipes and their nutritional benefits. From the antioxidant properties of fresh ginger to the digestive benefits of celery juice, each finding is a revelation.
Now, imagine tasting these insights. The fiery kick of ginger juice isn't just a flavor sensation. According to the latest research, it's also a soothing remedy for an upset stomach. Similarly, with its refreshing crunch, celery juice isn't merely a palate-cleansing beverage. It's a potent detoxifier, as recent studies suggest.
The sweet allure of apple juice, too, holds its secrets. As it turns out, this family favorite is a rich source of essential nutrients like vitamins A and C. Likewise, orange juice, with its sunny tang, isn't only a breakfast staple. It's a powerhouse of vitamin C, a critical component for immune health.
These findings aren't simply intriguing tidbits for the curious mind. They're practical, actionable insights that you, the enthusiastic Juicer, can use. Each result unlocks a world of potential, transforming your simple juice recipe into a tailor-made health potion.
As you sip your homemade juice, savor not just the delightful flavors but also the knowledge. The knowledge that with each gulp, you're nourishing your body. That is the power of 'Nutritional Trends and Research.' A power that, once harnessed, can revolutionize your juicing journey. So embark on this enlightening voyage, and let your juice recipes become a testament to your well-being.
Sustainable
Step into the world of sustainable juicing. Here, every sip is an affirmation of your commitment to the planet. Imagine tasting the freshness of a cucumber, knowing it was grown with respect for the earth. As the crisp flavor dances on your tongue, you're not just enjoying a refreshing juice. You're partaking in a sustainable lifestyle.
Picture this. You're in your kitchen, your trusted Juicer by your side. In your hands, you hold a ripe, organic apple. Its natural sweetness, untouched by chemicals, promises a delicious apple juice. As the juicer hums to life, you feel a connection. A connection to the earth that nurtured this apple. A connection that extends to the green juice you'll make next. It's a powerful sensation.
Now, imagine sharing this experience with your loved ones. Serving them homemade juice that's not just nourishing but ethically sourced. Watching their smiles as they relish the fresh juice, their joy echoing yours. It's a shared bond. A bond that transcends the kitchen, reaching the heart of sustainable living.
In the world of sustainable juicing, each ingredient has a story. It's a story of an earth-friendly approach, like the leafy greens in your detox juice. It is a story of conscious choices, like the ginger in your ginger juice. The act of juicing becomes more than just a quest for health. It's a testament to your commitment to sustainable practices.
So, come and explore sustainable juicing. It's a journey of care, flavor, and respect for our planet. A journey that transforms your juice recipes into acts of love for the environment. It's where every sip counts. Indeed, the future of flavor is sustainable.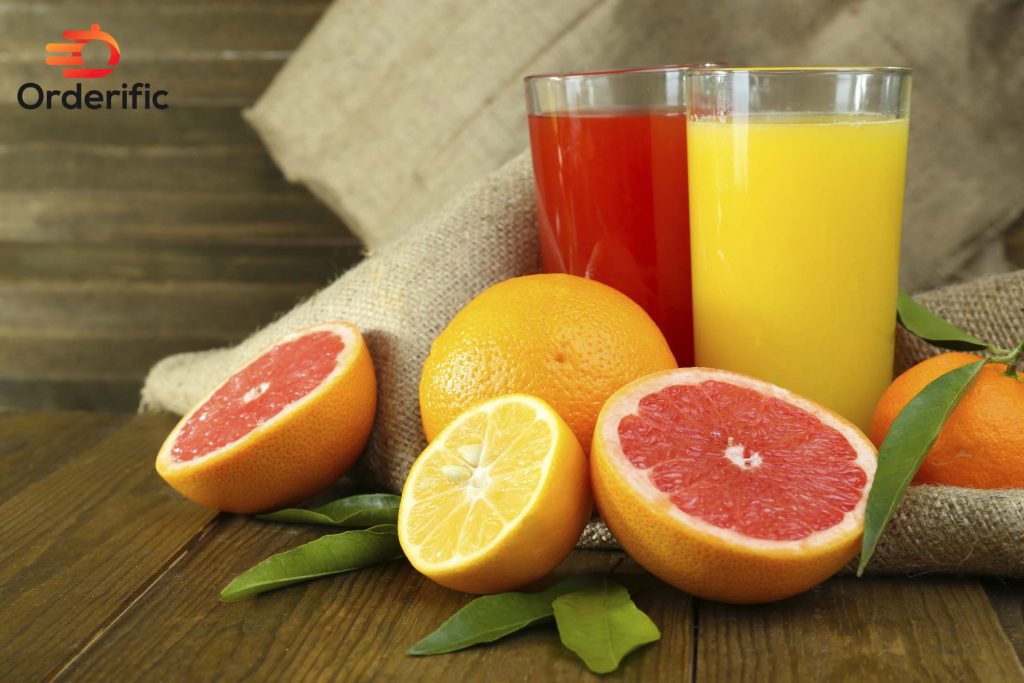 Ingredients Integration
Welcome to the world of 'Ingredients Integration,' where each ingredient is a star, each with its role in the symphony of flavors. Imagine opening your fridge. The thrum of excitement is palpable as you reach for fresh fruits and vibrant vegetables. You're the composer, creating harmony between ingredients like a ripe apple's tart sweetness and a lemon's zesty freshness.
Now, picture your trusted Juicer gleaming in anticipation. As it gets to work, transforming the crisp carrot or the lush leafy greens into a vibrant juice, you can't help but marvel. Each ingredient's unique flavor and nutrient profile is integrated seamlessly, creating a juice blend that's more than the sum of its parts.
The taste is divine, of course. But something else captures your heart. It's the seamless integration of ingredients, the way the tartness of lime juice blends flawlessly with the earthy beet juice. Or how the refreshing cucumber juice elevates the nutrient-dense kale in your green juice recipe.
In this realm, even the humblest ingredient, like a small piece of ginger, is a pivotal character. Every bit of fresh ginger adds a fiery kick and a wealth of health-boosting properties to your juice.
So, come and explore 'Ingredients Integration.' A world where every sip of your homemade juice celebrates balance and unity. A place where every ingredient gets a chance to shine, creating healthy juice recipes that are nothing short of magical.
Market Analysis for Recipe Relevance
Delve into the fascinating world of 'Market Analysis for Recipe Relevance.' Picture yourself navigating through a vibrant landscape ripe with pulsating trends. Each corner turned reveals a novel insight, stirring your senses.
Imagine tasting the sweet essence of a recent trend in juice recipes – the fusion of apple and beetroot. Then, you subtly detect a rising preference for the zesty punch of ginger in green juice blends. Ever-changing, the market demands constant vigilance.
Every sip of your homemade juice becomes a testament to your adaptability. One day, it's the refreshing tang of citrus fruits riding the wave of a summer trend. The next is the soothing warmth of a ginger and carrot blend, ideally suited to the crisp autumn weather.
Your curiosity is piqued, and you delve deeper. You uncover a newfound craze for nutrient-dense kale in detox juices. Simultaneously, the revival of traditional fruits like oranges and apples in juice blends catches your eye. These insights aren't just intriguing – they're catalysts for innovation.
At the core of 'Market Analysis for Recipe Relevance' lies a profound respect for the consumer's voice. Your juice recipes become an expression of their preferences. It's a symbiotic relationship, fostering connections, trust, and satisfaction.
So, explore the world of 'Market Analysis for Recipe Relevance.' It's a journey to stay in sync with market trends and shape your juice recipes to mirror your audience's desires. It's about turning every sip into a testament of relevance. And indeed, this is the heart of successful juicing.
Future of Juicing: Technological Advancements and Innovations
Welcome to the exhilarating realm of 'Future of Juicing: Technological Advancements and Innovations.' Imagine stepping into a world infused with the whispers of technological advancements, each promising to revolutionize how you create and enjoy your juice recipes. As you navigate this landscape, your senses are greeted by:
The hum of a next-generation juicer, engineered for maximum nutrient extraction. Its innovative design ensures every drop of juice is rich in essential vitamins, turning your juice recipes into potent health elixirs.
The crisp, digital display of an intelligent juicer. This high-tech marvel intelligently adjusts settings based on the fruits or vegetables you're juicing, optimizing flavor and nutrition in your homemade juices.
The symphony of a self-cleaning juicer. Its whirrs and whirls are a testament to seamless automation, freeing you to focus on the joy of experimenting with new juice recipes.
The reassuring beep of a juice-preserving refrigerator. This state-of-the-art appliance uses advanced cooling technologies to maintain juice freshness, preserving the vibrant flavors of your homemade juices.
Technology is a silent partner in your juicing journey in this futuristic world. It presents a seamless blend of efficiency, innovation, and convenience, transforming how you approach your juice recipes. Technological advancements enhance every step, from selecting your ingredients to savoring your homemade juice.
Each technological innovation strikes a chord as you explore this brave new world. The melody is one of progress, paving the way for a more streamlined, enjoyable, and health-filled juicing experience. And so, the 'Future of Juicing: Technological Advancements and Innovations' awaits. It is an exhilarating journey where technology and flavor fuse, forever transforming the landscape of juice recipes.
Conclusion
Stepping into the world of Juice Recipe, we've journeyed through the sensory delights of unique juice recipes, observed the significance of nutritional trends, embraced sustainable practices, marveled at the art of ingredients integration, and navigated the ever-changing landscape of market analysis. The future of juicing, brimming with technological advancements, promises a revolution in our juice-making endeavors. With each sip of these innovative juice concoctions, we're not merely savoring a refreshing drink but participating in a continually evolving story. Orderific, integrated with leading POS systems and payment partners, stands as an ally to restaurant owners navigating this dynamic journey. Schedule a FREE DEMO today for an in-depth look at Orderific's contribution to this evolution. Join us in this captivating journey, where every juice recipe is a testament to innovation and wellness.
FAQs
What are some popular juice recipes for boosting energy and vitality?
Some energizing juice recipes include beetroot-apple-ginger juice, green leafy vegetables with lemon, and orange-carrot-turmeric blend.
How do I customize juice recipes based on seasonal ingredients?
You can tailor your juices with seasonal ingredients like watermelon in summer, apples in fall, and citrus fruits in winter.
What are the latest trends in juice recipe development?
The latest trends include incorporating superfoods, exploring exotic fruits, and blending sweet and savory flavors in juice recipes.
How can technology enhance the testing phase of juice recipes?
Technology can streamline the testing process, ensuring consistency, optimizing nutrient extraction, and enhancing flavor profiles in juice recipes.