Creating an enticing kid's menu is a craft all on its own. It's about blending the right amount of fun with a dash of nutrition, all while ensuring the tastes are tailored to younger palates. An effective kid's menu can turn your restaurant into a family favorite, not just for the food, but also for the memorable dining experience you provide for children.
But designing a kid's menu that strikes the right balance between taste, nutrition, and visual appeal is not an easy feat. You're catering to a demographic that is notoriously picky and yet, hugely influential in family dining decisions. The key lies in understanding what kids love and combining that with what parents approve of, to fashion a menu that keeps everyone coming back for more.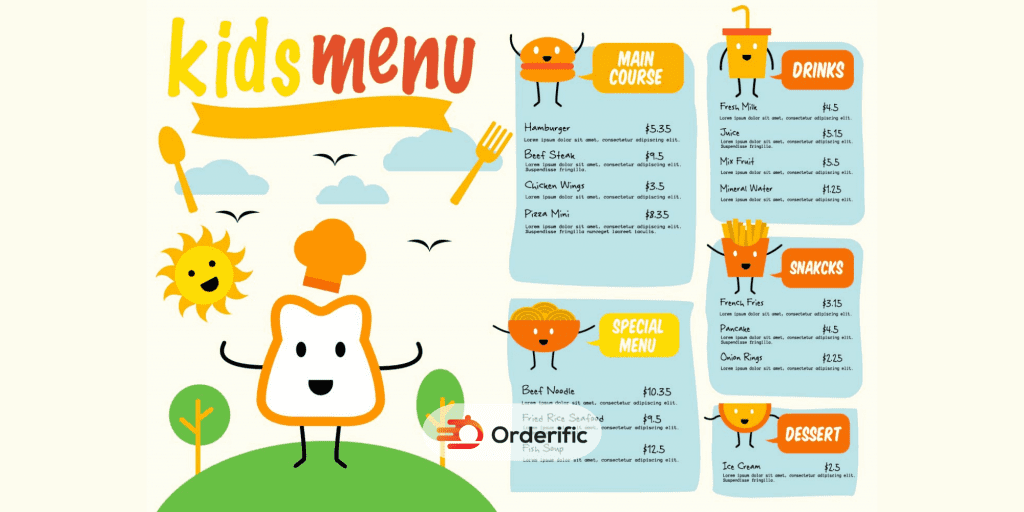 How to Create a Kid's Menu
Begin by gaining a thorough understanding of your young patrons' preferences. This can be achieved through research or even directly asking your customers about their children's favorite dishes. Remember, children tend to gravitate towards familiar foods, so include popular kid-friendly items such as chicken nuggets, mac 'n' cheese, and mini pizzas. But that doesn't mean you can't get creative. Add your unique twist to these traditional dishes to make them stand out and appeal to adventurous young foodies.
While it's important to cater to the taste buds of your young customers, it's equally crucial to pay attention to the nutritional value of the dishes. Parents are more likely to appreciate a menu that balances taste and health. Incorporate a variety of fruits, vegetables, lean proteins, and whole grains into your dishes. Aim for a colorful presentation as it not only makes the meal visually appealing but also ensures a range of nutrients. It's a win-win situation – kids get a fun, exciting meal and parents are happy because it's nutritious.
The Power of Good Restaurant Menu Design
Apart from the dishes themselves, the design of your kid's menu plays a significant role in its success. Children are drawn to bright colors and playful designs, so incorporate these elements into your menu. Use fun fonts, illustrations, and photographs to make the menu visually appealing. Avoid cluttering the page with too much text and instead use images or symbols to represent different dishes. This will not only make the menu more appealing to children but also easier for them to understand.
Another aspect to consider is making the menu interactive. Add games, puzzles, or fun facts related to food that will keep kids entertained while they wait for their meal. This not only adds an element of fun but also keeps children engaged and prevents them from getting restless.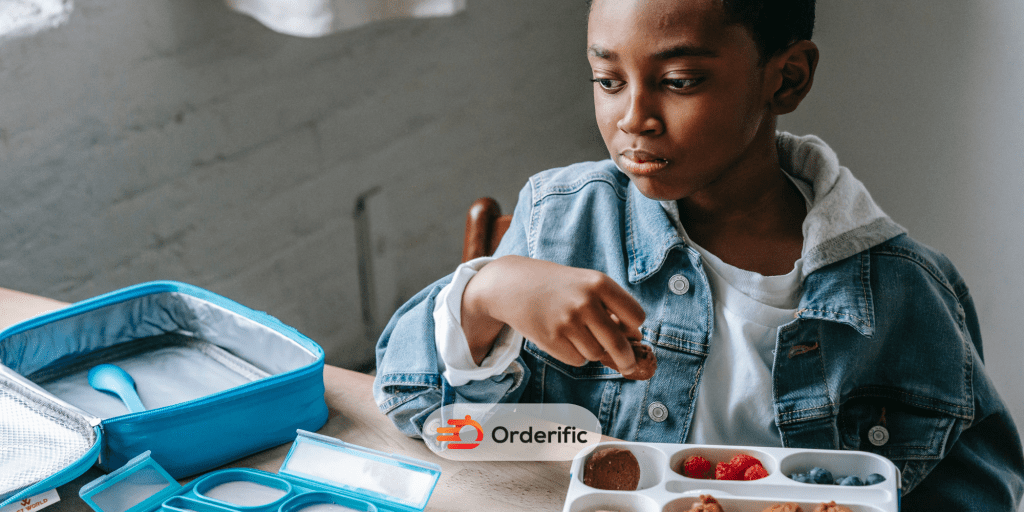 How to Make a Kid's Menu
Now that we've delved into the importance of understanding young diners' preferences, the significance of nutrition, and the power of enticing menu design, let's dive into the practical aspect – actually putting together a kid's menu.
Write Out All Menu Items: Make a list of all the dishes you want to include on your kid's menu. Consider popular items, as well as any new or unique dishes you would like to introduce.
Categorize Menu Items: Group similar dishes together, such as entrees, sides, and desserts. This will make it easier for parents and children to navigate the menu.
Set Menu Prices: Pricing is a crucial aspect of any menu. Consider the cost of ingredients, portion sizes, and what your target demographic can afford.
Create Menu Descriptions: It's important to describe each dish enticingly. Use descriptive words that will appeal to children, such as "crispy," "gooey," or "delicious."
Decide on a Menu Color Scheme: Choose colors that are vibrant and eye-catching. Avoid dull or muted tones that may not attract young diners.
Design your Kid's Menu: Use fun fonts, illustrations, and images to bring your menu to life. Get creative and make it visually appealing and interactive.
Think About Photos: Including photos of your dishes can be a helpful guide for parents and children, especially for younger kids who may not be able to read yet. However, make sure the photos are high-quality and accurately represent the dish.
Choose Menu Font, Spacing, Composition, and Layout: The font, spacing, and layout of your menu are essential for readability. Use a font that is easy to read and avoid cluttering the page with too much text.
Proofread Your Menu: Before finalizing your menu, make sure to proofread for any spelling or grammatical errors. It's also a good idea to have someone else review it as well.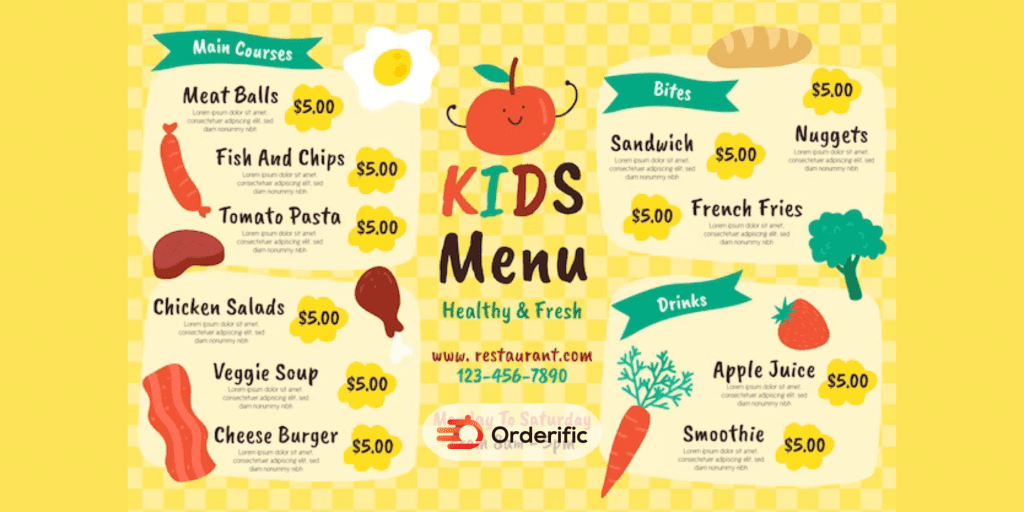 Conclusion
Bringing the art and science of children's cuisine together in a successful kid's menu design can transform your restaurant into a beloved destination for families. It's not just about serving up tasty food, but also about creating a memorable dining experience that resonates with both the children and their parents. With a healthy balance of nutrition, taste, and fun, your kid's menu can hit the mark and make dining out an exciting adventure for the little ones, while also providing reassurance to parents about the quality and healthiness of their children's meals.
The journey to crafting a kid's menu that ticks all the boxes – from flavor and nutrition to design and interactivity – may not be an easy one, but the payoff can be substantial. So, immerse yourself in the process, engage with your young patrons, elicit feedback, and refine your offerings. After all, the secret ingredient to a great kid's menu is the joy and satisfaction it brings to those young faces at your restaurant tables.
Click here for more flavorful and informative advice with Orderific. To start experiencing the great benefits Orderific can bring to your business, click here now. Try Orderific!
FAQs
What should be included in a kid's menu to cater to young appetites?
A kid's menu should include popular and familiar items such as chicken nuggets, mac 'n' cheese, and mini pizzas.
How can a kid's menu balance fun and nutritious options?
Incorporate a variety of fruits, vegetables, lean proteins, and whole grains into the dishes. Aim for a colorful presentation to make the meal visually appealing and nutritious.
What design elements make a kid's menu visually appealing to children and parents?
Children are drawn to bright colors, playful fonts, and interactive elements such as puzzles or games. Parents appreciate a menu that is easy to read and includes healthy options for their kids.
How can a well-designed kid's menu contribute to family dining experiences?
A well-designed kid's menu can make dining out a fun and memorable experience for children, while also providing reassurance to parents about the quality and healthiness of their children's meals.
What are some tips for designing an effective kid's menu?
Get to know your young customers' preferences, balance taste and nutrition, use playful design elements, make the menu interactive, and proofread for errors before finalizing.